By Emily Randolph/Randolph PR
Katy, TX – Ireland's Mark Kinsella made his inaugural trip to the Pin Oak Charity Horse Show a winning one, earning victory in the $100,000 Texas Children's Hospital Grand Prix aboard Doraindo on Saturday, April 9 in Katy, TX.
Renowned course designer Michel Vaillancourt set a challenging track in the Porter Hedges Main Ring at the Great Southwest Equestrian Center that saw seven of 27 entries jump clear. Of them, Kinsella and Doraindo, were the final pair to join the good list, positioning them as the last combination to return for the jump-off.
When Doraindo, owned by SWS Training & Sales, entered the ring, only one of the previous six returning entries had successfully produced a clear round, Martien van der Hoeven and Morris Horta, owned by Luccirelli International LLC.
"I watched the first couple of competitors in; they all had faults," said Kinsella. "Then Martien went two horses before me, and he was clean. I didn't get to see him go, but I heard he was quick. I know my horse is generally pretty fast when I go on the clock, and he has a very, very long lengthy step, so I just use it to my advantage."
With van der Hoeven's time of 34.857 seconds as his target, Kinsella left out strides where others did not, allowing him to cross the finish in a winning 33.954 seconds. With Kinsella taking the top honor, second place went to van der Hoeven, who also claimed fourth place aboard Navaro van't Verahof; and third place with four faults in a time of 35.989 seconds went to Shawn Casady riding RMF Chacco Top for owner Ashland Farms.
"It's excellent!" said Kinsella of the win. "It's my first time ever coming to the show, and I must say that I'm really impressed with the show, with the people, with the organization. Everybody has been very friendly, very accommodating, very hospitable; we'll definitely come back next year."
Kinsella, who is currently based out of Temecula, CA, had originally planned to be competing on the West Coast, but following an equine herpesvirus (EHV) outbreak that shut down competition in California, he changed plans and headed to Texas.
"I got Dorito, as we call him, in December of last year; I played around with him in Thermal at the Desert Horse Park," said Kinsella of the 14-year-old Dutch Warmblood gelding. "He was pretty good for me there. I got to get to know him a little bit, and then on the fourth week there we actually won a $25,000 national grand prix which was great, and my plan was to bring this horse FEI in the second half of the circuit. Obviously, circumstances closed the show, so we had to improvise our plan a little bit. This is my first show back since then. So, I really feel that I've gelled with him in a quick period of time, and we've won two grand prix in succession which is nice."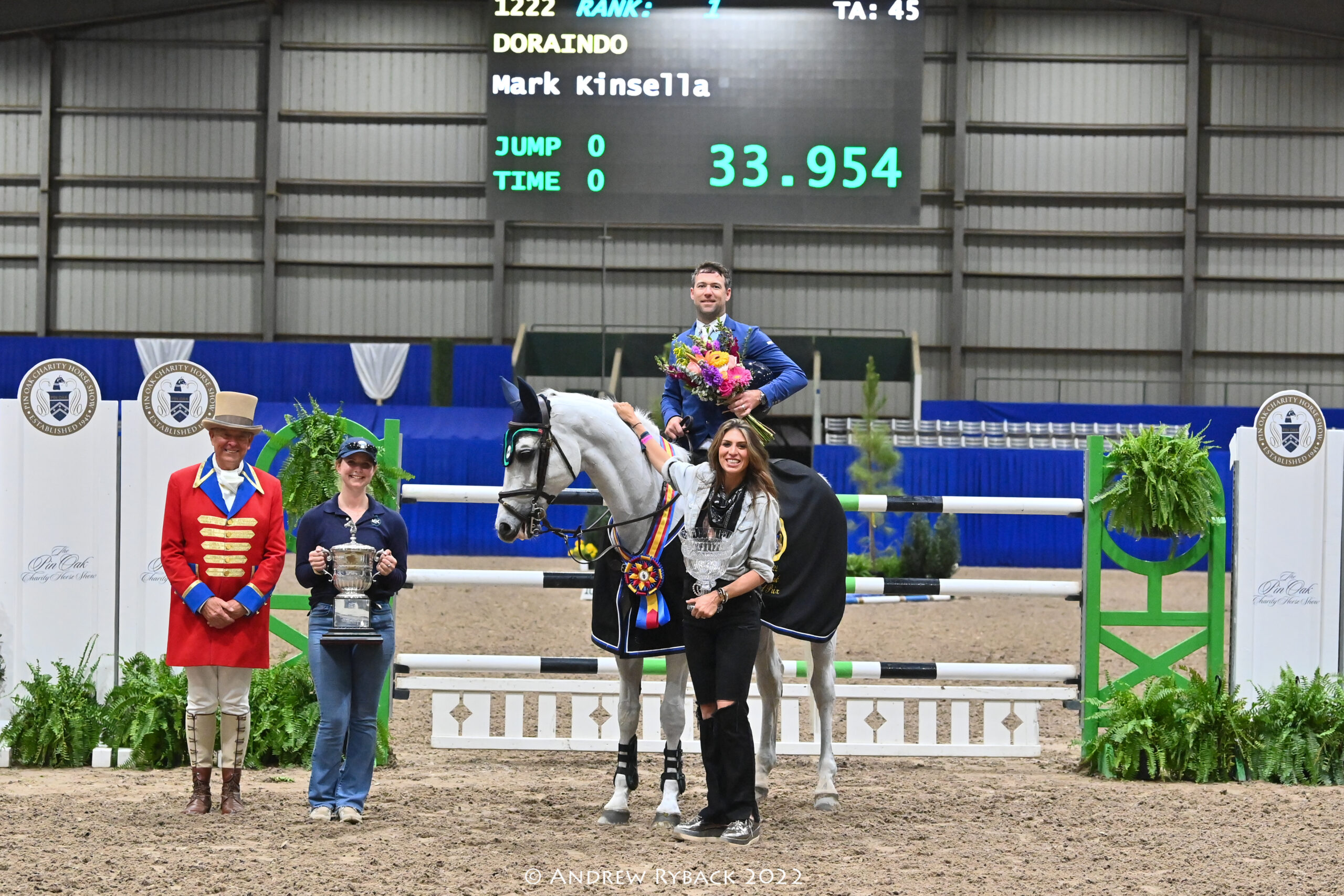 Kinsella concluded, "I'd just like to thank SWS Training for giving me the opportunity to ride the horse and of course all my team. Like everything, I'm the one standing here today, but without these guys I don't get here. Olivia Swanson has been here grooming for me, my wife Sophie is phenomenal. The guys at home keeping the show on the road; we fly back there and go straight to the next show. We have such a good team. I know they're ready to go when I get there, so I really appreciate that from everyone."
In addition to taking the winners' share of the prize money, Kinsella was presented with a $1,000 bonus and a Skylla saddle from Antarès Sellier as the leading grand prix rider, having earned the most prize money on a single horse throughout the five grand prix classes offered at the Pin Oak Charity Horse Show.
Also earning bonus checks on Saturday night were three Pin Oak Jumper Rider Bonus winners. Throughout the first two weeks of the horse show, points were awarded for a rider's best-placed horse in each class. Earning the most points and the $5,000 Leading Rider Bonus was Nicolas Gamboa. Second place and a $3,000 bonus went to Shawn Casady, and third place and a $2,000 bonus went to Daniel Bedoya.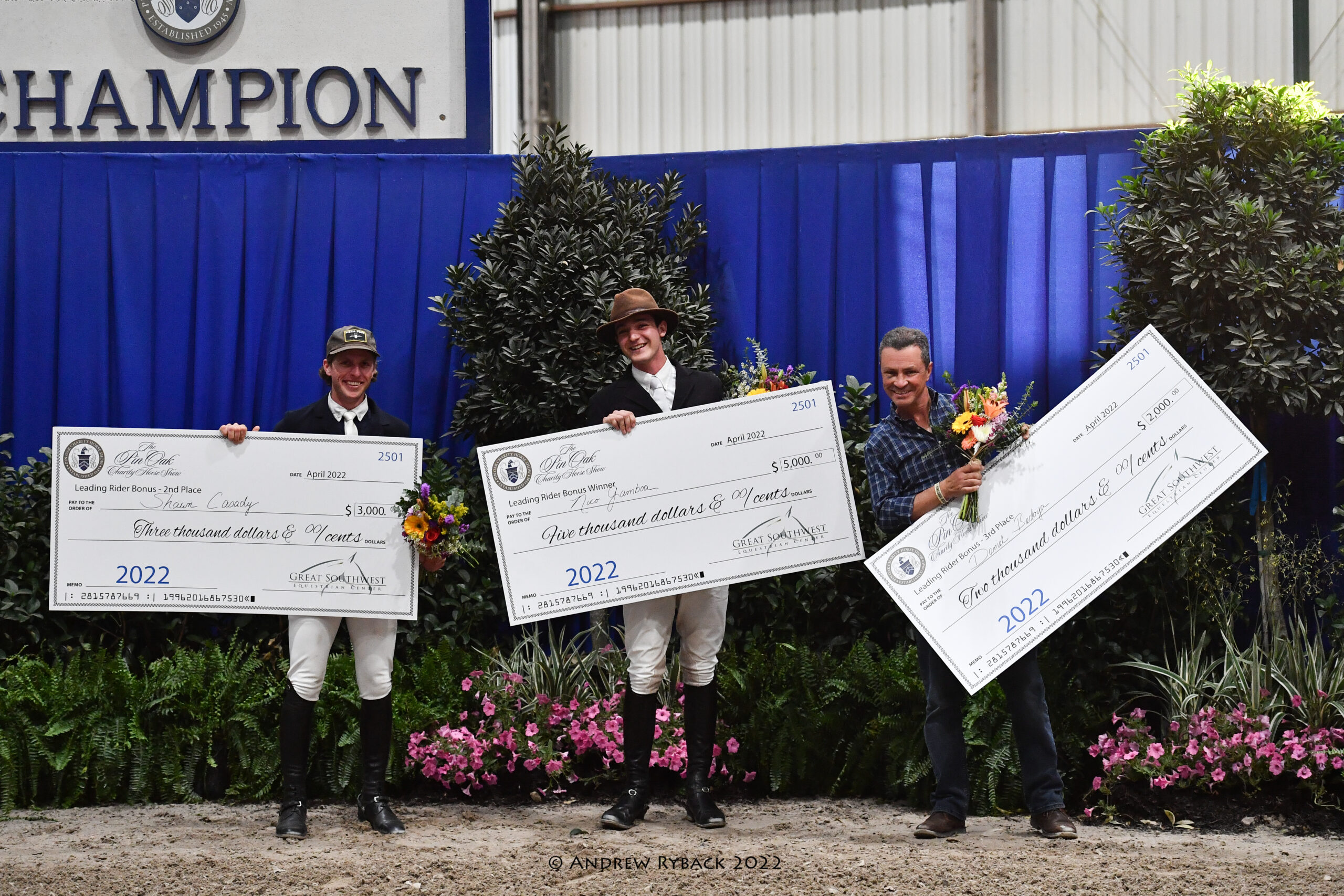 ---
This Post Brought to You by: Purina
We Shape the Future of Health & Wellbeing for Pets & People. We're Committed To Pets, People And The Planet We All Share. Purina Cares. Innovation. Quality. Safety