Edited Press Release
Wellington, FL – April 23, 2022 – ESP Spring III reached its penultimate day on Saturday, with the highlight jumper event on the Derby Field being the $37,000 Equine Tack & Nutritionals 1.50m Classic CSI3*. Course designer Andy Christiansen (ECU) challenged 51 entries with a winding track around the grass, which proved to best suit Eugenio Garza Perez (MEX) and El Milagro's Victer Finn DH Z as the quickest double-clear jump-off challengers to claim the victory.
"When I walked the course it looked like a very fair course. The course designer has been building great all week; I have nothing but positive things to say about him," Garza Perez praised. "The jump-off was a fast jump-off. It was a little bit dicey for me there towards the end, but that's the way it goes; sometimes you have to risk it to be at the top of the leaderboard. Fortunately the risk was worth it today. Victer really pulled it out of his hat; he was phenomenal." 
Of the group of 51 starters, which featured an international lineup representing 14 nations, 12 partnerships completed the first course without penalties to advance to the tie-breaker round. As the third to ride in the jump-off, Garza Perez and Victer Finn DH Z were up against a leading time of 37.00 seconds. Thanks to a quick line towards the end of the course in which the duo left out a stride, the Mexican combination was able to stop the clock fractions of a second faster in 36.32 seconds to become the frontrunners. The remainder of the pack chased down the leaders, but none could break the 37-second threshold, solidifying Garza Perez and Victer Finn DH Z as the champions.
"I have had Victer since he was seven, so he's been my long-time partner," Garza Perez commented of the 14-year-old Zangersheide gelding by Va Vite x Stakkato. "He's been on and off with unfortunate injuries, but now he's feeling great. He really feels like he's stepping back up to being a really competitive horse and we are very glad to have him."
Andrzej Oplatek (POL) had a great showing, capturing second and third positions on two of his mounts. With a time of 37.00 seconds flat, the Polish rider and Le Cordial, owned by Oplatek and Gospodarstwo Rolne, earned the overall reserve honors, and Oplatek added to his success with third place aboard Conthinder, who shares the same co-owners, in 37.25 seconds. All told, nine pairs ended the class without any faults over two rounds of jumping.
For the full results of the $37,000 Equine Tack & Nutritionals 1.50m Classic CSI3*, please click HERE.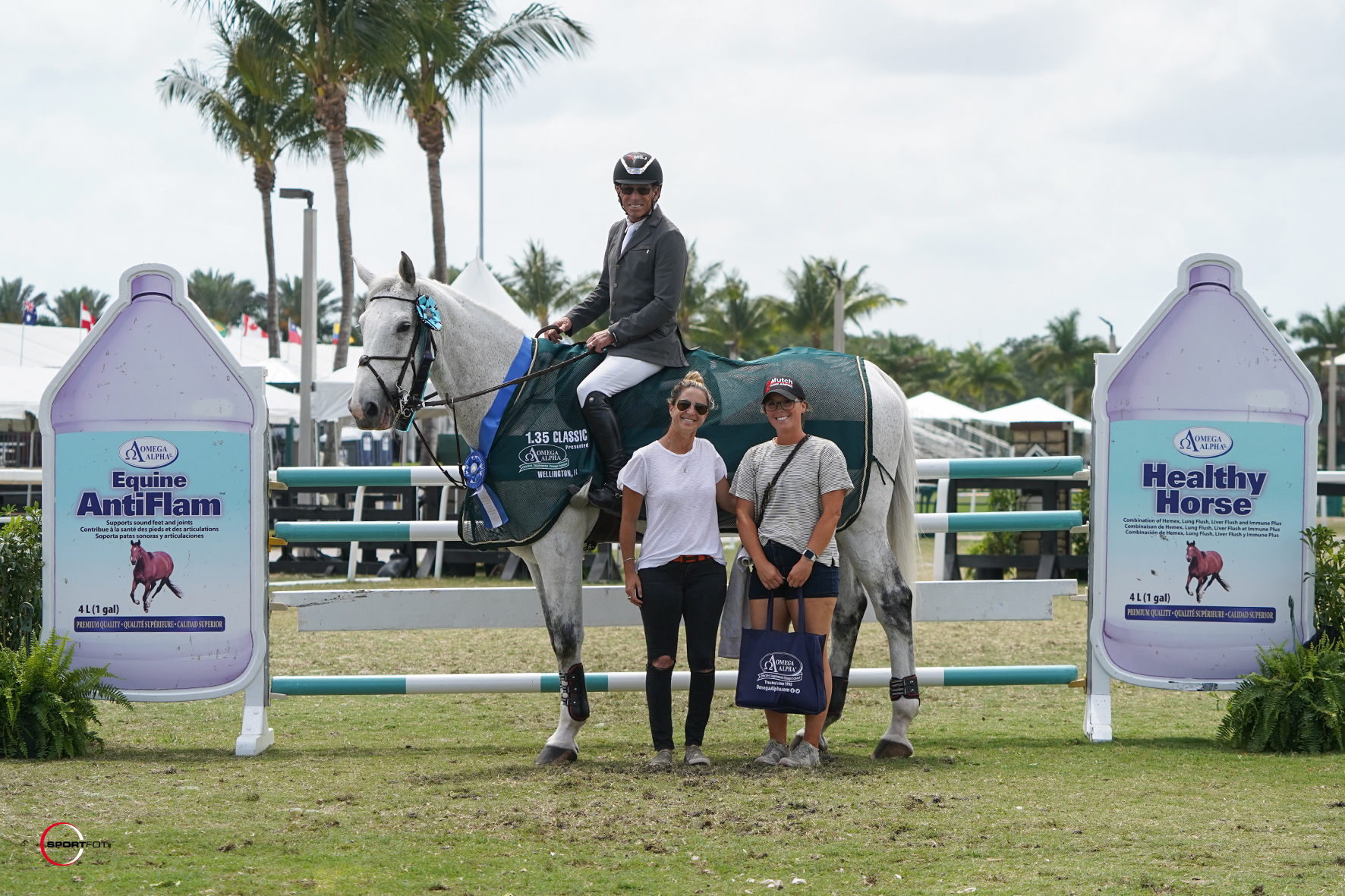 The $5,000 Omega Alpha 1.35m Classic showcased 64 challengers over a course designed by Oscar Soberon. The final standings were about as close as it can get, with only two-tenths of a second separating the top three finishers. With the fastest clear time of 36.70 seconds, Hugh Mutch (USA) and Jenna Mutch's MI6 nabbed the blue ribbon, narrowly beating the second-place time of 36.80 seconds from Dominique Roux (PAN) on Victoria Victoria Huertematte's Casaktie. Erynn Ballard (CAN) piloted Ilan Ferder's Cecile 30 to third position with a final double-clear time of 36.86 seconds. Thanks to points earned throughout divisional competition, Ballard and Cecile 30 also tied for the overall reserve championship in the Omega Alpha 1.45m Jumpers.
Already with two FEI wins under her belt for the week, Ashlee Bond (ISR) added yet another blue ribbon to her collection with a victory in the Elite Horse Transport 1.30m Jumpers on Saturday. In the irons aboard Ionesco Sitte, owned by Ashlee Bond Show Jumping and Aurora Farms LLC, Bond bested a 20-horse jump-off with a winning foot-perfect time of 32.43 seconds. Ballard took second place riding Ilan Ferder's Gwintosca HBC in 32,56 seconds, followed by Ferder himself in third place to bookend the podium with a second Israeli flag. Ferder navigated Fachoda De Hus, owned by Marigold Sporthorses LLC, to a fault-free time of 33.22 seconds. Bond and Ballard were also part of a five-way tie for the division championship on their respective mounts.