Edited Press Release
Forty-eight entries jumped the course for a shot at the blue ribbon and the greatest cut of the prize money in the $35,000 Horseware Ireland Spring III Grand Prix. Following the first portion of riding, four partnerships had earned a spot in the jump-off, with Farrington posing the greatest chance of victory with two qualified mounts. In the end, Farrington did clinch the win with Electrique, owned by Farrington and Haity McNerney, as the only double-clear duo.
Kristen Vanderveen (USA) and Bull Run's Faustino de Tili, owned by Bull Run Jumpers Five LLC, captured the second-place position as the fastest of the four-faulters in 39.89 seconds, followed by Mimi Gochman (USA) aboard Gigi's Girl BH, owned by Govhman Sport Horses LLC, in a four-fault time of 42.94 seconds for third place.
Thanks to consistent placings over the course of the Spring Series thus far, Farrington was also awarded the $1,000 Assets Risk Management National Grand Prix Rider Bonus.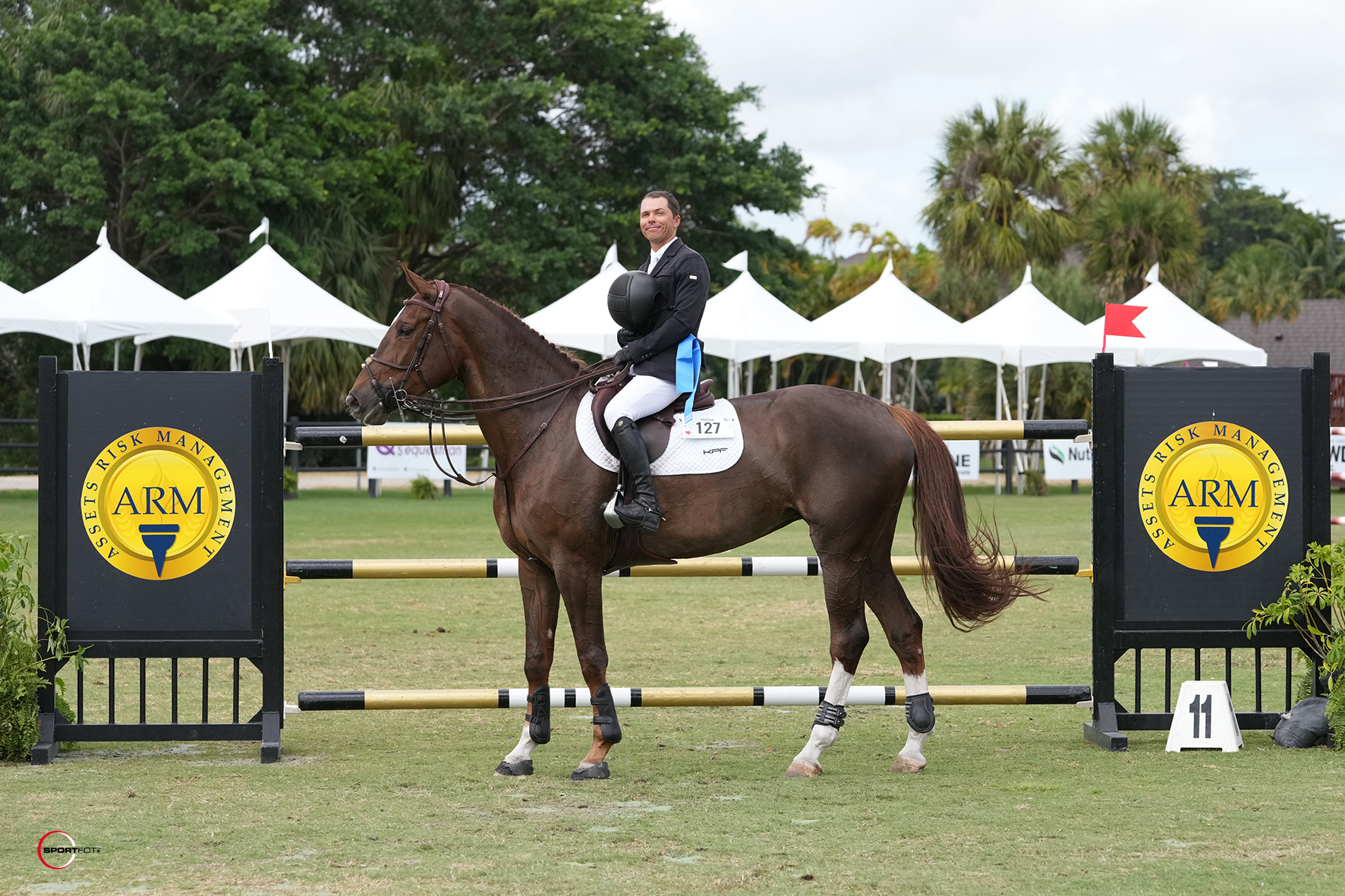 For the full results of the $35,000 Horseware Ireland Grand Prix, please click HERE.
Earlier in the day, 35 challengers rode in the $2,500 High Amateur/Junior Jumper Classic, presented by Noltrex®Vet. Eight duos completed the first round of 1.40m obstacles without any faults, with Alexandra Pielet of Highland Park, IL, and Co-Pielet LLC's Hyperbolics ultimately finishing on top as the quickest of the double-clear pairs in 37.93 seconds. Natalie Dean of Palo Alto, CA, had a good showing, earning both second and third-place finishes. Dean jumped Cocolina, owned by Marigold Sporthorses LLC, to the reserve spot in 38.05 seconds without faults, and also piloted Acota M, of the same owner, to third place in a penalty-free 39.60 seconds. Dean and Cocolina also earned the most points throughout divisional competition to win the championship honors.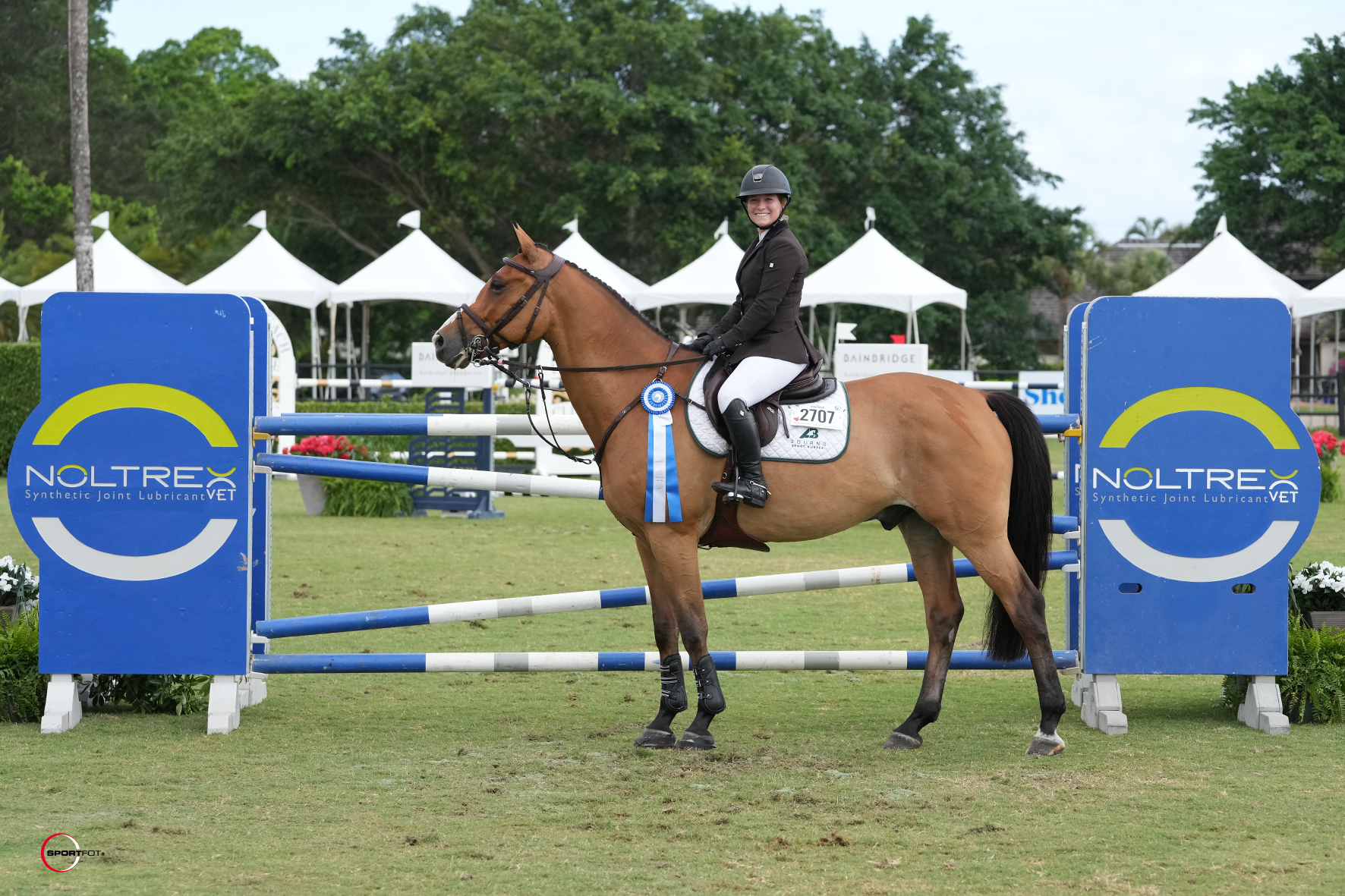 The $2,500 Medium Amateur/Junior Jumper Classic, presented by Palm Beach Equine Clinic, on Sunday showcased 22 exhibitors in the class. Thirteen duos mastered the 1.30m fences to move on to the jump-off, led by Rachel Turk of Wellington, FL, on Turk Performance Horses LLC's Golden Boy VL in a double-clear time of 29.66 seconds. Representing Great Britain, Blythe Masters and her own Eriana grabbed second place fault-free in 30.23 seconds, followed by Stephanie Garrett of New York, NY, on Postage Stamp Farm's Darius de Kezeg Z in 30.25 seconds, just two-hundredths of a second slower for third position.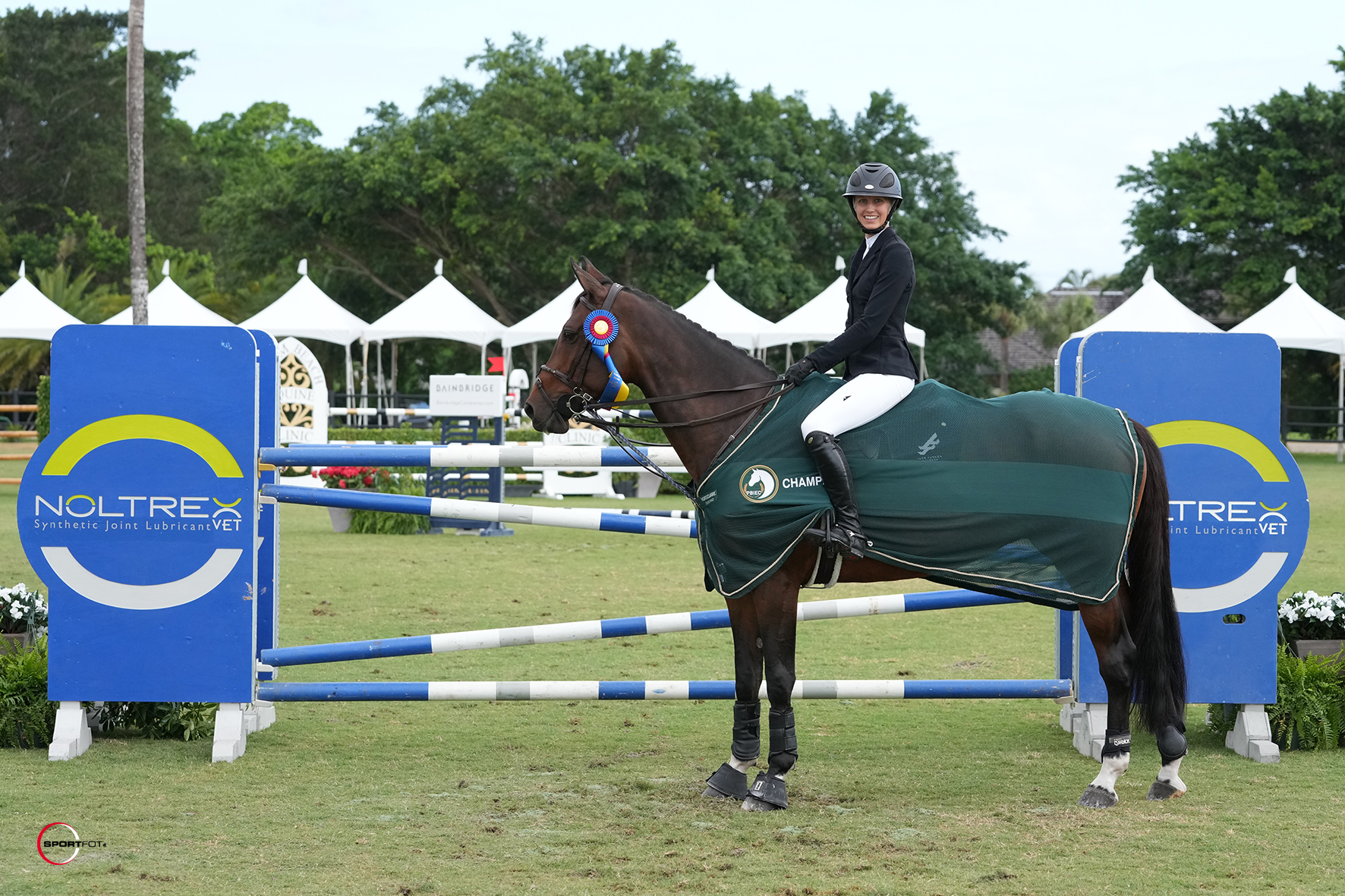 Equestrian Village's Van Kampen Covered Arena showcased a group of 52 horse-and-rider combinations competing in the $2,500 NAL Low Amateur/Junior Jumper Classic, presented by Equiline. Out of the 52 competitors, 24 riders found themselves fault-free in the first round and qualified for the short course. In the end, Charlotte Clivio of Miami, FL, and her own WT Scorsese finished victorious with a winning time of 27.98 seconds, defeating Tessa Brown of Jamaica, VT, and Carano Z, owned by Rosemont Farm Inc, who finished their short course with a time of 28.50 seconds for the runner-up spot. Jerry Chu of Andovel, MA, jumped Sky and Sea Corp's Shark to third place with a time of 29.55 seconds. 
Final Results: $140,000 Palm Beach County Sports Commission Grand Prix CSI3*
1. CORNET'S CAMBRIDGE: 2012 Oldenburg gelding by Balou Du Reventon x Cambridge 8
NICHOLAS DELLO JOIO (USA), The Berry Group LLC: 0/0/40.92
2. VALDES Z: 2013 Zangersheide gelding by Vigo D'arsouilles x Ircolando
EVAN COLUCCIO (USA), Hampton Green Farms LLC: 0/0/41.27
3. FREAKY: 2011 Dutch Warmblood gelding by Darco x Litho X
JACQUELINE STEFFENS (CAN), Jacqueline Steffens: 0/0/41.63
4. DEZ OOKTOFF: 2008 KWPN stallion by Colandro x Lys Rouge
ROBERTO TERAN TAFUR (COL), Roberto Teran Tafur: 0/0/42.81
5. BREITLING LS: 2006 Dutch Warmblood stallion by Quintero x Accord II
BEEZIE MADDEN (USA), Abigail Wexner: 0/0/44.14
6. CAPPUCCINO 194: 2012 Westphalian gelding by Comme II Faut 5 x Sir Shutterfly
MOLLY ASHE CAWLEY (USA), Louisburg Farm: 0/0/45.01
7. ORAFINA: 2012 KWPN mare by For Fashion x Corofina
KENT FARRINGTON (USA), KENT FARRINGTON, LLC: 0/0/42.29
8. CONTAGO: 2011 Oldenburg gelding by Cornet Obolensky x Cassandra
EUGENIO GARZA PEREZ (MEX), El Milagro: 0/4/44.63
9. DIAROUBET: 2012 Oldenburg gelding by Diarado x Baloubet Du Rouet
ANDRZEJ OPLATEK (IND), Gospodarstwo Rolne & Andrezj Oplatek: 1/83.23
10. DONATELLO 141: 2011 Westphalian gelding by Diarado x Lamoureux I
ASHLEE BOND (ISR), Little Valley Farms: 4/78.82
11. CAPTAIN COOPER: 2007 KWPN gelding by Namelus R x Corland
HILARY MCNERNEY (USA), Hilary McNerney: 4/79.57
12. CAROLLO: 2009 Mecklenburger gelding by Chacco Blue x Lee-Lou
GIAVANNA RINALDI (USA), Anton Marano: 4/80.41