Edited Press Release
Harrisburg, Pa. – May 5, 2022 – The 2022 Intercollegiate Horse Shows Association (IHSA) kicked off the National Championship Horse Show, held at the Pennsylvania Farm Show Complex and Expo Center in Harrisburg, with great rides and big scores.
The first class of the day was Individual Open Equitation Over Fences. The 17-rider division rode over a flowing course of eight jumps with options at fences two and three. As the first rider on course, Airelle Logiudice (Morganville, New Jersey) from Centenary University set the pace and score to beat of an 85. The rest of the field took notice.
Julianna Empie, a junior on the Penn State Equestrian Team, took home the national championship with a first-round score of 85.5 aboard Big Shot, a 17.1-hand chestnut gelding provided by Centenary University.

"Going into the first round, I had a couple of questions," Empie said. Seeing Ariel, the first ride in the ring did a very tight inside turn to the last jump. I drew Big Shot, who's a fairly large horse, I was kind of on the fence as to whether I wanted to do that. I just decided I wanted to hug the turn, go a little wider and not do that inside turn to the last jump to stay fairly neat. I think it worked out pretty well and I was happy with my round."
Earning the reserve champion title with an impressive first-round high score of 88, was Carly Alder (Germantown, Tennessee), a senior at Savannah College of Art and Design (SCAD). Alder and her mount Houdini, a 16.1-hand bay gelding from Centenary University had the luxury to go later in the class. "I got to kind of see what the judges were looking for," Alder said. "They didn't seem to be rewarding for the inside turns and the description for my horse was nice and huntery. So I just went and kept it tidy, tried to keep a nice hunter flow and have a nice round."
Judges Tom Brennan and Todd Karn called back the top four riders for further testing, including a hand gallop fence and two changes of lead along the judges' line.
Empie's test aboard Big Shot impressed the judges and shot her from third to champion. Alder and Houdini had an unfortunate swap on the way to hand gallop fence four but her first-round score helped secure the reserve championship.
"I was really excited to be riding the same horse. It was nice that I had gotten to know him a little bit from the first round," Empie said. "I just wanted to go in and have a nice two first fences then I wanted to really show off the hand gallop. I made sure I had really nice clean transitions through the lead changes."
"I was just trying to be conservative and keep it nice. I asked a little too hard for the hand gallop, so I had a swap, but the horse was really great," Alder said. "He gave me a lot of confidence and was always there for me."
Individual Open Equitation On the Flat proved just as competitive as the over fences class. Sixteen horses and riders competed for the coveted national championship. Sweet Briar sophomore Emmy Longest (Hanover, Virginia) took the top honors with the 16-hand bay gelding Quinn, provided by SCAD. "I felt very confident," said Longest. "I thoroughly enjoyed the horse I was on, so it felt like a great pair and it was a great experience."
Morehead State's Jordyn Bagnall (Jupiter, Florida) aboard Scottie, a big chestnut gelding from Cazenovia College, rode to reserve champion with Empie taking third on Ivan, a 16-hand black gelding from Long Island University.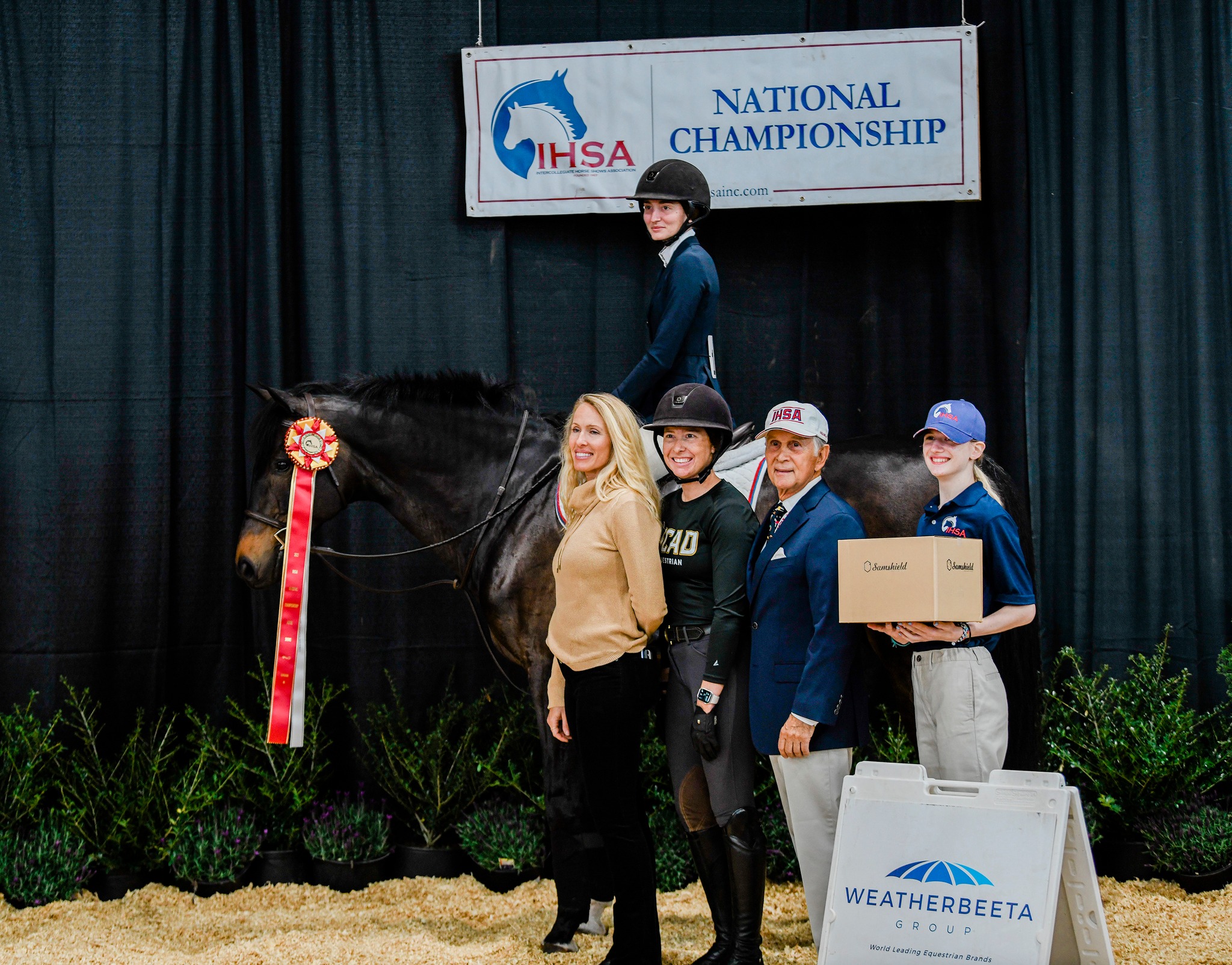 BIG DAY FOR RANDOLPH MACON
Sophomore Caitlyn Giese (Aylett, Virginia) has written her name in the Randolph Macon Equestrian Team (Ashland, Virginia) history books. As the first rider in the school's history to qualify for Nationals, Geise topped the field 16 to take home champion in the Individual Novice Equitation on the Flat.

"This is my first year competing in, IHSA due to COVID last year as a freshman," Geise said. "I've had my amazing coach obviously help me through our regular IHSA shows. I pointed out in the Novice division and I placed second at Regionals. And then I went to St. Andrews for Zones and got first. And now I'm here!"
Geise drew the ride on River, a 15.3-hand bay gelding from Renesselear Poly Institute. "He was such a good boy. He has smooth canter I feel like I could really equitate," Geise said. "They told me going in that he was such a good boy and that I could just sit there and help him out and support him. And he was a rock star."
Randolph Macon Equestrian Team Head Coach John West rode every step of the flat class with Geise and River. West has been with Randolph Macon for five or six years and despite the trying times through COVID he's seen his team – and Geise – really step up to the plate. "She's worked so hard for this," he said. "She did a great job at zones, really showed us what she was made of and I'm very proud of her."
After a two-year hiatus due to the COVID-19 pandemic, the atmosphere at the National Championship Horse Show is electric. Coaches, riders and horses look fresh and ready to compete.
Scores throughout the day continued to trend high with the high score of the day being a 90 by Dakota Banks (Dallas, Pennsylvania) from University of Lynchburg in the Individual Limit Equitation Over Fences.
PHOTOGRAPHY INTERNS – THROUGH THE LENS
Each year, the communications team and the IHSA puts out a call for photography and video interns for the National Championship Horse Show. Many applications are submitted and carefully reviewed to choose interns whose work will best showcase the IHSA and its equestrian competition, sportsmanship and values.
Tessa Wrice, a senior on the Arcadia University Equestrian Team, has been doing photography for close to six years, both for personal artistic and paid gigs. She has done family portraits, horse and rider sessions, some horse show photography and landscape photography. After graduation this summer, Wrice plans to work for a little while then travel abroad to see more of the world.
Maddy Falkowitz, a freshman and member of the hunter seat team at Savannah College of Art and Design, has geared her experience toward equine portrait sessions and equestrian competition. She is self-taught and brings passion and drive to equine photography.
---
This Post Brought to You by:
Taylor, Harris Insurance Services
Taylor, Harris Insurance Services (THIS) was founded in 1987 to provide specialized insurance for all types of equine risk.We place our policies with the highest rated and most secure carriers, meticulously selected for reliability and prompt claims settlement. We are proud of our worldwide reputation for responsive and courteous service, and we welcome the opportunity to discuss your equine insurance needs and provide you with a quote.
Access to multiple underwriters
Leader in the U.S. and European markets
Customized policies provide you with a choice
Trusted advisors in the equestrian industry
Direct access to insurance professionals
Policies that cover every breed and discipline across all 50 United States