Edited Press Release
Wellington, FL – May 8, 2022 – ESP Spring IV came to a close on Sunday with the $25,000 Palm Beach Equine Clinic Grand Prix as the last class in the grass Derby Field. Capping off an already incredibly successful week full of blue ribbons, Aaron Vale (USA) triumphed for the fifth time throughout the week, winning the class and adding to his success with third-place and fourth-place results, as well. Vale captured the win aboard I.Adermie R 4, owned by Lori Osterstock, in a speedy and fault-free jump-off time of 40.39 seconds against 13 other challengers.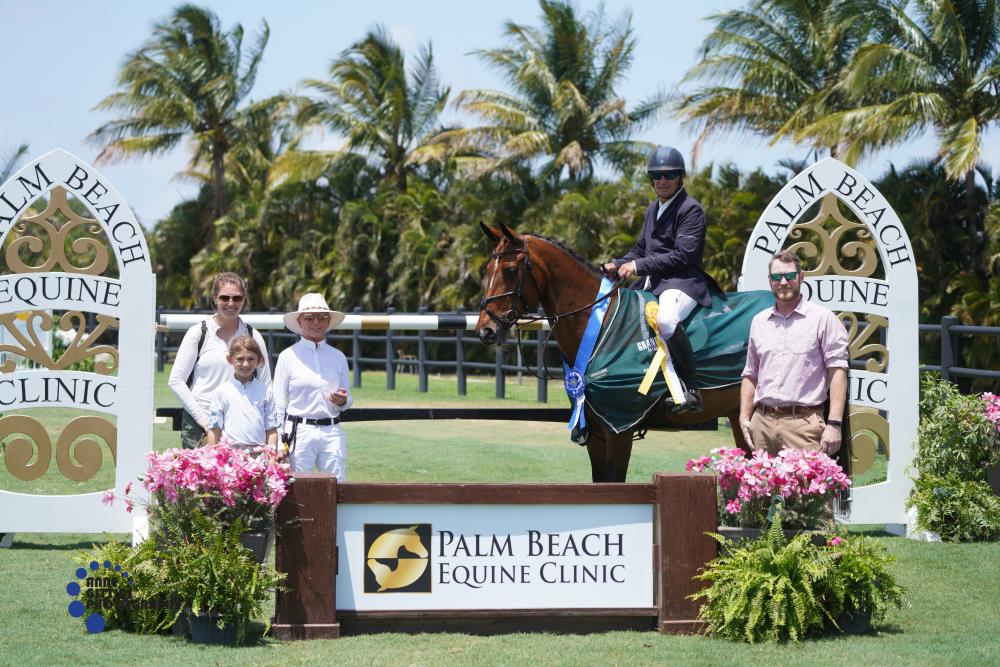 "Sunday always sends you home, no matter how you do during the week so if you have a bad week and you do well Sunday, you go home happy. If you win all week and lose Sunday, you go home angry. It was nice to put both ends of the spectrum together this week!" Vale remarked.
With three horses qualified for the jump-off and a string of wins behind him from the week, odds were good that Vale would end up on the podium in the class. For the majority of the class, he led the way on I.Adermie R 4 and was in second position with Gray's Inn, owned by Thinks Like A Horse, just fractions of a second off the frontrunners' pace. By the end of the class, only Kent Farrington (USA), one of the top-ranked riders in the world, could break up Vale's one-two position, but Vale quickly placed another top round with Obi Wan, owned by Thinks Like A Horse and Alison Register to finish with three horses in the top four spots.
The final standings featured Vale on top with I.Adermie R 4, followed by Farrington and Electrique, owned by Farringto nand Haity McNerney, with a clear second-place time of 40.62 seconds. Vale captured third place on Obi Wan and fourth place with Gray's Inn.
"The horse that won, she is just very quick. This is probably her fifth grand prix win this year. She is just quick, catty, and gets around the jump-offs really fast," Vale commented. "Gray's Inn is quite green. Usually, my wife shows him in the Amateurs. That was probably his first jump-off in a grand prix, so I was quite happy to go that fast with him. He is not very educated to go super quick so that was a great round. My last one, Obi Wan, I actually thought that he was fast enough to be second, but he jumped really high at a couple of the fences. He may have spent a little extra time in the air because I felt like stride-wise we were very quick. I am just thrilled with the way all of them jumped today. We get to go home happy campers."
Of competing on the grass with his string of horses this week, Vale continued, "These are all younger or newer horses for me. It is really nice for them to come down and jump on the grass. It is something different for them so it was really good. They have been jumping grand prix classes probably a hair higher all winter, but its nice to be at a different venue with different conditions to expose them to more things and hopefully make them into top horses one day. So many of the rings now have the all-weather footing, and it is very similar from show to show. There is not much difference, and this is quite different so it's very good exposure for the horses, education-wise."
As the groom of the winning horse, Vale's groom Marco was recognized with the Schneiders Groom Awards thanks to Schneiders Tack.
"We're proud to be part of Wellington's equestrian community and to continue supporting the horse shows year-round through Palm Beach Equine Clinic's sponsorship, and by providing top-notch services to our clients," commented Dr. Justin McNaughten of Palm Beach Equine Clinic after the class.
For the full results of the $25,000 Palm Beach Equine Clinic Grand Prix, please click HERE.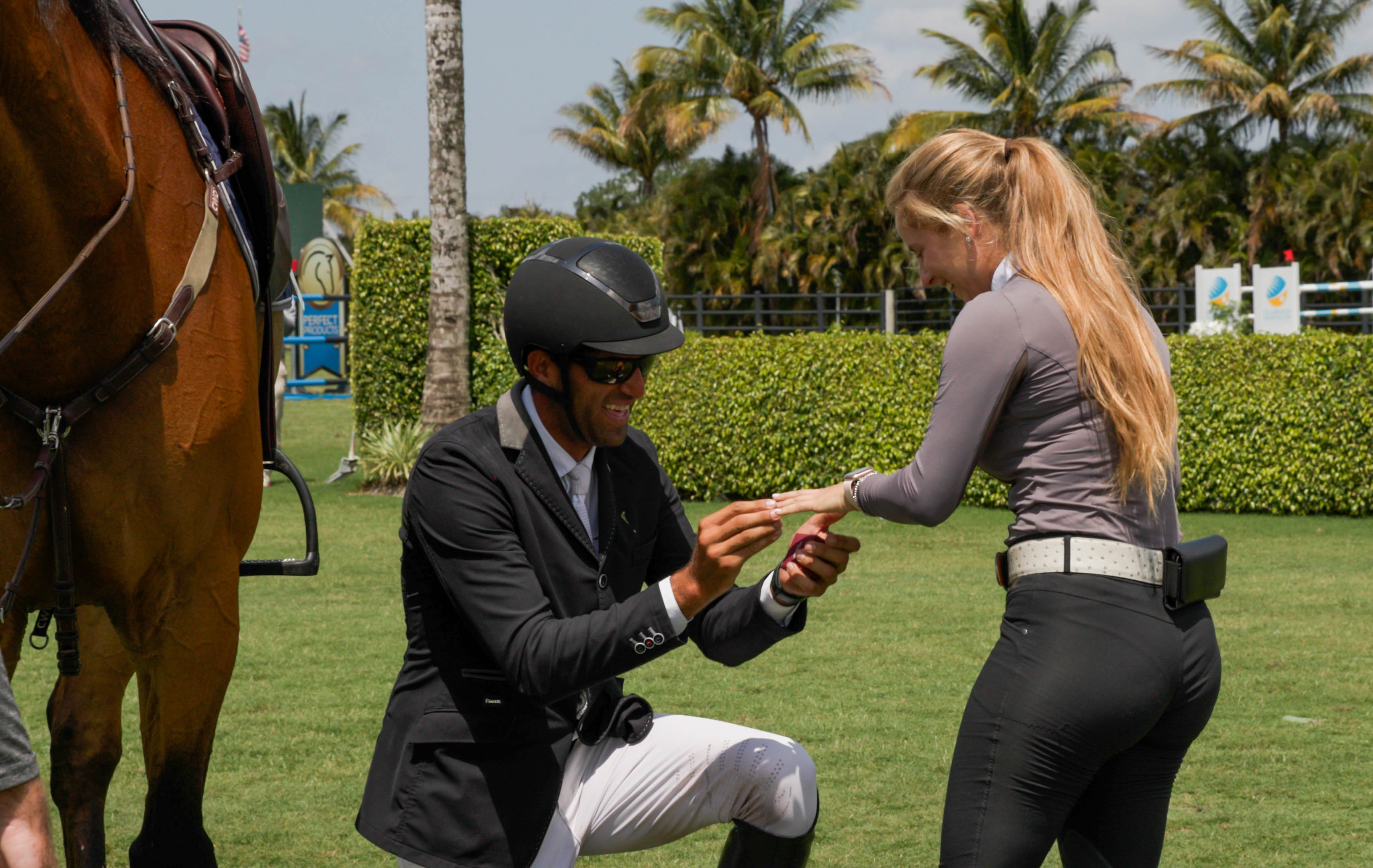 Spectators got to witness a special surprise during Sunday's grand prix when Antonio Jose Martinez Goiri, the last competitor during the first round, got off his horse after entering the ring and proposed to his girlfriend, Katarina Sciuto! She said yes! Congratulations!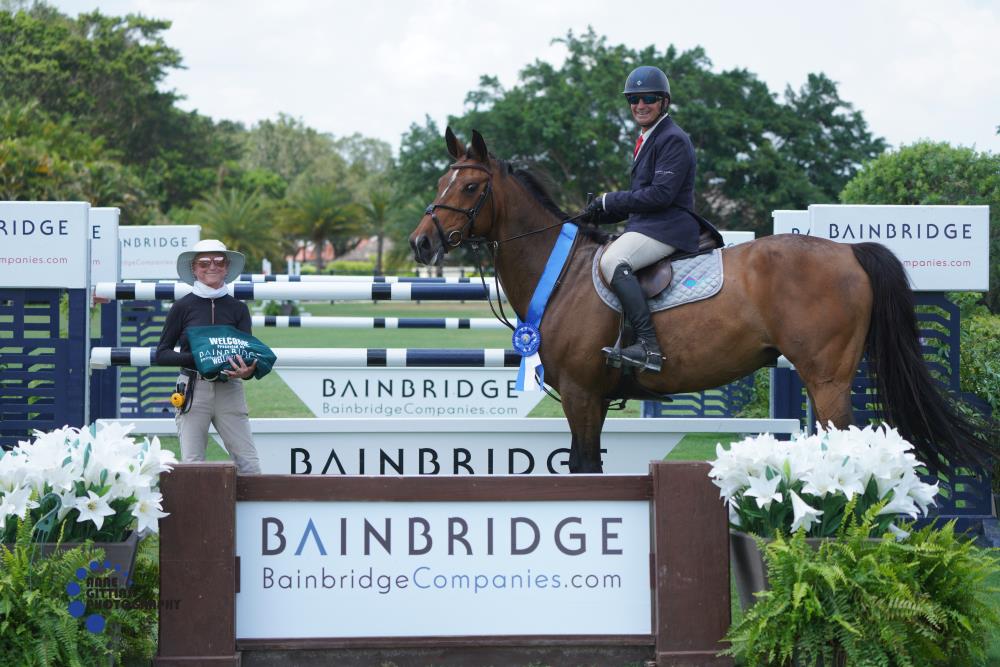 Friday's $10,000 Bainbridge Companies 1.40m Open Stake showcased 34 competitors who tested the opening track designed by Héctor Loyola (PUR), with Vale again bookending the podium. As one of the last competitors to test the jump-off track, Vale sped through the course in 43.10 seconds with I.Adermie R 4 to edge out the current frontrunners, Farrington and Greya, and ultimately win the class. Farrington finished in second place aboard Kent Farrington LLC's Greya with a double-clear time of 44.63 seconds. Vale and Cristo Beech, co-owned by Thinks Like A Horse and Alise Carrico, came in third after placing two foot-perfect rounds and a jump-off time of 46.50 seconds.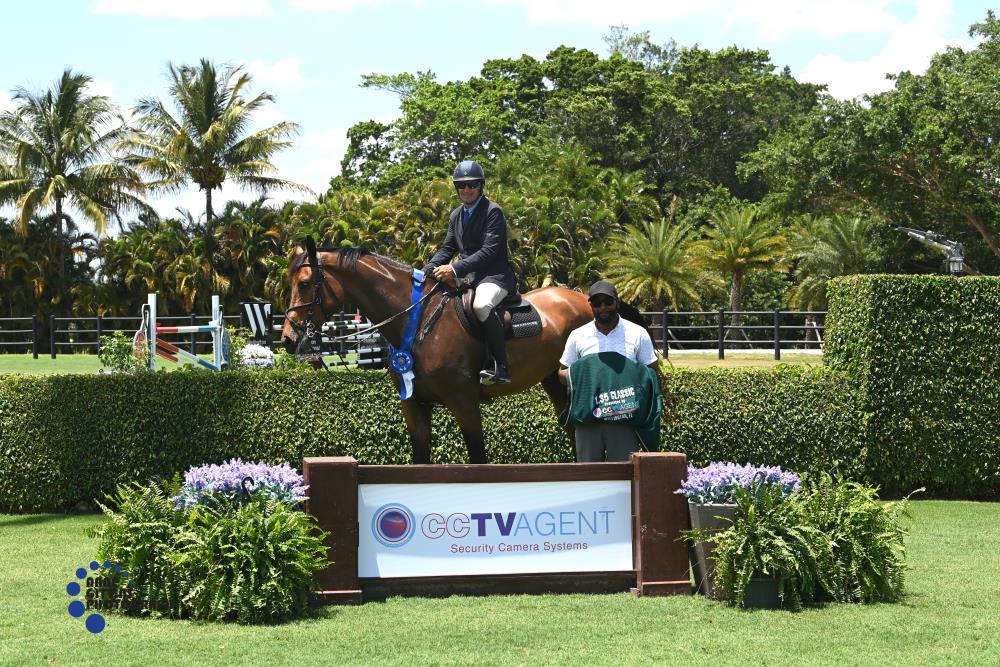 In the first highlight class of ESP Spring IV, Vale galloped away with the win in the $5,000 CCTV Agent 1.35m Classic. Piloting Cristo Beech, Vale sped through the shortened course in 41.11 seconds to grab victory. Diego Javier Vivero Viteri (ECU) came in second place and third place, finishing in second with a double-clear time of 42.34 seconds on Quinn 33, owned by Eickendorf Horses, and in third with Highway FBH, owned by Eickendorf Horses, stopping the clock just behind at 42.96 seconds.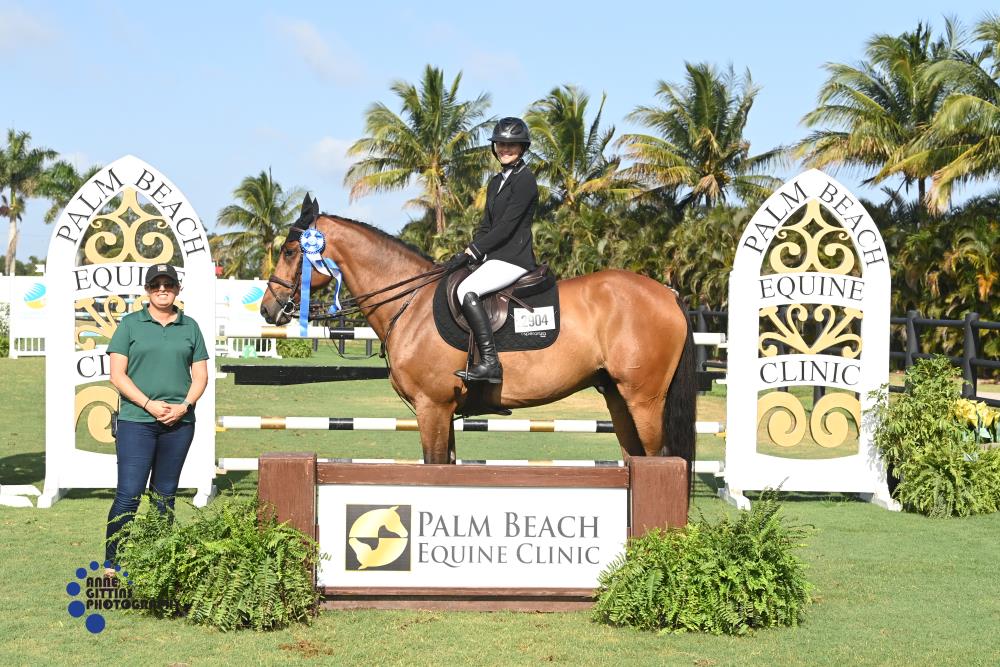 The $2,500 Medium Amateur/Junior Jumper Classic, presented by Palm Beach Equine Clinic, showcased the efforts of Sophia Ahearn (USA) and Esperanza Imports LLC's Quick Bob, who galloped to the win a full second ahead of the competition. The duo tripped the jump-off timers in 42.39 seconds without faults to best the field of eight short-course contenders. Halle Duke (CAN) and her own Ilana earned second position in a clear time of 43.48 seconds, followed by Alexandra Welles (USA) aboard Andrew Welles LLC's Dante with a fault-free time of 45.19 seconds for third place.
On the final day of the week, Lillie Parr (USA) added a blue ribbon to her name thanks to a victory in the $2,500 NAL Low Amateur/Junior Jumper Classic, presented by Equiline, riding Oakland Ventures LLC's Laithinus. The winning partnership turned in a quick and clear time of 36.67 seconds in the jump-off as the speediest challengers. Owner-rider Lauren McCaulley (USA) piloted Mascotte VD Withoeve to the runner-up spot in a foot-perfect time of 38.52 seconds, and Sharon Brown (USA) earned third place riding her own Eye Catcher in 38.54 seconds, just two-hundredths of a second slower, as the final double-clear team.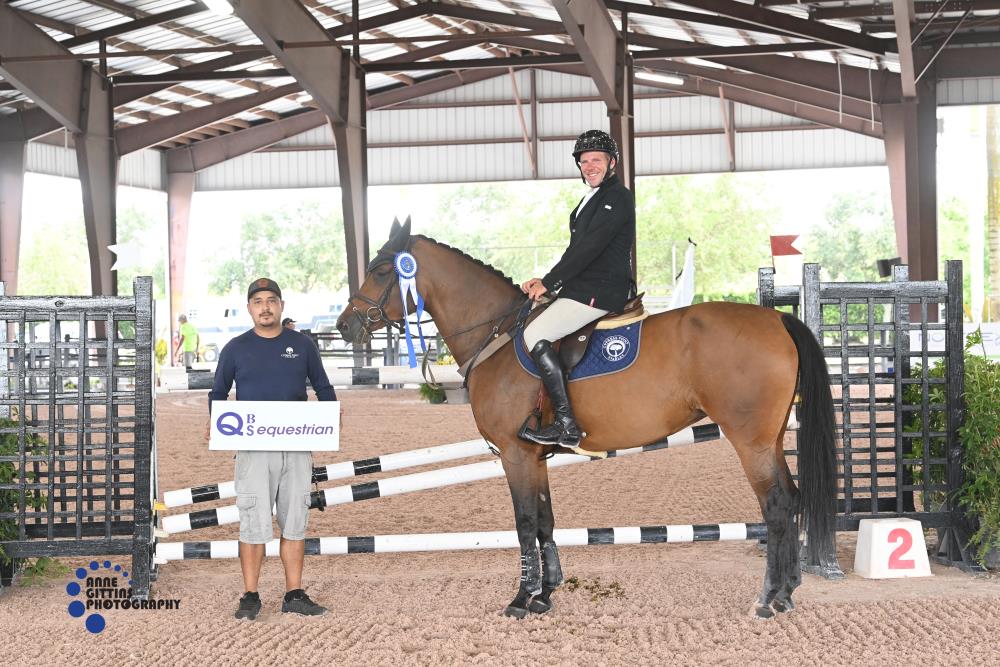 Sohnke Theymann (GER) and Henrietta, owned by Platinum Capital Management LLC, topped Thursday's 7 Year Old Young Jumper class, presented by QBS Equestrian LLC and M.Michael Meller Sport Horses. After clearing the first round, the pair placed a second foot-perfect round, stopping the clock at 34.86 seconds in the jump-off to top the class. Just off the pace, Luis Fernando Larrazabal (VEN) piloted Leeann Ablin's Baroness to a second-place finish with a clear jump-off time of 35.07 seconds. Clearing the short course in 35.32 seconds, Emily Hill (USA) rounded out the podium with Jumbo Van De Kapel, owned by Bickford Hill Show Stables.
---
This Post Brought to You by:
Taylor, Harris Insurance Services
Taylor, Harris Insurance Services (THIS) was founded in 1987 to provide specialized insurance for all types of equine risk.We place our policies with the highest rated and most secure carriers, meticulously selected for reliability and prompt claims settlement. We are proud of our worldwide reputation for responsive and courteous service, and we welcome the opportunity to discuss your equine insurance needs and provide you with a quote.
Access to multiple underwriters
Leader in the U.S. and European markets
Customized policies provide you with a choice
Trusted advisors in the equestrian industry
Direct access to insurance professionals
Policies that cover every breed and discipline across all 50 United States
---