Edited Press Release
Mill Spring, NC – May 9, 2022 – Schuyler Riley (Wellington, FL) and Robin de Ponthual rose to the top with a time of 38.187 in the $75,000 Tryon Resort Grand Prix on Saturday, May 7, 2022, kicking off the first grand prix of the Tryon Spring Series. Closely behind in second place was Santiago Lambre (Wellington, FL) and Cetano Van Aspergem Z, the 2009 Zangersheide gelding (Clinton x Ahorn Z) owned by Tal Milstein Stables, with a time of 38.203. Dorothy Douglas (West Bridgewater, MA) and MTM Cedrik, Nina Koloseike's 2013 Holsteiner gelding (Colman x Contender), finished in third place with 41.509 seconds.
Riley raved about Peter Grant's (CAN) grand prix course, sharing, "The first round rode beautifully. It actually rode bigger than I thought it walked. This is an impressive ring and you have an excellent course designer this week."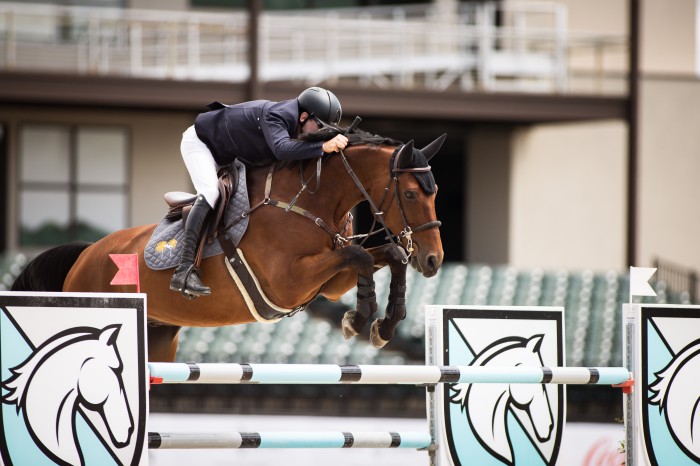 Partnered for three years now, Riley praised the 2005 Selle Francais gelding (Elf d'Or x Calypso d'Herbiers), owned by Katherine Gallagher.
"Robin is amazing! I think he's 17 this year, so he knows his job really well," Riley said. "He's super scopey and we've now had a three year partnership, so we know each other very well. He tries every day to show up and give a hundred percent. I love that horse!"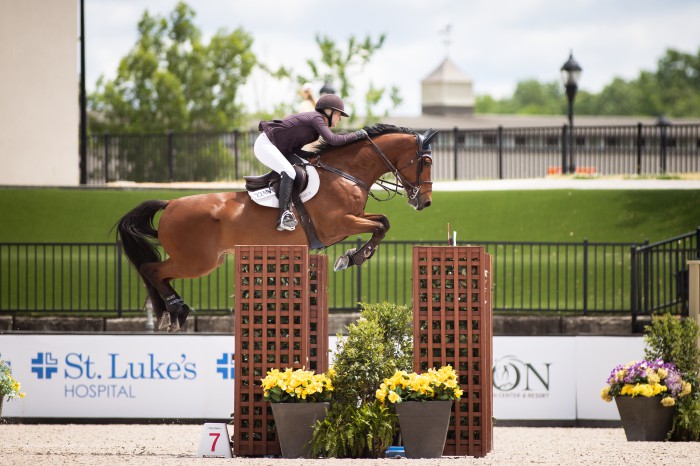 Riley used "Robin's" scope to her advantage. "Strategy in the jump-off was to utilize my stride because he's got a huge stride, so I knew I could go really fast," she said. "I planned to do one less stride into the double, but when I looked up I saw that that was actually going to be a bit dangerous, so I did the emergency add. It worked out, and he was on fire the whole round. He felt amazing."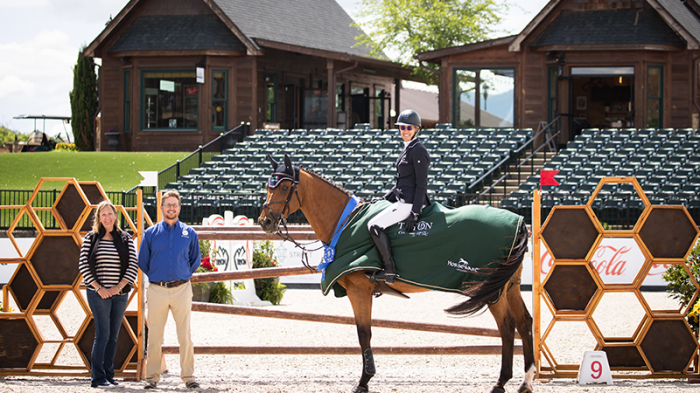 Sarah Hubbard (Cornwall, CT) and Latino Van De Looise Heide claimed the win in the $25,000 Tryon Resort Jumper Classic with a time of 37.554. Second place was earned by Jimmy Torano (Wellington, FL) with a time of 38.685 aboard his own Kochio Z, a 2014 Zangersheide gelding (Kannan x Datura Z). Zanya Rizvi (Greenwich, CT) and Exquise Du Pachis, the 2010 Belgian Sport Horse owned by Opimus Agro NV, landed in third place with a time of 38.94.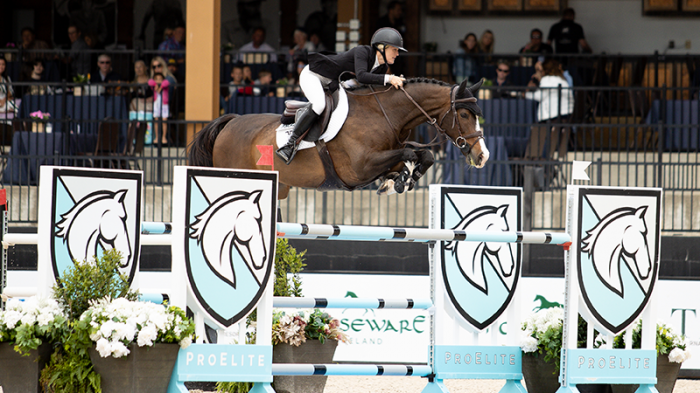 Hubbard thought the Peter Grant (CAN) course looked challenging before her ride on Hubbard Horses, LLC's 2011 Belgian Warmblood gelding (Cantos x Quadrillo), so she planned accordingly.
"The course was good. It looked pretty hard, so I was surprised there were so many clear. There are a lot of really good people here, though. I was trying to go as tight as I could without doing anything too crazy. [Latino Van De Looise Heide] is really fast across the ground, so I try not to think about the number of strides I do, but more working off of his pace and trying to turn tight, " explained Hubbard.
Following her ride, Hubbard was not sure she was fast enough to take the win.
"[Latino Van De Looise Heide] can go as fast as you want. I was actually thinking I went kind of slow today, so I was nervous watching the rest (of the jump-off). He was great!" added Hubbard.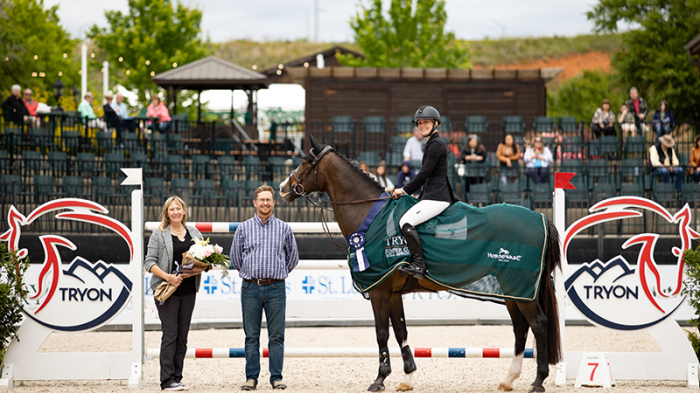 Filip De Wandel (Mechanicsburg, PA) soared to the winners' circle aboard Manhattan Van't Leeuwerikenhof in the $30,000 Horseware Ireland Welcome Stake with a jump-off time of 42.581. In second place was Jimmy Torano (Wellington, FL) piloting his own Chewbacca HCC, the 2012 Holsteiner gelding (Clarimo x Quintero), to a time of 42.663. Tiffany Hammack (Hawthorne Woods, IL) secured third place with Ferasin LTD's Verdi O'merveilles, the 2009 Selle Francais gelding (O'my Star x Quick Star), locking in a time of 42.866.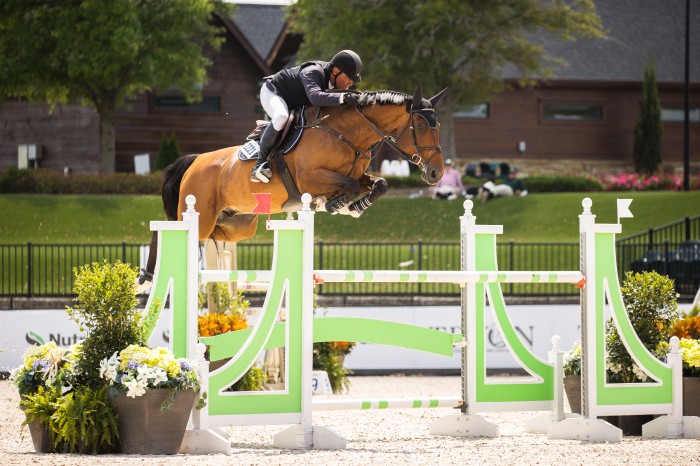 With two horses in the class, De Wandel was glad to get a second chance at the course designed by Peter Grant (CAN) with Five Way Farm, LLC's 2012 Belgian Warmblood gelding (Emerald Van't Ruytershof x Kashmir Van Schuttershof), after his first ride didn't go as planned.
"I had another horse first, and I didn't really ride my plan to the triple combination, so I think I was a little more ready for it with this [horse]. I think it was a fair course. Of course, it was a little careful, so you always have to jump it clear. But it was a fair course, I thought there was still enough clear for the jumpoff," explained De Wandel.
Being the final rider in the jump-off was also a benefit, he added.
"I had the advantage of going last, so I could sit out a little bit. And I think the very fast ones [hit] the rails, so I didn't need to go all the way. And then I decided to for sure to try to keep clear, and I was also just fast enough still."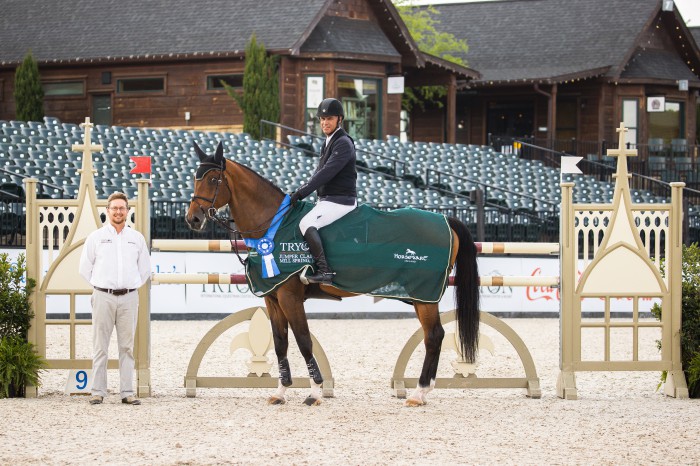 De Wandel's relationship with "Manhattan" is still blossoming and the duo are coming from a challenging winter in Florida.
"I've had 'Manhattan' since June last year. He jumped this winter in Wellington in the four stars, which was a little bit of a level up for him. So [Tryon Spring 1] was actually a little bit of a break now from Wellington, so this was a nice class for him. For him, this [class] was not too big."
For full results from the $75,000 Tryon Resort Grand Prix, click here.
For full results from the $25,000 Tryon Resort Sunday Jumper Classic, click here.
For full results from the $30,000 Horseware Ireland Welcome Stake, click here.
For all division results from Tryon Spring 1, click here.
---
This Post Brougt to You by: Mane 'n Tail