Edited Press Release
June 11, 2022 – Wellington, FL – The final weekend horse show of the 2022 ESP Summer Series before the competition break took place at Equestrian Village in the form of the ESP June II event. Horse-and-rider combinations took advantage of their final chances to earn points and compete in Wellington before the circuit resumes in August, with the creme of the crop rising to the top in a series of hunter derbies and divisions. The big winner of the horse show, Ella Bostwick of Wellington, FL, piloted Azucar, owned by Christine Bostwick and Enrique Gonzalez, to victory in the $2,500 USHJA National Hunter Derby, presented by Freejump, which marked an exciting victory for the jumper-turned-hunter horse.
"He felt really good today going in. I think this is one of his first derbies ever. This was also my first derby with him, as we've only had him for about a month. He's been amazing adjusting to the hunters again after being a jumper in his past. I loved the course and how it flowed, he jumped it really well," shared Bostwick following her winning performance with Azucar.
Held on the grass in the Derby Field Annex, the National Derby showcased a series of talented exhibitors, with nearly half of the scores earned by exhibitors hitting or surpassing the 80-point mark over both phases of riding. After the Classic Round, Bostwick and Azucar sat in second position with 82 points, trailing the frontrunners Danielle Menker of West Palm Beach, FL, and Belino 8, owned by Sergent Stables LLC, with a score of 85.
As the second-to-last to ride over the handy course, Bostwick and Azucar improved upon their earlier performance, nabbing a base score of 85 and 4 high-options points for a total second-round score of 89. Combined with their earlier points, the duo earned 173 cumulative points to jump to the lead and ultimately claim the tricolor honors as the champions.
"His strong suit is definitely how brave he is. He walked straight into the ring without taking a second look at anything and jumped around, even though he has never seen this ring before," commented Bostwick. "He also has a very big stride so it makes it easy to send him forward and hand gallop to find those distances. We can always rely on him to take the high options around the course, too."
With a final tally of 172 points, Menker and Belino 8 finished in the runner-up position. Katie Giddings of Boca Raton, FL, and her own It's Roxette claimed the final podium position with 160 points.
The $1,000 2'6"-2'9" Hunter Derby, sponsored by Score At the Top, was showcased on the Derby Field Annex on Saturday afternoon. The class consisted of two rounds of competition, with Isabella Roman of Wellington, FL, and Carolex Stables LLC's Casallix leading from start to finish. Following the Classic Round, the partnership sat at the top of the standings with 87 points, and they maintained their lead with a Handy Round score of 79 to win the blue ribbon in the class by just one point. The winning duo finished with 166 points, trailed closely by Erika Sergent of Indiana, PA, aboard Sergent Stables LLC's Belino 8, already a podium-finisher in the National Derby, with a final score of 165 for second place. Third place was awarded to Ashley Wilson of Lake Wales, FL, on her own Simply Irresistible with 143 points.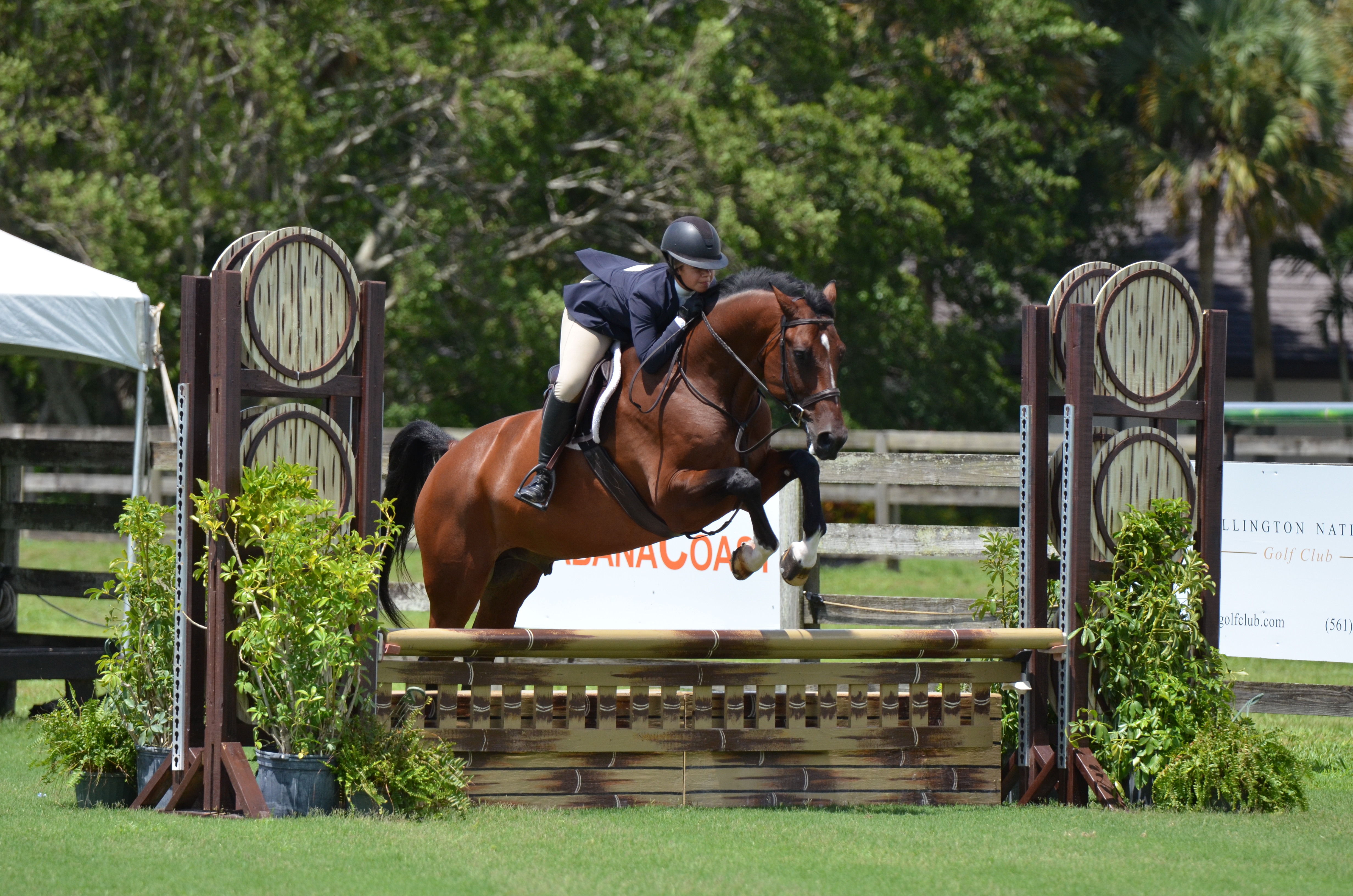 In the USHJA 2'6" Hunter division, Chaz Harpman of Wellington, FL, and Pipedream Sporthorse LLC's Titan claimed the overall championship thanks to two first-place ribbons, two second-place results, and one fourth-place finish across the division's five classes. The reserve honors went to Lexy Reed of Fort Lauderdale, FL, on Stephanie Holmes LLC's Testimony, who earned two blue ribbons and a red ribbons in three classes.
Numerous equitation classes were held in the Van Kampen Covered Arena during Thursday's Equitation Day. Raine Whitman of Wellington, FL and her mount, Addition, proved unbeatable in the ASPCA Maclay, THIS Children's Medal, and the SFHJA Junior/Adult Medal Flat Phase. Topping the Hamel Foundation/NHS 3'3" Medal was last week's winner, Alexandra Pace of Juno Beach, FL and her own, Samson B. The day concluded with a win for Bostwick with Maestro Van't Laar in the Platinum Performance/ USET Talent Search 1*.