Edited Press Release
Wellington, FL – August 21, 2022 – It was a picture-perfect day on the derby field for the $25,000 IDA Development Grand Prix, which took place on the final day of ESP Summer II. The highlight class of the week saw a starting order of 18 horse-and-rider pairs test the opening track set by Hector Loyola (PUR). In an exciting jump-off round, Brazil's Gabriel de Matos Machado and Bonza soared straight to the top of the leaderboard to claim the lion's share of the prize money.
"It's good to be back here. I love the shows here, and we're planning to be here the whole summer. Last year we had a really nice year with a lot of wins," shared Machado, who was frequently in the top Grand Prix placings during last year's Annual Series with Clearwater. "This year, I have a different group of horses. I've had Bonza for a little over a year and he's amazing. We took a break after the season and this is my first show of the summer with him. I also have a couple of new ones that I'm excited about."
Loyola created a pattern of eight obstacles for the jump-off, with a time allowed of 46 seconds. First to test the shortened track was Luiz Francisco de Azevedo (BRA) and HFG Quaman, owned by Santa Cecilia Stables, who left all the rails in their cups and set a quick standard at 35.85 seconds. Their time would hold at the top of the leaderboard unti Machado and Bonza, owned by Carben Farms LLC, flew through the course, stopping the clock at 35.20 seconds, narrowly clinching the lead. Five pairs would follow, but no one could catch their time, solidifying Machado and Bonza as the winners of the $25,000 IDA Development Grand Prix.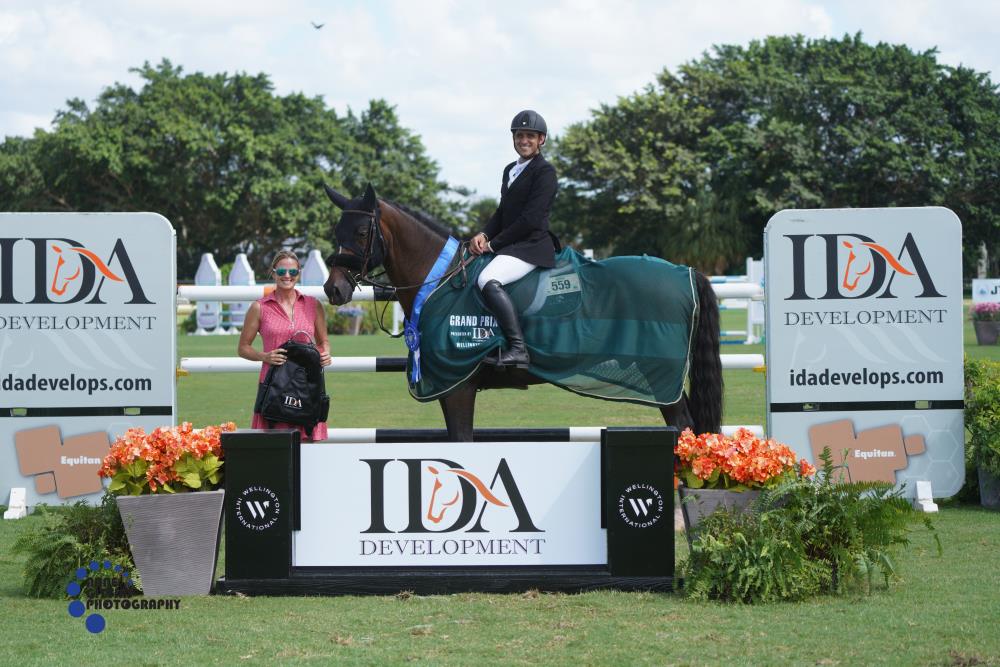 "The class was a good class and very fast. I think where I saved a lot of time was from fence one to two, because I left two strides out," Machado commented. "He [Bonza] is a really fast horse, and can take the jump out of the corner with no problem. I think that's where I won the class. Where other people were doing eight or nine strides, I turned quick and did seven, and it worked out for me."
Azevedo finished the day in second place with HFG Quaman, while the USA's Leslie Howard rounded out the podium after clearing the short course in 36.60 seconds with Richard Neal's Catemaco LS. 
On his plans for Bonza's future, Machado shared that he will continue to bring him along in competition. "I competed in some grand prix classes last year with him, but he was still really green. During the [WEF] season, I did a few FEI classes, but now he's more ready mentally. He has a lot of energy and is very brave, and now that he has started to settle down, we can do the sharp turns that I couldn't do with him last year."
For the full results of the $25,000 IDA Development Grand Prix, please click here.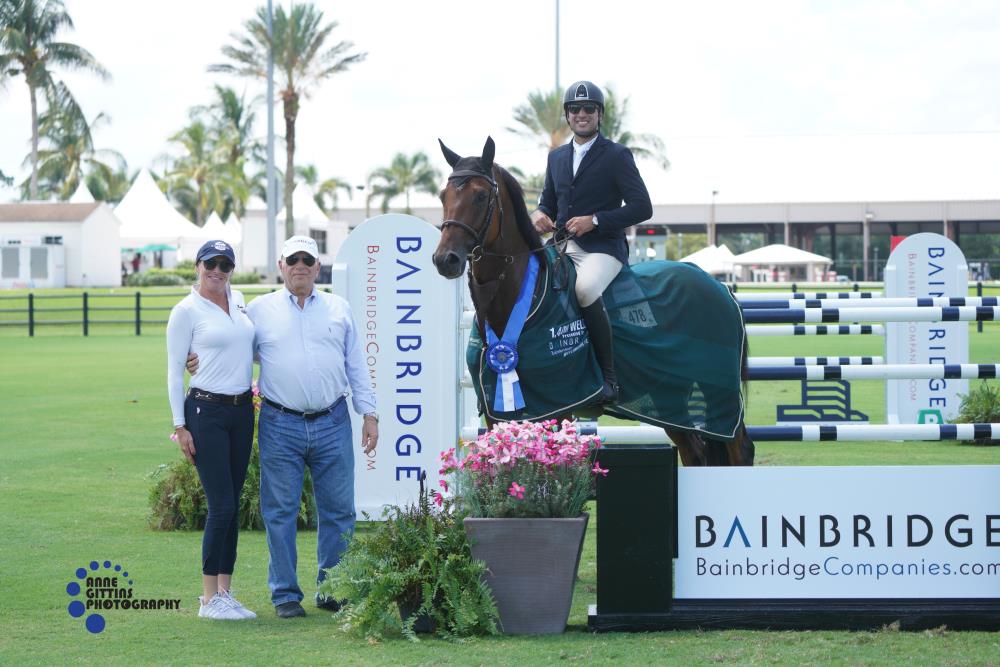 Azevedo started his week off in winning fashion, capturing the Bainbridge Companies 1.40m Open Stake aboard Nashville, owned by Santa Cecilia Stables. The pair were first in the order of go, setting the time to beat at a clear 37.70 seconds in the jump-off that would hold at the top of the leaderboard throughout the entire class. Alejandro Karolyi of Wellington, FL, and Ravello Farms, LLC's Coup de Coeur galloped to a second-place finish in a double clear 39.40 seconds, while Howard finished just behind him with Catemaco LS, owned by Richard Neal, with a clear time of 39.62 seconds to round out the podium.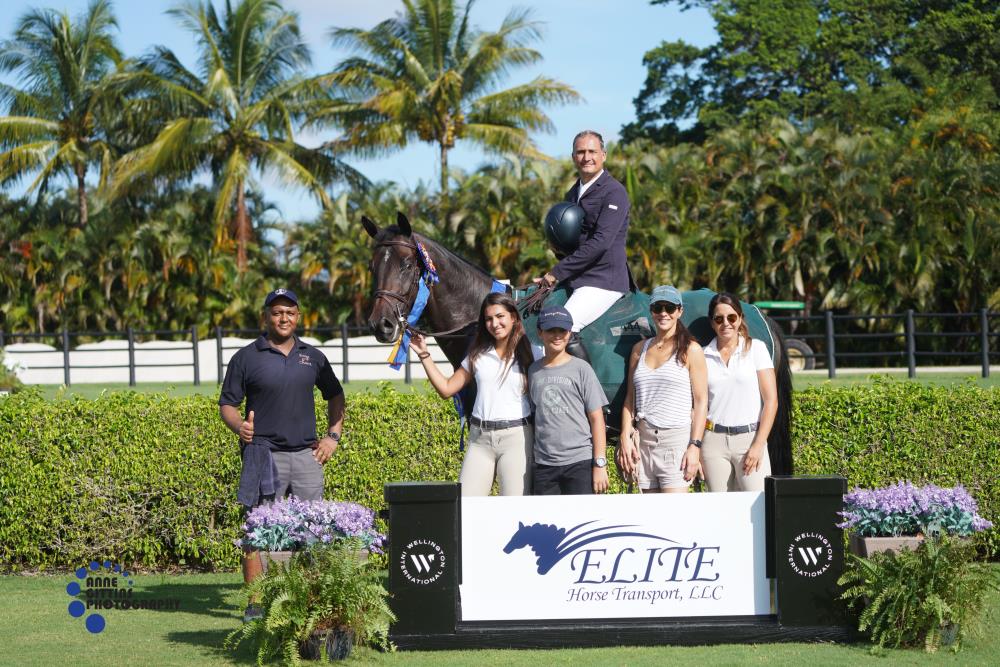 On Saturday on the Derby Field, the Elite Horse Transport 1.35m Stake saw 16 duos compete for the top prize. Fabio Levas da Costa of Rio de Janeiro, Brazil, and HFB Versace, owned by Bonne Chance Farm LLC, ultimately finished at the top of the leaderboard aby more than a full second. The pair crossed the finish line in the jump-off without any faults in 38.39 seconds, besting the time of 39.38 seconds that was earned by the second-place finishers, Luis Pedro Biraben of Wellington, FL, aboard Chapeua PS Z, owned by Biraben and Miguel Madero. Third place in the class was awarded to Pablo Barrios of Wellington, FL, and his own Silver Deenle in a double-clear time of 41.81 seconds.
Sunday afternoon featured the $2,500 Low Junior/Amateur Jumper Classic presented by Equiline, which saw just three pairs complete the 1.20m course without any faults over two rounds of riding. Trinity Beitler of Coconut Creek, FL, secured top honors with her own Coconut after clearing the short course in 34.35 seconds. Just off the pace, Kit Ritter of Charleston, SC, stopped the clock at 34.43 seconds to claim runner-up with her own Sina. The final pair to place double-clear rounds was Jamie Buis of Wellington, FL, and her Killossery Karma, who secured their place on the podium with a time of 38.40 seconds.