Edited Press Release
Wellington, FL – August 27, 2022 – Saturday featured two derbies on the grass during the ESP Summer III horse show at Equestrian Village, paramount of those being the $2,500 USHJA National Hunter Derby presented by FreeJump. Earning the highest scores in both the Classic and Handy rounds of riding, Danielle Menker of West Palm Beach, FL, and Sedrick, owned by Sergent Stables LLC, captured the top spot on the leaderboard after accumulating 176 total points.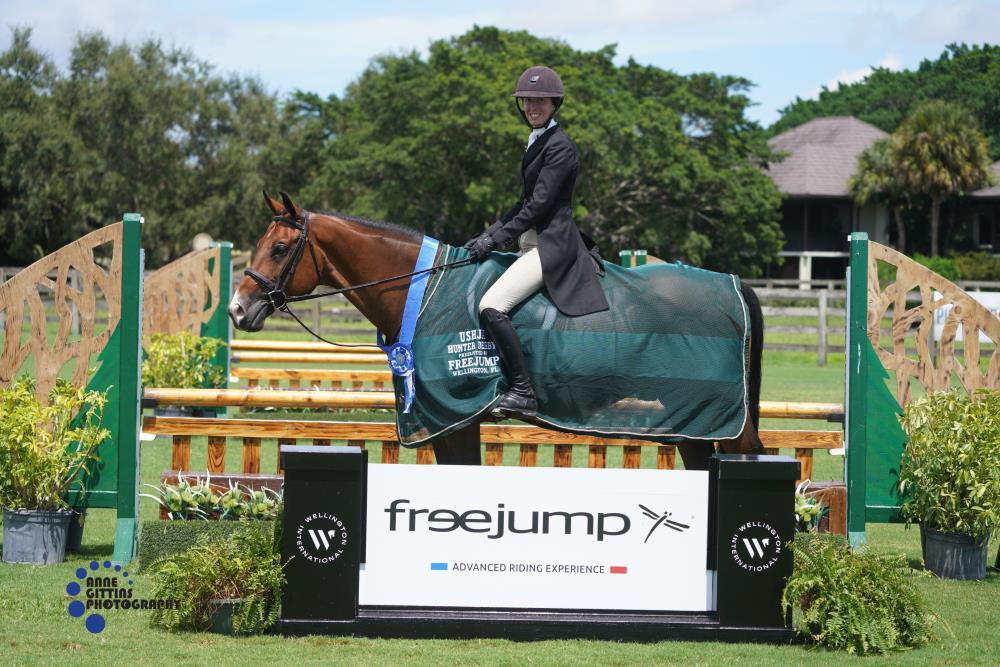 "Sedrick belongs to Erika Sergent and Sergent Stables. Her fiance who I work with, Dany Michan, was riding him in some 1.50m classes this winter and he was really good at that. I started working with him and saw how good he was, so we made him a hunter," shared Menker of the winning horse. "Our first show in the hunter classes was a few weeks ago. He earned a ribbon in every class and did a big derby. We fine-tuned some things at home and he was perfect here for his second show. He is so nice to ride; comfortable, adjustable, and scopey. He is going to be a really, really good derby horse. I have to thank Erika, Sergeant Stables, and Dany for allowing me to ride him."
Menker and Sedrick began the class with a solid ride over course designer Andy Christiansen's (ECU) 10-fence track, earning a base score of 83 plus four additional points for taking the high-option fences for a first-round total of 87. Their score would hold at the top of the scorecard, with Menker increasing her chances of claiming victory with the second-highest score of 82 in the Classic round with Sergent Stables LLC's Belino 8.
"The last time he competed on the grass was probably a grand prix, so I really wanted to just have a smooth round," noted Menker. "Our goal was to be very quiet, and he went in like it was no big deal. I probably actually underrode the first round thinking that he would revert back to his jumper base, but he stepped up."
Back for the Handy phase, the leading pair maintained their momentum throughout the class, improving upon their earlier performance with a score of 89 points from the judges panel. The winding nine-effort course allowed the pair to showcase their skills, once again capturing the highest score of the round to confirm their places at the top of the overall standings. Chaz Harpman of Wellington, FL, climbed the rankings with two mounts, earning second place with Margot Hirsch's Evolutionary thanks to a final score of 147, and also jumping to third position on Karen Lucian's Clear Advantage with 138 points.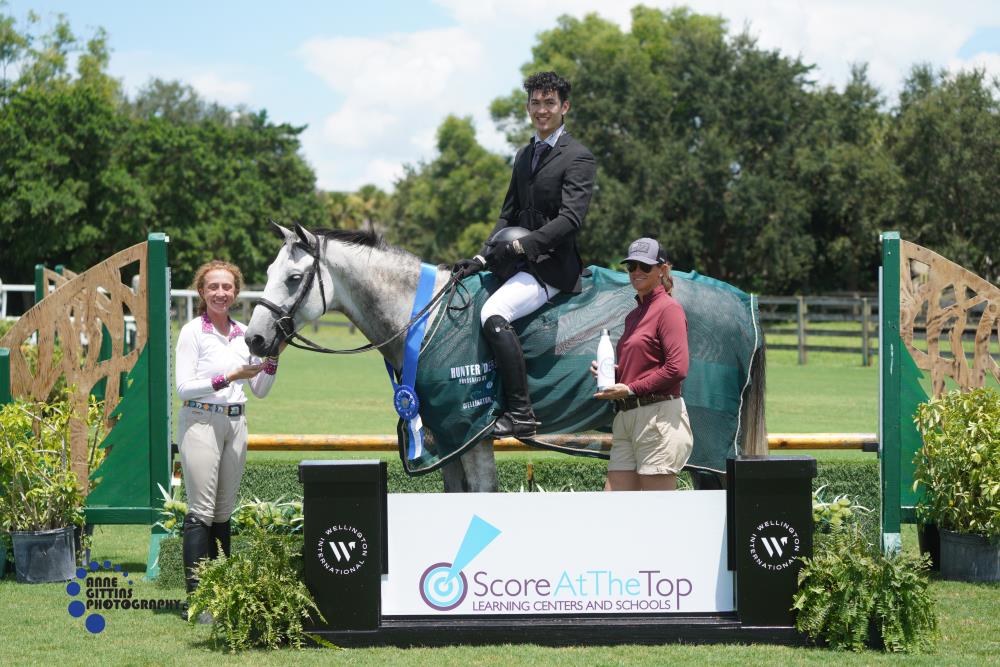 Earlier in the day in the $1,000 2'6″/2'9″ Hunter Derby presented by Score At The Top, Marcus Cmola Au of Boca Raton, FL, and Shea Fennelly's Chitty Chitty Bang Bang captured the top spot in the class with a final score of 160 after two rounds of riding. The duo was awarded 81 points for their Classic phase trip and 79 points for their Handy round to secure the blue ribbon. Ashley Briggs of Loxahatchee, FL, and her own Unrivaled earned second place with a total of 158 points, just two points behind the leaders. Jennifer Prior of Wellington, FL, jumped Catomine Farm's Le Chat Noir to third position with a total score of 149.
Cmola Au's derby win with Chitty Chitty Bang Bang was the team's second championship of the weekend, having already earned the tricolor honors in the USHJA 2'9" Hunter division. The consistent partnership rode to two first-place finishes and two second-place ribbons throughout the division to earn the title. The reserve championship was awarded to Kim Barone and Tarragon, owned by Page Tredennick, who earned four ribbon placings in the division, two of which were first places.