Edited Press Release
Wellington, FL – August 28, 2022 – The ESP Summer III horse show concluded Sunday with the title event of the week, the $25,000 Freejump Grand Prix. The class saw 26 partnerships hailing from 10 nations vie for the top spot and the majority share of the prize money, with Luiz Francisco de Azevedo (BRA) and Santa Cecilia Stables' HFG Quaman ultimately coming out on top, adding another podium performance to their name after finishing in second position one week ago in the $25,000 IDA Development Grand Prix.
"This is an 8-year-old horse from Brazil. I started riding him at the end of last year, and since then we have had many great results together. We went to Europe and he was always in the placings. He is very competitive and I am blessed to be able to ride him," commented Azevedo of HFG Quaman. "He is still young so we need to be careful. I don't want to push him too much, but I do think he will be able to do some FEI classes before the end of the year so that he is hopefully ready to step up during [the Winter Equestrian Festival] next season."
For the first round of riding, course designer Andy Christiansen (ECU) constructed a 15-effort track for competitors. At the end of the order-of-go, ten duos had managed to keep all the rails in their cups, but four of those pairs fell victim to time faults to keep them out of the jump-off, whittling the pack of contenders to six. The international group of qualifiers each represented a different nation, including the United States, Brazil, Mexico, Italy, Venezuela, and Argentina.
"It was a technical course, and I think the designer did a really nice job. There were some good options without getting too deep, but the time was tight so that definitely got some people in the first round," reflected Azevedo. "I was lucky to be the last to go in the jump-off, so I knew where I needed to go. We were able to take some risks and stay quite quick throughout the course."
As the very last pair to ride over the shortened jump-off track, Avezedo and HFG Quaman needed to beat the leading fault-free time of 37.17 seconds, set by frontrunners Luis Pedro Biraben (ARG) and Chapeau PS Z, co-owned by Biraben and Migual Madero. Wasting no time around the course, the combination efficiently completed the pattern without any faults in a final time of 35.85 seconds to easily secure the victory. Biraben and Chapeau PS Z claimed the second-place position, followed by Juan Carlos Garcia (ITA) aboard Neil Jones Equestrian Inc.'s Captain Jack with a double-clear time of 37.32 seconds.
For the full results of the $25,000 Freejump Grand Prix, please click HERE.
In the $10,000 Bainbridge Companies 1.40m Open Stake, Andrea Torres (COL) edged out the competition with Santa Catalina Farm's Fifty Shades to capture the victory ahead of 20 other pairs. Out of the starting field of 21 entries, six horse-and-rider teams advanced to the jump-off, and five of those finished the competition double-clear. The winners' time of 39.66 seconds was milliseconds ahead of the second-place finishers Tanimara Maria Macari Carrillo (MEX) and Eickendorf Horses' Cordelia GP Z, who crossed the timers in 39.882 seconds. The final podium spot went to Leslie Howard (USA) riding Caro W, owned by Laure Sudreau and Peter Howard, in 41.32 seconds over the short course.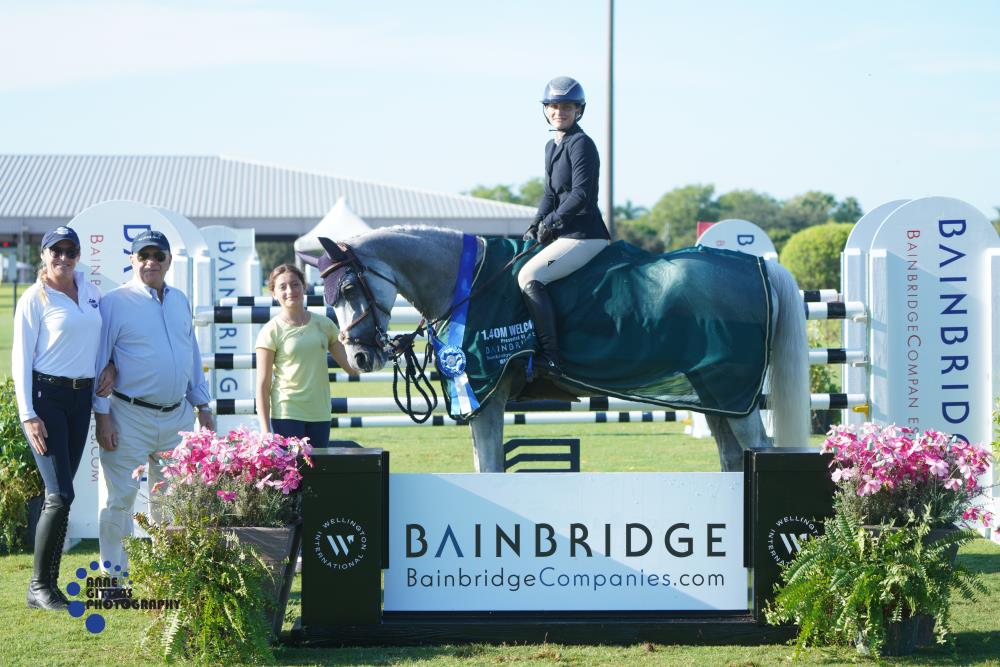 Colombia's Torres continued her success in the immediate next class on Saturday, the $5,000 Equiline 1.35m Stake, by galloping to another victory for back-to-back wins. Torres piloted Harikarla K, another Santa Catalina Farm entry, to a double-clear time of 36.48 seconds for the win ahead of nine other jump-off contenders. Biraben and Chapeau PS Z finished in the runner-up spot without faults in 36.86 seconds, trailed by Antonia Jose Martinez (VEN) and Fonzie D'Herlaimont, owned by Emilio Mantero, in a foot-perfect time of 37.07 seconds.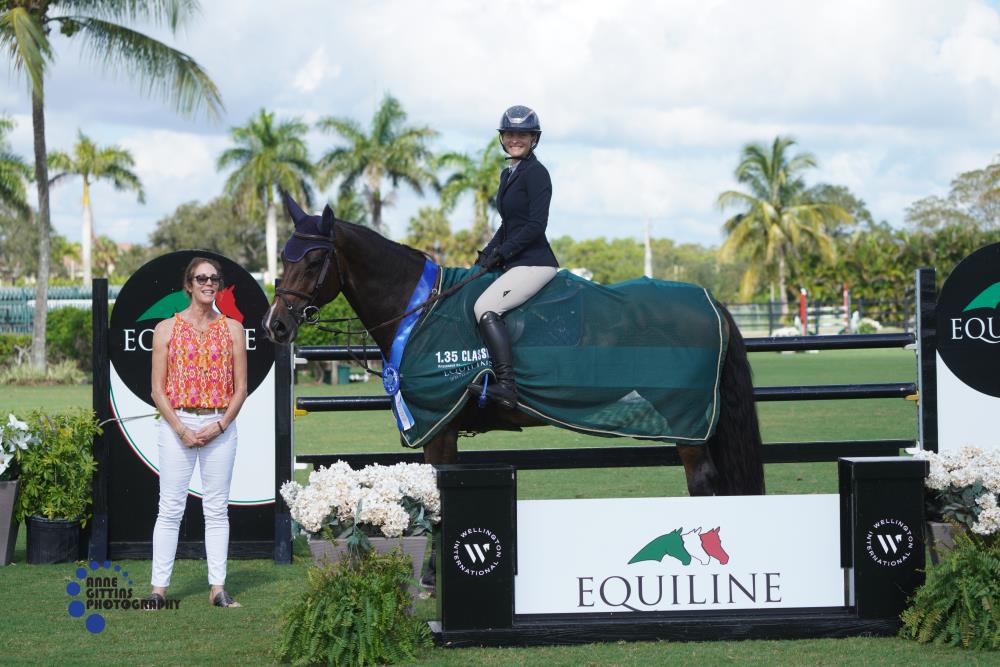 The $2,500 Medium Junior/Amateur Classic presented by Palm Beach Equine Clinic saw Ana Holguin of Wellington, FL, and her own Dayro Z rise to the top of the ranks, claiming the blue ribbon with a double-clear time of 34.22 seconds. The leaders were the fastest of three fault-free pairs, next of which was owner-rider Samuel Watson of Ocala, FL, on Oaks Donatello with a time of 36.17 seconds. Third place was awarded to Hadley Becker of Wellington, FL, and her own Lyranta Van't Gebroekt with a jump-off time of 37.06 seconds. Becker and her mount were also crowned the champions of the division.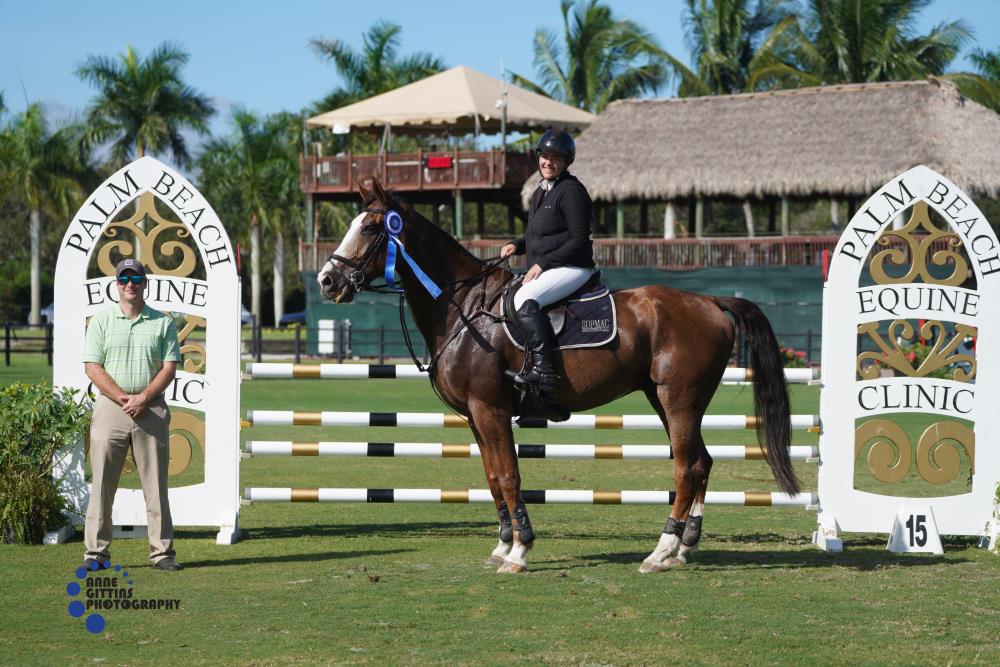 Sunday also hosted the $2,500 Low Junior/Amateur Jumper Classic presented by Equiline, which featured six pairs in the jump-off and saw Madeline Thatcher of Bluffdale, UT, pilot Pony Lane Farm's Celine to victory. The winning pair crossed the finish line without faults in 32.63 seconds to secure the blue ribbon in the class and tie for the overall division championship with two other pairs. Morgan Ashby of Lincolnton, NC, and her own Dutchess Carola jumped to second place in a double-clear time of 33.36 seconds, followed by Victoria Fazio of Fort Lauderdale, FL, aboard Forman de Virton, owned by Tack Up Stable Corp., in a foot-perfect time of 33.90 seconds.