Edited Press Release
Wellington, FL – September 25, 2022 – Jumper competition culminated on Sunday with the $25,000 Wellington National Golf Club Grand Prix during the ESP Florida State Fall horseshow. For the week's highlight jumper event, 21 duos stepped into the VanKampen Covered Arena, but it was Jad Dana (LEB) and After Eight who topped the leaderboard after making swift work of the jump-off.
Course designer Guilherme Jorge (BRA) crafted two rounds of jumps that raised an impressive challenge to the international field of riders, and only five entries were invited back for the jump-off. "In this kind of ring, it's easy for a turn or a jump to come up quicker than you anticipate, especially when you're going fast," Dana noted. "I think the course walk is really important to get a feel for exactly where the jumps are and how you want to ride each jump, and you must know your horse and ride the course based on that."
Dana continued, "For my mare, it's much easier for her to add a stride in a line. So, after the triple combination, I did an outside eight, and then on the diagonal line, I did six strides. In the jump-off, the first half didn't really go to plan, but I took the inside turn and flew to the last jump to make up for the lost time. I think my mare was naturally the fastest horse here, so that helped too."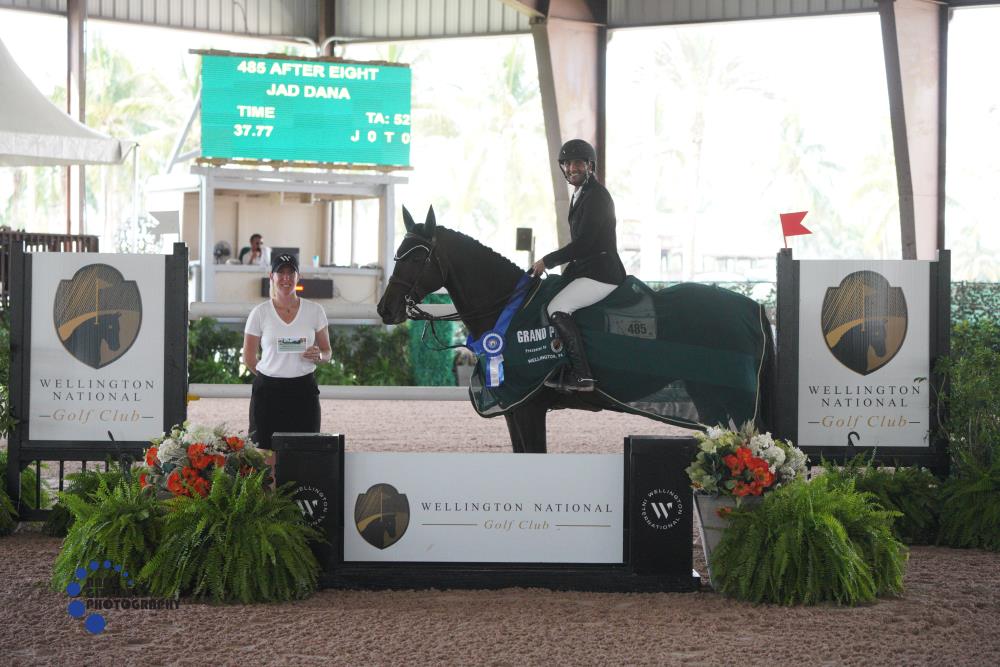 Following the first round, Leslie Howard (USA) was the first to test the short course aboard Caro W. The pair put in a fault-free effort and set the pace at 42.409 seconds, which was bested by Hector Florentino Roca (DOM) and ABC Quantum Cruise, who shaved nearly four seconds off Howard's time. Two more pairs followed, but both incurred four faults against them. As the final competitors in the order, Dana and After Eight made a mad dash through the course, stopping the clock at 37.77 seconds to slide into first place and win the class.
Dana has been working with After Eight, who's owned by Springhill Farm 1850, LLC, for just over a year, and has celebrated numerous grand prix wins together. "I have to say I have the best team," Dana remarked. "I'm so grateful to Amy Hauk and Scott Dehm, who own Springhill Farm, for buying this mare for me to ride, and to my trainer, Leslie Howard, who is not just an amazing rider but is also an amazing person and gave me the opportunity to show this horse last year. After Eight is so talented, and we know she has the chance to win in every class we put her in. She's just fantastic and is very fun to ride."
With their time of 38.554 seconds, Hector Florentino Roca and Wyndmont's ABC Quantum Cruise collected runner-up honors. In the irons for Peter Howard and Laure Sudreau, Leslie Howard and Caro W rounded out the podium with their double-clear performance.
For the full results of the $25,000 Wellington National Golf Club Grand Prix, please click HERE.
The week's featured jumper action kicked off on Thursday with the Schneider's Saddlery 1.35m Stake. Alberto Michan (ISR) captured top honors with Calicia 2, owned by European Equestrian Transfer. The pair placed two foot-perfect rounds and a jump-off time of 31.828 seconds to win the class. Less than a second behind the winners, Camille Madrid (USA) and Li'l Red Ponies LLC's Jalapeno C stopped the clock at 32.181 seconds to claim runner-up, while Lexy Reed (USA) followed closely behind with Celebration R-M, who she co-owns with Keri Kampsen, clearing the short course in 32.247 seconds to finish third.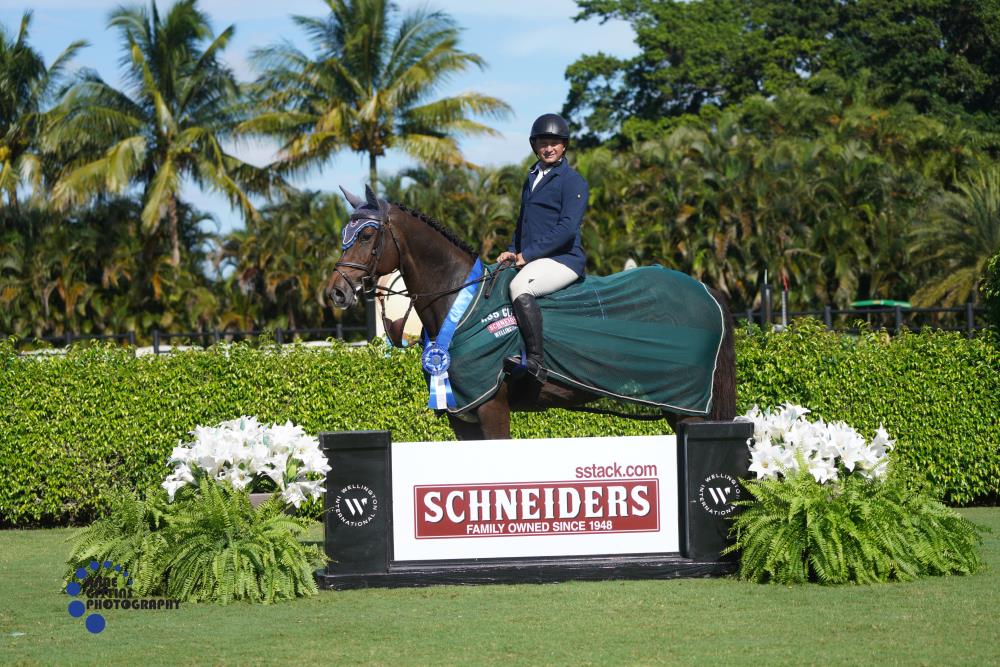 Friday saw an international field of riders take to the derby field to compete for the top prize in the $10,000 Bainbridge Companies 1.40m Open Stake. Twelve contestants qualified for the jump-off, with just nine pairs putting in double-clear performances. Camille Maddrix (USA) and Jack Straw, owned by M&M Sporthorses, galloped to a first-place finish, tripping the jump-off timers in 37.728 seconds without any faults. Richard Neal (USA) and his own Catemaco LS cleared the short course in 38.27 seconds to claim the red rosette, while Ryan Genn rounded out the all-American podium after stopping the clock at 39.447 seconds with Wilhelm Genn's VDL Gerinus T.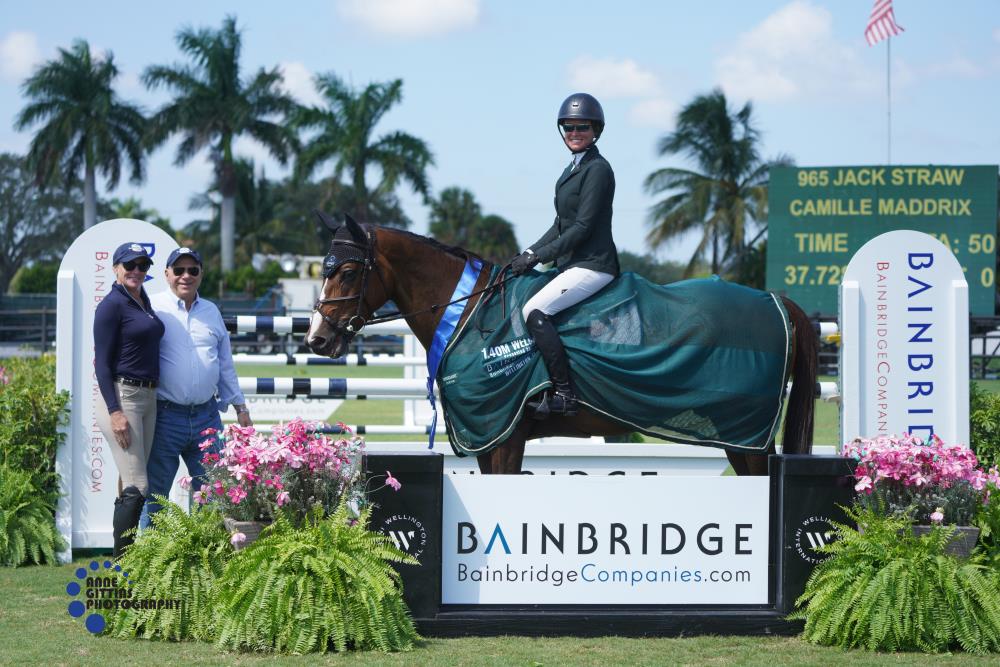 Equestrian Village's International Arena welcomed contestants to the $2,500 Low Junior/Amateur Jumper Classic presented by Equiline. Maya Denis (USA) and Callypso De La Hamente Z emerged as the victors out of a starting field of 20 riders with a clear jump-off time of 41.382 seconds. Reserve honors were awarded to Jorge Gomez and Tolu after they stopped the clock at 41.91 seconds. Mckenzie Casper and Case-Tout followed closely behind, clearing the short course in 41.995 seconds to claim the final spot on the podium.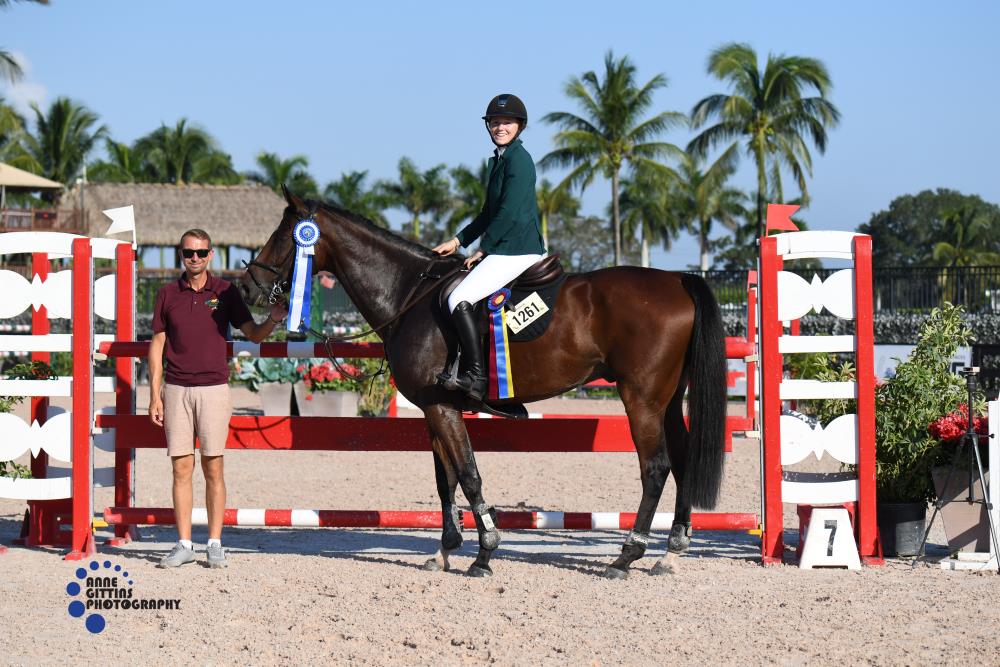 Immediately following, the $2,500 Medium Junior/Amateur Jumper Classic presented by Palm Beach Equine Clinic saw Dominique Roux (PA) and her Casaktie claim top honors. The pair crossed the finish line of the short course in a time of 41.325 seconds to come out ahead of the four other jump-off contenders. Madison Myro (USA) piloted Falive T, owned by Jorge Andres Barrera, to a second-place finish after stopping the clock at 48.427 seconds, followed by Ana Holguin (COL) and her entry, Dayro Z, with a time of 49.025 seconds and four faults.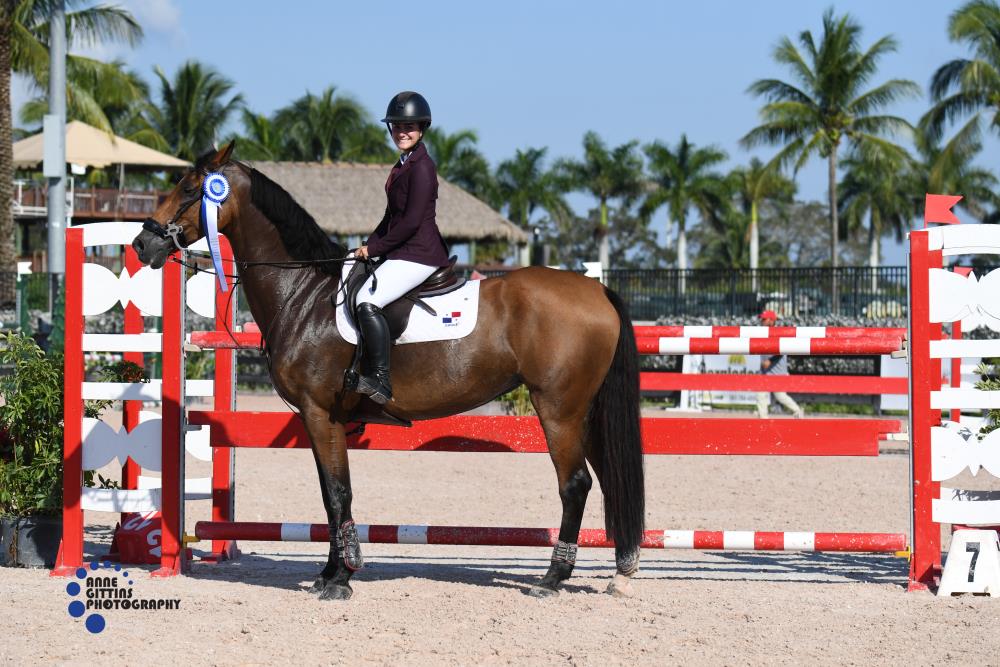 Content posted from https://pbiec.com/
---
This Post Brought to You by: American Stalls
Designed for Horse People
by Horse People.
American Stalls began building horse stall equipment in 2006 when HITS Horse Shows approached our family's steel business to build 1,500 horse stalls for its Saugerties location. Ever since, we have worked on thousands of commercial and private equine facilities across North America. Horse stalls, barn doors, and flooring are large investments that you will make toward your horses' safety and facility longevity. This is why we design and build equipment that fits seamlessly into your lifestyle.
When you work with our team, we will work to understand your needs as the horse owner, your facility's environment, and your horses' needs. We will then recommend options that are best suited for your project. In addition to clients, we strive to provide architects, builders, and designers with the knowledge, technical drawings, and customer service needed to ensure success for your project. Our mission is to build the most elegant and safe equine products while delivering world class customer service. Our equipment is designed for horse people by horse people.