By Lily Yampolsky for TIEC
Mill Spring, NC – September 25, 2022 – Todd Minikus (Lake Worth, FL) and Autumn View Farm's Betty Balou took the win in the $25,000 Tryon Resort Grand Prix with a speedy time of 38.462 in the jump-off. The reserve honors went to Sarah Hubbard (Cornwall, CT) and Hubbard Horses, LLC's 2011 Belgian Warmblood gelding Latino Van De Looise Heide (Cantos x Hadrilla Van De Looise Heide) with a time of 38.905. Brian Murphy (Berryville, VA) and Light Speed Equestrian, LLC's 2014 Westphalian stallion Dubolensky (Douglas x Fiquinerie) rode to a time of 39.861 to finish third.
Twenty-three entries tackled course designer Skip Bailey's (Wellington, FL) track, with 10 riders advancing to the jump-off. Todd Minikus piloting two rides to the second round: the 2013 Oldenburg mare Betty Balou (Balou du Rouet x Alisson) claimed the win, with Autumn View Farm's 2012 Belgian Warmblood mare, Morgana Van De Brouwershoeve (Nonstop x Talmery Zeus Verte), having the quickest time but the last rail down to keep them from the win. Minikus was very proud of Betty Balou, saying:
"She's been going very well. That's the second Grand Prix win that she's had in a few weeks and she's just been going really nice and getting pretty consistent. She's a little bit of a hot mare, but she's starting to stay relaxed and still keep up that energy. So it's a lot of fun to ride her."
Minikus is a familiar face at TIEC and will be here for the remainder of the Tryon Fall Series, he concluded. "We're back here for the Fall series and we're glad to be back in Tryon. We think it's a great facility and we really enjoy being here."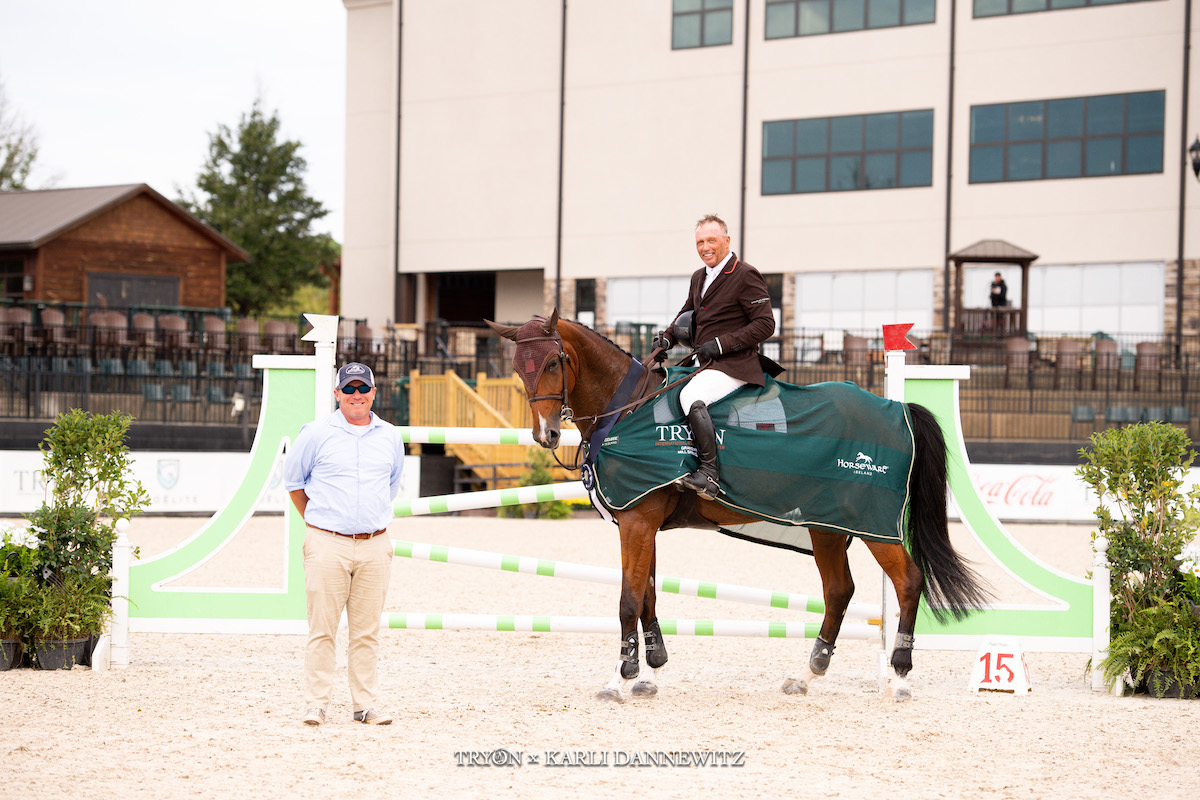 Todd Minikus in his presentation ceremony alongside TIEC Competition Manager JP Godard.
©Karli Dannewitz for TIEC
For full results from the $25,000 Tryon Grand Prix, click here.
---
This Post Brought to You by: American Stalls
Designed for Horse People
by Horse People.
American Stalls began building horse stall equipment in 2006 when HITS Horse Shows approached our family's steel business to build 1,500 horse stalls for its Saugerties location. Ever since, we have worked on thousands of commercial and private equine facilities across North America. Horse stalls, barn doors, and flooring are large investments that you will make toward your horses' safety and facility longevity. This is why we design and build equipment that fits seamlessly into your lifestyle.
When you work with our team, we will work to understand your needs as the horse owner, your facility's environment, and your horses' needs. We will then recommend options that are best suited for your project. In addition to clients, we strive to provide architects, builders, and designers with the knowledge, technical drawings, and customer service needed to ensure success for your project. Our mission is to build the most elegant and safe equine products while delivering world class customer service. Our equipment is designed for horse people by horse people.