Edited Press Release
Wellington, FL, – October 9, 2022 – The ESP October show concluded on Sunday with a day full of show jumping action on Equestrian Village's expansive grass Derby Field. The competition's feature event, the $25,000 Score At The Top Grand Prix showcased a diverse field of 21 international horse-and-rider partnerships representing nine nations. Hoisting the flag for Israel, Olympian Ashlee Bond piloted new partner, Chill Ma, owned by Ilan Ferder, to the top of the leaderboard by a margin of nearly two seconds.
"Ilan had a feeling that this horse would really suit me, and he was not wrong," Bond shared of her new ride and winning mount. "I rode her twice at Ilan's barn, and then I showed her in the 1.40m on Friday. After she went double clear in that class, we decided to put her in the Grand Prix, and she was even better today! We've become a partnership already, which is crazy, but some horses you just match with quickly. She's an amazing horse and I'm lucky to be able to ride her."
Bond continued, "She's built like a hunter, but when you ride her, she's super light, and then once you start jumping, she picks her head up and has a nice rhythm and is incredibly careful and scopey. In the 1.40m I had to make some adjustments in the lines because her stride is so much bigger than what I'm used to, but in the jump-off, we smoothed it out. Today, I wanted to ride her with the same pace I had in the 1.40m jump-off and it made a huge difference."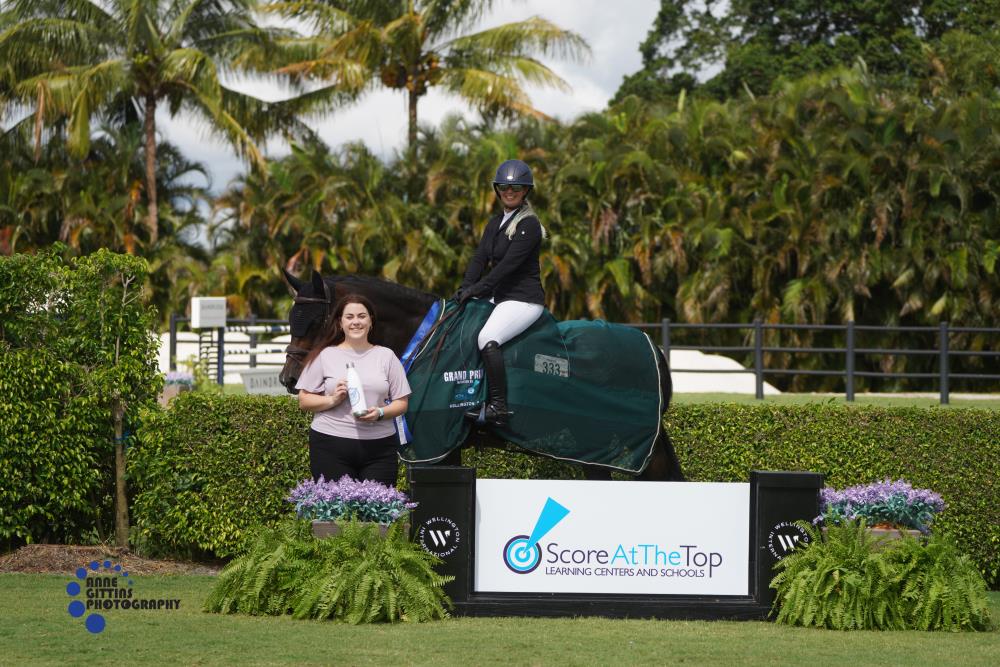 Competing over a course designed by Héctor Loyola (PUR), seven riders from the starting order finished the first track without any faults to qualify for the jump-off. Up against a leading time of 41.133 seconds from Hector Florentino Roca (DOM) and ABC Quantum Cruise, the pair navigated the pattern with ease to jump to a commanding lead in 38.638 seconds without dropping any rails. The rest of the pack chased down the frontrunners, but none could come close to their time, securing the win for Bond and Chill Ma.
"Because her stride is so big, I knew the seven would ride nicely from 5AB to six, but the four strides afterwards to jump seven was really short, so I angled the seven stride and bent out the four," recalled Bond. "There was also a line after the liverpool that I walked thinking I would do a five, but then she landed really balanced after the liverpool that I ended up doing the six, and then the jump-off was really smooth and easy."
Following Bond's performance, Michael Murphy (USA) set out with Quick Bob, owned by Esperanza Imports, LLC, putting in another clear round in 40.561 seconds to take third place in the class. The last pair to test the short track, Colombia's Juan Manuel Gallego galloped into second place aboard his Double O Seven 111 Z with a time of 40.329 seconds.
"I live here, so if I don't have to be on the road competing, I'm here," said Bond, who had an enormously successful winter season in Wellington, winning the $500,000 Rolex Grand Prix CSI5* during the final week of the Winter Equestrian Festival. "I've shown here a few times since I won the Rolex Grand Prix, and I just feel like I'm at home in my backyard. The grass is great, and they do a beautiful job with all the shows."
For the full results of the $25,000 Score At The Top Grand Prix, please click HERE.
---
This Post Brought to You by:
Taylor, Harris Insurance Services
Taylor, Harris Insurance Services (THIS) was founded in 1987 to provide specialized insurance for all types of equine risk. We place our policies with the highest rated and most secure carriers, meticulously selected for reliability and prompt claims settlement. We are proud of our worldwide reputation for responsive and courteous service, and we welcome the opportunity to discuss your equine insurance needs and provide you with a quote.
Access to multiple underwriters
Leader in the U.S. and European markets
Customized policies provide you with a choice
Trusted advisors in the equestrian industry
Direct access to insurance professionals
Policies that cover every breed and discipline across all 50 United States