Edited Press Release
October 8, 2022 – Friday saw hunter riders return to the grass field at Equestrian Village during the ESP October horse show to compete in the competition's highlight hunter, the $2,500 USHJA National Hunter Derby presented by Pilates Rocks. Kimberly Maloomian and her own Finch Hatton were awarded the blue ribbon and a place in the winner's circle after earning the top spot on the scorecard with a total of 175 points.
"Finch is 12 now, and I've had him since he was four," Maloomian of West Palm Beach, FL, shared. "He was originally for my sister-in-law, and he was doing eventing, so he has had a major career change. I usually show him in the 3'6" Amateurs, but I think I'll compete in more hunter derbies with him this year. He had the majority of last winter and this summer off so that he could regroup, and then our first show was here at the beginning of September."
The class was held in a "Hunt and Go" format, with the first portion of the course judged as the Classic round, and the latter half of the trip scored as the Handy phase. Maloomian and Finch were the third pair to test Robert McGregor's 12-fence track. Their performance took a strong lead after earning a base score of 86 and two additional points for taking the high-option fences in the Classic round, and a high Handy phase score of 87 to push them to the top of the leaderboard.
"My plan was just not to mess up the trot jump because that's the bane of my existence," laughed Maloomian. "I've also been working on keeping a forward pace with him because he can be lazy sometimes and likes to slow down at the end of the ring, and then I get caught off guard. So today, I really wanted to establish a forward canter and keep it. There was also an inside turn to jump 11 that some people were doing, but I decided it would be too difficult for us, so I took the outside track."
Just two and a half points behind the leaders, Isaac Leffkowitz of Ocala, FL, and Limited Edition, owned by Beyaert Farm Inc, received runner-up honors. Leffkowitz had multiple horses in the class, and also earned a third and fourth place ribbon with his own entries, Casimir Ice and Clear Ice, respectively.
"We're going to show here again next week, and then we're going to travel to some other shows. I really love competing on this grass field because the footing is perfect. When I was a kid, we used to show on grass all the time, and it's gone away a bit, so I'm glad the show is utilizing the field for the horses here," Maloomian concluded.
For the full results of the $2,500 USHJA National Hunter Derby presented by Pilates Rocks, please click HERE.
Saturday saw hunter riders once again take to the derby annex field to compete in the $1,000 2'6"-2'9" Hunter Derby presented by Score At The Top. Leading the way was Coriander, who carried Jessica Tintweiss of Wellington, FL, to the lion's share of the prize money as the best performer. Tintweiss of Wellington, FL, and her Coriander placed two high-performing rounds, finishing the class with a cumulative score of 164.5. Just behind the winning pair, Ashley Briggs of Loxahatchee, FL, and her own entry, Unrivaled, earned a score of 78 in the Classic round and improved to a score of 86 in the handy to earn reserve honors, followed by Emily Giovino of Lake Wales, FL, and her Iko Iko in third place with 149 points.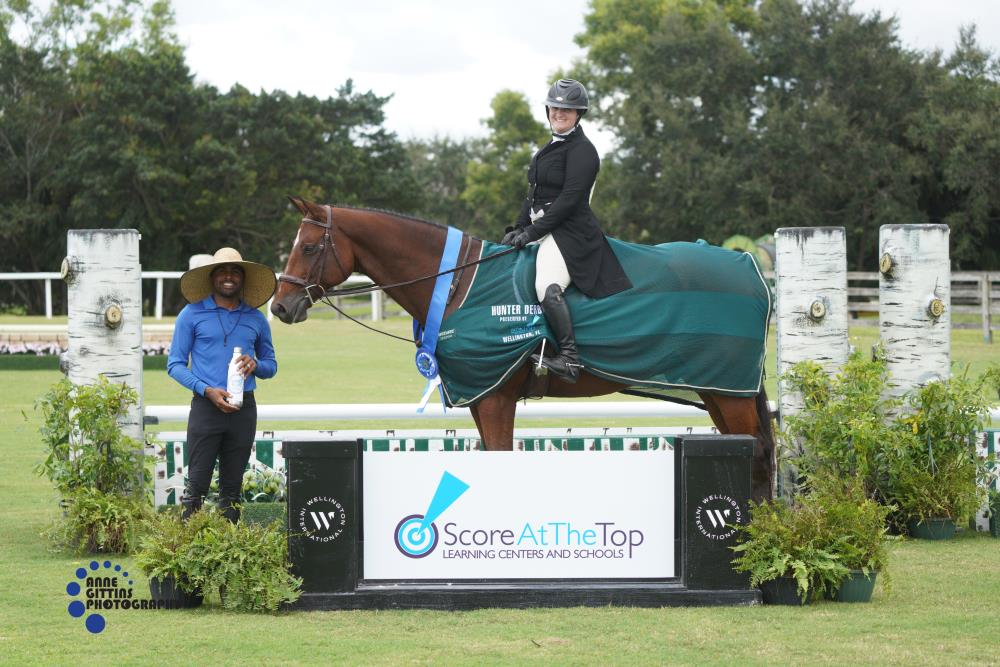 The ESP October show will continue throughout the weekend, concluding with the $25,000 Score At The Top Grand Prix on Sunday as the highlight event of the competition.
Original press release from: https://pbiec.com.
---
This Post Brought to You by:
Taylor, Harris Insurance Services
Taylor, Harris Insurance Services (THIS) was founded in 1987 to provide specialized insurance for all types of equine risk. We place our policies with the highest rated and most secure carriers, meticulously selected for reliability and prompt claims settlement. We are proud of our worldwide reputation for responsive and courteous service, and we welcome the opportunity to discuss your equine insurance needs and provide you with a quote.
Access to multiple underwriters
Leader in the U.S. and European markets
Customized policies provide you with a choice
Trusted advisors in the equestrian industry
Direct access to insurance professionals
Policies that cover every breed and discipline across all 50 United States