Edited Press Release
Wellington, FL, – October 30, 2022 – After four days of USEF "A" National and Jumper 4* competition, the ESP Fall III show concluded on Sunday. The feature class of the week was $25,000 Perfect Products Grand Prix, which took place on the Derby Field and saw competitors representing nine different nationals contest the track, designed by Héctor Loyola (PUR). The competitive jump-off field of five competitors was no match for Mexico's Nicole Velazco Magana and Daddy's Destiny, who celebrated their first Grand Prix victory together.
"Daddy's Destiny is a ten-year-old mare I've had her for two years now," shared Magana. "She's very fast, very competitive, and I'm really happy to finally be jumping Grand Prix classes with her. Our first one was this past August in Colorado, and then two weeks ago we were second here, so it's nice to get our first Grand Prix win today."
The highlight class attracted a field of 24 horse-and-rider combinations to compete for the lion's share of the prize money. With five pairs advancing to the jump-off, Joao Carvalho (BRA) and Emotion De Riverland set the pace early on with a clear time of 42.057 seconds, which held until Magana and her own Daddy's Destiny dashed through the short course in 38.042 seconds without faults, slicing four seconds off Carvalho's time.
"The course was certainly very challenging. The bending lines were tricky in the first round, especially if you have a warm-blooded mare like mine. In the jump-off, the turn from one to two was very short and you had to be ready for it since it was at the beginning of the course, and I also thought the first jump was very technical since you had to angle it to be able to get a good approach to the second jump," commented Magana after her win. "Ultimately, I just tried to do my best. I'm proud that my horse and I were able to get this kind of experience on the field over a challenging course, and am grateful that I've been able to jump all of my horses on the grass here because it's such a nice ring."
Early frontrunners Carvalho and the Kent Farrington LLC entry, Emotion De Riverland, finished in second place, followed by Kris Killam (USA) and Gangster CHS, owned by Tophorses LLC. The third-place finishers stopped the clock at 40.119 seconds but knocked a rail down to incur four faults against them.
For the full results of the $25,000 Perfect Products Grand Prix, please click HERE.
Friday morning saw a field of 24 entries trimmed down to 11 in the jump-off in the $10,000 Bainbridge Companies 1.40m Open Stake. Eight of those finished without any faults from two rounds of riding, led by Emma Marlowe (USA) and Santauer, owned by Kent Farrington LLC, as the victors in a fast time of 41.192 seconds. Just off the pace, Alannah Wagstaff (USA) and Mill Pond Farm, Inc.'s Great Thing landed in second place with a time of 41.521 seconds, followed by Kris Killam (USA) and his Cascaya L as the final podium finishers in 41.7 seconds.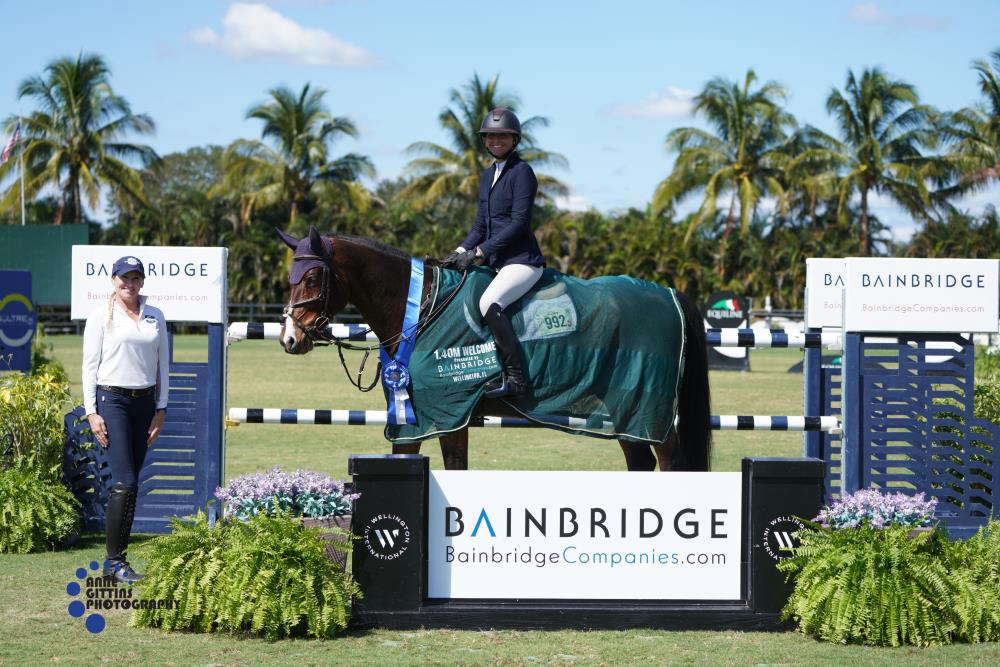 The $5,000 CCTV Agent 1.35m Stake on Saturday saw five pairs, all representing different nations, qualify for the jump-off. Israel's Ashlee Bond and Garfield, owned by Aurora Farms, LLC, flew through the short course to take the win in 42.706 seconds with a fault-free ride. Caroline Mawhinney (USA) and her Dolitaire Chavannaise earned second place with a double clear time of 41.61 seconds. With a double-clear time of 46.727 seconds, Nicolas Paillot (FRA) and Paillot Equestrian's Fave D'Authuit captured third position.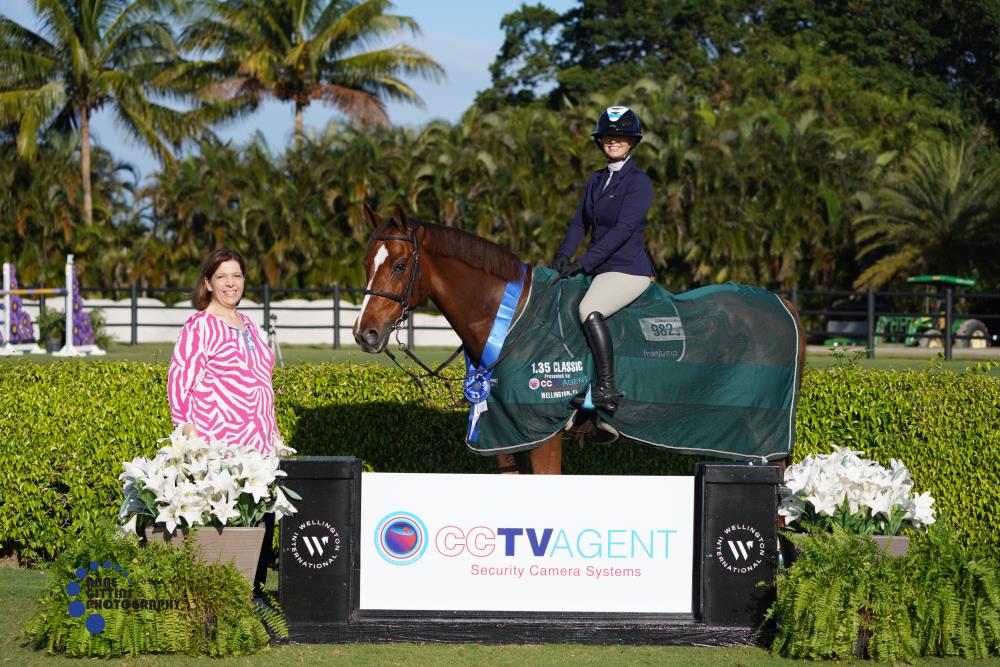 Sunday morning, the $2,500 Low Junior/Amateur Jumper Classic presented by Equiline saw four riders advance to the jump-off with three finishing the class with double-clear rounds. Rodrigo Enriquez (MEX) topped the leaderboard with his own entry, Pia Maria H, after stopping the clock at 39.356 seconds. Katarina Ammann (USA) piloted Kadafi Van't Hof Van Payz, owned by Ammann Equestrian LLC, to a second-place finish with a time of 40.422 seconds, while Lenir Perez (HON) and Rodriguez Equestrian's Ike rounded out the podium with a time of 40.952 seconds.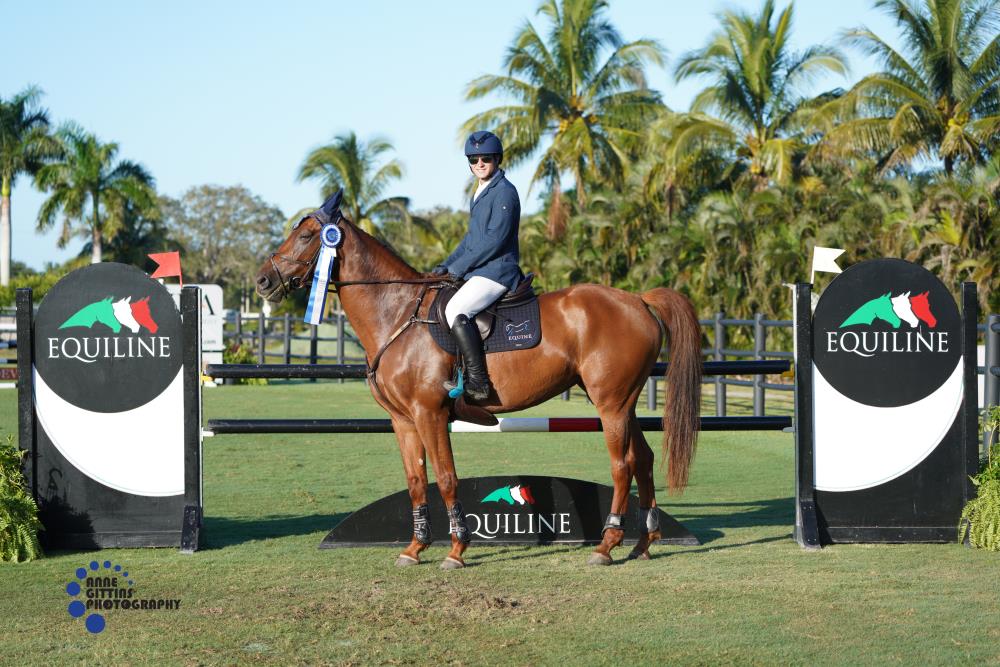 The $2,500 Medium Junior/Amateur Jumper Classic presented by Palm Beach Equine Clinic welcomed just two competitors to the jump-off. Ana Holguin (COL) and her own entry, Dayro Z, took home top honors after flying through the course in 40.018 seconds. Second place was awarded to John Angus (USA) and Best of L'Herbage, owned by Sigma Stables LLC, with a double-clear time of 40.081 seconds. Riley McKesson (USA) and her 007 Van't Hagenhof rounded out the podium with their first-round time of 79.664 seconds and three faults.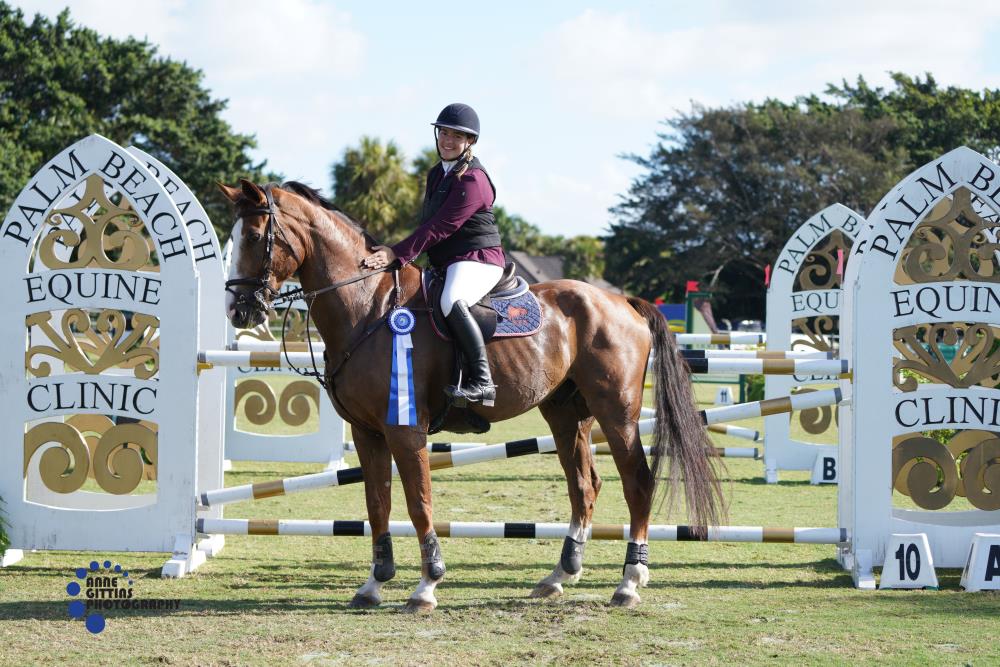 Original Press Release from PBIEC.com.