Edited Press Release
The 2022 ESP Holiday Series presented by Arthramid®Vet kicked off with FEI competition on Thursday at Wellington International. The $37,000 IDA Development Grand Prix Qualifier CSI4*, the highlight class of the day, saw an opening field of 47 elite contenders step into the International Arena to compete for a place in Saturday night's $216,000 Holiday & Horses Grand Prix CSI4* presented by Arthramid®Vet. In a competitive jump-off, Roberto Teran Tafur (COL) and Dez' Ooktoff saved the best for last and galloped straight to the top of the leaderboard.
Of the winning 2008 Royal Dutch Sport Horse Stallion by Colandro x Lys Rouge, Tafur had to share, "He [Dez' Ooktoff] has been my top horse for the past couple of years. I bought him with the dream of going to the Olympics in Tokyo, and we achieved that goal. We went to Denmark this year, and we just came back from doing a few five-star classes in Toronto and Lexington. He's a super nice and scopey horse." Tafur continued to share his plans with Dez' Ooktoff for the 2023 Winter Equestrian Festival (WEF), "My goal with him is to do most of the five-star Grand Prix classes during WEF. He always jumps great here, and this is a greatstart to the season."
The class showcased an international field of entries representing 13 countries test Anthony D'Ambrosio's (USA) opening track. D'Ambrosio created a pattern of 16 obstacles in the first round, which ultimately saw six partnerships leave all the rails in their cups to advance to the jump-off.
"Both of the courses were very technical," commented Tafur. "There were many questions. Thankfully, my horse is very broke and has a lot of experience in these big classes. When there weren't any clear rounds in the jump-off, I was going to go a little more conservative, but once we had two clear rounds I knew I had to go out a little."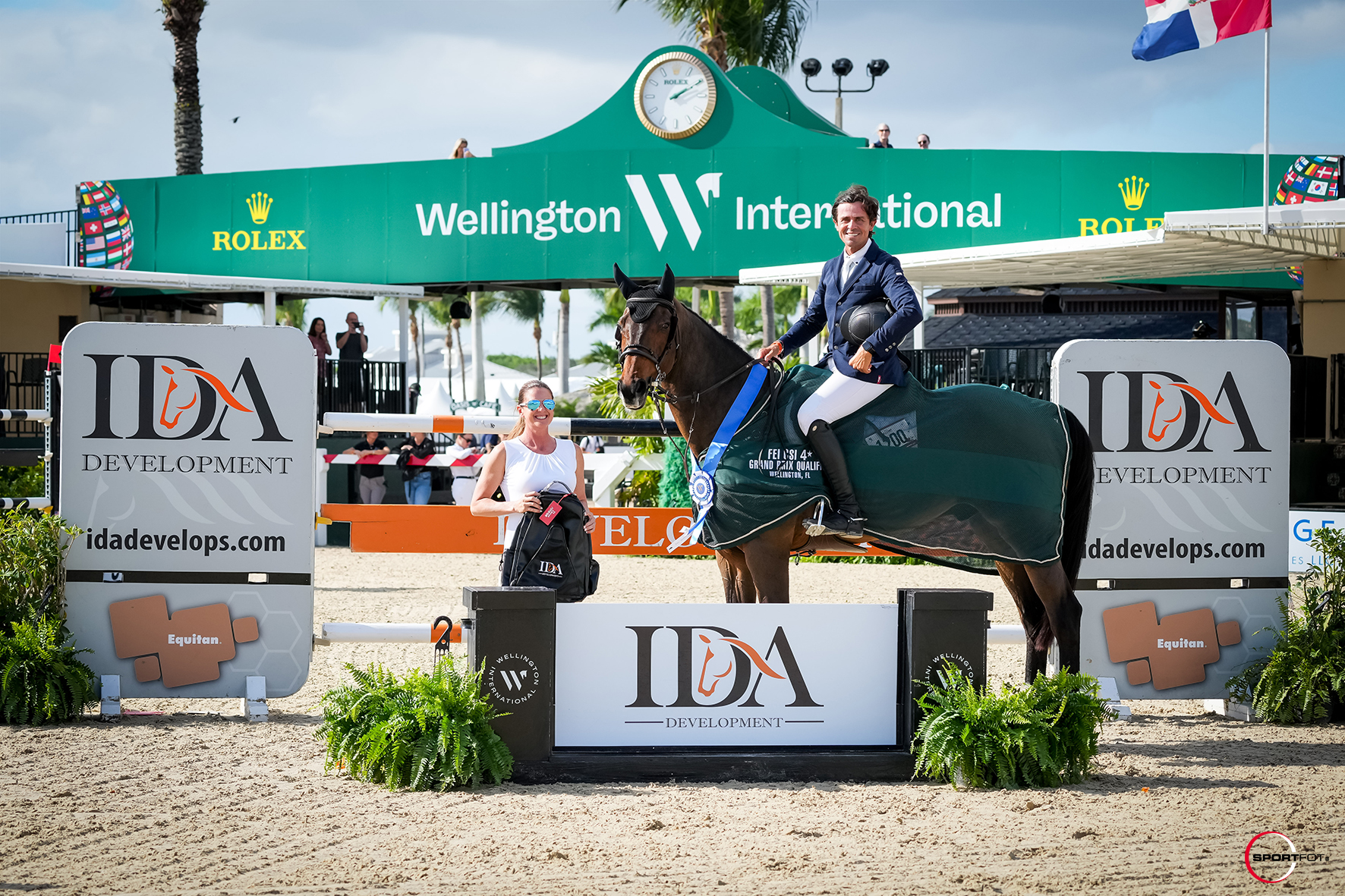 The first pair to go clear in the jump-off, Callie Schott (USA) and Garant, placed a quick and efficient round over the shortened course, setting the time to beat at 43.35 seconds. The lead changed hands once again when Ireland's Andrew Bourns stopped the clock in a clear 42.49 seconds with Sea Topblue. Last in the jump-off order, Tafur and Dez' Ooktoff flew through the course and stopped the clock at 41.28 seconds, claiming the winning time by just over a second.
Bourns and Sea Topblue, owned by Andrew Bourns Sport Horses & QBS Equestrian, finished in second place, while Schott and Garant, owned by Southern Arches, LLC, claimed third.
"We love Wellington, and we love Florida, and we love showing here! I think any improvement to the show facility is well received, and everything looks great so far. I've also heard about the plans for the near future and am very excited," Tafur concluded.
For the full results of the $37,000 IDA Development Grand Prix Qualifier CSI4*, please click HERE.
Original press release from https://pbiec.com
This Post Brought to You by:
Taylor, Harris Insurance Services
Taylor, Harris Insurance Services (THIS) was founded in 1987 to provide specialized insurance for all types of equine risk.We place our policies with the highest rated and most secure carriers, meticulously selected for reliability and prompt claims settlement. We are proud of our worldwide reputation for responsive and courteous service, and we welcome the opportunity to discuss your equine insurance needs and provide you with a quote.