Edited Press Release
The first "Saturday Night Lights" event of the season took place on Saturday evening with 41 elite contenders competing for the lion's share of the prize money in the $216,000 Holiday & Horses Grand Prix CSI4* presented by Arthramid®Vet. The highly anticipated class served as the feature event of both the Holiday & Horses CSI4* show and of the ESP Holiday Series presented by Arthramid®Vet. Galloping to the top of the leaderboard, American rider Adrienne Sternlicht and Bennys Legacy edged out the competition and were ultimately crowned the winners under the lights of the International Arena.
"I've had benny now for over three years, and he has exceeded all of my expectations, as well as everyone else's," shared Sternlicht of the 2008 Oldenburg gelding by Lupicor x Voltaire. "He's so reliable and we know each other so well. I'm really grateful to have him in my life; he's such a character, and everyone on my team completely adores him. Moving forward, I'll pick and choose and be very selective with him, so you won't see him out for at least two months."
The class showcased an international field of riders representing 13 nations, including Mexico, the United States, the Dominican Republic, Ireland, Chile, Germany, Brazil, Great Britain, Australia, Colombia, Venezuela, Israel, and Lebanon. Anthony D'Ambrosio (USA) crafted a pattern of 13 fences in the first round, which ultimately saw seven pairs leave all the rails in their cups to qualify for the jump-off.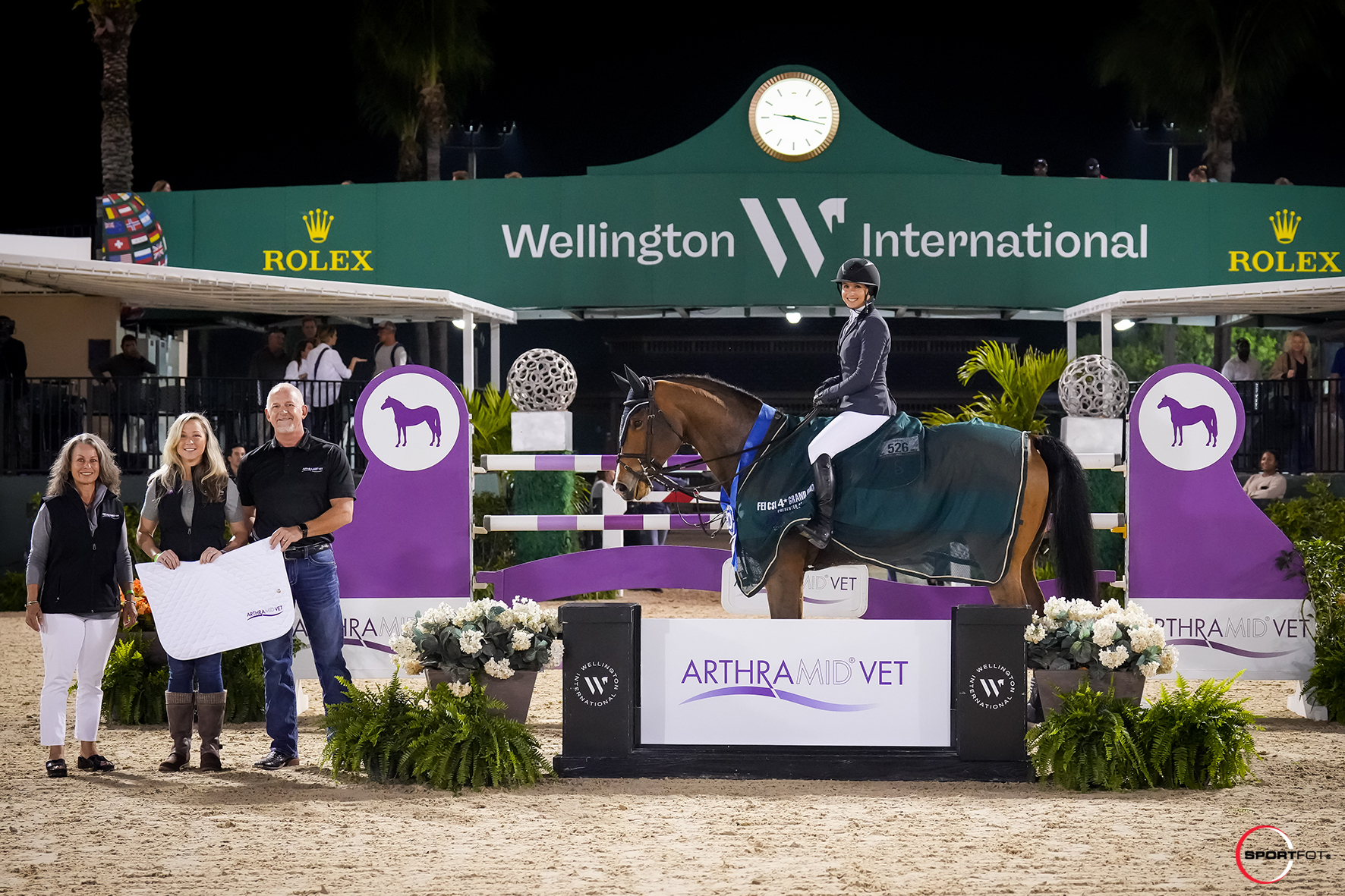 "I think Anthony always builds difficult tracks. You saw that the other day in the qualifier where there weren't many clear," Sternlicht commented. "Even though it's pre-circuit, you have quite a few top combinations here, and I thought the course was fair." She continued, "I think with the time allowed you had to be on it as a rider, which I'm always working on with this horse. I thought it was a good course with the right amount clear for this caliber of jumping."
D'Ambrosio's shortened course posed several challenges for riders, and the first three pairs were unable to clear the course. Fourth to go in the jump-off, Brazil's Santiago Lambre was the first rider to navigate through the jump-off without lowering any fences. The lead changed hands again following Andrew Bourns' (IRL) speedy performance with Sea Topblue, but his lead was short lived as Sternlicht and Bennys Legacy, owned by Starlight Farms 1 LLC, shaved three-tenths of a second off his time, stopping the clock at 42.63 seconds. David Blake (IRL) was the final rider to test the short track, but lowered four fences, solidifying Sternlicht as the winner.
With a double-clear time of 42.9 seconds, Bourns and Sea Topblue, the 2011 Irish Sport Horse gelding by Chacco-Blue x Unknown that's co-owned by Bourns and QBS Equestrian LLC claimed runner-up honors. Lambre earned the final podium placing with his fifteen-year-old Oldenburg stallion by Chacco-Blue x Cincaba Rouge, Chacco Blue II, with a double-clear time of 43.92 seconds.
Sternlicht also commented on Wellington International's facility improvements, saying, "I think the place just looks a little bit more refined. It has always been an incredible facility, and it's really amazing the plans that they have for the future. The developments they've made are very horse-centric, and I think as athletes who love our equine athlete partners, that's most important for us, so it's great to see what they've done even within a short time."
At the conclusion of the class, Sydney Shulman (ISR) was awarded the Michael Angelo Salon & Spa Style Award for her exemplary style of riding and sportsmanlike conduct in and out of the ring during the Holiday & Horses CSI4* competition.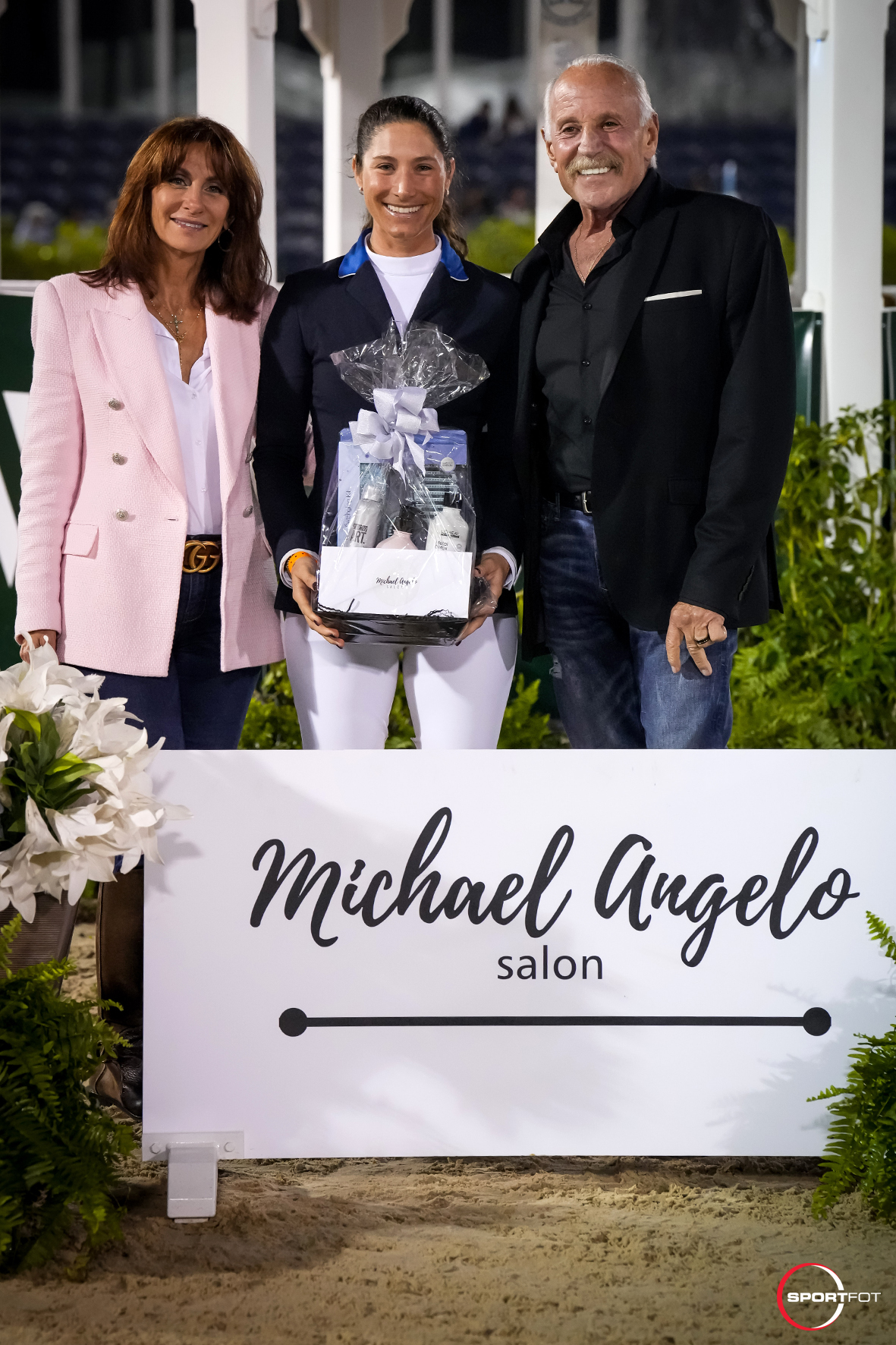 For the full results of the $216,000 Holiday & Horses Grand Prix CSI4* presented by Arthramid®Vet, please click HERE.
Final Results: $216,000 Holiday & Horses Grand Prix CSI4* presented by Arthramid®Vet
1. BENNYS LEGACY: 2008 Oldenburg gelding by Lupicor x Voltaire ADRIENNE STERNLICHT (USA), Starlight Farms 1 LLC: 0/42.63
2. SEA TOPBLUE: 2011 Irish Sport Horse gelding by Chacco-Blue x Unknown ANDREW BOURNS (IRL), Andrew Bourns and QBS Equestrian LLC: 0/42..9
3. CHACCO BLUE II: 2007 Oldenburg stallion by Chacco-Blue x Cincaba Rouge SANTIAGO LAMBRE (BRA), Santiago Lambre: 0/43.92
4. COSMONA: 2011 DWB mare by Cosmeo x Bogegardens Apollo GIAVANNA RINALDI (USA), Anton Marano: 0/4/42.71
5. GARANT: 2011 KWPN gelding by Warrant x Verdi TN CALLIE SCHOTT (USA), Southern Arches LLC: 0/4/47.16
6. KEOKI: 2009 Holsteiner male by Catoki x Cassini I DAVID BLAKE (IRL), Pine Hollow Farm: 0/12/43.67
7. LISSINO: 2011 Holsteiner stallion by Guardus Limbus x San Patrignano Cassini DARRAGH KERINS (IRL), Eve Jobs: 0/20/66.61
8. VOLO'S DIAMOND: 2011 Oldenburg gelding by Stakkatol x Baloubet Du Rouet TANNER KOROTKIN (USA), Sandalwood Farms: 1/79.91
9. AKUNA MATTATA: 2008 Holsteiner mare by Quinar Z x Landwind II NICOLE SHAHINIAN-SIMPSON (USA), Carol Rosenstein and Silver Raven Farms: 4/73.63
10. ARMIK: 2009 Oldenburg gelding by Armitage 2 x Justinian xx BRIAN COURNANE (USA), Brian Cournane and Bob and Christine Stiller: 4/75.25
This post brought to you by 
Alexis first spent her childhood playing behind her parents' shop cases in the Jewelers Building of Boston, where the stories and people she observed inspired her to dream of her own business where she would make and sell beautiful things. Guided by her intuition, Alexis designed her first piece of jewelry in 2011 and has since become an award-winning designer and destination for good luck charms, talismans, personal power objects, and Luxuries for your Soul™. In addition, my coveted shields have grown a community of worldwide collectors, motivated by my trademarked mantra SHIELD YOURSELF®.
The pieces created by Alexis Kletjian are influenced by the lore and magic of bygone eras and designed for the modern world. Gemstones are hand-selected and Alexis cultivates relationships for meaningful exchange by aligning herself with souls of similar beliefs.