Edited Press Release
Grand Prix riders had their final opportunity to compete under the lights of the International Arena ahead of the 2023 Winter Equestrian Festival on Saturday, December 17. The $50,000 Zen Elite Grand Prix saw 34 horse-and-rider combinations vie for the lion's share of the prize money, but it was ultimately Lebanon's Jad Dana and After Eight, owned by Springhill Farm 1850, LLC, who edged out the competition and galloped away with the victory.
"I've been riding this mare for a little over a year and a half. She's very special and very sensitive. The owners bought the mare and secured the ride for me, so I'm extremely grateful to them," commented Dana. "She [After Eight] is very feisty and hot, but she knows when it's her time to shine. She's an experienced horse that knows her job."
In the first round, riders set out over a track that featured 16 efforts designed by Mauricio Garcia Ballesteros (PUR). The field was narrowed down to five pairs as qualifiers for the jump-off over a shortened course. Caroline Mawhinney (USA) and Bacara D'Archonfosse were the trailblazers, setting the pace in a clear 42.473 seconds. However, their time in the lead was short as the next entry moved up to the top of the leaderboard. Kayla Savard (USA) and Bogota Nantuel shaved just over a second off their time, taking the lead with three pairs left to test the track. Dana and After Eight were the final pair in the ring. Up against Savard's leading time, the pair put in a daring effort and cleared the course in 38.749 seconds, taking the lead by nearly three seconds.
"My plan was to win, which we always plan for. Tonight, it went my way!" Dana exclaimed. "I thought the course walked nicely. There were a few options here and there, but I know my mare pretty well now, and I know what strides to pick and what distances to take to bring the best jump out of her."
With a double-clear time of 41.116 seconds, Savard and her own Bogota Nantuel secured the runner-up honors. Caroline Mawhinney (USA) claimed the final spot on the podium with Poden Farms' Bacara D'Archonfosse with their clear jump-off time of 42.473 seconds.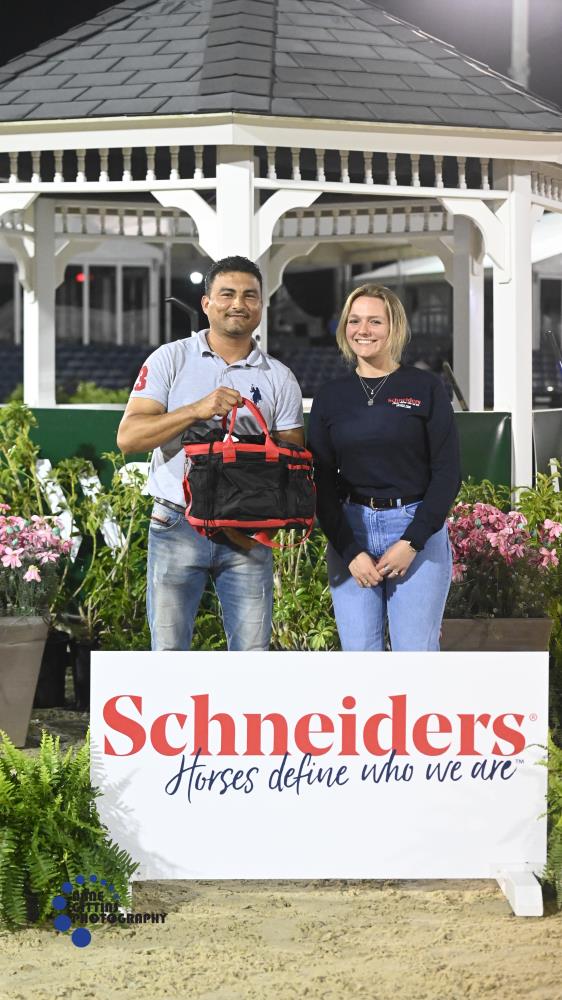 As the groom of the winning horse, Victor Peralta was the recipient of the Schneiders Groom Award for the $50,000 Zen Elite Grand Prix. As part of the recognition, Peralta was presented with a bag of high-quality grooming supplies courtesy of Schneiders Tack.
To view the full results of the $50,000 Zen Elite Grand Prix, please click here.
Original press release from https://pbiec.com.
This post brought to you by 
Alexis first spent her childhood playing behind her parents' shop cases in the Jewelers Building of Boston, where the stories and people she observed inspired her to dream of her own business where she would make and sell beautiful things. Guided by her intuition, Alexis designed her first piece of jewelry in 2011 and has since become an award-winning designer and destination for good luck charms, talismans, personal power objects, and Luxuries for your Soul™. In addition, my coveted shields have grown a community of worldwide collectors, motivated by my trademarked mantra SHIELD YOURSELF®.
The pieces created by Alexis Kletjian are influenced by the lore and magic of bygone eras and designed for the modern world. Gemstones are hand-selected and Alexis cultivates relationships for meaningful exchange by aligning herself with souls of similar beliefs.