Edited Press Release
The first "Saturday Night Lights" event of 2023 started off with a bang, bringing in huge crowds and tremendous fun on January 7 with the $75,000 Battle of the Sexes, presented by Wellington Regional Medical Center. This crowd-favorite event highlighted Premiere Week of the 2023 Winter Equestrian Festival (WEF), which runs for 13 weeks through April 2. This year, the men's team took their third-ever win in the 14-year history of the event.
The women's team for Battle of the Sexes consisted of team captain Nicole Jayne, Kelly Soleau-Millar, Heather Caristo-Williams, Delaney Flynn, Samantha Mackenzie, Mia Mannis, Abigail McArdle, Catherine Pasmore, Alexis Sokolov, and Ally Worthington.
The men's team, led by captain Charlie Jayne, also included Christian Coyle, Daniel Coyle, Jordan Coyle, Alex Granato, Luis Larrazabal, Tony Stormanns, Sohnke Theymann, Michael Tokaruk, and Simon McCarthy.
The Battle of the Sexes consists of three phases, with the first being a Table C faults-converted speed course where the riders go to head-to-head over the same course, and the one with the fastest time gains a point for their team. Following the first phase, the men's team had a commanding lead at nine to one.
In the second phase, each team had three relay groups, where a trio of riders each did a section of the course. The women's team fought back in the second phase closing the gap by 10 points.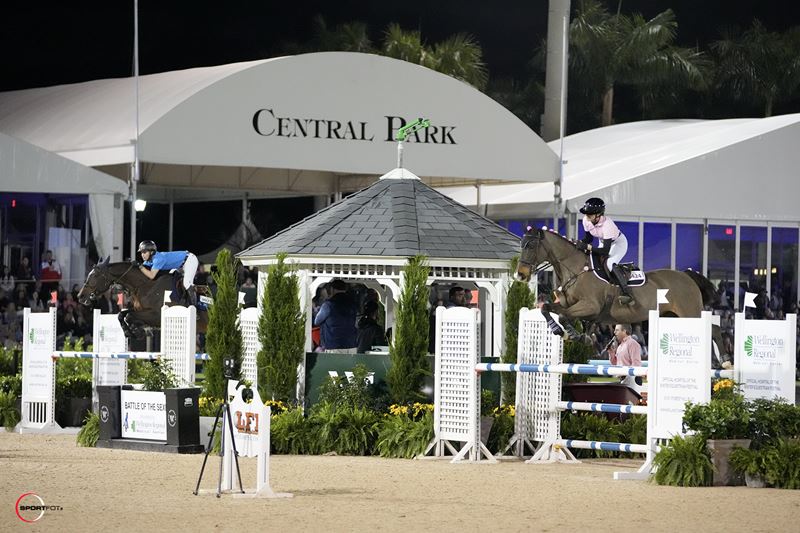 The final phase was a match race where riders competed at the same time over a course that mirrored itself in the ring. Scores started at 11 to 14 with the men still leading, but by the penultimate match they were neck and neck. Christian Coyle brought back hope to the men's team by overtaking Nicole Jayne in their match race with only one match remaining.
"Going into the match race, I wanted to try and be as slick and neat as possible because my horse is naturally fast," said Christian Coyle. "I saw after number three that Nicole was still close and then going to the skinny, I thought she was a little ahead, so I took a risk to the second-to-last and it paid off. Then I could be a little cautious and make sure I left the last up. It's a great class. There was brilliant atmosphere here tonight and it is good fun for everyone."
Christian's cousin Jordan bested Samantha Mackenzie to guarantee a victory for the men's team in the very last contest. The final score landed at 29 to 23.
"I told the girls that we have to let them win every now and then or they aren't going to come back out and challenge us anymore," said women's team captain Nicole Jayne and the conclusion of the evening. "It was down to the wire and a really fun class. Congratulations to the boys!"
Echoing her, Charlie Jayne noted, "It was an exciting class. I'm happy all the riders and horses tried their best. It was a great finish at the end and Jordan did a great job finishing up for our team. I was excited about the energy tonight that both teams showed."
Original press release from https://wellingtoninternational.com.
This post brought to you by 
Alexis first spent her childhood playing behind her parents' shop cases in the Jewelers Building of Boston, where the stories and people she observed inspired her to dream of her own business where she would make and sell beautiful things. Guided by her intuition, Alexis designed her first piece of jewelry in 2011 and has since become an award-winning designer and destination for good luck charms, talismans, personal power objects, and Luxuries for your Soul™. In addition, my coveted shields have grown a community of worldwide collectors, motivated by my trademarked mantra SHIELD YOURSELF®.
The pieces created by Alexis Kletjian are influenced by the lore and magic of bygone eras and designed for the modern world. Gemstones are hand-selected and Alexis cultivates relationships for meaningful exchange by aligning herself with souls of similar beliefs.