Edited Press Release
Hunter riders gathered in the R+L Arena at World Equestrian Center – Wilmington for hunter derby Friday of Winter Classic 9. Nearly 42 horse-and-athlete combinations contested Robert Barton's (USA) decorative tracks. Of the sixteen seasoned professionals in the $15,000 USHJA National Open 3' Hunter Derby, it was Jennifer Schwartz that posted four scores in the 90s to gallop away with first and second place.
Schwartz, of Hunt Hill Farm in Chester Springs, Pennsylvania, dominated the class earning first place honors aboard the longtime Hunt Hill resident, Esperanza (Verdi) and second place on her home-bred six-year-old Victory Gold (Vallado x Golden Siren HU).
The seasoned professional posted an early lead on the 14-year-old Dutch Warmblood gelding, Esperanza, as the second to go with a high score of 91 and ultimately sat in second place before their handy effort.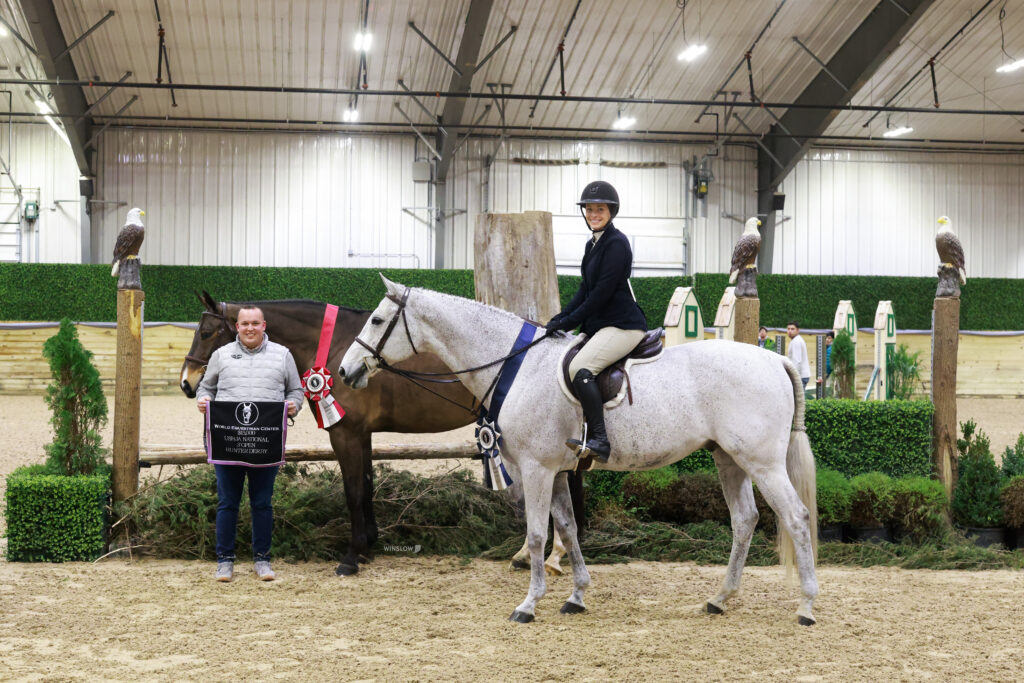 "Esperanza is a horse that we have had in the barn for a long time. He is leased by Stella Cross who won the pony derby tonight. He is new to her, and they are figuring each other out and they are doing the Children's Hunters now," commented Jonathan Martin, owner and trainer of Hunt Hill Farms.
Returning later in the order aboard her Hanoverian gelding Victory Gold, Schwartz looked to earn two podium finishes in the highly contested class. With a first round score of 90, the duo came back for the handy sitting in third place.
Schwartz strategically planned to take advantage of every handy opportunity that Barton's track had to offer on both of her talented mounts.
"I wanted to do all of the inside turns on both of them. The younger horse [Victory Gold] landed wrong after the trot jump, so I didn't accomplish all of the inside turns on him once since I needed the lead change. Esperanza is very handy and landed every lead. He felt really confident today," shared Schwartz on her handy performances.
After two foot-perfect performances, she earned a high score of 93 for a two-round total of 184 to win the class. Her second handy score of 92 and an overall of 182 earned her the red ribbon.
Martin shared on the second-place horse, "Victory Gold is a horse that is home bred. He is a six-year-old and this is the first derby that he has every done. He is brave and scopey and lands both leads. He found the course to be interesting today! He is also out of Jenn's [Jennifer Schwartz] former 3'6" Amateur Owner mare."
Hunt Hill Farm dominated in the hunter rings today, taking home the win in each derby at World Equestrian Center – Wilmington. The $15,000 USHJA National Non-Pro 3' Hunter Derby was won by C Major and Amanda Wildauer, and Marvel Comic and Stella Cross won the $3,500 USHJA Pony Hunter Derby.
This Post is Brought to You By:
Save and make money with The Tried Equestrian, the largest online tack and apparel consignment shop. 
We champion a circular economy that allows riders to save money, make money, and contribute to a greener future.
Shop a curated selection of pre-owned and discount tack and apparel, that challenges even the most skeptical consignment shoppers!