Edited Press Release
World Championship Hunter Rider (WCHR) Week, sponsored by KASK, at the 2023 Winter Equestrian Festival (WEF) came to a peak on Saturday night. The country's best hunter combinations went head-to-head in the $100,000 WCHR Peter Wetherill Palm Beach Hunter Spectacular. For John French it was a night of firsts as he finally captured the Spectacular win, one that has been eluding him throughout his career.
Patrick Rodes, hailing from Texas, designed the flowing track that offered riders several areas to show off their mounts. The panel one judges consisted of Chris Wynne and T. Whitehead, panel two was Mark Jungherr and Tom Brennan, and panel three held Mary Lisa Leffler and Mary Eufemia. Entries for the night class qualified by either winning the champion title in their respective divisions at the 3'6" height or above or earning a bye from previous WCHR results.
From a 42-horse field at 3'6", 3'9" and 4' heights, 12 returned for a handy round. French guided Milagro, a 2015 Hanoverian Gelding owned by Kent Farrington, LLC, to the high score of 94 in the opening round to return for the handy with a few points in his pocket. They impressed again and scored a 93.5, finishing on a score of 187.5 and the victory.
"I think riding in this kind of atmosphere brings out the best in all horses," said French of the impressive International Ring environment at WEF. "They were all jumping so well tonight, and I think the lights, the crowds and the jumps really showcased the hunters. There aren't a lot of these classes left, so we get excited for nights like this and so do our horses.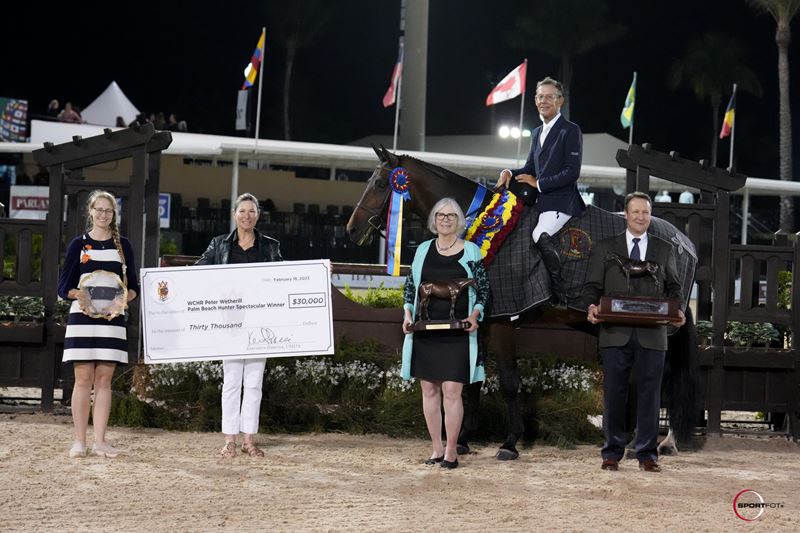 "Originally, I wasn't sure if I was going to make that inside turn to the second to last jump, but everyone was going so well that I thought I needed to do it," continued French. "WCHR has done so much for the hunters. The fact that they have these special classes, it gives us something to strive for throughout the year."
A former West Coast phenom in the hunter ring, French never had the opportunity to point a horse in his regular string at the WCHR Peter Wetherill Palm Beach Hunter Spectacular. "I was usually flying in and borrowing a horse," he said. "Coming in on a horse I know so well was a nice feeling. I'm just grateful to have a horse like this; he's the most easy going in the barn and so scopey in the ring. We knew the 4' height was going to be his calling. When Kent found the horse, we could have sold him but I didn't want him to leave the barn, so we have him still for special classes like this."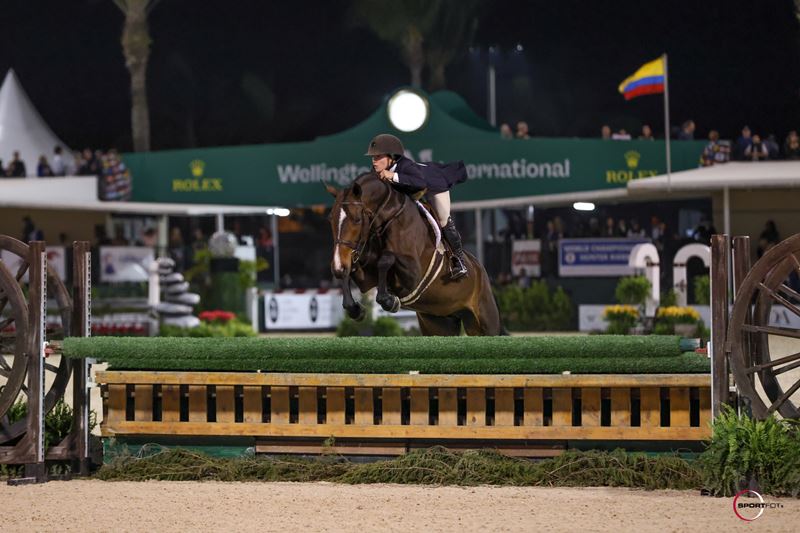 August Iwasaki, 18, left no room for error as she improved a first-round score of 90.83 with a 93.66 in the handy, the highest of the evening from that round. She and Small Love, owned by Iwasaki & Reilly, took second place.
"I think it's really nice there's classes for great division horses," she said. "There are a lot of derbies that you can take your derby horses in but there are not a lot of classes like this that really showcase your division horses."
Iwasaki is enjoying her first year as an amateur after a storied junior career. She is currently a freshman at Southern Methodist University in Dallas, TX, where she competes on their equestrian team; she flew to Florida on Thursday for WCHR Week. "It's a lot of flying, but I had a really great week in my third time showing as an amateur."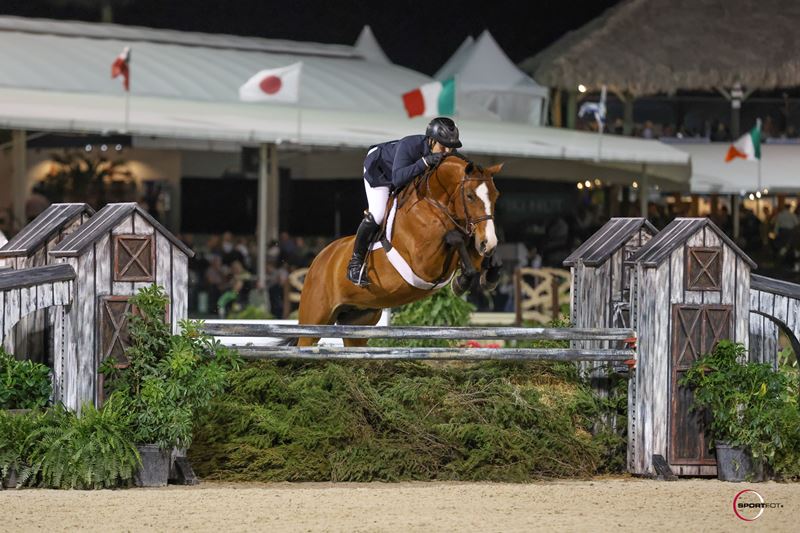 Another rider racking up the frequent flyer miles who rode his way onto Saturday night's podium was California's Nick Haness. He and Queen Celeste, owned by Glade Run Farm, LLC, combined scores of 90.33 and 90.08 for third place.
"I'm super proud to be here and representing the west coast," he noted. "I have definitely been on the airplane a lot, making an effort to be here, but it's where the best of the best are to compete, so it was a great week. I started coming back to Wellington during WEF Premiere week; then I've gone back and forth between here and California, strategizing the best plan for the horses to come out this week and have the best chances to succeed."
Final Results: $100,000 WCHR Peter Wetherill Palm Beach Hunter Spectacular
Milagro & John French
Owner: Kent Farrington, LLC
94+93.5=187.5

Small Love & Augusta Iwasaki
Owner: Iwasaki & Reilly
90.83+93.66=184.49

Queen Celeste & Nick Haness
Owner: Glade Run Farm, LLC
90.33+90.08=180.41

Cadouch Z & Victoria Colvin
Owner: Amy Hassinger?
86.66+92.83=179.49

Paradigm & John French
Owner: Meredith Lipke
90.16+87=177.16

Gratitude & Christopher Payne
Owner: Provence, LLC
89.25+87.33=176.579

Pavlova & Havens Schatt
Owner: John & Stephanie Ingram, LLC
88.41+87.66=176.07

Epic Style & Brady Mitchell
Owner: Rein Family, LLC
86.5+88.66=175.16

Caristo & Kristy Herrera
Owner: John & Stephanie Ingram, LLC
87+88=175

For Always & Scott Stewart
Owner: Dr. Betsee Parker
86.41+85=171.41

Can Can & Christopher Payne
Owner: Stephanie Ring
89+82.33=171.329

Jenkins & Nick Haness
Owner: Glade Run Farm, LLC
88.91+37.33=126.24
Original press release from https://wellingtoninternational.com
This Post is Brought to You by:
Subzero equine therapy uses pressurized CO2 to target very specific areas such as joints, including the hock, stifle, pastern and fetlock, resulting in optimized range of motion and reduced pain.
Initial results visible within just 60 seconds
Infrared temperature and distance sensors for real-time control
Rapid attachment systems for faster setup and storage
Long-lasting battery and 15' polyurethane-shielded cord
Backlit, interactive LCD screen shows treatment data
Treatment protocols for different conditions
Vets, trainers and physiotherapists report rapid pain relief and overall faster recovery from equine injuries through targeted cold therapy. This versatile and easy-to-use device treats numerous regions of the sports horse's body for effective maintenance and injury prevention.