Edited Press Release
Friday at WEF 11 featured the $50,000 Adequan® CSI4* WEF Challenge Cup Round 11, in which riders vied for places in Sunday's CSI4* Grand Prix. From 59 entries, young professional Spencer Smith (USA) rose to the top aboard his long-time partner, Theodore Manciais.
Smith was the contender in a 10-horse jump-off over Olaf Petersen Jr.'s (GER) track. The time allowed proved to be a sticking point for a little over a half-dozen competitors, as only one or two penalties kept them from joining the jump-off ranks. Of the 10 qualifiers, only nine elected to return as Ireland's Darragh Kenny made the decision to save the jumps on his mount, Vancouver Dreams, for future classes. As the last to deliver a clear round, Smith shaved two seconds off the previous leading time to stop the clock in 36.73 seconds.
"This horse is for sure the best horse I've ever had," Smith explained of Ashland Farms' 16-year-old Selle Français gelding (Kashmir Van Schuttershof x Power Light). "His biggest strength is his heart; he will really do anything for me. I have been in a bit of a rut this season, so I pulled him out and he stepped up for me as always."
The gelding has been Smith's top mount over the past several years including giving him his first grand prix and first five-star grand prix wins.
"He is strong in every facet," added Smith. "He's super careful, has incredible scope, and can jump the biggest grand prix in the world. Today I was lucky enough to go last so I was able to watch some of the other jump-off rounds to make my plan."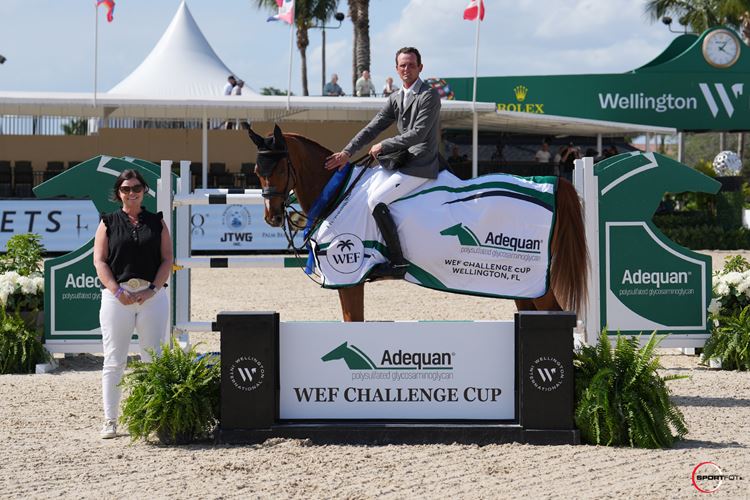 Nayel Nassar (EGY) earned the runner-up honors aboard Evergate Stables LLC's 14-year-old Holsteiner gelding Coronado (San Patrignano Cassini x Acord II); they clocked in at 38.01 seconds. Laura Kraut (USA) rounded out the top three, finishing just slightly slower than Nassar with a time of 38.80 seconds aboard St. Bride's Farm's 10-year-old Oldenburg gelding, Dorado 212 (Tailormade Diarado's Boy).
Original press release from https://wellingtoninternational.com.
This Post is Brought to You by:
Subzero equine therapy uses pressurized CO2 to target very specific areas such as joints, including the hock, stifle, pastern and fetlock, resulting in optimized range of motion and reduced pain.
Initial results visible within just 60 seconds
Infrared temperature and distance sensors for real-time control
Rapid attachment systems for faster setup and storage
Long-lasting battery and 15' polyurethane-shielded cord
Backlit, interactive LCD screen shows treatment data
Treatment protocols for different conditions
Vets, trainers and physiotherapists report rapid pain relief and overall faster recovery from equine injuries through targeted cold therapy. This versatile and easy-to-use device treats numerous regions of the sports horse's body for effective maintenance and injury prevention.