Edited Press Release
San Juan Capistrano, CA – April 15, 2023 – James Chawke is making his Blenheim EquiSports debut quite a winning one.Fresh off a victory in the $7,500 CSI3* 1.40m Silver Tour Speed Stake on Thursday, April 13, the Irish rider and his winning-mount Gamble returned on Friday to also win the $25,000 CSI3* 1.45m Silver Tour Classic, both held during the Blenheim Spring Classic II in San Juan Capistrano, CA.
On their way to the win in Friday's featured class at the Rancho Mission Viejo Riding Park, Chawke and Gamble were one of 19 entries to contest the first-round course set on the grass Derby Field by renowned course designer Guilherme Jorge. That course narrowed the starting field down to four entries qualified to return for the jump-off.
Chawke was the first to return for the short course, and he and Gamble left nothing to chance, cruising across the finish in 41.44 seconds. Second place with a time of 44.15 seconds went to Laura Hite riding Chagall de Toscane, owned by HF Farms LLC. Third place with a clear time of 45.22 seconds went to Zume Gallaher on Calacas D Aubigny, owned by Blue Gate Stables LLC, and rounding out the top four were Matt Archer and Monseigneur, owned by Rhys Farms LLC.
"There were a couple riders like Matt [Archer] coming after me, and I didn't want to leave the door open if I could avoid it," said Chawke. "I wanted to put enough pressure on that they would have to chase me a bit. [Gamble] is quite a quick horse. He likes to run and jump as well; he doesn't like to go more comfortably, even in the first rounds. He always tends to be running at all of it."
While Chawke purchased the 12-year-old Dutch Warmblood gelding more than four years ago, it was only this past winter that the duo really started showing consistently, racking up top results at the Desert International Horse Park.
"I got him at the end of his 7-year-old year when he was just turning 8. He's always been one of those horses that has just always been on the backburner a bit – between COVID and different things and even the [EHV-1 outbreak] last year, we never really got to do that much with him consistently," explained Chawke. "This is kind of the first winter that I've done something with him constantly, rather than doing a show here or there and me travelling and him being left off for a while. We've been together a long time, but this is maybe the most consistent work we've done with him. It's paid off in his results now with how consistent he's been."
Following their successful winter circuit, Chawke and Canada's Vanessa Mannix made the decision to reroute other travel plans to come to Blenheim EquiSports, and thanks in part to his top results, Chawke is now quite glad that he did.
"It's a beautiful area," concluded Chawke. "I've never done that much in California, and it's lovely. The show is great; the grass field is very nice. It's nice competition, and the people seem great. I'd definitely like to come back again."
For the win in the $25,000 CSI3* 1.45m Silver Tour Classic, Chawke was presented with a Topline Design gift certificate, a Blenheim EquiSports coolerette and a gift certificate to Riderzon.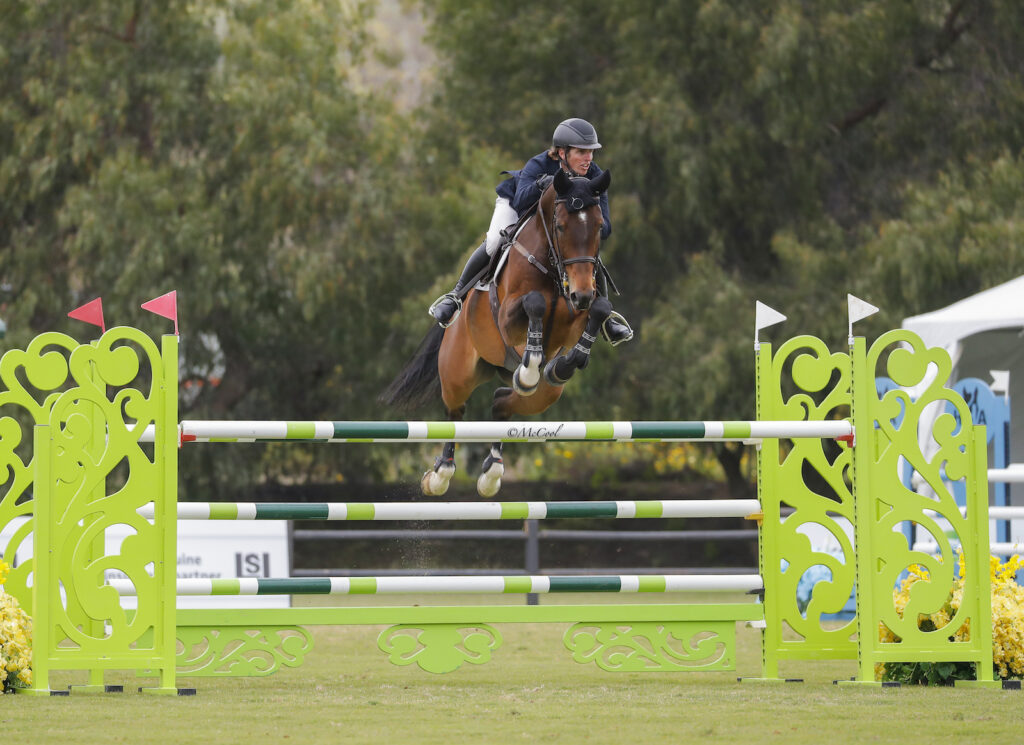 Also earning a Silver Tour victory during the Blenheim Spring Classic II were Shawn Casady and Latifa von Lancer III, owned by Tiffany Sullivan. The pair topped the $2,500 CSI2* Silver Tour Power & Speed held on Wednesday, April 12. For full results of all Silver Tour competition at the Blenheim Spring Classic II, visit blenheim.showgroundslive.com.
Original Press Release from Randolph PR.
This Post is Brought to You by:
Subzero equine therapy uses pressurized CO2 to target very specific areas such as joints, including the hock, stifle, pastern and fetlock, resulting in optimized range of motion and reduced pain.
Initial results visible within just 60 seconds
Infrared temperature and distance sensors for real-time control
Rapid attachment systems for faster setup and storage
Long-lasting battery and 15' polyurethane-shielded cord
Backlit, interactive LCD screen shows treatment data
Treatment protocols for different conditions
Vets, trainers and physiotherapists report rapid pain relief and overall faster recovery from equine injuries through targeted cold therapy. This versatile and easy-to-use device treats numerous regions of the sports horse's body for effective maintenance and injury prevention.