The $25,000 WEC Grand Prix at the World Equestrian Center – Ohio Winter Classic 18 included a field of 17 who took to the Sanctuary Arena to contest the track designed by Bobby Murphy of Lexington, Kentucky. Four horse and rider combinations qualified for the jump off, but it was Charlotte Clark of Kendalwood Farm in Sunbury, Ohio, aboard her own Kinsella who captured the win in an amazing 34.312 seconds.
Clark and Kinsella (Capitalist x Jerpoint Mist), an 11-year-old Chestnut Irish port horse mare, are frequent visitors to the winner's circle at World Equestrian Center having won countless feature classes at the venue. Last to go in the jump off, Clark and Kinsella went for it, hugging the inside and galloping around the twisting track, flying over the final oxer to victory.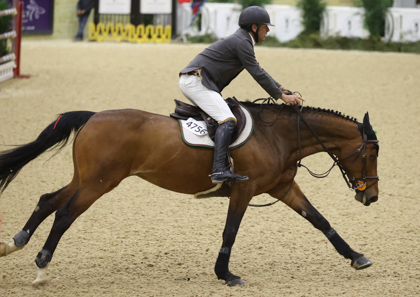 Last week's $25,000 Grand Prix winners Catch A Star HSS (Sheraton x Tolinda) and Kevin McCarthy of K&K Sporthorses LLC went second to last and delivered a blazing fast jump off round of 34.721. McCarthy and the 11-year-old Swedish Warmblood mare were poised to win again, when last to go Clark and Kinsella sliced milliseconds off their time, bumping them to second place.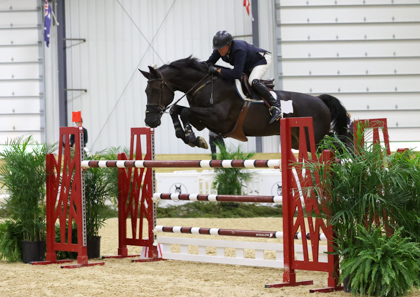 David Beisel and his own Essince W (Chacco Blue x Rossan) secured the third spot atop the podium for the second week in a row. Beisel of David Beisel Stables in Goshen, Ohio, and the 12-year-old KWPN Essince W are always game in the jump off and tonight was no exception. The pair wowed with a jump off time of just 34.812 seconds, earning them third place in the competitive class.
$25,000 WEC Grand Prix Results
Kinsella, Charlotte Clark – 0 | 0 | 34.312
Catch A Star HSS, Kevin McCarthy – 0 | 0 | 34.721
Essince W, David Beisel – 0 | 0 | 34.812
Londonderry De La Ramee, Keely McIntosh – 0 | 0 | 35.853
Colato Sabata, Emily Reder – 2| 79.107
Ammeretto, Izzy Beisel – 4 | 72.778
Strawberry, Molly Kindness – 4 | 74.860
Uranus 112, Richard Reinhart – 4 | 75.164
Limerick, Keely McIntosh – 4 | 75.784
Vegas H, David Beisel – 8 | 70.306
Photos courtesy of Winslow Photography.