Edited Press Release
The $37,000 CaptiveOne Advisors 1.50m Championship Jumper Classic started an action-packed day of competition on the Derby Field at Equestrian Village with 50 horse-and-rider combinations contesting Oscar Soberon's (USA) educated first track. More than 13 nations were represented in the class and seven of those countries were represented in the returning jump-off field which consisted of 18 fault-free competitors.
Ireland's Shane Sweetnam held the leading time for a majority of the shortened track until FEI World Equestrian Games Tryon 2018 U.S. team gold medalist Adrienne Sternlicht found an even faster pace. The young professional proved ready for an impressive season as she captured the first win of the day aboard Lafayette Van Overis.
Sternlicht laid it all on the line with the 11-year-old BWP gelding (Kashmir Van Schuttershof x Houdini Van Overis) with a variety of long gallops and tight turns to shave an entire three seconds off of Sweetnam's time and blaze through the timers in 42.51 seconds.
"My plan was to have another good class as my horse went really nicely in Thursday's ranking class," Sternlicht explained. "I felt really confident out there, and he absolutely loves the field. He is quite quick across the ground so I just figured we might as well go for it."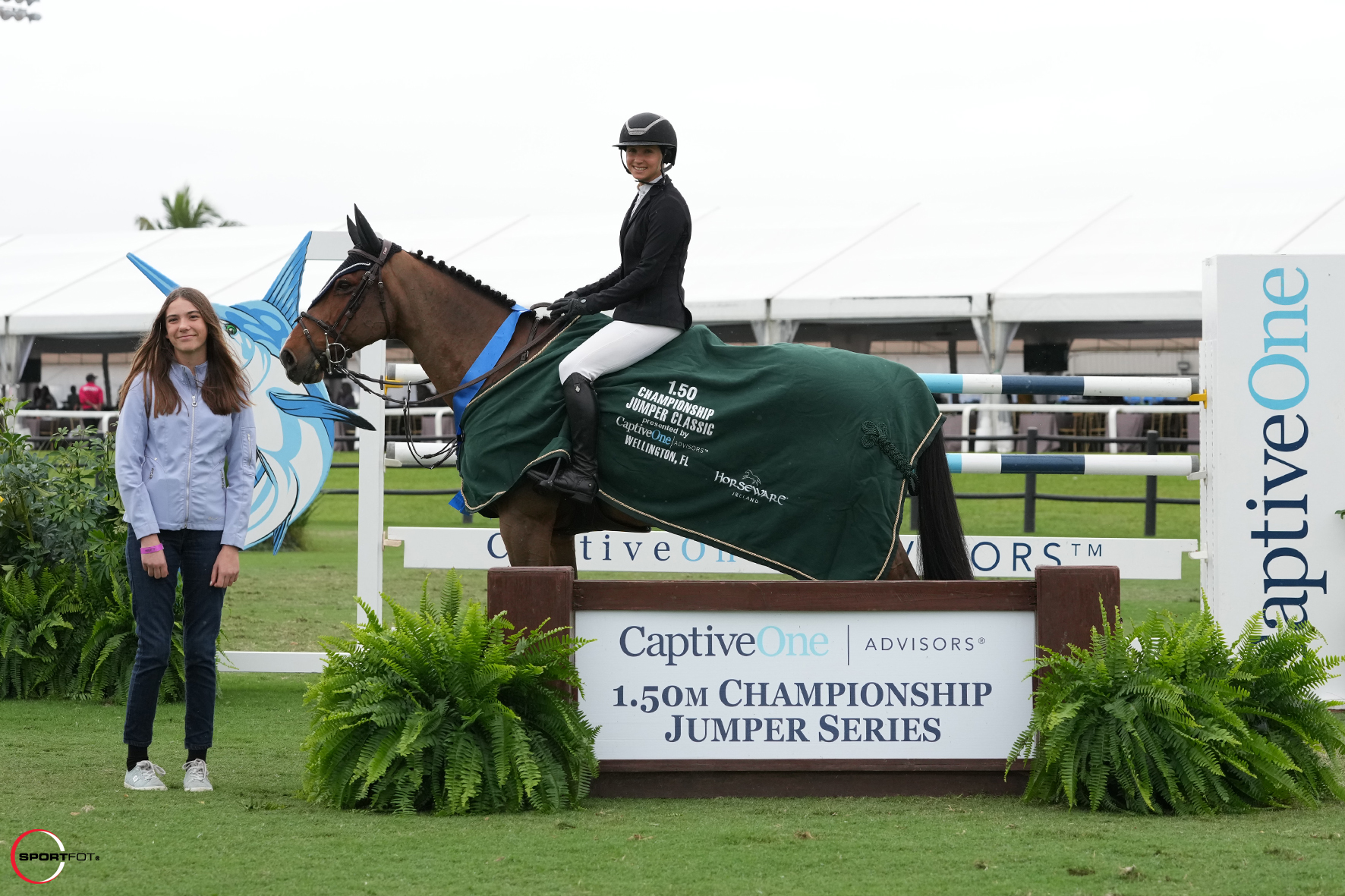 Sternlicht has been partnered with the Starlight Farms 1 LLC's gelding for roughly a year and a half and has taken her time to develop a strong partnership with the sometimes-quirky mount.
"We have gotten to the point where he really trusts me, and he knows I will always give him the best ride possible," she detailed. "He thrives off a confident ride and has a lot of blood, so the key is to find a happy medium while allowing him to do things a bit his own way because he is so competitive. This is my first year on my own and so, for me, this time is about developing myself as a professional and establishing my way."
Sweetnam and the Triple S Group's 10-year-old KWPN mare (Nabab De Reve x Diva) Holliewood maintained their runner-up position with the final time of 45.40 seconds. Great Britain's young rider Grace Debney slid into third late in the order with Temple Equestrian LLC's 11-year-old Spanish Sport Horse mare Zarina De Vidau (Diamant De Semilly x Carina XXXVII CH) a little less than a second behind Sweetnam on 46.17 seconds.
Young riders taking part in the Hermès Under 25 series had plenty of opportunity to familiarize themselves with the turf on Saturday. Out of the original 67-horse starting field, Irishman Tom Wachman topped the field in the $10,000 FEI Hermès Under 25 Welcome Stake. Wachman put in an efficient and fault-free 66.38 seconds with Coolmore Show Jumping's 12-year-old Selle Francais gelding HH Fireball by Number One D'Iso x Toulouse Une Prince. Laurel Walker (USA) closed out the full day by producing the win with her own 16-year-old Oldenburg gelding Gatsby (Chacco Blue x Clayton) in the $1,000 FEI Hermes Under 25 1.40m Classic.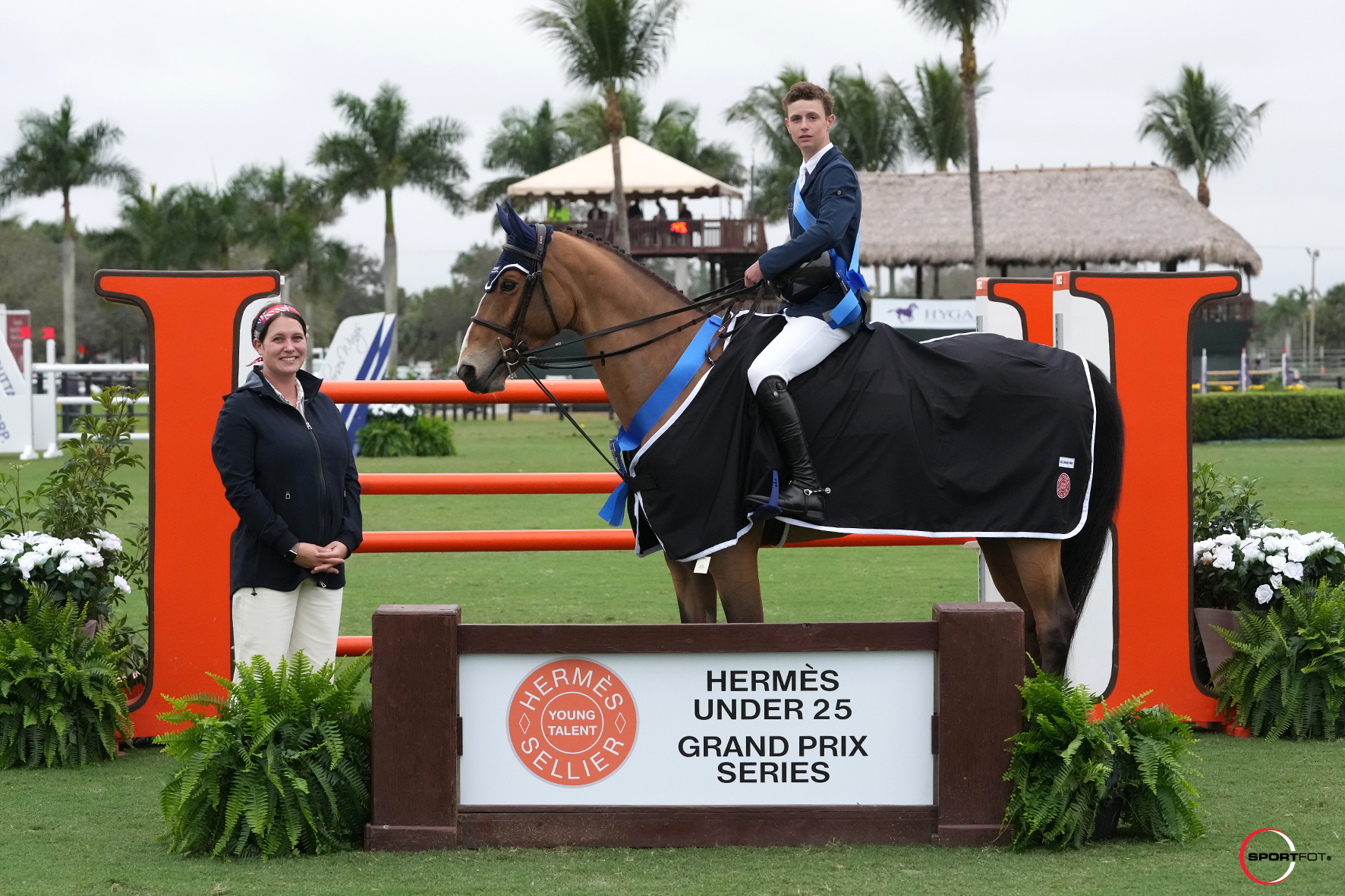 Final Results: $37,000 CaptiveOne Advisors 1.50m Championship Jumper Classic
1 LAFAYETTE VAN OVERIS: 2011 BWP gelding by Kashmir van Schuttershof x Tauber van het Kapelhof
ADRIENNE STERNLICHT (USA), Starlight Farms 1 LLC: 0/0/42.51
2 HOLLIEWOOD: 2012 KWPN mare by Nabab De Reve x Diva
SHANE SWEETNAM (IRL), Triple S Group: 0/0/45.40
3 ZARINA DE VIDAU: 2011 CDE mare by Diamant de Semilly x Carina XXXVii Ch
GRACE DEBNEY (GBR), Temple Equestrian, LLC: 0/0/46.17
4 BALOTELLI 5: 2010 Hanoverian gelding by Balou du Rouet x Contendro I
MATTHEW BODDY (GBR), Purple Road, LLC: 0/0/46.56
5 QUEEN: 2009 KWPN gelding by Warrant x Somara
ROBERTO TERAN TAFUR (COL), Rocking Basilisk Farm, LLC: 0/0/47.20
6 QUIRIE 2: 2007 Bayerischer stallion by Quadrigus M x Quidam's Rubin
ALI WOLFF (USA), Ali & John Wolff: 0/0/47.36
7 FRASIER: 2010 KWPN gelding by Carambole x Bloem
SAMANTHA SCHAEFER (USA), Bonne Vie LLC: 0/4/45.51
8 VALENTINO V Z: 2009 Zangersheide stallion by Verdi x Converter
MARIA COSTA (USA), Ravello Farms, LLC: 0/4/45.69
9 VDL IMAR: 2013 KWPN gelding by Carrera VDL x Dumara
DANIEL COYLE (IRL), Ariel Grange: 0/4/46.43
10 LIGHT BLUE 3: 2012 Oldenburg gelding by Light On x Cayenne
EMILY MOFFIT (GBR), Poden Farms: 0/4/46.91
11 MENKO VD WELLINGTON: 2012 BWP stallion by Echo Van T Spieveld x Exclusief Van D'Abdijhoeve
ANDREW BOURNS (IRL), Andrew Bourns Sport Horses Inc.: 0/4/47.99
12 JIMINY CRICKET: 2011 WB gelding by Chacco Blue x Lee-Lou
NAYEL NASSAR (EGY), Evergate Stables, LLC: 0/4/48.49