Edited Press Release
All eyes were on 43 junior riders Friday evening at WEF 11, as qualified athletes took to the International Arena for the coveted WEF Equitation Championship, presented by NetJets.
The podium was dominated by riders based in the western U.S. with Carlee McCutcheon, 17, of Aubrey, TX, taking the victory after posting consistent scores in the 90s. Eleanor Rudnicki, 17, of The Woodlands, TX, was second and Jordan Gibbs, 16, of Colorado Springs, CO, rounded out the top three.
Andy Christiansen (USA) designed the equitation track. His first round featured an S-line question and varying fence challenges, including a split rail option. The top 12 were called back in reverse order for a second round, which had additional tests, including a simple change of lead. Four riders returned – without stirrups – for further testing: Gibbs, McCutcheon, Rudnicki and Tessa Downey. After the three rounds, McCutcheon was crowned the winner from two judging panels made up of Archie Cox, Abby Blankenship, Tammy Provost and Lillie Keenan.
The unique format of the WEF Equestrian Championship removes trainers and all outside help from the equation. Riders must walk the course, make their plan and warm up without the assistance of a trainer. Riders hand in their cell phones at the start and can only be assisted by one groom in the schooling area.
Diane Landreville and Dan Reed observed the warm-up for the first two rounds and awarded riders a score from minus two to plus two points based on their time management, horsemanship and effectiveness in the schooling area. Those points were either added or subtracted from the rider's overall score.
"I went second in the test, so I had to make a plan quickly, and Jordan put in a beautiful test, so I knew I'd have to do something hard, but Chacco is very talented and I think he wants to win, so the harder the test, the better he is and the better he jumps," said McCutcheon of her mount Chacco Star, a 15-year-old Chacco-Blue gelding owned by Kennedy McCaulley. "I chose to land the counter lead after the wall and hold it, and I know that's one of my horse's strong suits, so I was confident I was able to do that, and then just hand gallop the last jump and stay on that without my stirrups."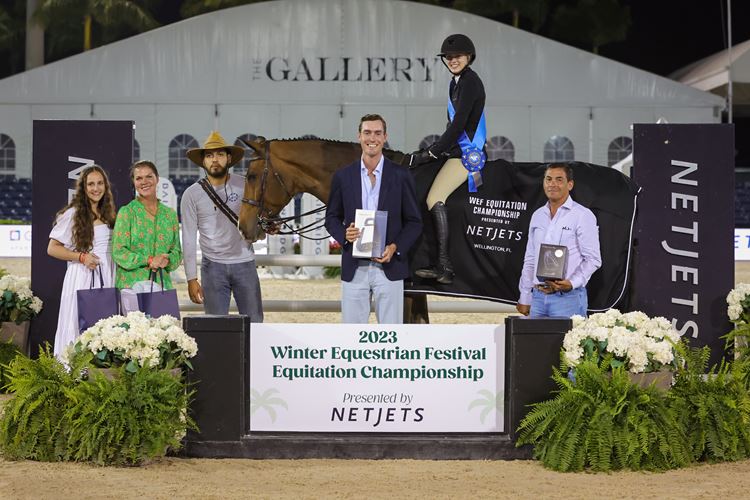 McCutcheon trains with Max Amaya and TJ O'Mara at Stonehenge Stables and her grandmother Colleen McCutcheon. "Winning this class doesn't feel real yet," McCutcheon said. "I would like to thank TJ, who puts in so much work to make these horses perfect for us and everything he does for us, and Max Amaya, and the whole team at Stonehenge. And to thank my grandparents and parents for pushing me and believing in me enough to make this all come true."
Rudnicki, who trains with Barry Porter and Linda Langmeier, rode the Rafferty Farm owned Brentwood. Rudnicki had competed in the WEF Equitation Challenge twice before, but this time she broke into the second round, and ultimately the podium. "I think it's pretty cool that we get the opportunity to practice warming ourselves up and making our own plans," said the rider, who is committed to attend and ride for Auburn University in the fall. "We had to go last in the test, so I had to get out of the line and get him with me, but he was right there in the first line, the halt, and then the hand gallop was good."
Brentwood was honored with the "Best Equitation Horse" title at the conclusions of the evening.
Gibbs piloted Cent 15, owned by her family's Mountain King Ranch and previously piloted to equitation championship success with her older brother Dominic. She trains with Stacia Madden and spent the week preparing within Madden's Beacon Hill Show Stables program.
"During the WEF circuit, it's a lot of building a strong partnership with your horse. We had a flat clinic with Beezie Madden on Tuesday, then we warmed ourselves up in the Washington Hunter Phase. This morning, we did a lesson where we did everything ourselves, then got feedback from Stacia and the team afterward," she detailed.
"He is a trier and he wants to win," Gibbs said of Cent 15, who was honored with the "Best Turned Out" title. "He wants the blue and knows when it's important. He's an incredible horse, and I wouldn't change a thing about him. He's taught me so much about how to really get out here and be confident."
Original press release from https://wellingtoninternational.com.
This Post is Brought to You by:
Subzero equine therapy uses pressurized CO2 to target very specific areas such as joints, including the hock, stifle, pastern and fetlock, resulting in optimized range of motion and reduced pain.
Initial results visible within just 60 seconds
Infrared temperature and distance sensors for real-time control
Rapid attachment systems for faster setup and storage
Long-lasting battery and 15' polyurethane-shielded cord
Backlit, interactive LCD screen shows treatment data
Treatment protocols for different conditions
Vets, trainers and physiotherapists report rapid pain relief and overall faster recovery from equine injuries through targeted cold therapy. This versatile and easy-to-use device treats numerous regions of the sports horse's body for effective maintenance and injury prevention.