By Summer Grace / EQ Media Agency
North Salem, NY — Sept. 19, 2020 —The final day of competition during the Week II of the Old Salem Farm Fall Series kicked off Saturday morning. Sixteen junior horse-and-rider combinations were poised and ready to display their best efforts against Paul Jewell's track in the NHSAA/ASPCA Maclay Region 2 Championship, while jumper competitors prepared for the $10,000 Old Salem Farm Jumper Classic. Young riders from across the region produced top rounds in the championship class but ultimately, Kathryn Mc Carthy of New Canaan, Connecticut, sealed the deal with her own Cool De Reve.
The NHSAA/ASPCA Maclay Championship is one of the most prestigious competitions for junior riders. Its winners are some of the most illustrious names in equestrian sport.
Each year, hundreds of the top junior riders compete to qualify for the NHSAA/ASPCA Maclay Championship at thousands of shows across the country for the honor to compete at the finals.
This year, the qualification process for the 2020 NHAA/ASPCA Maclay Regional Championships was amended so that riders who qualified for the finals were eligible to compete in the regionals, though it was not required. They also added that the top-placing, non-qualified rider in each regional competition would qualify for the Finals.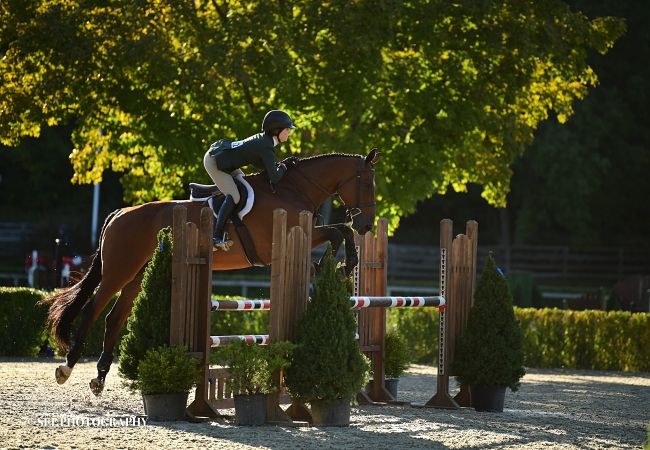 "The course I built today set all of the riders up for success," said Jewell. "It was a challenging course with details such as triple bars and Swedish oxers, but it also allowed them time to breathe between some of the jumps. I feel most of the riders left with a positive experience."
Of the 16 original combinations, judges Jeffrey Ayers and Walter (Timmy) Kees were in agreement that Mc Carthy's solid round led the pack.
"Our champion had the most consistent round of all the riders," Ayers said. "The second and third place winners were only slightly less consistent but still at a very elite level and in that way the class almost pinned itself."
Despite being entirely new to the world of equitation when she partnered with Cool De Reve, Mc Carthy, who is in her final junior year, learned quickly from the 14-year-old Selle Francais gelding. The pair won several classes during the Winter Equestrian Festival in Wellington and qualified for both the NHSAA/ASPCA Maclay National Championship and the Washington International Horse Show Equitation Finals.
"This horse has been a great teacher for Kathryn and together they have qualified for several top equitation events, so we are very excited for indoor season," said Grafton Ridge head trainer Michael DelFiandra.
Mc Carthy takes all her show ring cues from DelFiandra and his business partner, Vanessa Roman and credits them for her success.
"I went in the ring pretty nervous today because this is only my second Regionals but this horse is really everything I could ever imagine in an equitation horse. He took very good care of me today," Mc Carthy said.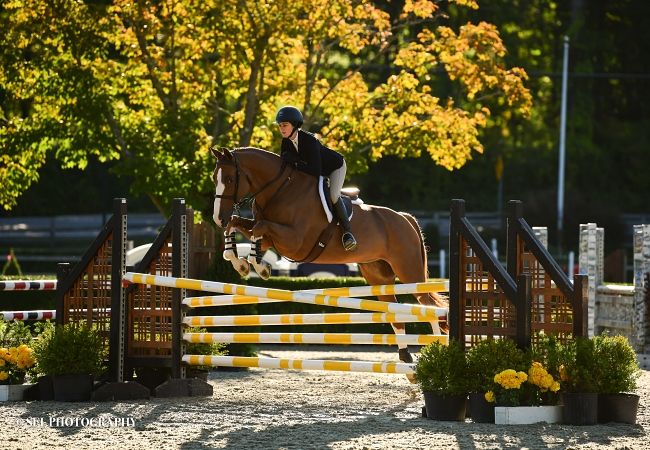 "One thing I was happy about was that I did not rush as much as I anticipated, which is something my trainers and I have been working on quite a bit at home," she added.
Mc Carthy spends the bulk of her time at the farm in her role as a working student. She said that because of her position, she benefits from training and hands-on horsemanship.
"The barn is everywhere and everything for me," Mc Carthy said. "This is what I want to do with my life."
Finalists from across the country will head to the National Horse Show at the Kentucky Horse Park to determine the final outcome and 2020 winner of the coveted class.
Ella Kraut of Devon, Pennsylvania, piloted Chloe Doherty's 13-year-old Zangersheide gelding Limoncello Z (Lupicor x Mompty) to second-place honors. Kraut trains with Olympic gold-medalist Chris Kappler. Bedford, New York's Emily Aitken, trained by Gabrielle Hero, rode Katie Abajian's 11-year-old Swedish Warmblood gelding Lambada to round out the top three.
Saturday's class was presented by John Y.G. Walker III, first vice president of the NHSAA and his wife Kim Beckwith Walker.
"The National Horse Show will take place Oct. 23-Nov. 3 at the Kentucky Horse Park in Lexington, Kentucky, with all the appropriate COVID precautions," Walker said. "We are very much looking forward to it!."
For more information on the Maclay Finals visit:
HISTORY OF THE MACLAY
PAST WINNERS OF THE MACLAY
2020 QUALIFYING INFORMATION