By Summer Grace / EQ Media Agency
Old Salem, NY — Sept. 17, 2020 —Hunter and jumper competition returned to Old Salem Farm Thursday during Week II of Old Salem Farm Fall Series. Riders returned for the $1,000 1.30m Open Jumper Stake, which went to Lillie Keenan and Stakki 6. Hunter divisions kicked off, including the USHJA Hunter 3'.
Close to thirty entries faced Kevin Gilblin's first-phase course in the $1,000 Open Jumper Stake 1.30m and 13 horse-and-rider combinations advanced to the jump off. Six contenders managed to score consecutive fault-free rounds, but 23-year-old Lillie Keenan (USA) bested them all aboard the Chansonette Farm LLC entry Stakki 6.
"This horse definitely has a lot of quality and I feel very lucky that we are able to come to these local shows like Old Salem even in the midst of this pandemic," Keenan said. " I think the 7-year-old year is a very important year in the development of horses and this horse has unfortunately missed out on a lot of the events we would've planned to take him to."
She and the Hanoverian gelding (Stakkato Gold x Adelaide) clocked in an efficient jump-off at 40.302 seconds.
"Stakki is very quick naturally so I didn't think about much other than trying to give him a good, confident round," she said. "Every day with a young horse you are either teaching them something you want or something you don't want, so I just wanted to focus on a positive round for both of us."
Keenan added, "Old Salem is a fantastic facility to educate young horses because you get unique opportunities such as training and showing them on the traditional grass field."
Willington, Connecticut's Annie Phillips (USA) and Oakridge Farm's 13-year-old Holsteiner stallion Cascor Z (Casall x Pandora IX) took the runner-up position after clocking in double clear with a time of 40.501 seconds.
Diego Perez Bilbao (ESP) rode McLain Ward's 7-year-old Warmblood mare Demonia GS Z to finish out the top three with a final time of 41.489 seconds.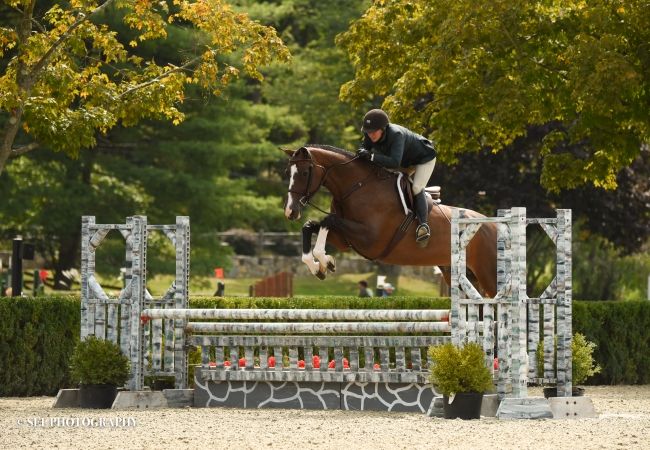 Come True and Katie Milton are a Dream Come True
with USHJA 3' Hunter Victory 
Hunter riders made their week two debut and Katie Milton piloted her catch ride, Come True, to the tricolor ribbon in the USHJA 3' Hunters for owner Mariel Goodson. Milton earned ribbons of first, second and fourth to accumulate the most total points in the division aboard the 6-year-old Holsteiner mare (Casall ASK x W-Catania).
Come True and owner Goodson are scheduled to compete in the Adult Hunters first on the schedule in the hunter ring tomorrow.
Competition continues Friday, featuring the jumpers, junior and amateur hunters and equitation.
Final Results: $1,000 1.30m Open Jumper Stake
1 STAKKI 6: 2013 Hanoverian gelding by Stakkato Gold x Adelaide
LILLIE KEENAN (USA), Chansonette Farm LLC: 0/0/40.302
2 CASCOR Z: 2007 Holsteiner stallion vt Casall x Pandora IX
ANNIE PHILLIPS (USA), Oakridge Farm: 0/0/40.501
3 DEMONIA GS Z: 2013 Warmblood mare
DIEGO PEREZ BILBAO (ESP), McLain Ward: 0/0/41.489
4 ROXSTAR: 2012 North American Studbook gelding by Amaretto D'Arco x Roxanne
ALICE DEBANY CLERO (USA), Old Salem Farm Acquisition Corp: 0/0/41.993
5 GK CALIFORNIA: 2010 Hanoverian gelding by Cosido x Ilona IV
LAUREN FISCHER (USA), Lauren Fischer: 0/0/42.766
6 GIORGIO VAN'T HAGENHOF: 2006 Belgian Warmblood gelding by Bentley x Babbe Van't Roosakker
LILLIE KEENAN (USA), Double H Farm: 0/0/44.271
7 EL BALOU OLD: 2012 Oldenburg gelding by Eldorado VD Zeshoek x Sunshine's Botox
LILLIE KEENAN (USA), Chansonette Farm LLC: 0/5/40.313
8 SOMERSET: 2008 Canadian Sport Horse mare by For Pleasure x Ariana
CATHERINE KUBIAK (USA), Over Fences Farm LLC: 0/4/ 41.640
9 CEDRIC: 2007 KWPN gelding by Indoctro x Waikiki
CARA RAETHER CAREY (USA), Trelawny Farm LLC: 0/4/44.290