By Kate Pettersen and Sabrina Brashares for Jennifer Wood Media, Inc.
January 31, 2021 – Wellington, FL – Coming off a win in the $37,000 Adequan® WEF Challenge Cup Round 3 on Friday, Kent Farrington and Austria 2, owned by Take The High Road, LLC, put on yet another display of speed and precision to capture the $137,000 NetJets Grand Prix CSI3* on Sunday, January 31, at the Palm Beach International Equestrian Center (PBIEC).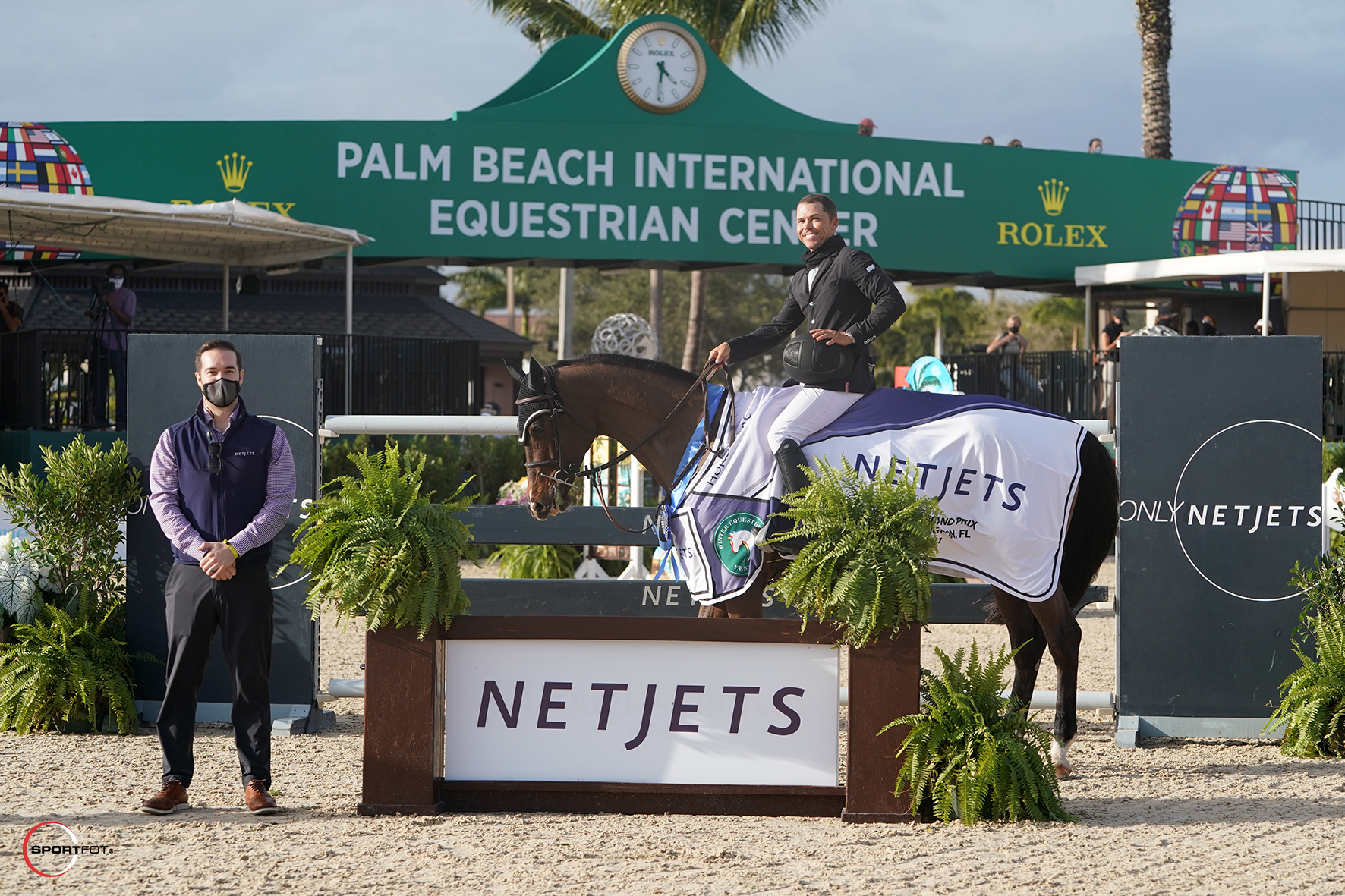 Competition continues at the 2021 Winter Equestrian Festival (WEF) with the Marshall & Sterling/Great American CSI4* week featuring FEI jumping returning to the Derby Field at Equestrian Village. The schedule is highlighted with Friday's $50,000 Adequan® WEF Challenge Rd 4, the $25,000 Hermès U25 Grand Prix Series Team Event in the Global Stadium Arena, and in the International Arena at PBIEC is the 1 p.m. $25,000 USHJA International Hunter Derby Hunt & Go.
Saturday features $37,000 CaptiveOne Advisors 1.50m Classic on the Derby Field followed by the Great Charity Challenge presented by Fidelity Investments® taking place in the International Arena on Saturday night. To conclude the week, it's the FEI $50,000 1.45m Grand Prix CSI 2* followed by the $214,000 Marshall & Sterling/Great American Insurance Group Grand Prix CSI 4*, both set to go on the Derby Field. Competition at WEF continues through April 4, with feature classes available to watch on the livestream.
A total of 45 combinations challenged the track set by Peter Grant (CAN) and Joey Rycroft (CAN) with 12 qualifying to return for the jump-off. Farrington and the 13-year-old Holsteiner mare by Casall x Corrado took off at a full gallop and didn't stop, crossing the timers in 39.13 seconds. The pair elected to do 12 strides to the second jump on course, while most of their competitors two or three less [strides], which gave Farrington and Austria 2 the opportunity to angle the Lugano Diamonds oxer for a more direct route to the third jump on course.
"I tend not to count in very long lines," said the world number seven rider, Farrington. "I like to ride off what I feel the horse needs. She's a small horse so if you are running and jumping too long or too flat, you risk a rail, so I think it's better to run up to the jump and get their hocks underneath them. It allows them to get more height and make a short turn about a stride out when I land. It's different styles for different horses, but that's what suited my horse."
The first to post a double-clear effort was Spencer Smith (USA) aboard Ayade Hero Z, a 10-year-old Zangrsheide mare owned by one of his students, Ransome Rombauer, finishing less than one second off the mark in 39.95 seconds.
"She's a super mare," said Smith.  "She came from Eric Lamaze when I was working there. He bought her as a seven-year-old and then sold her to Ransome. She's taken her through the High Amateur-Owners and the U25s. Every once in a while, I grab her back and jump a big class with her. She's so game; I know if I'm on it, I can win."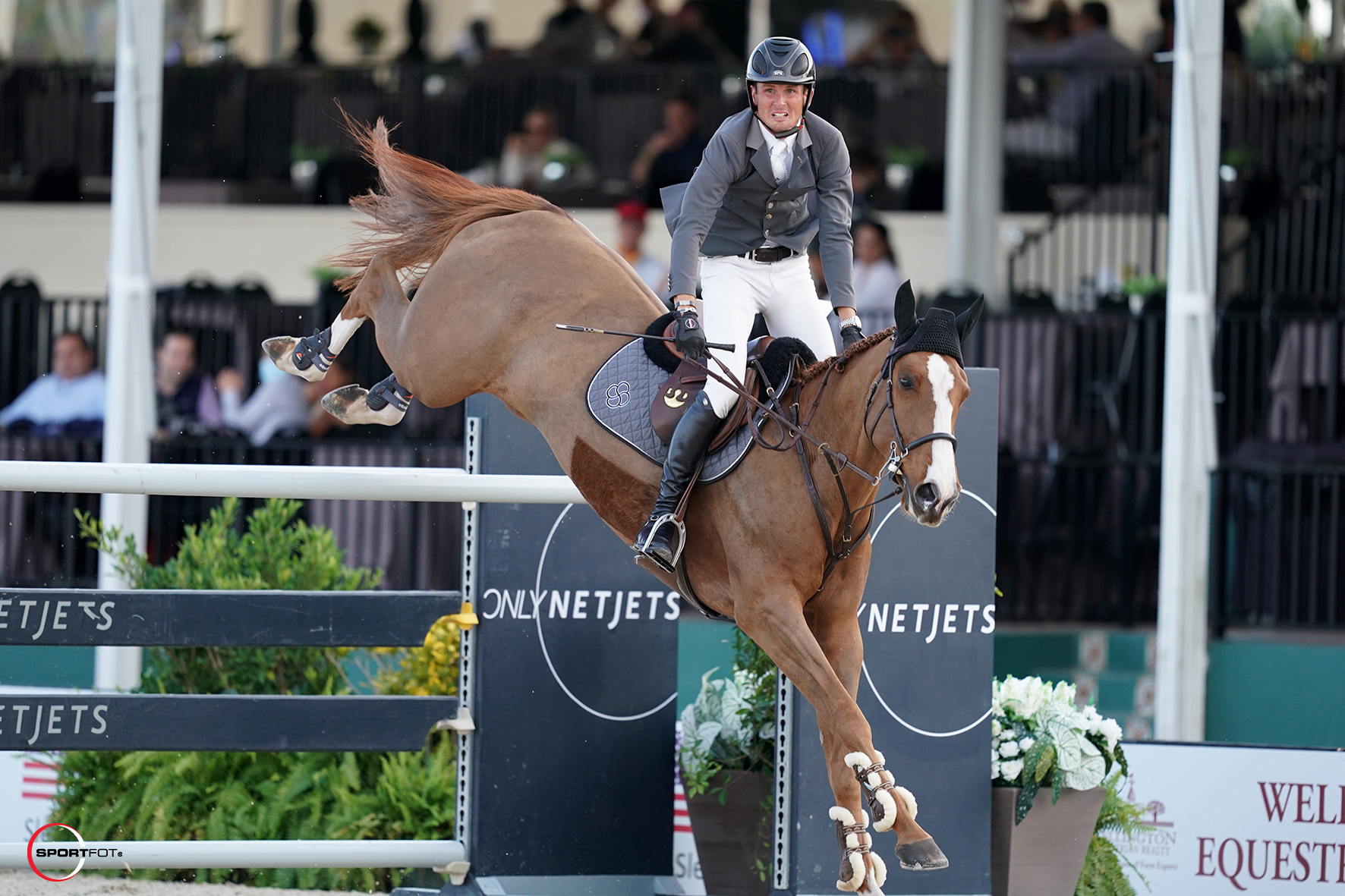 Smith is one of the United States' top up-and-coming professionals. The 25-year-old rider already has multiple top 10 finishes in CSI3* competition at WEF this season with a string of talented horses, and he's only nine spots away from cracking the top 100 in the world rankings lists.
Rounding out the top three was Nicola Philippaerts (BEL) aboard Katanga Van Het Dingeshof, his own 11-year-old mare by Cardento 933 x Tabelle DIngeshod Z, with a double-clear effort in 42.48 seconds.
"It's great to be here and see a little bit more of what my horses can do," said Philippaerts. "So far, this mare is doing really well; she's jumping very good. She's one of my best horses so I'm really excited for what she can do the rest of the season here."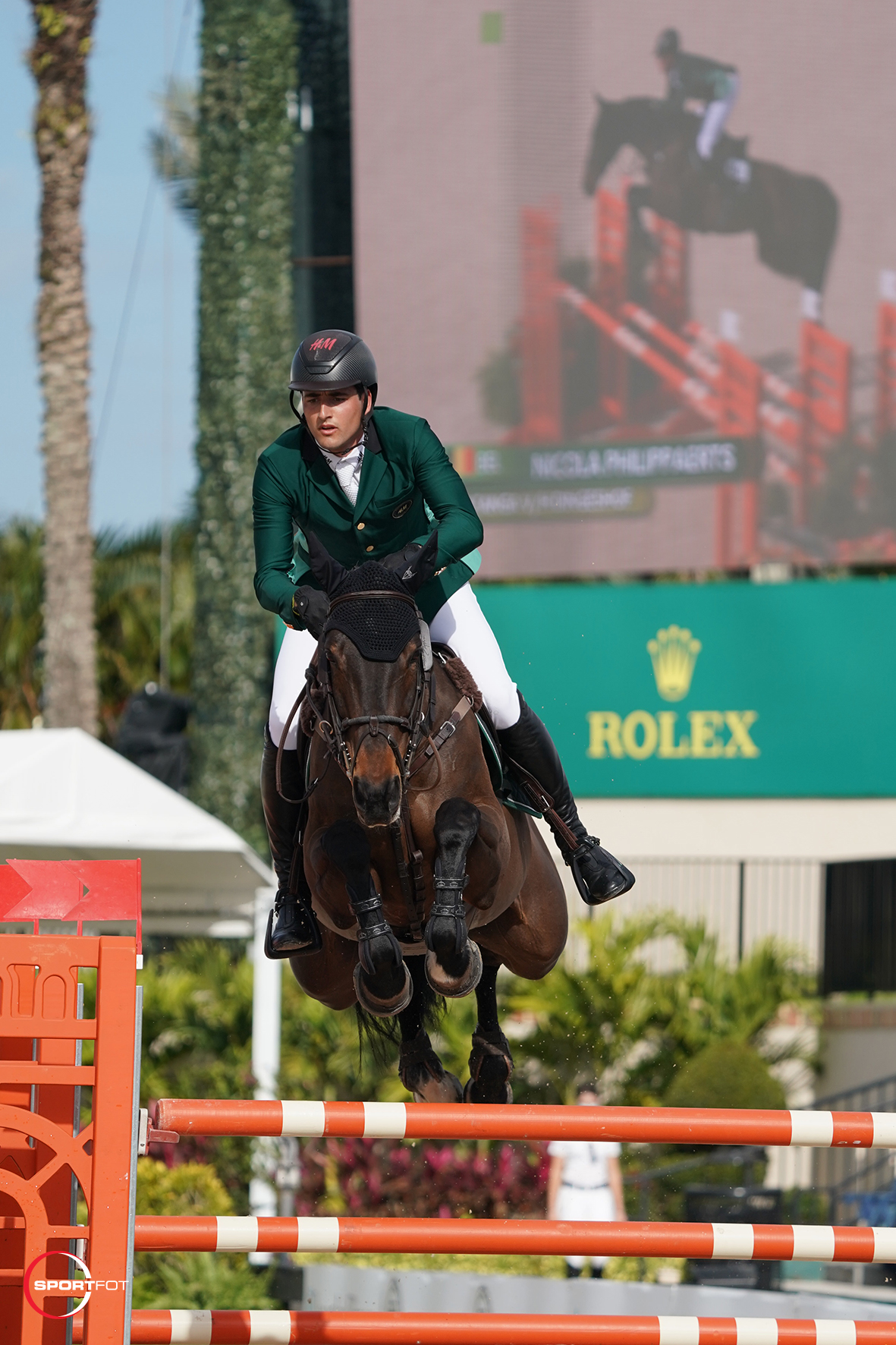 The 28-year-old rider elected to cross the pond for WEF in its entirety, and the decision is already paying off in the early weeks of the 13-week circuit.
"In Europe there's not too much going on," said Philippaerts. "I brought five horses with me. It's a long enough season we can give the horses long breaks between the classes and try to compete a little bit. It's going to be really nice after having not much to jump in Europe over the summer, to get the chance to jump some of the bigger classes."
It was no surprise to the crowd to see Farrington put forth a speedy effort; after all, he's one of the most familiar faces in the International Arena's winner's circle. After Friday's win, he felt confident but did not take the task of a tough track lightly.
"Often in those classes where you're riding a horse that you know is capable of winning the danger is always that you beat yourself," he said. "A lot of times you put in a great round, and my goal is to go quick enough to hopefully nick his time and not overcook it where I'm two seconds faster than I need to, and I end up having a rail down towards the end. I was really just trying to do the best for my horse."
Vicki Lowell and her own Grandkittaire won the $10,000 Don Little Masters Adult Amateur Jumper Classic, presented by Horseware Ireland. In the $10,000 Karlswood Medium Junior Jumper Classic, Max Wachman and Coolmore Show Jumping's Dinaro took the win. Rounding out the week with victory in the $10,000 Show Jumping Hall of Fame Junior Jumper Classic, presented by Griffis Residential were Dominic Gibbs and Mountain King Ranch LLC's Delia B.
Final Results: $137,000 NetJets Grand Prix CSI3*
1. AUSTRIA 2: 2008 Holsteiner mare by Casall x Corrado I
KENT FARRINGTON (USA), Take The High Road, LLC: 0/0/39.13
2. AYADE HERO Z: 2011 Zangersheide mare by Aganix Du Seigneur x C.heroine De Thieusies
SPENCER SMITH (USA), Ransome Rombauer: 0/0/39.95
3. KATANGA VAN HET DINGESHOF: 2010 BWP mare by Cardento 933 x Tabelle DIngeshod Z
NICOLA PHILIPPAERTS (BEL), Nicola Philippaerts: 0/0/42.48
4. KILKENNY: 2012 Irish Sport Horse gelding by Cardento x Mhs Pembrook Lady
CIAN O'CONNOR (IRL), Ronnoco Jump Ltd: 0/0/43.95
5. CONFU: 2007 Holsteiner gelding by Contact Me x Cambridge
LAURA KRAUT (USA), St. Bride's Farm: 0/4/41.31
6. ROBIN DE PONTHUAL: 2005 Selle Francais gelding by Elf D'or x Calypso D'Herbiers*Ecolit
SCHUYLER RILEY (USA), Katherine Gallagher: 0/4/42.59
7. BENNYS LEGACY: 2008 Oldenburg gelding by Lupicor x Acordia
ADRIENNE STERNLICHT (USA), Starlight Farms, LLC: 0/4/42.92
8. DEZ OOKTOFF: 2008 KWPN stallion by Colandro x Fabiola
ROBERTO TERAN TAFUR (COL), Roberto Teran Tafur: 0/4/43.12
9. DICAS: 2009 Rheinlander gelding by Diarado x Cassini I
MARGIE ENGLE (USA), Storm Ridge Capital LLC, Show Horses, Garber & Gladewinds Partners LLC: 0/4/43.20
10. SKARA GLEN'S MACHU PICCHU: 2007 KWPN gelding by Silverstone x Matterhorn
PAUL O'SHEA (IRL), Skara Glen Stables: 0/8/40.90
11. KASPER VAN HET HELLEHOF: 2010 BWP stallion by Emerald Hadise Van Het Hellehof
MCLAIN WARD (USA), Poden Farms: 0/8/44.75
12. ELUNA CL Z: 2012 Zangersheide mare by Emerald x Naluna Van 't Roelerhof Z
ELIZA LEHRMAN (USA), Five Way Farm, LLC: 0/8/53.11