By Kate Pettersen, Sabrina Brashares, and Summer Grace for Jennifer Wood Media, Inc.
Seasoned hunter rider Amanda Steege guided Cheryl Olsten's Lafitte De Muze to top honors in the $50,000 WCHR Peter Wetherill Palm Beach Hunter Spectacular during "Saturday Night Lights" at the 2021 Winter Equestrian Festival (WEF).
The sixth week of WEF features World Championship Hunter Rider (WCHR) classes along with CSI3* jumper events. Highlights for the final day of WEF 6 competition on Sunday, February 21, include the $137,000 IDA Development Grand Prix CSI3* on the Derby Field at Equestrian Village, as well as the $25,000 HermèsUnder 25 Grand Prix and the $25,000 CP National Grand Prix. Spectators can watch feature classes live and on demand for free using the livestream.
Thirty-three junior, amateur, and professional hunter riders took their turn over the track designed by Andy Christiansen. The course consisted of 12 elements and was offered at 3'6", 3'9", and the 4' height. After all riders completed the first course, the top 12 returned for a second classic round. Six judges split into three panels oversaw the class with panel one consisting of Mary Lisa Leffler and Chris Wynne, panel two being Rachel Kennedy and Sissy Wickes, and the final panel including Tom Brennan and Mark Jungherr.
Eleventh to go, Laena Romond, of Brookfield, CT, and Catherine Cowie's Traveller took an early lead with a score of 89.66 and held onto the top spot for the remainder of the first round. Less than a full point behind Romond was Wellington, FL, resident Jimmy Torano aboard Isalou, Inc.'s Laskano with a score of 89.16. Steege, of Bedminster, NJ, and Lafitte De Muze were sitting in third place going into the second round with a score of 88.91. The top 12 riders who returned for the second round consisted of 10 professionals and two junior riders.
Tenth to come back in the order, Steege and the 10-year-old Belgian Warmblood by Darco showed off their handiness and rideability to receive a score of 88.83, which put the pair at the top of the leaderboard with an overall score of 177.74.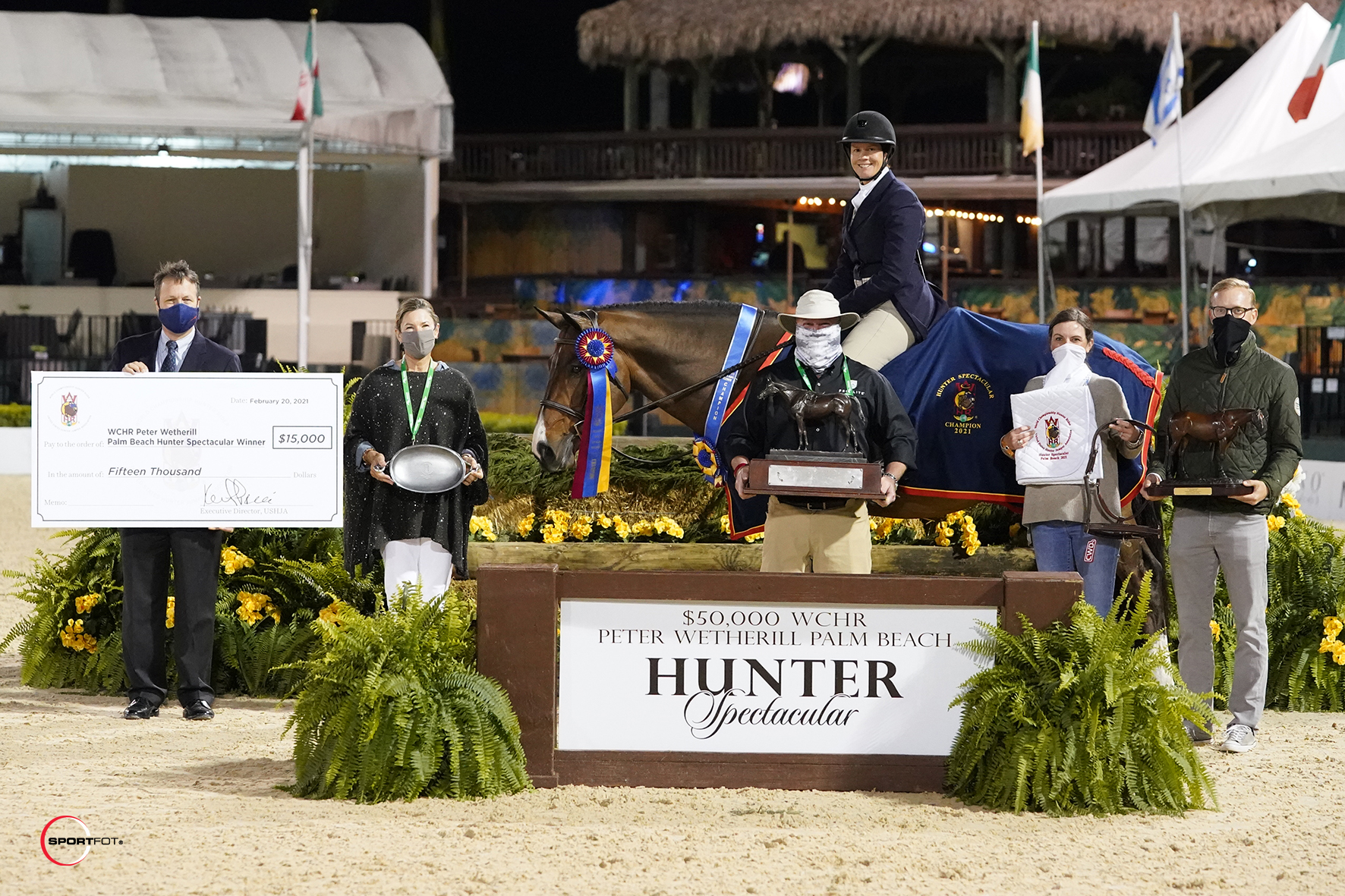 "My plan for round one was to just go as smoothly as I could and show off some galloping; I can trust that he's going to jump the jumps with amazing style so I was just trying to do my job the best way that I could," explained Steege. "For the second round, I did a different plan than the one we had decided when we walked it. Liza [Boyd] and I walked together with a few others, and we were not planning on doing some of the inside slices that we did. As we were watching people go and people started doing tighter turns and judges seemed to reward that, I actually phoned a friend. I called Tom Wright who was sitting in the stands literally as I was at the gate, and he helped me formulate a plan that he thought would be the best for Lafitte. I was happy that I was able to make it work."
Elizabeth Towell-Boyd and Gigi Manigault's Walk-Off finished the first round in tenth place and then received the highest second round score of 91 to finish in second overall. Their second round score combined with their first round score of 86.66 gave them a total score of 177.66. Unlike many of the horses in the class, this was Boyd's first time competing Walk-Off under the lights.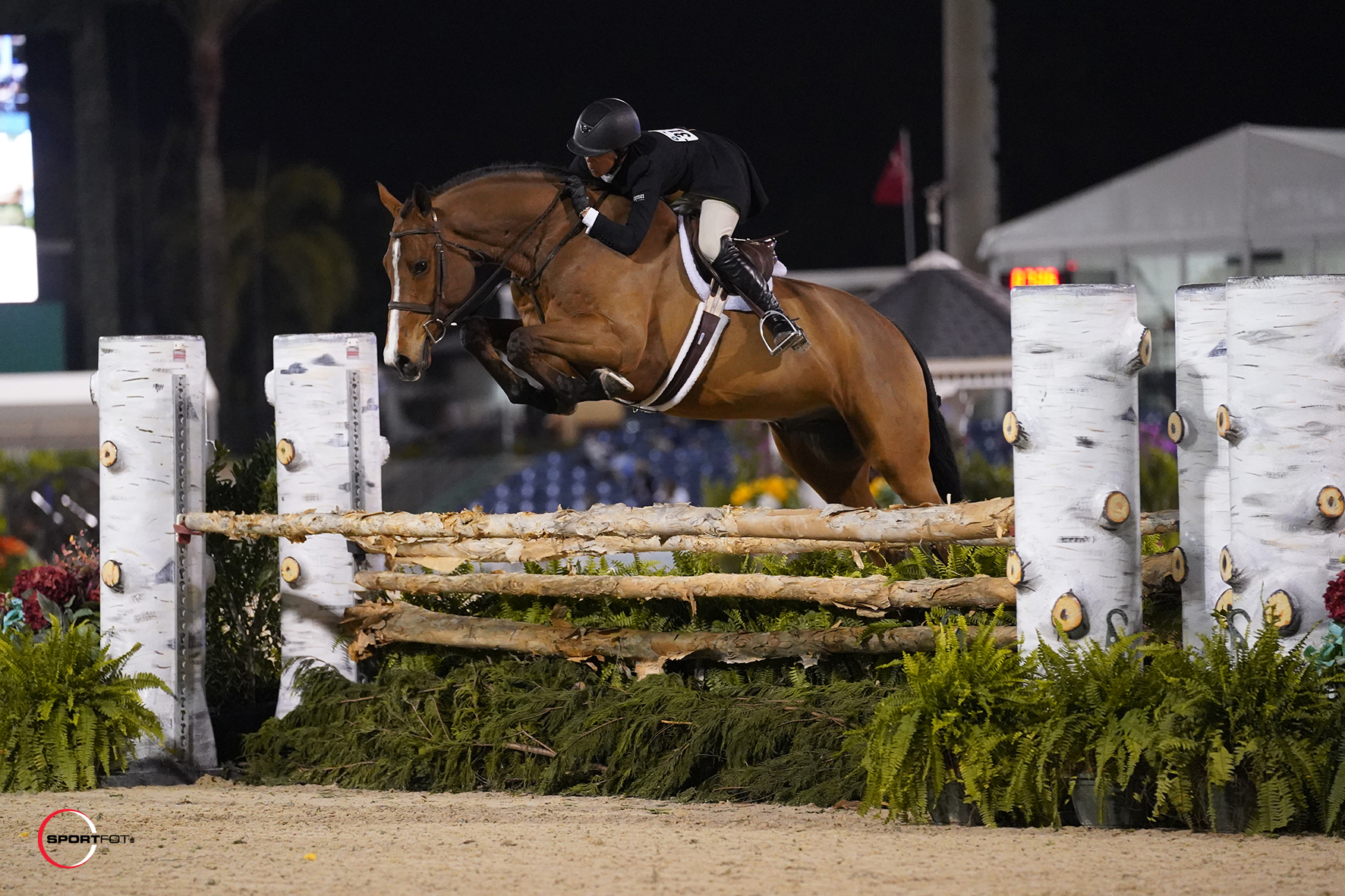 "My horse is honored to be second to a horse like Laffite," commented Boyd. "Being green the first round I was a little cautious, and then the second round arrived and I was in tenth place, and I thought, 'We'll just go for it,' and he really stepped up to the plate. He really proved to me that he's a derby horse in the making."
Third place honors were earned by Geoffrey Hesslink, of Shelbourne, VT, and Shadowfax Equestrian LLC's Bond. Hesslink rode Bond to a first round score 87.16 to put them in sixth. The duo received a second round score of 89.33 which put them right behind Steege and Boyd.
"Bond is lovely. He does the junior hunters with his rider Isha [Swani]," said Hesslink. "He's done this class twice with her so I knew he would be more than ready to do it. He's always game for anything so I just tried to put in a nice smooth round."
"I thought the course was great," continued Hesslink. "I like having more single jumps and there were a lot of those today, I thought it was nice that they also incorporated some trickier jumps that we haven't seen here in the past."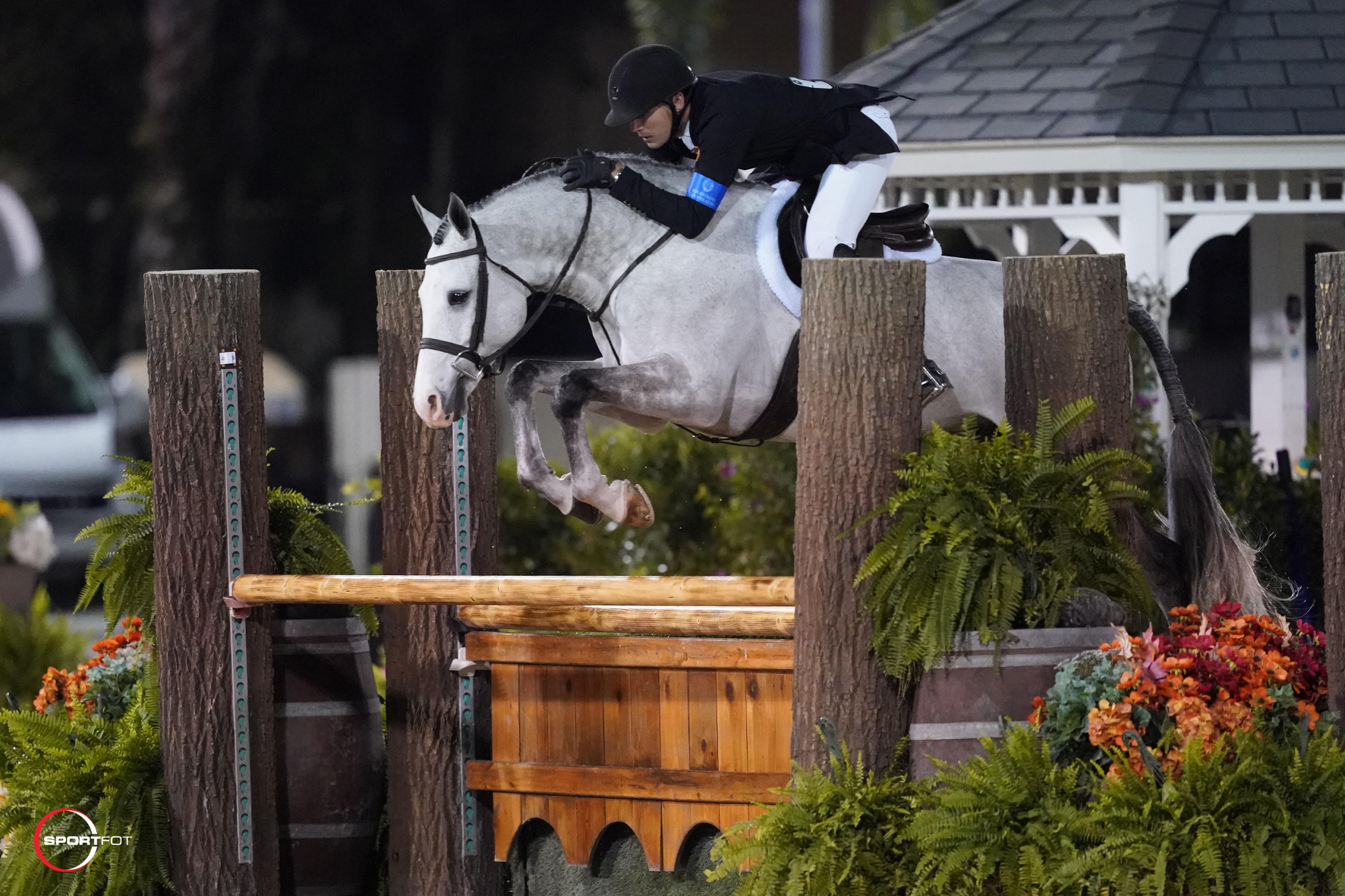 "It's a huge honor for him to have this class on his resume," said Steege, who placed second with Lafitte de Muze in the Hunter Spectacular in 2019. "It's a class that's very important to me every year and very important to his owner. Every year when we sit down and make his schedule, we plan his Florida season around this event to get to and to try to win. There are months of work that go into preparing for this class. This is a hard and stressful week; at first, you're just happy to be qualified and then for me, once I'm qualified I can take a breath and really go in there and show off. It's an experience that I'll never forget."
Final Results: $50,000 WCHR Peter Wetherill Palm Beach Hunter Spectacular
Horse, Rider, Owner
Round 1 total | Round 2 total | Overall total
1. Lafitte De Muze, Amanda Steege, Cheryl Olsten
88.91 | 88.83 | 177.74
2. Walk-Off, Elizabeth Towell-Boyd, Gigi Manigault
86.66 | 91.00 | 177.66
3. Bond, Geoffrey Hesslink, Shadowfax Equestrian LLC
87.16 | 89.33 | 176.49
4. Quimby, Grace Debney, Temple Equestrian LLC
86.16 | 89.33 | 175.49
5. Traveller, Laena Romond, Catherine Cowie
89.66 | 84.99 | 174.65
6. Charlemagne, Scott Stewart, Dr. Betsee Parker
85.66 | 88.33 | 173.99
7. Love Note, Scott Stewart, Richard Prant
86.53 | 85.33 | 171.86
8. Catch Me, Mimi Gochman, Gochman Sport Horses LLC
88.00 | 83.00 | 171.00
9. Laskano, Jimmy Torano, Isalou Inc.
89.16 | 81.00 | 170.16
10. After Hours, Vivian Yowan, Saddle Ridge LLC
87.00 | 83.00 | 170.00
11. Pritchard Hill, Evan Coluccio, Balmoral
86.83 | 71.00 | 157.83
12. Avatar Z, Victoria Colvin, Isabella Watson
88.50 | 51.66 | 140.16