$7,500 Futures Prix 1.40m saw a field of 46 entries vying for the win over a similar course to that of the Grand Prix. The track for the Futures Prix featured two double combinations and a triple combination. Ten entries found clear first rounds but just five managed to jump double clear, with Shannon Sullivan and her own Downtown's Main Event topping the class by two seconds in the jump-off.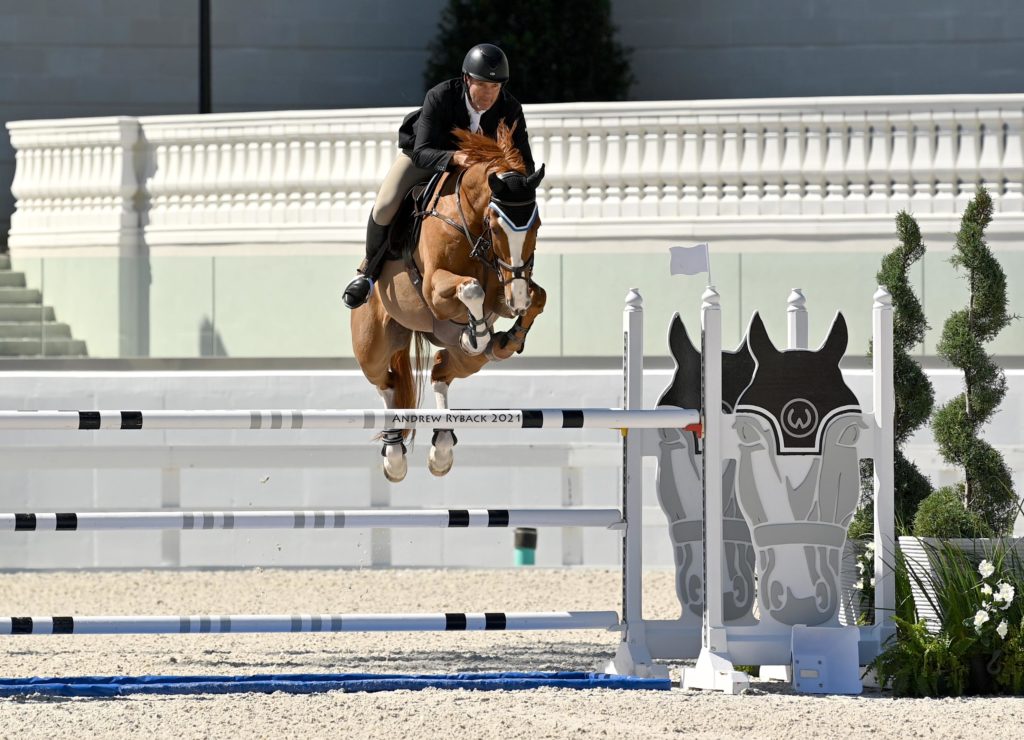 The pace in the class was set early in the order by Kirk Webby and Tolleshunt Investment Group's Brando Du Rouet (Baloubet Du Rouet x Carieny Z). Webby and the 16-year-old Oldenburg gelding earned 2nd place in the $7,500 Futures Prix 1.40m during Week 3 and returned to the WEC Grand Arena today in hopes of another top ribbon. The pair was first to jump a clear first round, navigating the course in 67.655 seconds, well within the time allowed of 74 seconds. They continued straight to the jump-off, taking inside turns to fences 15, 16 and 17, and stopping the clock at 40.760 seconds with all rails up, setting the time to beat.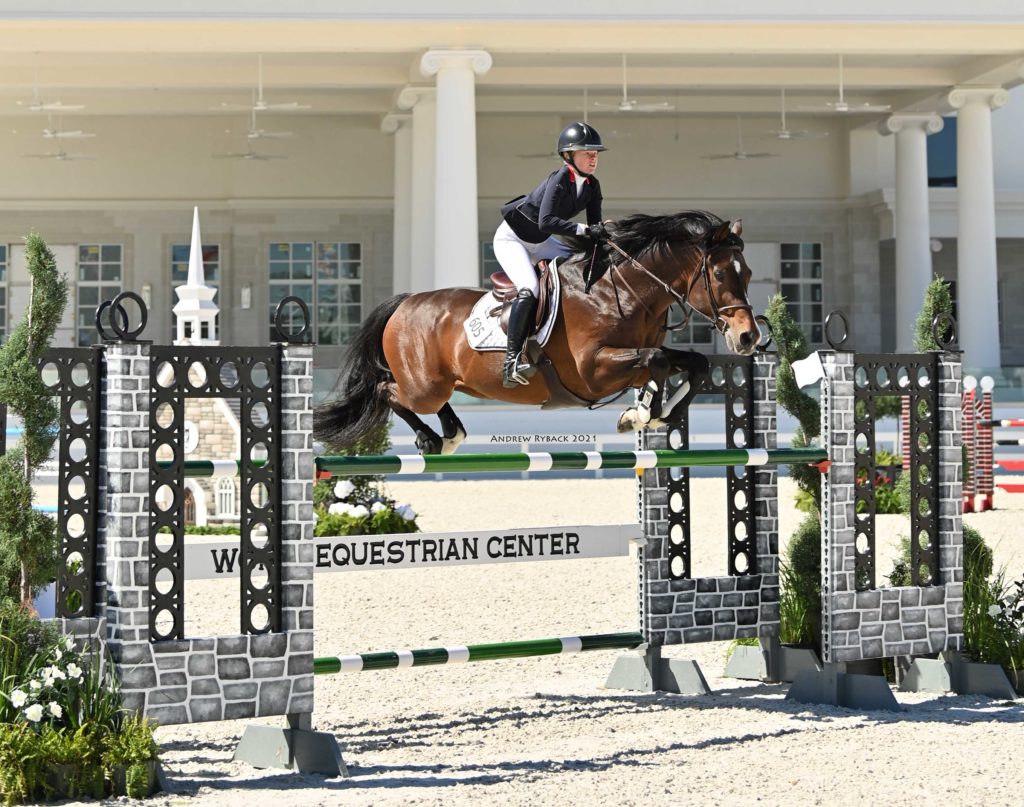 Webby held the lead until junior Izzy Beisel took to the ring aboard David Beisel's Ammeretto (Numero Uno x Ranna). Izzy Beisel and the 15-year-old Dutch Warmblood stallion have taken ribbons in the Low and Medium Junior Jumpers throughout the winter and stepped up to the 1.40m track this afternoon. The pair delivered a clear first round in 70.960 seconds before advancing straight to the jump off. Beisel and Ammeretto were in it to win it this afternoon, surging through the inside turns and racing through the timers at 40.066 seconds, moving into the top spot.
Beisel appeared unbeatable, but Shannon Sullivan and her own Downtown's Main Event were set to challenge. Sullivan and the 14-year-old Polish Warmblood gelding have earned top placings in several prix classes and returned this afternoon to face the 1.40m track. The duo was quick and clear in the first round in 69.033 seconds. They continued straight to the jump-off and picked up the pace, knowing the quick time they had to beat. Sullivan and Downtown's Main Event hugged the inside track and galloped between fences. They flew through the timers at 38.249 seconds, moving to the top of the leaderboard and ultimately taking home the blue ribbon.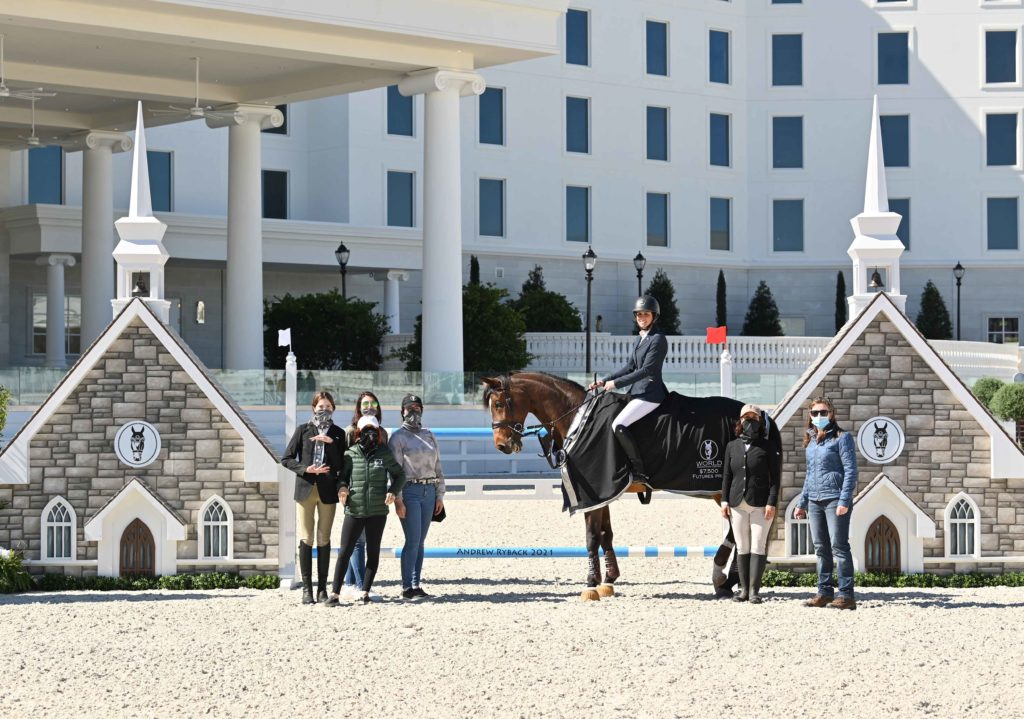 Sullivan chatted after the class about her win aboard Downtown's Main Event, "I had such a good time today. I walked my course and it just felt like it was going to be a little tough. I tried to stay careful in my first round, but not too slow, so I could make it into the jump-off. He shines in the jump-off, he loves to go fast and jump off of the inside turn. He loves to take a risk. I'm so excited that we got to do that, it was a super fun ride, especially here at this beautiful venue."
When asked about Downtown's Main Event, Sullivan replied, "He is a 14-year-old Polish Warmblood. I imported him five years ago and we've been moving up. He's the coolest, I'm so lucky to have him. He's the love of my life."
Sullivan also commented on her business, "I run a 50-stall barn in Frankfort, Illinois, called Downtown Equestrian Center. This is my first time coming to Florida. I'm so excited to be here and I'm so thrilled for our win!"
$7,500 Futures Prix 1.40m Results
Downtown's Main Event, Shannon Sullivan – 0 | 0 | 38.249
Ammeretto, Izzy Beisel – 0 | 0 | 40.066
Brando Du Rouet, Kirk Webby – 0 | 0 | 40.760
Coquelicot VH Heuvelland Z, Sean Jobin – 0 | 0 | 41.841
Dali De Vy, Christine McCrea – 0 | 0 | 43.204
Kingdom, Christina Kelly – 0 | 4 | 39.407
MTM Pablo, Dorothy Douglas – 0 | 4 | 41.986
Bandessaro, Candice King – 0 | 4 | 44.013
VDL Edgar Dapp Des Foret, Wim Janssen – 0 | 4 | 48.968
Check Me, Andre Thieme – 0 | 8 | 41.841
Photos courtesy of Andrew Ryback Photography.