By Jennifer Wood and Sabrina Brashares for Jennifer Wood Media, Inc.
Hunter riders took over the Derby Field at Equestrian Village on Friday for the $10,000 USHJA National Hunter Derby. The class was split into two sections with 47 riders competing in the professional division, sponsored by Restylane, and 44 riders in the junior/amateur division. Kelsey Epperson piloted Didgereedoo VDL to the blue ribbon in the professional section and Augusta Iwasaki rode Hamilton to a victory in the junior/amateur division.
Ninety-one competitors navigated their way around the first round course consisting of 12 fences and offering four high options. The top 12 riders from each section returned for the handy round course, which was trimmed down to 10 fences and included a trot jump.
Epperson, of Novi, MI, has had the ride on Julia Szasz's Didgereedoo VDL for almost two years, and this class marks the duo's first hunter derby win together. The 13-year-old Dutch Warmblood gelding by Zavall VDL was originally purchased from the WEF Sport Horse Auction as a jumper but proved to be a successful hunter.
"His owner shows him in the junior hunters, but she's at home this week so she let me show him in the derby," explained Epperson. "In Traverse City we started to do some of the derbies with him, and we thought it would be fun to go around the field. Although he was bought as a jumper, he is definitely going to stay doing the hunters after today!"
Epperson rode Didgereedoo VDL to a score of 90.5 in the first round with all four high options, which put them in third place. The pair impressed the judges in the handy round to earn a high score of 97 and put them at the top of the class with an overall score of 187.5.
"I love that the first round did not have a lot of related distances so I could just get on a gallop and let him take me around," commented Epperson. "In the handy I was most worried about the bending [line] from [jumps] three to four because he often lands right and I was not sure what I was going to do there, but I just listened to him and he stayed right with me the whole time. He could not have been any better."
Epperson plans to show Didgereedoo VDL in the USHJA International Hunter Derby taking place week nine as well as derbies later in the year.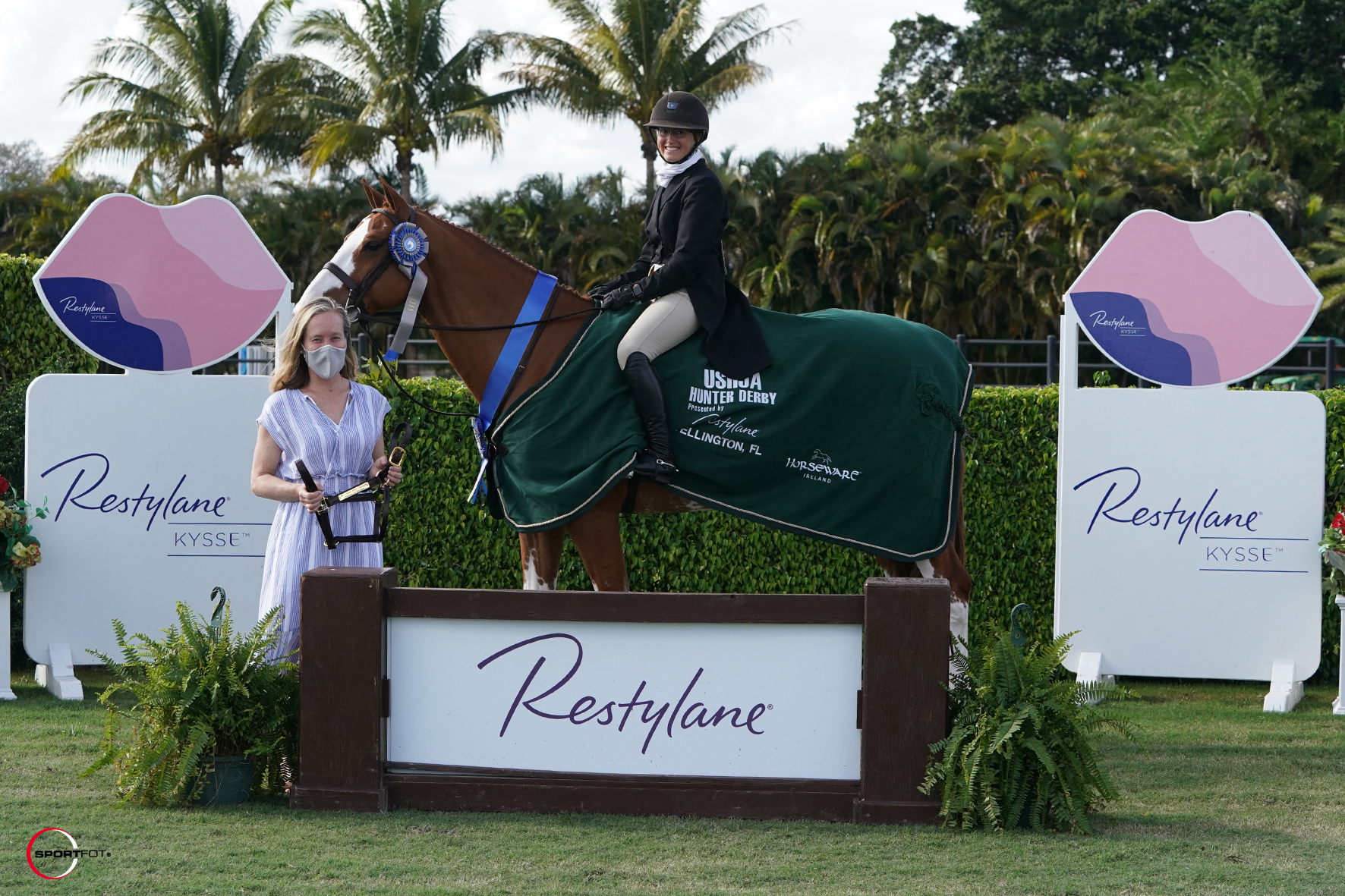 Second place in the professional section, presented by Restylane, went to Laena Romond, of Brookfield, CT, and Rachel Suna Britchkow's Someday. The pair received an overall score of 183. To round out the top three, Greg Crolick, of Clarkston, MI, rode Carole Chase's Chappy to a total score of 181.75.
Iwasaki, of Calabasas, CA, piloted Sara Hogan's Hamilton to win both rounds of the junior/amateur division. The nine-year-old Dutch Warmblood gelding by Apache is a new ride for Iwasaki, and today the pair proved that they are a great match.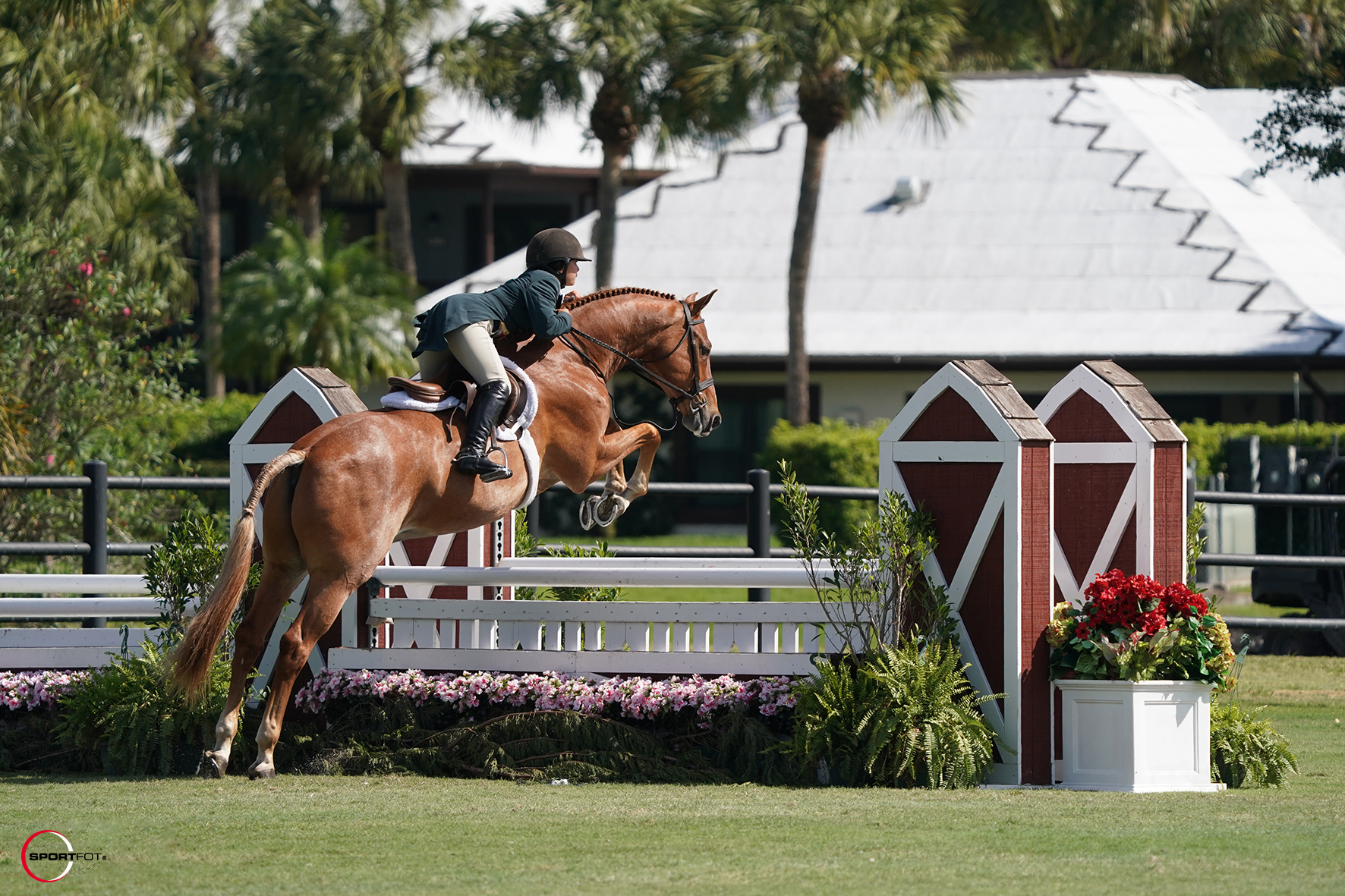 "I started showing him a few weeks ago in the junior hunters, and he is really an awesome and reliable horse," said Iwasaki. "I showed him week six in the International Arena and every ring I've taken him in, he's been so good and a lot of fun."
Iwasaki and Hamilton jumped all four high options to earn a first round score of 96. Last to return for the handy in the junior/amateur division, Iwasaki and her mount produced another high score of 94 hold their lead and take home the blue ribbon.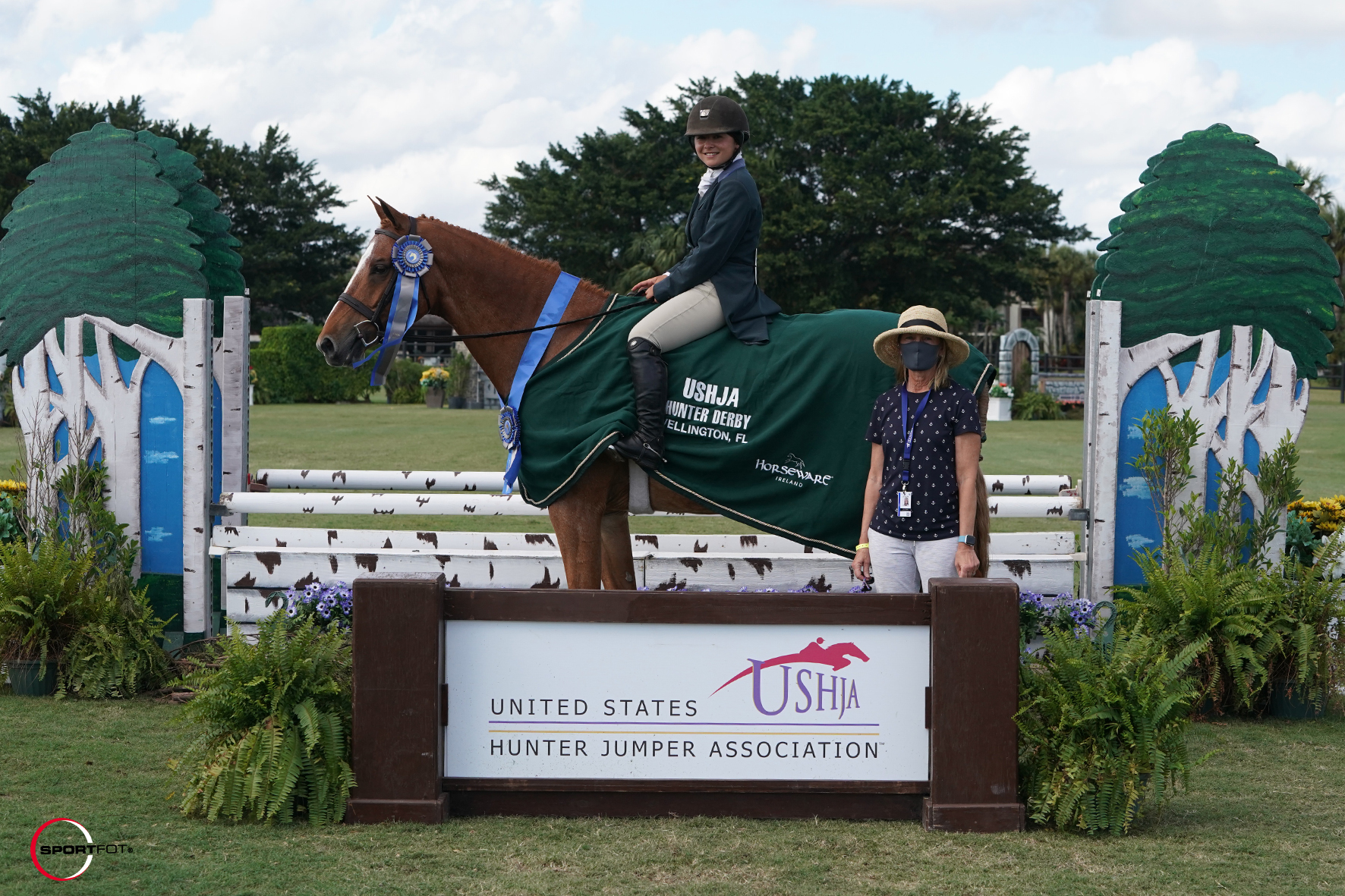 "I loved my first round, and I thought that Hamilton stayed consistent the whole time," commented Iwasaki. "He also jumped some really nice jumps and had a great expression going around the ring. I had already done the handy twice [with other horses], so I planned to do the same track and try to keep it as smooth as possible, while still being efficient."
Iwasaki also rode to a second place finish with Iwasaki & Reilly's Small Kingdom after receiving an overall score of 183.5. Ellen Toon, of South Salem, NY, piloted JT Farm's Gabriel to third place with a total score of 175.
Jumper competition on Saturday will feature the $401,000 Lugano Diamonds Grand Prix CSI5* in the International Arena under the lights. Equitation competition will continue with the Adult Amateur Equitation taking place in FarmVet Ring 7.
Final Results: $10,000 USHJA National Hunter Derby
Horse, Rider, Owner
Round 1 Score, Round 2 Score | Total
Professional Section, presented by Restylane
1 Didgereedoo VDL, Kelsey Epperson, Julia Szasz
90.50, 97.00 | 187.50
2 Someday, Laena Romond, Rachel Suna Britchkow
93.00, 90.00 | 183.00
3 Chappy, Greg Crolick, Carole Chase
89.75, 92.00 | 181.75
4 Cloud 9, Kelly Mullen, Eve Meyer
89.00, 90.00 | 179.00
5 Front Page, Colin Syquia, Cynthia Sulzberger
90.00, 88.00 | 178.00
6 Baron Z, Tiffany Morrissey, Heidi Chase
88.50, 78.00 | 166.50
7 MTM Mini Cooper, Joyce Mersereau, Anne Keesler
88.75, 76.00 | 164.75
8 Zalandra, Hannah Isop, Harry Littler
88.65, 74.00 | 162.65
9 Clem Brecourt, Hannah Isop, Tracy Freels
91.00, 71.00 | 162.00
10 Big Business, Maria Rasmussen, Maya Grove
89.65, 72.00 | 161.65
11 Carousel, Hannah Isop, Lisa Longo
89.50, 68.00 | 157.50
12 Hallmark, Maria Rasmussen, Maya Grove
89.25, 59.00 | 148.25
Junior/Amateur Section
1 Hamilton, Augusta Iwasaki, Sara Hogan/
96.00, 94.00 | 190.00
2 Small Kingdom, Augusta Iwasaki, Iwasaki & Reilly
91.50, 92.00 | 183.50
3 Gabriel, Ellen Toon, JT Farm
91.00, 84.00 | 175.00
4 Mayfair, Stephanie Bulger, Stephanie Bulger
82.75, 81.00 | 163.75
5 Happy Boy, Isa Jensen, Isa Jensen
82.50, 76.00 | 158.50
6 End Game WS, Annie McDonald, Annie McDonald
92.00, 63.00 | 155.00
7 Dodger of the Lowlands, Olivia Sell, Brook Hill Farm, LLC
83.00, 68.00 | 151.00
8 Quixotic, Julie Hogan, Linda Evans & Orion Farm
86.50, 64.00 | 150.50
9 Cheveaux, Georgia Jacobs, Georgia Jacobs
83.50, 63.00 | 146.5
10 Talisman, Augusta Iwasaki, Janet Beyersdorfer
82.00, 49.00 | 131.00
11 Sazerac, Isabel Beltran, IMB of Jupiter LLC
84.00, 39.00 | 123.00
12 Lordanos, Daphne Garrett, Postage Stamp Farm, LLC
86.00, 00.00 | 86.00