The WEC Grand Arena hosted the $7,500 Futures Prix Saturday afternoon, where 32 entries contested a track that featured a triple bar, a triple combination, a double combination, a faux stone wall and a liverpool oxer. Eight entries managed a clear first round with just three jumping double clear, but it was Bree Rosales and Gail Dady's California PJ (Chacco Blue x Evita) that jumped out of their shoes and into the win.
Bree Rosales and Gail Dady's California PJ (Chacco Blue x Evita) were the first entry in the class to jump double clear. Rosales and the 9-year-old Hanoverian mare earned the Reserve Champion title in the 1.35m Jumpers last week at World Equestrian Center — Ocala and stepped up to the 1.40m track today. The pair was quick and clear in the first round in 73.370 seconds, and California PJ gave such a strong effort that she managed to jump out of two of her shoes. They continued straight to the jump-off with the same determined spirit, hugging the inside track where possible. Rosales and California PJ galloped through the timers at 37.116 seconds with all rails up, moving into the top spot and ultimately winning the class.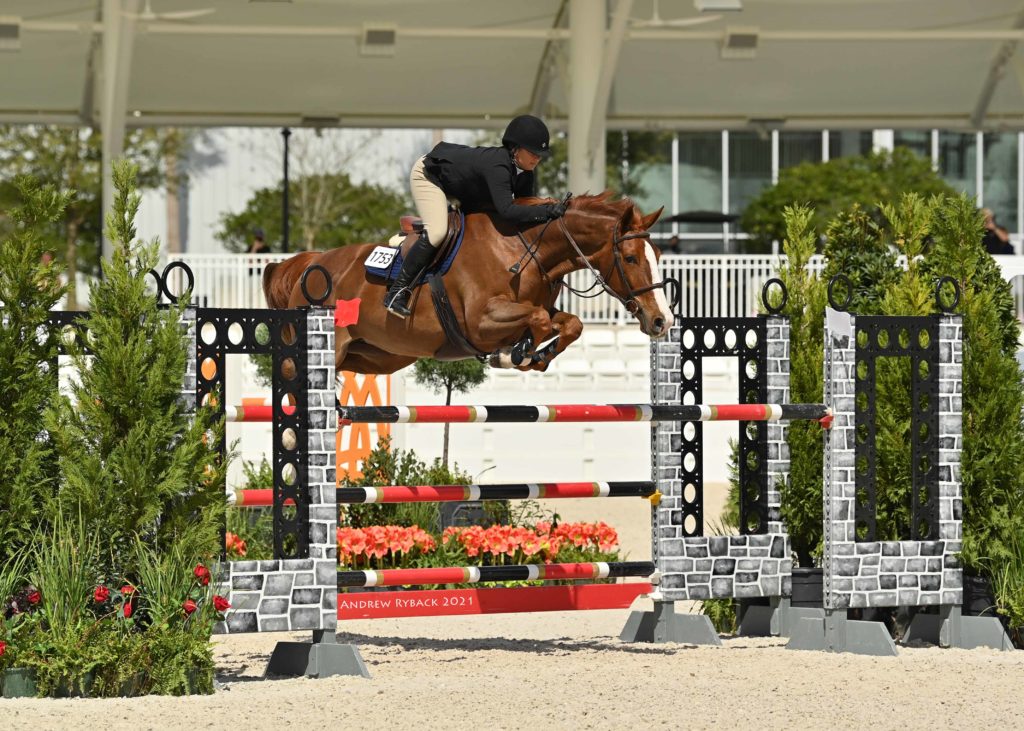 Tiffany Hammack and Foxwood Farm's Ghana FS Z (Glasgow W VH Merelsnest x Uschi-Vira) were next to contest the course. Hammack and the 7-year-old Zangersheide mare earned the yellow ribbon in the 1.30m Jumpers during Week 5 of the World Equestrian Center — Ocala Winter Spectacular, preparing them well for this afternoon's class. The pair navigated a clear first round in 74.801 seconds, then advanced straight to the jump-off. Hammack and Ghana FS Z also chose the inside track, laying down a second clear round in 38.473 seconds for 2nd place.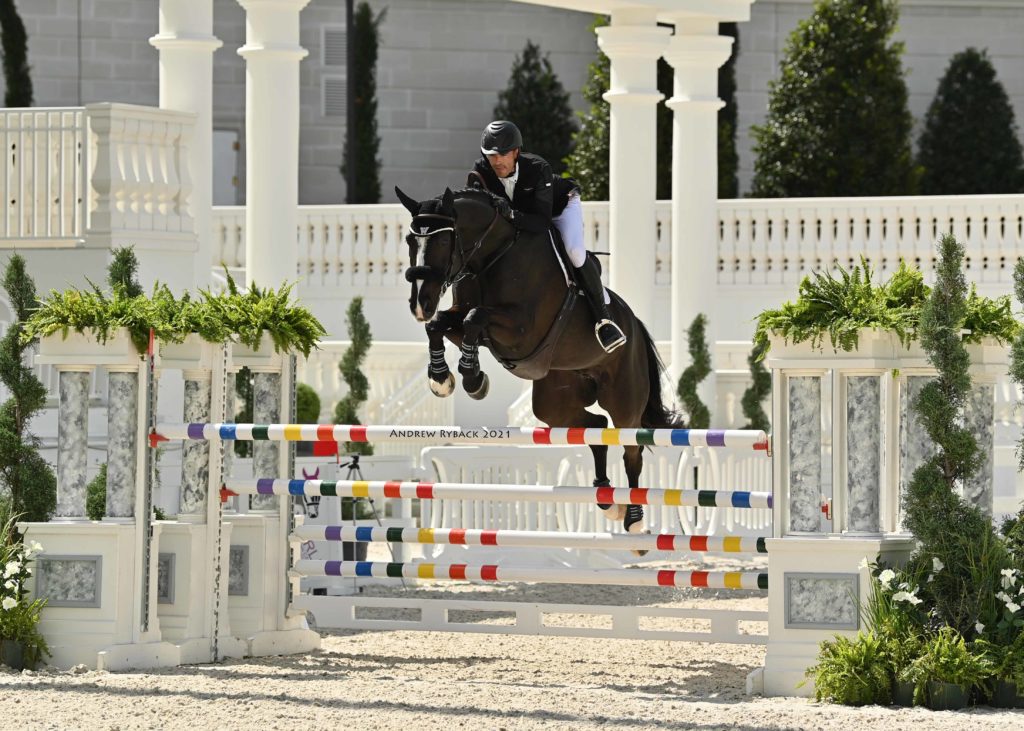 Rounding out the top three placings were Diego Perez Bilbao and Roberto Gomez's Alter Ego (Cecotto's AS x La Salina). Perez Bilbao and the the 9-year-old Warmblood gelding have taken ribbons in the 1.35-1.45m jumpers at Winter Equestrian Festival and made the trip to World Equestrian Center — Ocala this week. The duo found a clear first round in 76.171 seconds before continuing to the jump-off. They stayed snug on the short course, jumping clear in 41.008 seconds for 3rd place.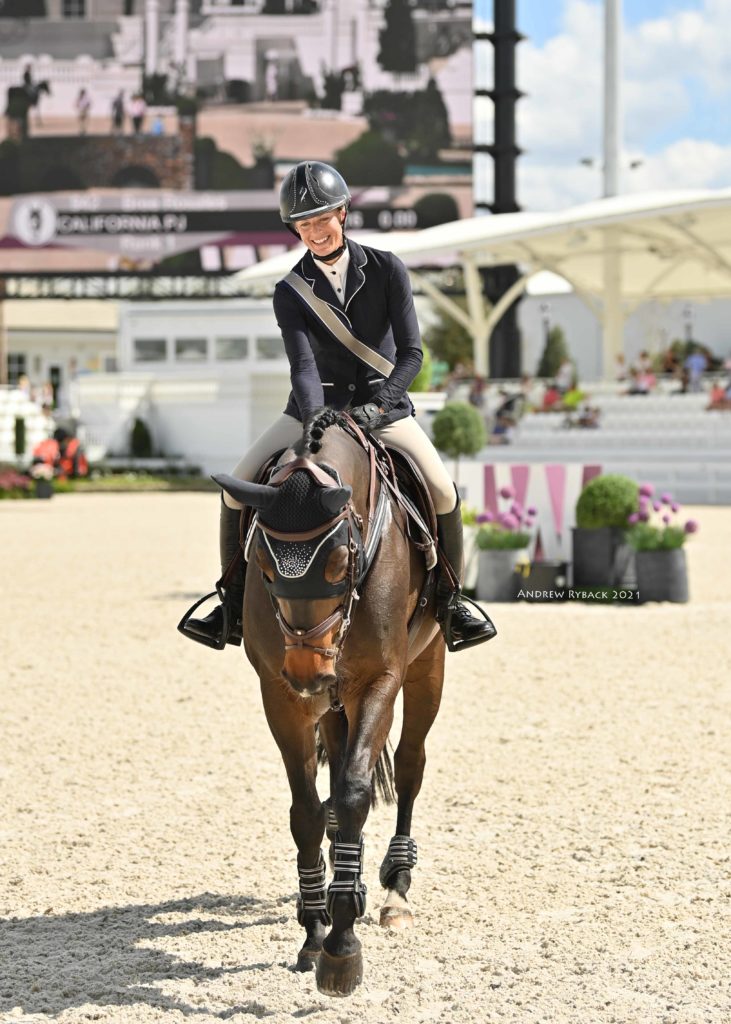 Rosales of Caliburn Farm in Marshall, Virginia and Ocala, Florida, took a moment to chat with us ringside about her win, "That was a fun course. I was so nervous when they put the wall in the ring earlier in the week because it isn't something that I've schooled her over before. She acted like it was no big deal. I didn't have a great warm up round, but she was on fire today and ready to go. My plan in the jump-off was to be as quick as I could be from 1 to 2. I was debating whether to go inside or around to the final fence after the combination, but she felt so on it and I saw the inside turn and just went for it."
When asked about California PJ, Rosales replied, "We bought her as a 4-year-old from Germany off of a video when she was in foal. She was started by a friend of ours and was a bit difficult to start, but we worked our way up through the 5, 6 and 7-year-old classes with her. My husband, Chicho, rode her for a little while while I was pregnant with my daughter, then the moment I was able to ride again, I stole her back. She's my heart horse."
She added, "It's so much fun to show at World Equestrian Center — Ocala. We feel honored to be able to show here. It's so cool to have this in our backyard. We're really grateful."
$7,500 Futures Prix 1.40m Results
California PJ, Bree Rosales – 0 | 0 | 37.116
Ghana FS Z, Tiffany Hammack – 0 | 0 | 38.473
Alter Ego, Diego Perez Bilbao – 0 | 0 | 41.008
Get Go, Taylor Land – 0 | 4 | 36.190
Ammeretto, Izzy Beisel – 0 | 4 | 37.124
Coquelicot VH Heuvelland Z, Sean Jobin – 0 | 4 | 42.303
Florino, Hugh Graham – 0 | 8 | 39.211
Cabaliero 2, Christine Wiggins – 0 | 8 | 41.538
Glen, Adrienne Iverson – 1 | 78.563
Chapeau M, Kyle Dewar – 2 | 79.228
Photos courtesy of Andrew Ryback Photography.