By Kate Pettersen and Jennifer Wood for Jennifer Wood Media, Inc.
A field of 30 top horse-and-rider combinations contested the track set in the International Arena on Wednesday evening in preparation for the upcoming $150,000 Nations Cup. Riders slated to compete in the upcoming event on Friday were given the opportunity to use the $5,000 FEI Premier Equestrian CSIO Welcome stake as an opportunity to guide their mounts around the stadium in a night-class setting. The course designed by Steve Stephens(USA) and Nick Granat (USA) played out as a single round speed class with just less than half of the original entries making it through fault-free.
A number of competitors were seen raising their hand to signal an early retirement as a way of testing their mount's comfort level under the lights without over-using them. A handful of others used it as an opportunity to school difficult or unique fences that would likely once again be used in the Nation's Cup. Great Britain's Jessica Mendoza held the leading time of 57.89 seconds for a long period of the class until Canada's Amy Millar and Christiano, owned by Future Adventures, took over the lead.
Millar, the daughter of veteran show jumper Ian Millar, expertly guided the 11-year-old German Sport Horse gelding (Canoso x Compliment) to the top of the podium with an efficient time of 56.78 seconds.
"Christiano was my dad's horse for a few years, and he did very well with him," she explained. "It was his first time under the lights which I purposefully entered him in because he is not competing in the Nation's Cup, but this extra night class is a great opportunity to ride in a night class with a horse you are bringing along."
Millar's family is well-versed in the Nation's Cup events and it is a situation she experienced growing up watching her father as well as a rider in more recent years, including representing Canada at the 2016 Rio Olympic Games.
"It's so amazing to be the one now representing my country in this event," added Millar. "The whole Nation's Cup situation is something very special to my family; my dad was such an involved team member for so long that it's just ingrained in me that it is one of the most important competitions. We Canadians tend to really take it seriously and band together to put it at the top of our priority list."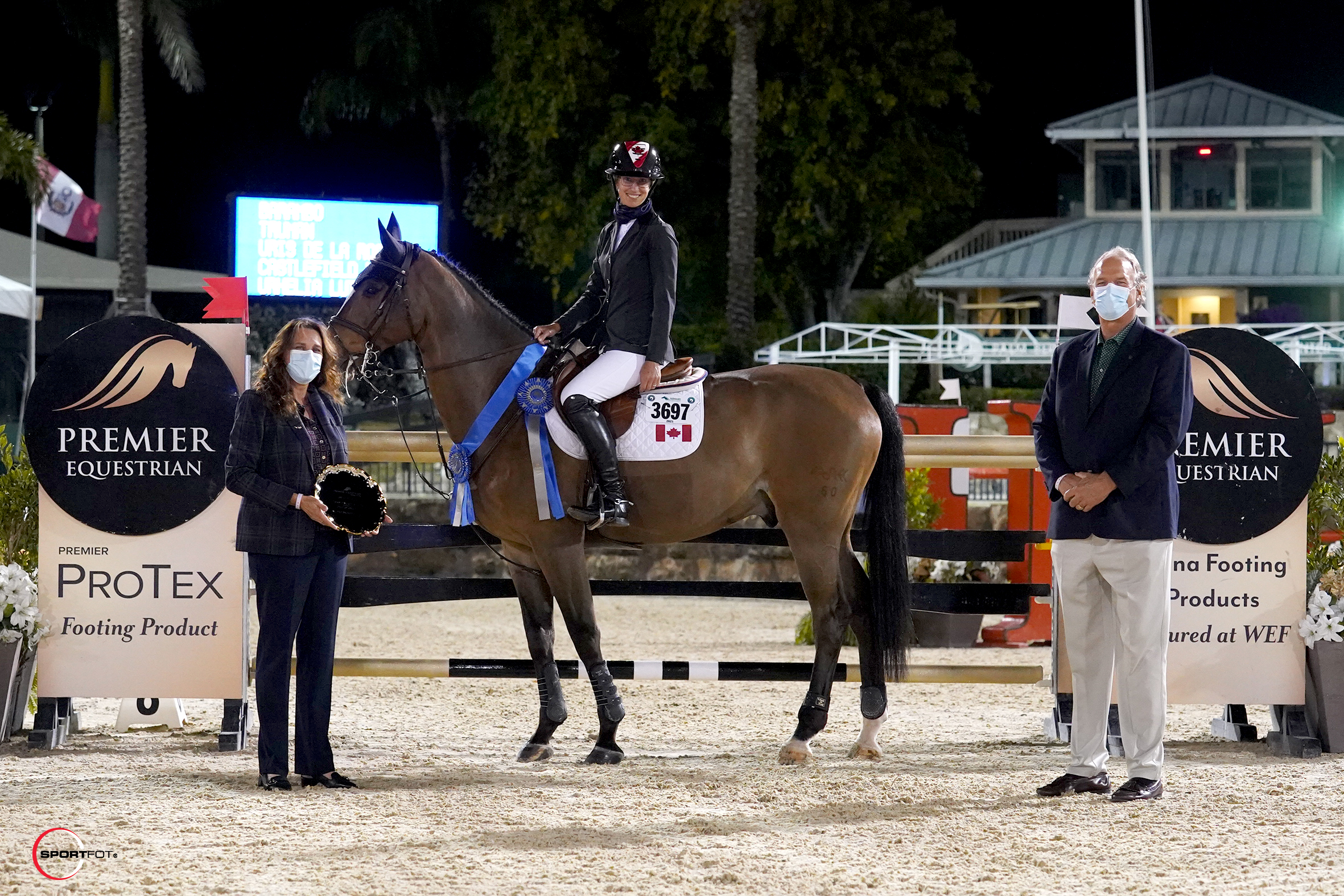 Mendoza and the 10-year-old Holsteiner mare (Clarimo x Contender) Casanova 499, owned by Carly Day, held their ground with the second place position while Martin Fuchs (SUI) and Adolfo Juri's nine-year-old KWPN gelding Leone Jei (Baltic VDL x Corland) slid into third place after crossing the timers in 58.95 seconds.
Competition at the 2021 Winter Equestrian Festival will resume Thursday, March 4, featuring the eighth round of the Adequan® WEF Challenge Cup Series as well as the $10,000 Hermès U25 Welcome.
Final Results: $5,000 Premier Equestrian Welcome CSIO4*
1. CHRISTIANO: 2010 German Sport Horse gelding by Canoso x Compliment
AMY MILLAR (CAN), Future Adventures: 0/56.78
2. CASANOVA 499: 2011 Holsteiner mare by Clarimo x Contender
JESSICA MENDOZA (GBR), Carly Day: 0/57.89
3. LEONE JEI: 2012 KWPN gelding by Baltic VDL x Corland)
MARTIN FUCHS (SUI), Adolfo Juri: 0/58.95
4. LAZY: 2011 BWP mare by Hickstead II x Cruising
ASHLEE BOND (ISR), Aurora Farms LLC: 0/61.89
5. VERLANO: 2010 Mecklenburg gelding by Verdi TN x Chellano
JUAN ORTIZ (VEN), Stransky's Mission Farms, Inc.: 0/62.73
6. VOLNAY DU BOISDEVILLE: 2009 Selle Français stallion by Winningmood x Copacabana II
TEDDY VLOCK (ISR), Vlock Show Stables, LLC: 0/64.16
7. WINNING GOOD: 2009 NRPS gelding by Winningmood van de Arenberg x Sir Corland
BEN MAHER (GBR), Poden Farms: 0/64.26
8. CON PLEASURE 5: 2009 Westphalian gelding by Contendro 1 x Funny Fasion
FLO NORRIS (GBR), Cisca Norris: 0/64.57
9. DARQUITO: 2011 Hanoverian gelding by D'inzeo 6 x Contefino 2
ANDREW BOURNS (IRL), Andrew Bourns: 0/66.71
10. FABRICE DN: 2010 KWPN gelding by Gelha's VDL Emilion Bloubet du Rouet
NICOLAS PIZARRO (MEX), Luis Alejandro Plascencia: 0/67.69
11. FREAKY LIEFHEBBER: 2010 Dutch Warmblood by Darco x Litho x
JACQUELINE STEFFENS (CAN) Double C Stables: 0/68.48
12. TIC TAC: 2003 SBS stallion by Clinton x Panama Du Seigneur
BEN MAHER (GBR), Jane Forbes Clark: 0/68.66