By Kate Pettersen and Sabrina Brashares for Jennifer Wood Media, Inc.
The $37,000 Hermès Under 25 Semi-Final Grand Prix took place in the International Arena on Sunday morning after being postponed from Saturday night due to weather. Forty-six competitors entered the class and eight made it to the jump-off, but Mimi Gochman and Gochman Sport Horses LLC's Celina BH proved unbeatable.
Riders were tested over a technical first course of 13 fences, including an open water jump, designed by Nick Granat (USA) and Steve Stephens (USA). Gochman, of New York, NY, and Celina BH were twenty-seventh in the order of go and produced the eighth and final jump-off qualifying round. The pair put in a second clear round in the jump-off with a winning time of 31.86 seconds.
"I thought my first round was very smooth, which was the goal," explained Gochman. "Smooth, stay in the time, no big moves or changes, and I think the plan was to jump clear, obviously. I had a light rub at the second jump, and I think it made Celina and I both pick up a little bit on the rest of the round. She's so confident at the water, which is really nice that I didn't have to think about that. She's so adjustable, so all lengthening and shortening stuff she can do so well."
Gochman and Celina BH have developed a strong partnership over the past couple years after the rider took over the reins from trainer Amanda Derbyshire. The pair has earned many top placings, including a fourth place finish in the $25,000 Hermès Under 25 Grand Prix during week six of WEF.
"We imported Celina very young, and she actually started with my trainer Amanda," said Gochman of the 2010 Holsteiner mare by Canstakko. "Amanda built her up and then the day came when she said, 'Mimi I think you can do the junior jumpers on her and hopefully grand prix.' We've been getting along ever since and she is the most adjustable, trying, scopey horse that I've ever sat on. It's like a whole team effort with her. She loves everyone at our farm, and she gets ridden by everyone. She's the happiest girl ever!"
This year marks Gochman's second year competing in the Under 25 series and the rider was thrilled to win against such a competitive field of riders.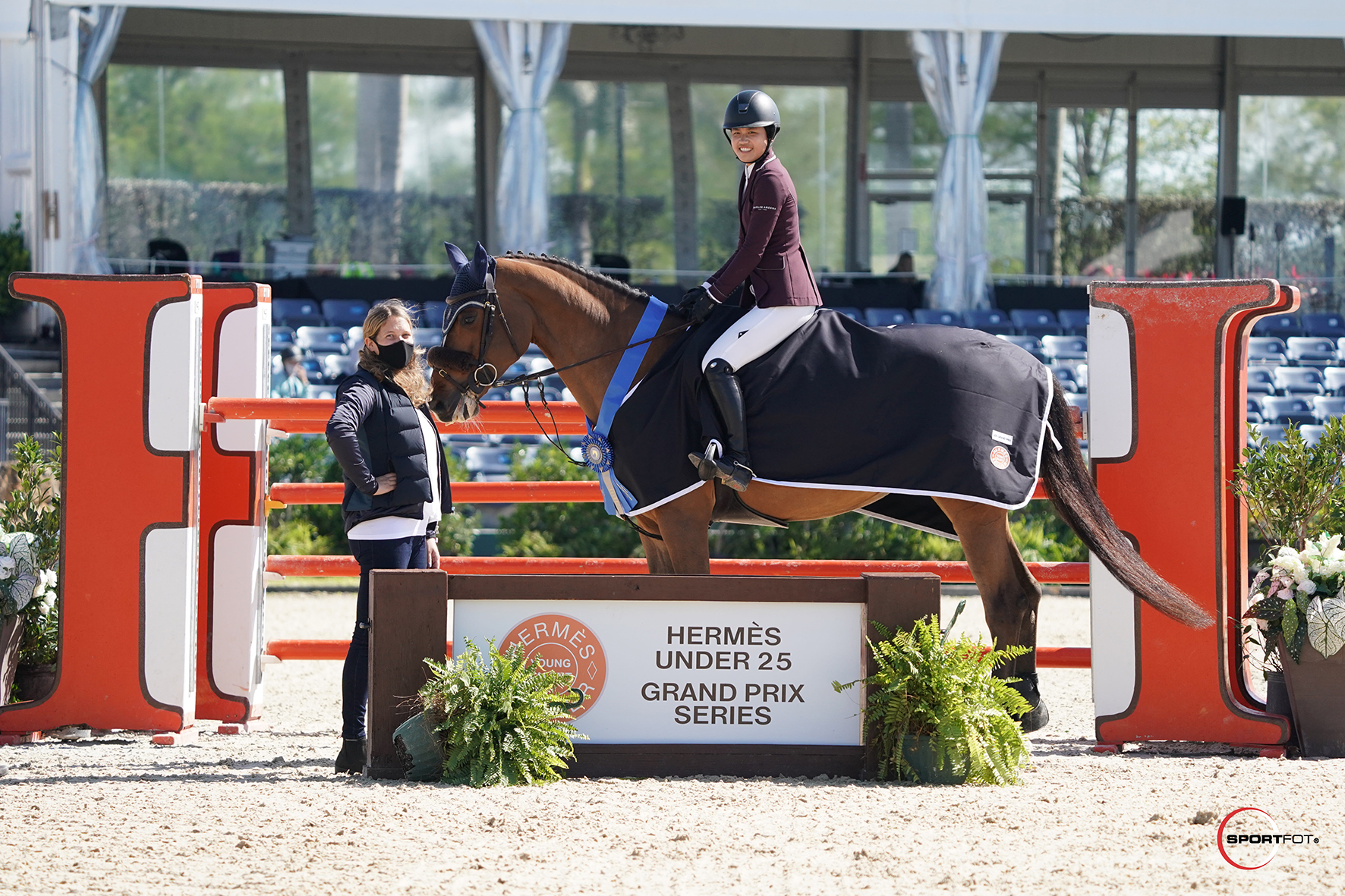 "I'm so honored," she expressed. "There are so many great, amazing riders. Ashley [Vogel] has been on the top of this game for the entire time, and Zoe [Conter] I've watched my whole junior career and she's insane on all of her horses. There are so many competitive people in this class, and I think winning was really the cherry on top for me this week. I just wanted to try my best and see what happens, and it came out in my favor. It was an honor to win this class today."
Only fractions of a second behind Gochman were previous Under 25 Grand Prix winners Ashley Vogel (USA) and her own Bellissimo Z. Vogel and her mount produced a time of 31.97 seconds. Zoe Conter (BEL) and Stephex Stables' Dawa De Greenbay Z stopped the timers at 32.67 seconds to take home third place.
Results $37,000 Hermès Under 25 Semi-Final Grand Prix
1. CELINA BH: 2010 Holsteiner mare by Canstakko
MIMI GOCHMAN (USA), Gochman Sport Horses LLC: 0/0/31.86
2. BELLISSIMO Z: 2009 Zangersheide mare by Bamako de Muze x Chin Chin
ASHLEY VOGEL (USA), Ashley Vogel: 0/0/31.97
3. DAWA DE GREENBAY Z: 2012 Zangersheide gelding by Diarado x Schilling ET
ZOE CONTER (BEL), Stephex Stables: 0/0/32.67
4. EFODEA: 2009 KWPN mare by Kashmir Van Schuttershof
VIRGINIA BONNIE (USA), Nina Bonnie: 0/0/33.64
5. NEKTARINA B: 2005 Holsteiner mare by Nekton x Lancer II
ZAYNA RIZVI (USA), Windsor Show Stables: 0/4/34.66
6. EXPRESS BLUE GP DU BOIS MADAME: 2010 Belgian Warmblood gelding by Ultra Blue J x Zeus
CAITLYN CONNORS (USA), Caitlyn Connors LLC: 0/4/35.17
7. DOBALIA: 2008 KWPN mare by Solitair x Jacorde
BRIANNA LINK (USA), Brianne Link: 0/4/35.25
8. ACE: 2005 KWPN gelding by Berlin x Irco Polo
HALLIE GRIMES (USA), Can We Keep It? LLC: 0/4/36.8
9. VALMONT DE VIZY: 2009 Selle Francais stallion by Zandor x Brandy De La Cour
KELLY ARANI (USA), Marigot Bay Farm, LLC: 1/77.31
10. ESSENAR CRIXUS: 2010 ISH gelding by Luidam x ARD VDL Douglas
KELLI CRUCIOTTI VANDERVEEN (USA), Elan Farm: 4/71.35
11. LORIELLE 2: 2008 WESTF mare by Lordanos
FLO NORRIS (GBR), Cisca Norris: 4/71.99
12. DOTCOM D'AUTHUIT: 2013 Selle Francais mare by Diamant De Semilly x Quidam De Revel
NATALIE DEAN (USA), Marigold Sporthorses, LLC: 4/72.28