By Kate Pettersen, Sabrina Brashares, and Summer Grace for Jennifer Wood Media, Inc.
Wellington, FL – March 12, 2021 –  McLain Ward (USA) and Catoki owned by Marilla van Beuren, Bob Russell, and McLain Ward, flew to their second victory of the week in the $37,000 Bainbridge Companies 1.45m Classic CSI5* on Friday, March 12, in the International Arena at the Palm Beach International Equestrian Center (PBIEC) as competition continues as part of WEF 9, sponsored by Fidelity Investments®.
WEF 9 continues with CSI5* competition, along with a concurrent CSI2*, until Sunday, March 14, and features the $50,000 Wellington Equestrian Realty Grand Prix CSI2* on Saturday afternoon and the $401,000 Fidelity Investments® Grand Prix CSI5* as part of "Saturday Night Lights," with a special opening ceremonies which includes the induction ceremony for Olympic gold and silver medalist Leslie Howard and Olympic judge and long-time FEI Steward General David Distler into the Show Jumping Hall of Fame. The week concludes with the $73,000 CaptiveOne Advisors 1.50m Classic CSI5* on Sunday. Feature classes are available free live and on-demand on the livestream.
Topping a field of 53 in the starting order over a speed track set by Alan Wade (IRL), Ward and Catoki, a 12-year-old Holsteiner gelding by Catoki x Cartello B, left all the jumps up to fly across the finish line in 52.33 seconds, nearly three seconds faster than the runner-up.
"He's been incredible here this year," said Ward of his winning mount. "He felt great on Wednesday, so I knew he was in good form for today. He's starting to know when the bell goes [what to do] a little bit in this ring, so it was a little bit out of control I thought. I was a little bit faster than I meant to be, but he's such a careful horse, I got away with it."
Erynn Ballard (CAN) put forth a speedy effort in an attempt to catch the winning time, coming close for a second-place finish aboard Ronja, a 10-year-old Swiss Warmblood mare (Conteur x Czandor) owned by Ilan Ferder. The pair stopped the clock in an impressive 55.50 seconds. Rounding out the top three was Patricio Pasquel (MEX) with his own mare Yoga Santa Rosa with a time of 55.87 seconds.
Ward and Catoki already topped the podium during week nine, with victory in the $37,000 Douglas Elliman Real Estate 1.45m CSI5* on Wednesday afternoon.
"We joke that in all of these classes, if you take a pull [on the reins] you're eighth," laughed Ward, referencing the quality of competition during this year's winter circuit. "I had a plan and actually changed it to the second combination. I ended up doing seven strides instead of eight because I got just the right line on the jump before, and it worked out. He's just such a quick horse that you're just trying to slow down a little bit at the fence."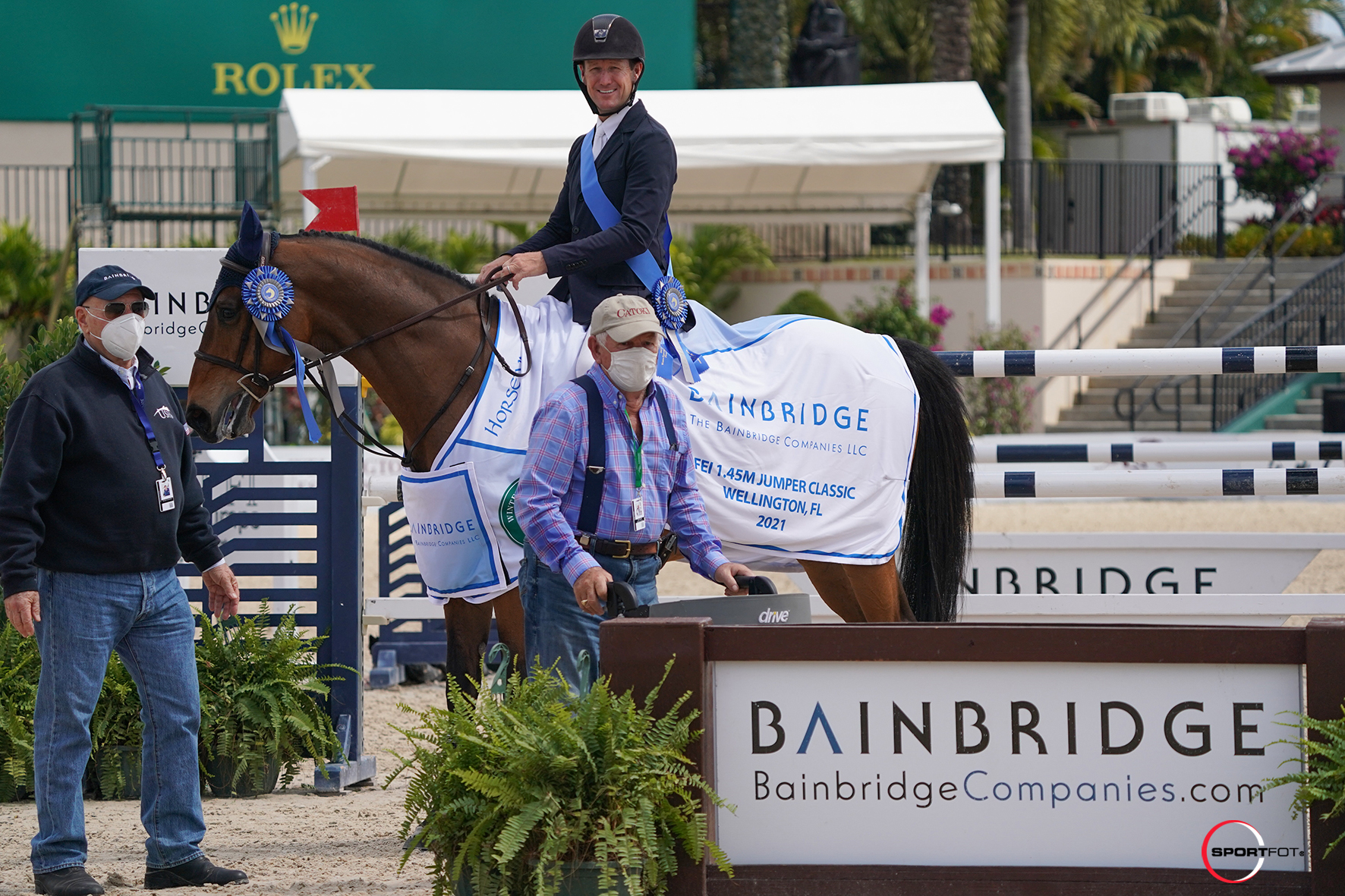 For a horse that is a proven winner with a lot of speed in the ring, his preparation for the show is quite unconventional. Ward doesn't ride him at home but instead simply turns him out in the paddock for some rest and recuperation.
"Funny enough, at home he's 'kick-along quiet' on the flat if we do ride him," described Ward. "I could put my daughter on him, actually, so he's just a real competitor."
Joining Ward in the International Arena for their winning presentation was co-owner Bob Russell who spoke highly of both the horse and rider.
"There's nothing any better than watching that little guy," said Russell, co-owner of the talented gelding. "He's got such a big heart and tries so hard all the time. He's just a little guy but he can really go. It's fantastic to watch them together. McLain is quite a guy as a person, and he's the best rider."
Full Results: $37,000 Bainbridge Companies 1.45m Classic CSI5*
1. CATOKI: 2009 Holsteiner gelding by Catoki x Cartello B
MCLAIN WARD (USA), Marilla van Beuren, Bob Russell & McLain Ward: 0/52.33
2. RONJA: 2011 Swiss Warmblood mare by Conteur x Czandor
ERYNN BALLARD (CAN), Ilan Ferder: 0/55.50
3. YOGA SANTA ROSA: 2012 CCDM mare
PATRICIO PASQUEL (MEX), Patricio Pasquel: 0/55.87
4. RMF TINKERBELL: 2008 Oldenburg mare by Incolor x Argentinus
JESSICA SPRINGSTEEN (USA), Rushy Marsh Farm LLC: 0/55.88
5. BULL RUN'S FAUSTINO DE TILI: 2005 Belgian Warmblood stallion by Berlin x Darco
KRISTEN VANDERVEEN (USA), Bull Run Jumpers Five LLC: 0/56.62
6. GLAMOUR GIRL: 2011 KWPN mare by VDL Zirocco Blue x Moonlight II
HENRIK VON ECKERMANN (SWE), Portfolio Horses, LLC: 0/56.69
7. CALINA: 2012 DWB mare by CI CI Senjor Ask x Cornet Obolensky
HARRIE SMOLDERS (NED), One Oak Equestrian: 0/57.60
8. HERMELIEN VD HOOGHOEVE: 2007 Belgian Warmblood mare by Tangelo VD Zuthoeve x Thunder VD Zuthoeve
NAYEL NASSAR (EGY), Evergate Stables, LLC: 0/58.04
9. CHACCO-SAN: 2011 Hanovarian gelding by Chacco-Blue x Sandro Boy
EDUARDO MENEZES (BRA), H5 Sport Horses, LLC: 0/58.73
10. BACCARAT DU TERTRE: 2011 Selle Français mare by Putch Des Isles x Indoctro
KAREN POLLE (JPN), Karen Polle: 0/59.25
11. CHRISTOS: 2009 Holsteiner gelding by Cristo 5 x Linaro
BLISS HEERS (CAN), Bridgeside Farms LLC: 0/60.54
12.= QUILIMBO: 2009 Holsteiner stallion by Quidam De Revel x Limbus
SCHUYLER RILEY (USA): E2 Show Jumpers: 0/60.99
12.= PARRANDERO: 2012 Holsteiner stallion by Clarimo x San Patrignano Cassini
ENRIQUE GONZALEZ (MEX), Enrique Gonzalez: 0/60.99