By Kate Pettersen, Sabrina Brashares, and Kimberlyn Beaudoin for Jennifer Wood Media, Inc.
Hunter competition continued on the Derby Field at Equestrian Village on Saturday with professional, junior, and amateur riders competing for the top spot in the $25,000 USHJA International Hunter Derby. Well-known hunter rider Victoria Colvin entered the winner's circle once again taking top honors with JT Farm's Gabriel, and earned second place with Meralex Farm, Inc.'s El Primero.
Forty-one horse-and-rider combinations were tested over the classic round course, designed by Tom Carlson, of 12 fences with four high options. The top 12 riders were called back to show off their rideability and style over a shortened handy round track including a trot fence. Two panels judged each round, and their scores were then combined for a total score in each round.
Colvin, of Loxahatchee, FL, and Gabriel navigated the classic round course with ease to earn a score of 185. The rider then produced a beautifully ridden handy round to earn another high score of 203 and an overall score of 388 to put the pair at the top of the class. Colvin also earned a handy round score of 202 and an overall score of 385.5 with her other mount, El Primero.
"Basically I did the same strategy on both," said Colvin regarding the plan of her handy round. "I didn't actually walk the handy course because I didn't think there was anything handy. I didn't realize the trot jump was that tight!"
Colvin has had the ride on Gabriel, a 2011 Dutch Warmblood gelding by Azteca VDL, for several years, but this was one of the few derbies that the duo has done together.
"I've been showing him for a couple years," explained Colvin. "I did him as a pre-green horse, I did him in the first year [greens], and he is a second year green now, so I've been riding him for a while. Ellen [Toon] does him in the amateurs as well so it's an overall really nice horse. I've only done a couple derbies on him."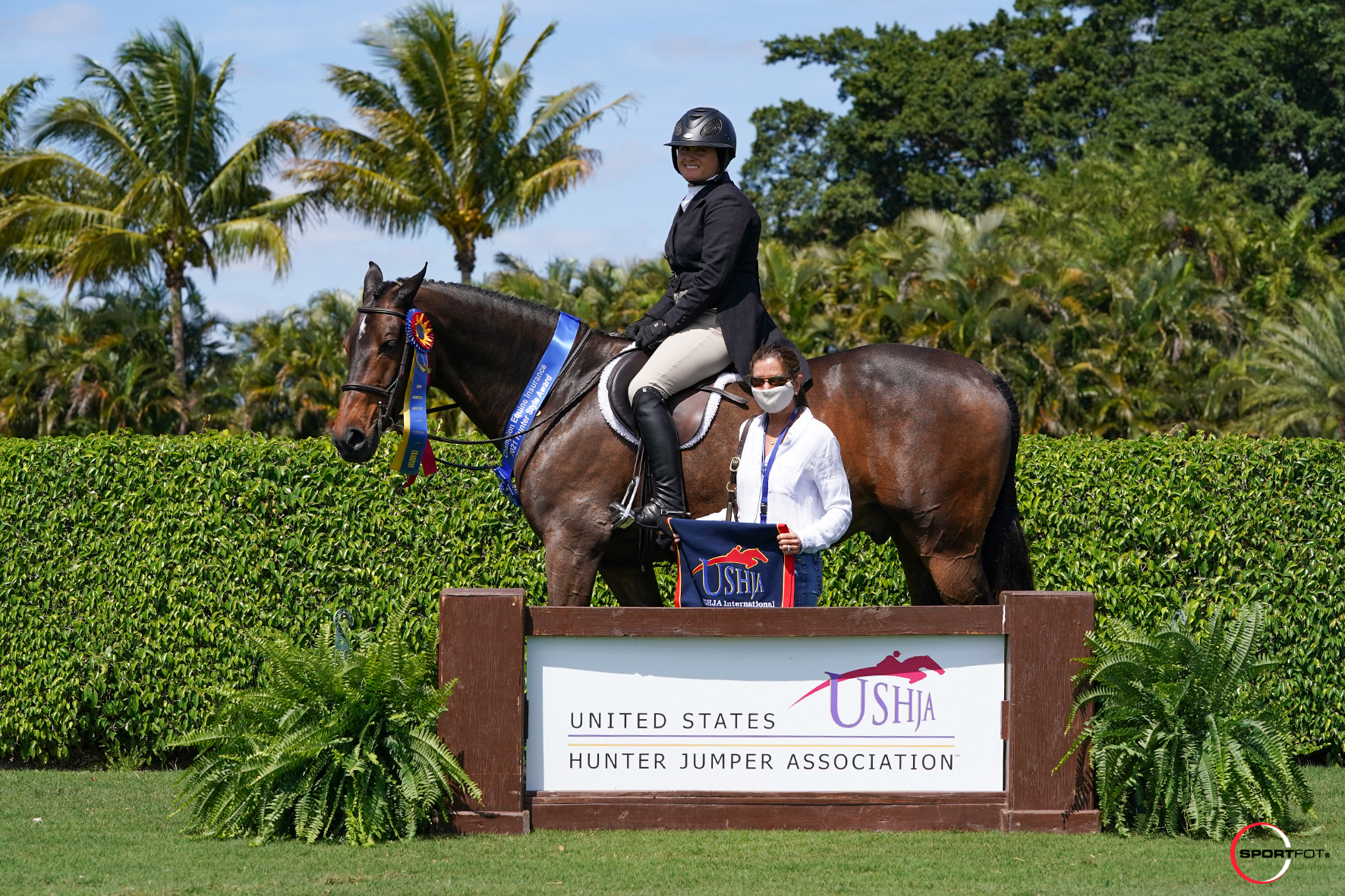 After having down time due to COVID, Colvin was very pleased with how El Primero rose to the occasion. Colvin and the 2009 Dutch Warmblood gelding by Numero Uno have had numerous hunter derby wins, including a victory on the Derby Field in 2019.
"He's literally done, I think, three classes in the last year," commented Colvin. "He was great out there and couldn't have done better. He was all business!"
Colvin and El Primero are planning to gear up for the USHJA International Hunter Derby during Week 12 of WEF, as well as a few others throughout the year.
Cooper Dean and Rock Ridge Farm's Testify earned a third place finish in the class. Dean, of Fayette, AL, rode Testify to a classic round score of 182 and handy round score of 194 for an overall score of 376.
Sunday will be the final day of competition for the ninth week of WEF with the $73,000 CaptiveOne Advisors 1.50m Classic CSI5* taking place in the International Arena. The Medium Pony Hunter champion will be crowned in Ring 12.
Final Results: $25,000 USHJA International Hunter Derby
Horse, Rider, Owner
Round 1 Score, Round 2 Score | Total
1. Gabriel, Victoria Colvin, JT Farm
185.00, 203.00 | 388.00
2. El Primero, Victoria Colvin, Meralex Farm, Inc.
183.50, 202.00 | 385.50
3. Testify, Cooper Dean, Rock Ridge Farms
182.00, 194.00 | 376.00
4. Zalandra, Hannah Isop, Harry Littler
176.00, 199.00 | 375.00
5. Diatendro, Havens Schatt, Kelley Corrigan
175.50, 190.00 | 365.50
6. Copernicus K, Tiffany Morrissey, Dr. Kathryn Withers
180.00, 184.00 | 364.00
7. Mindful, Jennifer Hannan, Kensel, LLC
182.25, 180.50 | 362.75
8. Someday, Laena Romond, Rachel Suna Britchkow
176.00, 177.00 | 353.00
9. Golden Rule, Stephanie Danhakl, Stephanie Danhakl
170.50, 179.00 | 349.50
10. Handwritten, Greg Crolick, Jon Cotton
170.00, 162.00 | 332.00
11. Fedora, Maria Rasmussen, Julianne Karol
171.00, 119.00 | 290.00
12. Cascartini, Havens Schatt, Ken and Amy Wexler LLC
185.00, 103.00 | 288.00