The 2021 ESP Spring Series reached its finale on Sunday with a series of class winners and division champions crowned at Equestrian Village. Israel's Ashlee Bond was the big prize money winner of the day thanks to her triumph in the $10,000 Bainbridge Companies 1.40m Open Stake aboard Imagine, while Sheer Levitin and Ava Hoffman captured their respective Jumper Classics, presented by Equiline.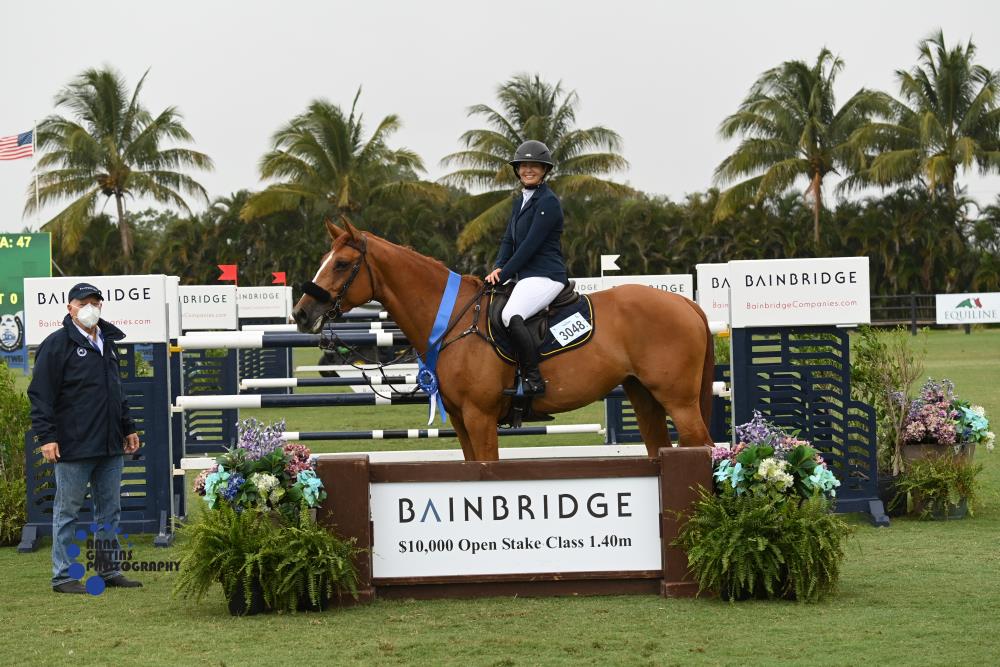 Though Sunday's competition closed the ESP Spring Series, the ESP Summer Series will begin with its first event, the ESP June Equitation Day #1, on June 2, 2021. View the full ESP Summer Series Prize List by clicking HERE.
The $10,000 Bainbridge Companies 1.40m Open Stake featured a 15-effort track from course designer Jaime Morillo (ECU), which saw a total of 12 pairs out of a starting field of 32 contenders finish without faults to advance to the jump-off. The USA's Kent Farrington claimed the early lead on his own Orafina in a time of 34.11 seconds, but only held that status for a few rounds until Bond and Imagine, owned by Aurora Farms LLC and Ashlee Bond Show Jumping, eclipsed the frontrunners. The fifth to ride in the jump-off, Bond and Imagine tripped the timers fault-free in a blazing time of 31.96 seconds to jump to the top spot, which they would ultimately retain.
"I really didn't have a strategy to take over Kent's lead. I just focus on the horse I'm on and do what I feel they're ready for and push in certain places," reflected Bond of her ride on the eight-year-old mare by Emerald x Heartbreaker. "For example, from fence one to two, I felt like she's developed so much in her turns – she used to bulge really bad – so I thought I could push there and to the next few jumps. She has a really big stride, she likes to go fast, and she's very careful off the gallop, so I knew I could really take a chance to the liverpool. To the last double I knew I had to be a bit careful because she's green and she'll make a mistake sometimes because she jumps in so big, so I came in slow there. I felt like I took my time where I needed to, but she's so naturally fast that it doesn't even feel like I'm going fast, which is nice."
In addition to Imagine, Bond also piloted her own Semilly F to a double-clear finish, one of a total of 10 partnerships who finished the class without any faults. Morillo's course lent itself well to riders who may have been riding new or greener horses, with Bond being one of them.
"The course was really nice," commented Bond. "I brought out my eight-year-old, Imagine, and Semilly, who we got right when COVID hit, so she's newer in the show ring for me. We've been playing with bits and I actually put a flatting bit on Imagine and she seemed to really like it. Her rideability was really good and the course flowed really nicely. I thought everything was pretty straightforward – the triple was very nice – so it was a very fair course."
Farrington moved into second place aboard his second mount of the class, his and Haiti McNerney's Creedance, in a double-clear time of 33.34 seconds. He added to his success by rounding out the podium on Orafina.
Spring V had started earlier with a win for Farrington and Kaprice, owned by Farrington and Haity McNerney, in the very first class of the horse show on Thursday. Riding midway through the pack in the $5,000 Omega Alpha 1.35m Jumper Stake, Farrington and Kaprice overtook the initial frontrunners by nearly four seconds to take a commanding lead following their jump-off trip fault-free in 31.56 seconds. The rest of the pack chased their time, but none could come within two seconds of the pair, solidifying them as the winners. Charlise Casas of Lake Forest, IL, and Always Faithful Equine LLC's Mustique VZ nabbed second-place honors in a double-clear time of 33.71 seconds. Riding her own Bogota Nantuel, Kayla Savard of Santa Barbara, CA, jumped to third position in a foot-perfect time of 35.03 seconds.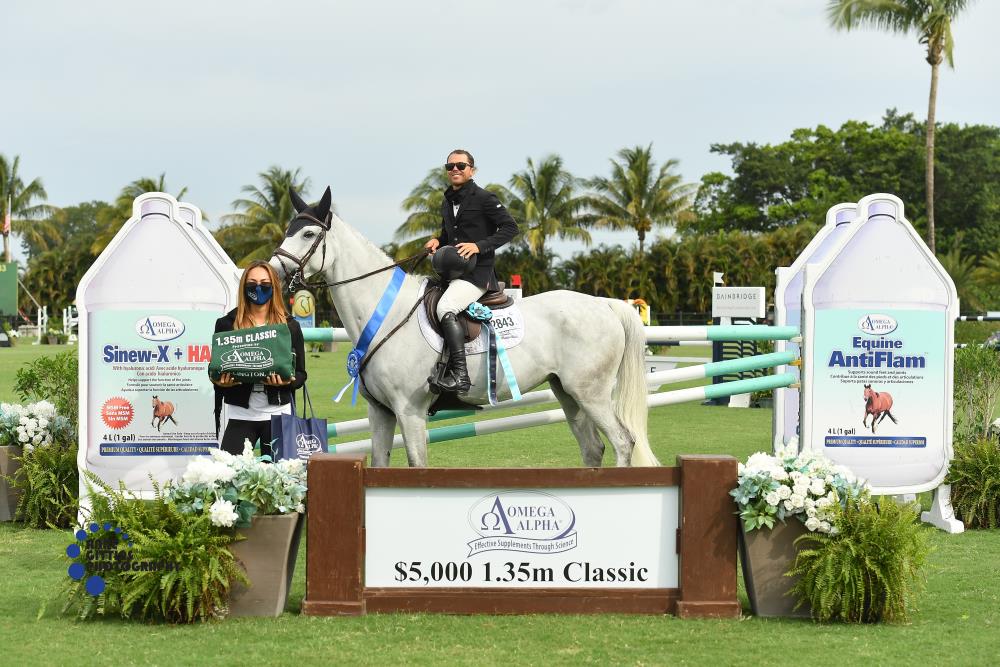 Sheer Levitin of Wellington, FL, ended the week on a high note, claiming the top two spots in the $2,500 Medium Junior/Amateur-Owner Jumper Classic, presented by Equiline. Levitin topped the leaderboard with her own Anis De La Piece with a jump-off time of 34.69 seconds, while clearing the jump-off in 38.03 seconds with her Love Scendix to claim second place. Elizabeth Stroh of Ocala, FL, also had close finishes on her two mounts, Zinedine LS and Canoso. Clearing the jump-off in 38.27 seconds, Stroh and Zinedine LS, owned by Cloverly Farm LLC, jumped to third place, while Stroh and Cloverly Farm LLC's Canoso landed in fourth place with a double-clear time of 41.82 seconds.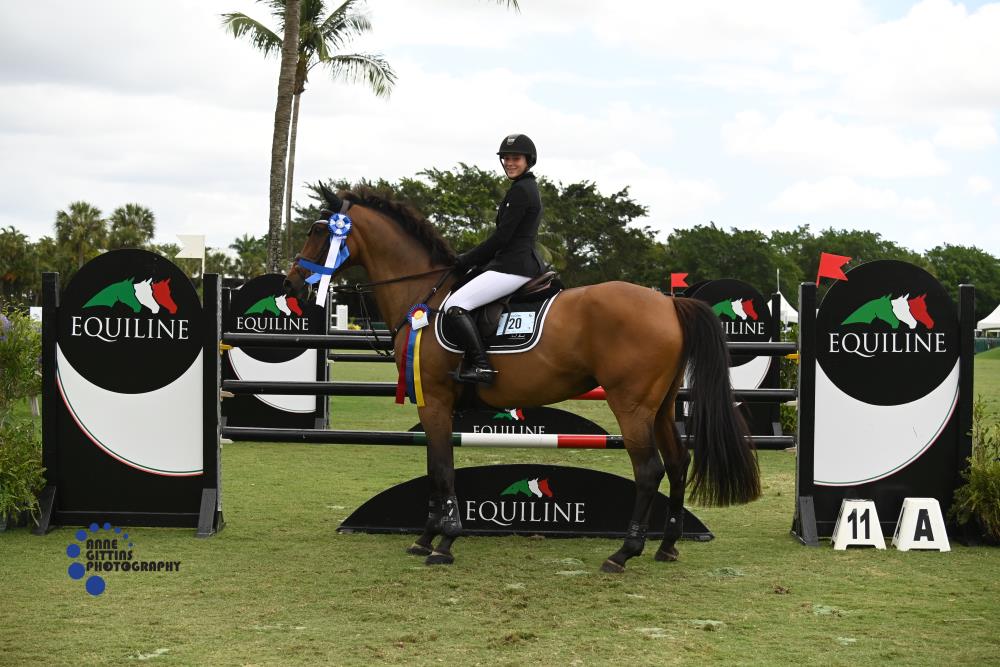 Immediately following, the $2,500 NAL Low Junior/Amateur-Owner Jumper Classic, presented by Equiline, ended Sunday's competition on the Derby Field. Ava Hoffman of North Palm Beach, FL, secured the blue ribbon with her own entry, Donut W, after navigating through the jump-off in 33.57 seconds fault-free. Less than a second behind her was Lukene Arenas of Wellington, FL, and It's Easy, owned by Alpine Stables LLC, who captured the red rosette after clearing the jump-off in 34.12 seconds. Kathleen Gannon-Ledsome of Wellington, FL, piloted her own Hailey Ad Z to a double-clear effort in a time of 39.94 seconds to round out the podium.