Wellington, FL – August 22, 2021 – Ki-Juan Minors of Wellington, FL, and Clintano captured the spotlight in Friday's $2,500 USHJA National Hunter Derby, presented by Equiline, during ESP's Summer II show of the ESP Summer Series. The newly-formed pair edged out initial frontrunners, Molly Sewell and Heartdancer H, in the handy round to celebrate their first competition win together and take the lead spot in the victory gallop on the grass field.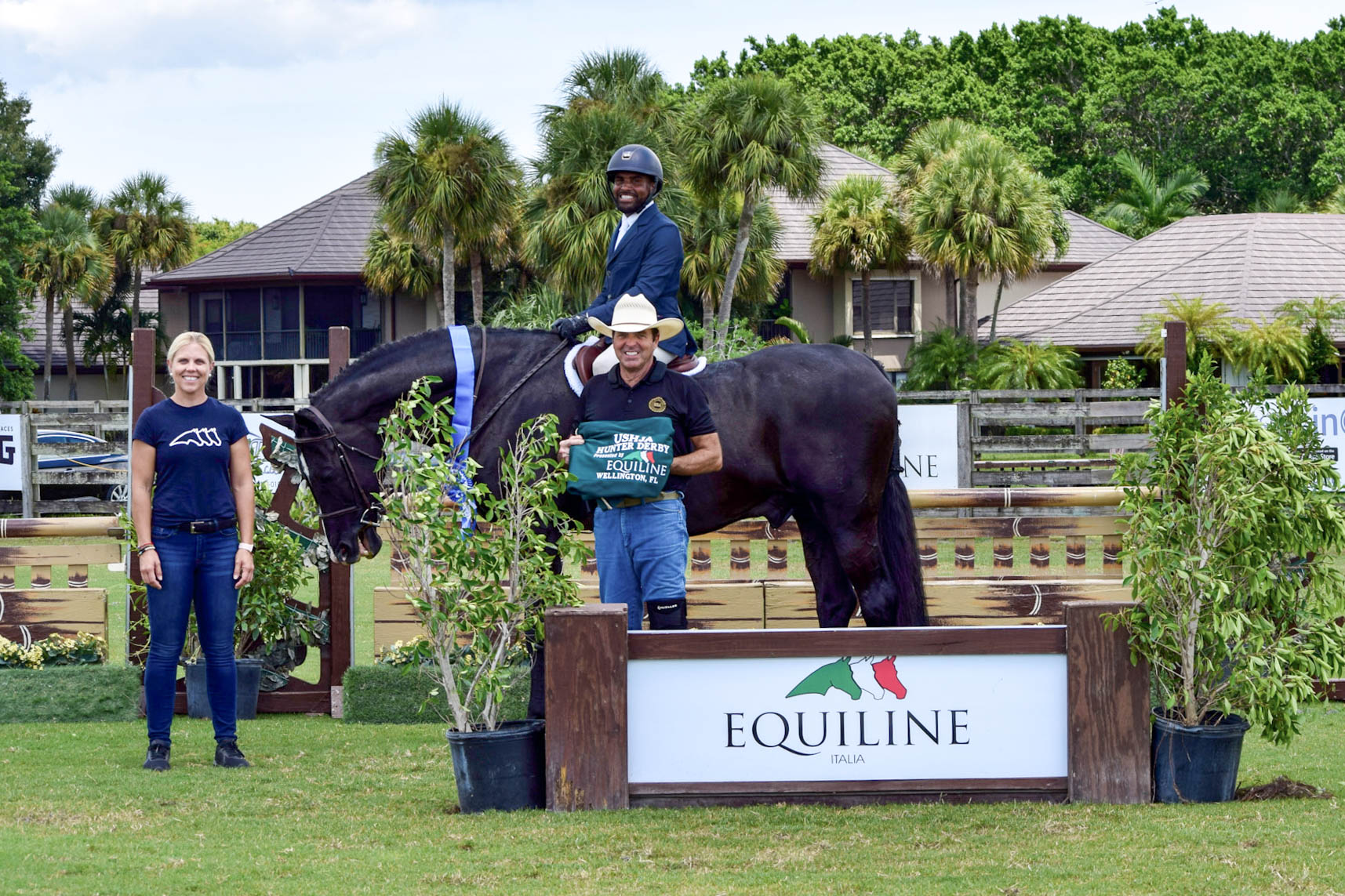 The 2021 ESP Summer Series will continue at Equestrian Village with the ESP Summer III, which takes place from August 26-29, 2021. Four more events will follow, concluding with the Rita & Irish Flynn Memorial from October 1-3, 2021, ahead of the ESP Fall Series. To view the ESP Summer Series Prize List, please click HERE.
"I recently just caught the ride on [Clintano] and this is our first horse show together," commented Minors. "I thought the courses rode quite well and the ring was large enough that you were able to take a breath after each jump. Clintano was really relaxed and jumped up beautifully. He was perfect!"
Seventeen entries contested the classic round, with the top twelve pairs returning for the handy phase of competition. Sewell of Wellington, FL, and Sophia Masnikoff's Heartdancer H led the pack going into the handy round with their first-round score of 90. Minors and the 12-year-old gelding, owned by Sand Dollar Farm, LLC, earned a classic-round score of 88, placing them in second. 
"I handled the handy round like it was my first round and rode it relaxed, easy, and didn't overthink the turns. I tend to get a little anxious in the handy, so I just focused on keeping myself really composed and let the horse do his job," explained Minors.
As one of the last to go over the handy track, the pair improved upon their earlier performance to score a base score of 87 plus four points for the high options to earn a total of 91 points, placing them at the top of the scorecard with a cumulative score of 179. Sewell and her mount eventually claimed second place, just one point off the top spot with a final tally of 178. Rounding out the podium with a total score of 166 was Claire Bruny of Brabury, CA, and her own entry, All Inclusive.