Irbywood was a blue-blooded colt who sold for $625,000 as a 2-year-old and broke his maiden at Gulfstream Park. Mo Bandit never hit the board while making his five career starts at Penn National. What do the two horses have in common? They were both retired through accredited aftercare organizations and found success in second careers in the show ring. They are also both winners of the 2021 TAKE2 Jet Run Award.
Irbywood was retired through the New Vocations Racehorse Adoption Program, while Mo Bandit retired through After the Races. 
The TAKE2 Jet Run Award was created in 2016 to recognize the importance of the organizations that transition racehorses to second careers. The Award, named for the Show Jumping Hall of Fame inductee, honors the TAKE2 Thoroughbred League High-Point Hunter and Jumper that graduated from an aftercare program accredited by the Thoroughbred Aftercare Alliance or affiliated with the Thoroughbred Charities of America.
Jet Run Champion Jumper Irbywood was raced by Stonestreet Stable. He was retired after undergoing surgery for a condylar fracture, and given ample time to recover before being sent to New Vocations, the country's oldest and largest racehorse adoption program. New Vocations, established in 1992, has facilities in Kentucky, Louisiana, New York, Ohio and Pennsylvania, and retrains and rehomes approximately 500 retired Thoroughbred and Standardbred racehorses every year.
Anna Ford, New Vocations' Thoroughbred Program Director, remembers the bay's first days at their facility. "He came into our program ready to start transitional training, as Stonestreet has provided all the rehabilitation for him," she said. "He was a very stout yet elegant gelding who had great confidence and was full of class. We didn't have to work with him much to realize he was an athletic and talented gelding. He was only with us for a month."
Aftercare organizations provide the necessary rehabilitation for every horse, and give each one the foundation needed to excel in a second career. But their most important role might be placing the horses with the perfect adopter. Irbywood was adopted by Michael and Sharon Kvistad of Indiana. How did New Vocations know this was the right fit?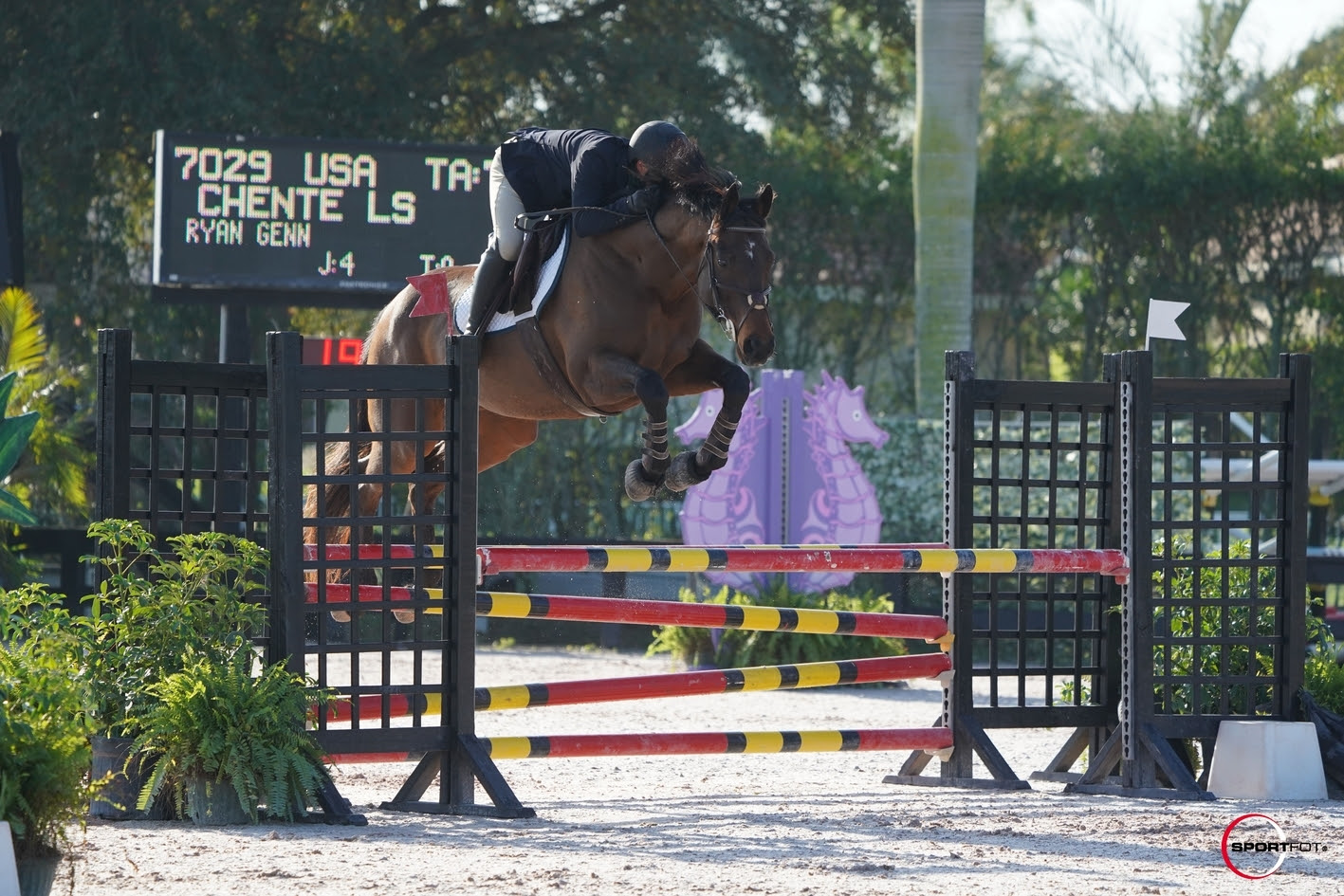 "Mike and Sharon were past adopters and have always done an amazing job helping each horse reach its full potential," Ford said. "They had contacted us looking for their next project. Once we started working with Irbywood it became apparent that he would be a good match for them."
The Kvistads brought Irbywood home in October of 2014.
"We have adopted a number of horses from New Vocations since we moved to Indiana in 2002," Michael Kvistad said. "Prior to that we bred, raised, and trained Thoroughbreds for the hunter ring. Thoroughbreds have been our breed of preference since the 1980s. Sharon competed for years in the hunter ring as an amateur.
"We discovered New Vocations in the early 2000s as we transitioned from the breeding aspect of the industry," he continued. "Our first horse from New Vocations was a horse by the name of Sox and the City, who went on to become a zone champion as a hunter. We currently have Irbywood and another New Vocations adoptee, Italian Syndicate, in our barn."
Kvistad was quick to credit a team of people for Irbywood's achievements in the show ring.
"We are blessed to have a great primary vet in Janssen Vet Clinic; our farrier, Dion O'Brien; our trainer, Michael Burnett; and amateur rider Taylor Embs, who allow us to remain involved in a sport which has been a part of our lives since we were both much younger than we are today," he said.
He was also enthusiastic in his praise for New Vocations.
"New Vocations is important to the equine industry, not just racing, because they serve as a qualified gateway linking the owners, professionals, and amateurs in various equine sports with the racing industry," Kvistad said. "Most Thoroughbreds in the country are bred for the racing industry. But the Thoroughbreds are competing in the jumper, hunter, eventing, western, dressage, and multiple other disciplines in equine sport beyond racing. The equine industry needs organizations like New Vocations to link the various involvements for Thoroughbreds in a qualified and professional manner."
Mo Bandit, who finished in the top 10 in the Hunter Division of the TAKE2 Thoroughbred League, was adopted by owner Melissa Rega from After the Races, a Thoroughbred rehabilitation and rehoming center located in Elkton, Maryland. The organization was launched in 2010.
"Penn National has a track-based retirement program called New Start for Horses, but New Start doesn't typically house horses themselves, but rather connect horses at the track directly with partners like After the Races so that they can come to us for any needed rehabilitation, retraining, and eventual adoption," explained Bonnie McRae, the founder and executive director of After the Races.
According to McRae, Mo Bandit's transition to a second career was relatively seamless. "Mobie was always a sweetheart," she said. "He was a leggy, gangly youngster in our barn, but always easy to work with. He was very kind and uncomplicated. He was the type of Thoroughbred we would now call amateur-friendly."
Mo Bandit did prove a bit of a challenge when it came down to finding him a new home, as he had filling in a hock that frightened off some would-be adopters.
"We did radiographs and ultrasounds and our vet confirmed it was a blemish, just a pocket of harmless fluid, but I remember being frustrated watching so many people he'd do well with overlook him," McCrae said. "That was until Melissa came along. She breezed through our application process as she had the right background and good help to bring along a young, green Thoroughbred.
"As he shipped off to Kentucky, I remember hoping he would go on to do big things after he was passed over here so many times," she added. "We just knew he would be one of the good ones. I am so grateful he went to Melissa as he has truly thrived in her care. Some might say he ended up exactly where he was meant to be."
Rega was just getting back into riding after a 20-year hiatus when she connected with Mo Bandit. She grew up around horses, first in upstate New York, and later competing on hunters in Virginia. She retired from the saddle after a spill in 1995, but had the chance to foxhunt in England late in 2014, and started looking for a horse when she got home to the States.
"I now live in Kentucky and was again surrounded by Thoroughbreds, so it seemed natural to search out the perfect Thoroughbred mount," she said.
But joining the TAKE2 Thoroughbred League had not been in the original plan.
"Initially, I wanted a horse that would be safe to hack around at home and take some jumping lessons," Rega admitted. "However, my competitive side took over when I was made aware of the TAKE2 Thoroughbred classes being offered at the shows, and I refocused my efforts to get Mobie in show ring."
Rega believes that TAKE2 is helping to bring the Thoroughbred back to the show ring and opening up opportunities for retired racehorses. "I have watched the program grow, and the 2021 TAKE2 Finals showed that there are some beautiful and talented Thoroughbred Hunters that are not only competitive amongst Thoroughbreds, but also in the Warmblood-dominant classes," she said.
Added McRae, "TAKE2 does a wonderful job promoting Thoroughbreds as show horses and bringing them back into the national spotlight. Having breed-based incentives for competitors helps normalize the consideration of a Thoroughbred for your next hunter or jumper and really helps bolster the market for retiring Thoroughbreds. Just look how far a horse like Mobie has gone, from being outrun in all of his five races, to transitioning from the track in a responsible aftercare program, to being adopted by Melissa and clearly brought up with such care and talent to reach the upper levels of his new sport. His story is one that people need to read."