By Emily Carpenter for TIEC
Mill Spring, NC – October 3, 2021 – A summer filled with hard work paid off for Jacqueline Ruyle (Houston, TX) and San Chano as they galloped to their very first Grand Prix title in the $30,000 Nutrena® Grand Prix at Tryon International Equestrian Center & Resort (TIEC) with a time of 41.252 seconds. Following in second place was Adam Sklansky (Irondale, AL) aboard Hakini, the 2012 Dutch Warmblood mare (Numero Uno x Montreal) owned by Ellen Walker, with a time of 43.744 seconds. Wrapping up w third place honors was Phoebe Lang (Petaluma, CA) along with DSP Cool Hill, the 2010 German Sport Horse gelding (Corlensky G x Al Cantino) owned by Zeitgeist Equestrian, with a time of 44.277 seconds.
Ruyle and San Chano, her own 2009 Oldenburg gelding (Sandro Boy x Carusa), had a strategy to beat the clock in the Peter Grant (Calgary, Alberta) designed course. Ruyle reflected, "For my first round I was fifth to go, and I saw that no one had gone clear and a lot of people had time faults. I knew some pretty top riders that had time faults, so I thought, 'Oh shoot, I need to make the time allowed!'" Ruyle raced through the timers five seconds ahead of the time allowed, and was first in the ring for the jump-off phase of the competition.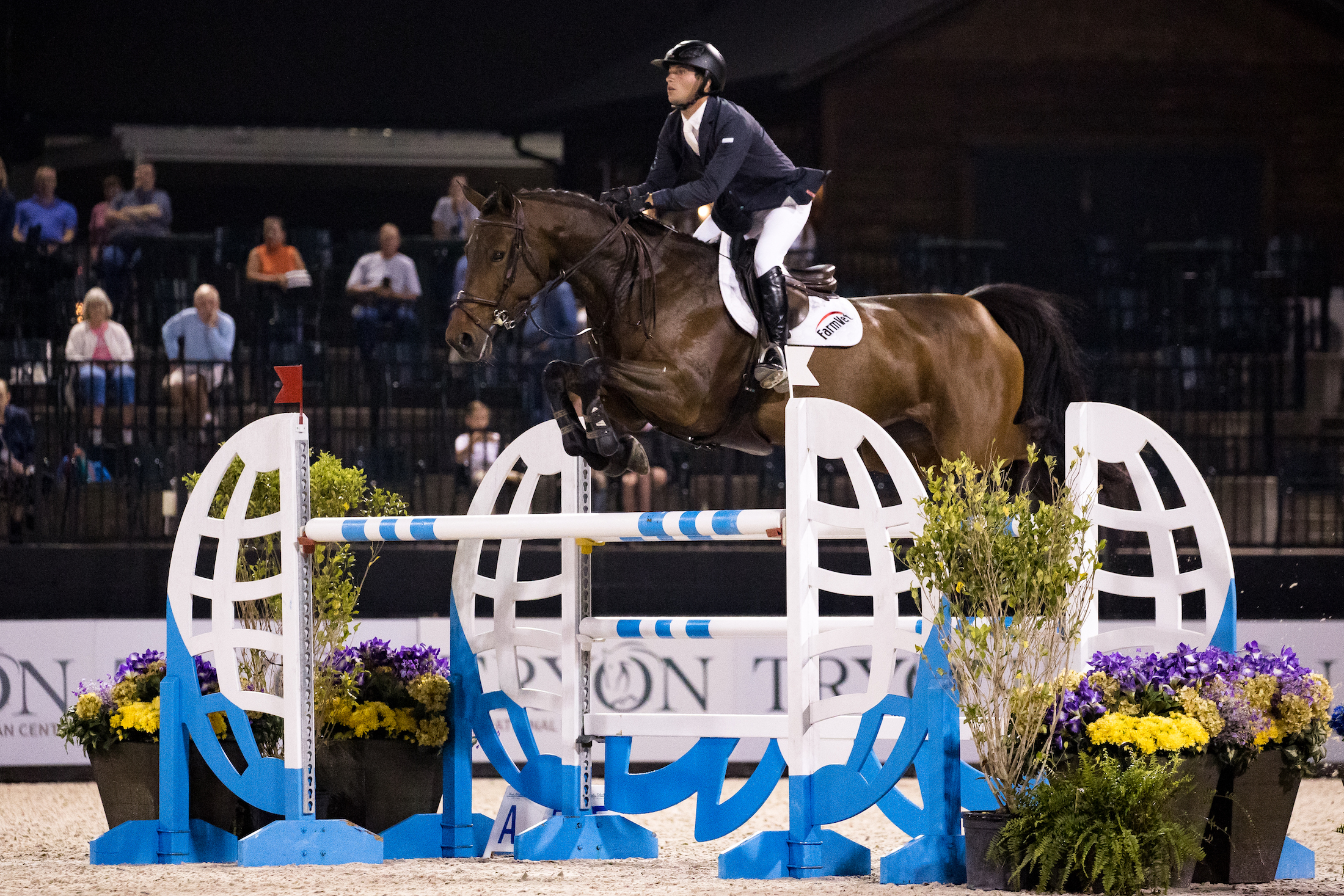 Her strategies for the first and second round were similar, Ruyle reported, after putting in the only double-clear performances of the night. "I kind of had my mind on the time my whole way around and just kept it tidy, and kept a fast pace. In the jump off, I wanted to go quickly, but I wanted to play it safe. I kept a good pace and made sure I got straight to some of the jumps that I could have sliced a little bit more. It worked!"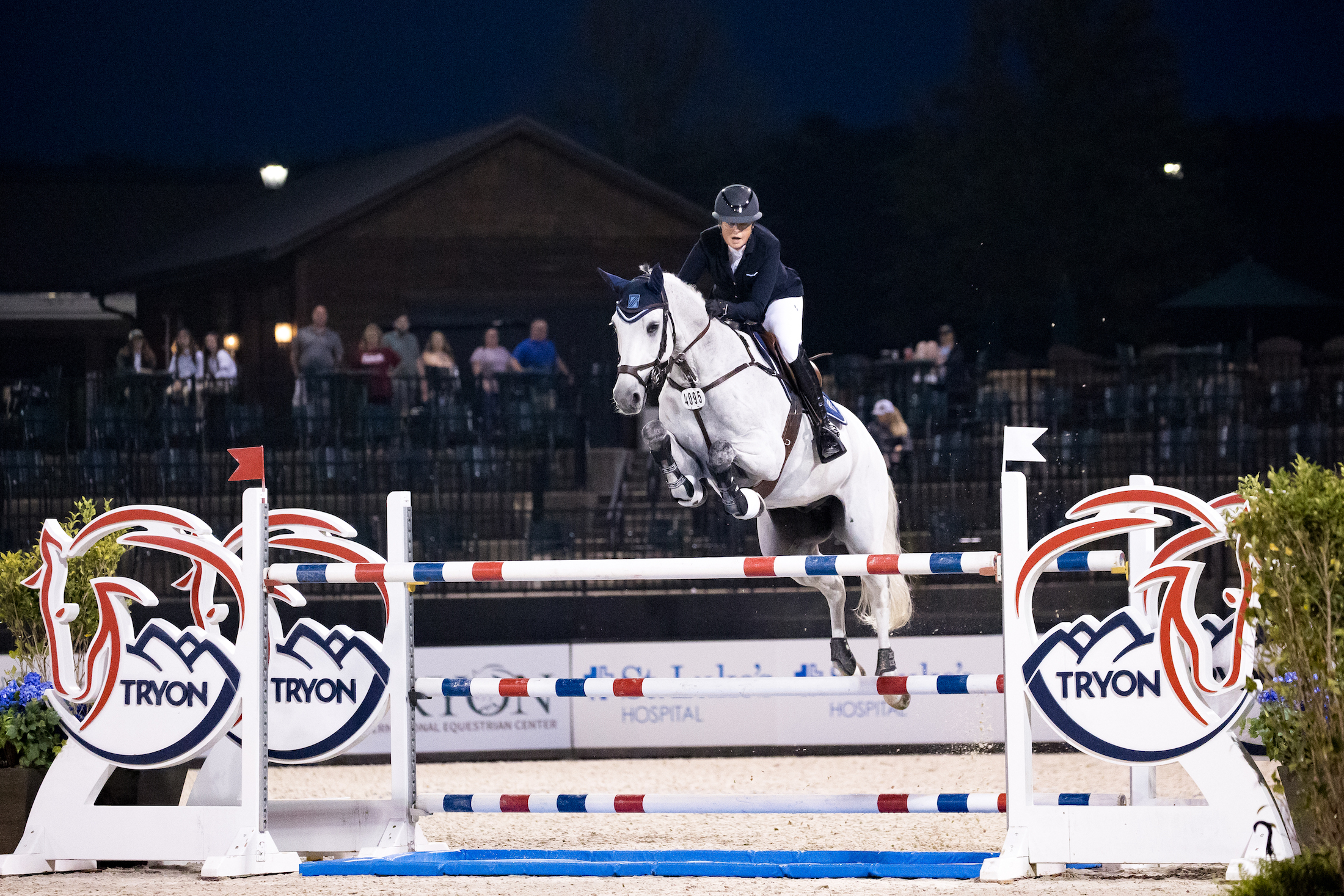 Ruyle and San Chano have been working hard at the Grand Prix level since their debut a few months ago, including several top results in the Tryon Summer Series, she shared. "We started jumping Grand Prix classes in the Spring. Here, in the Tryon Summer Series I had an amazing summer with him. I did my first FEI class, jumped a lot of clear rounds, placed in every class, and I was thrilled," Ruyle recapped. "This is our first week back after the summer, and we picked up pretty much where we left off!"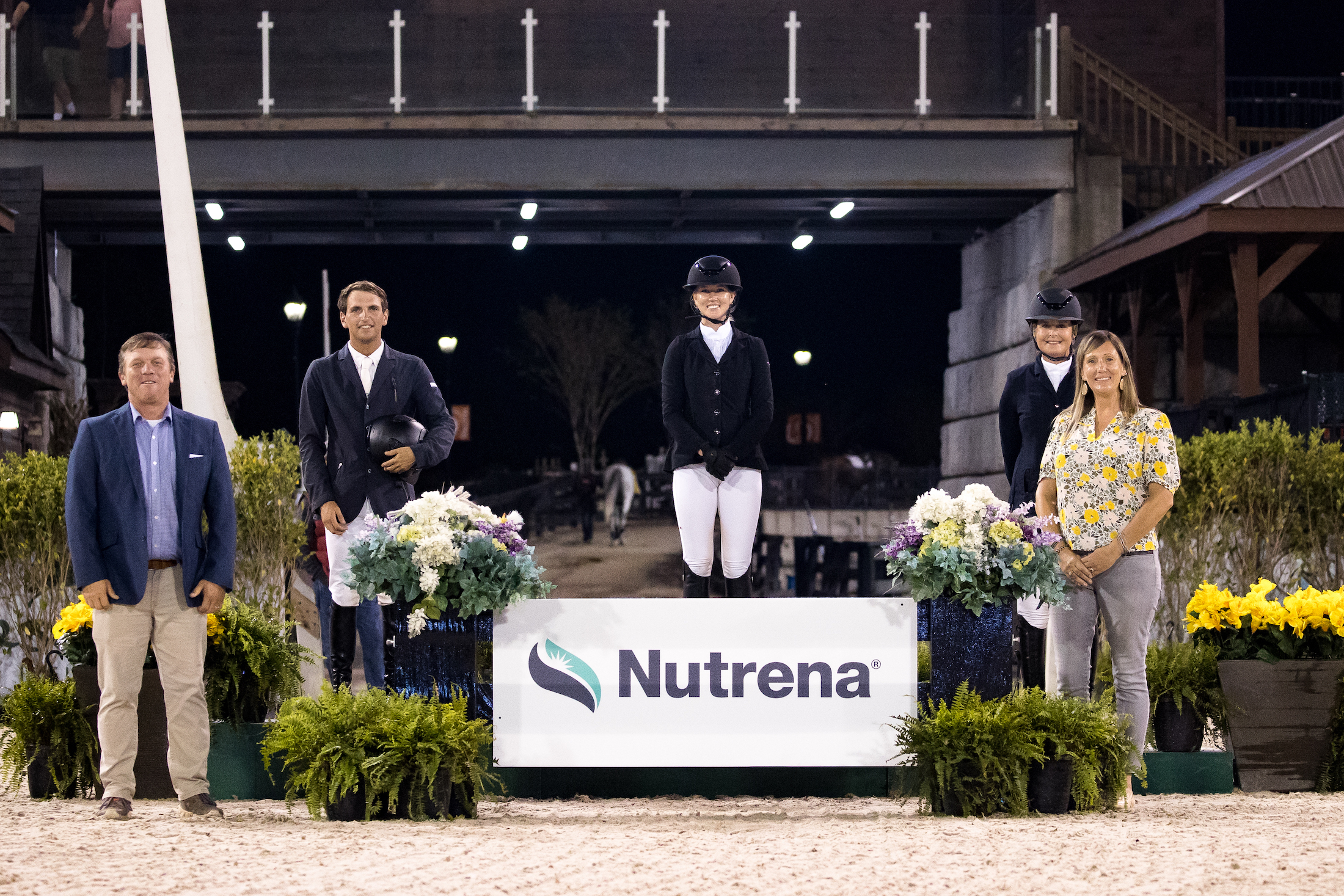 Ruyle plans to stay at TIEC for the remainder of the Fall Series and hopes to see how high she and San Chano can fly. "I'm going to do the 2* next week, and if that goes well, I'll do the 3* in three weeks." Whatever unfolds for the pair, Ruyle emphasized that choosing to compete at TIEC is a no-brainer:
"Honestly, I love this place so much that I would live here if I could. I love that every ring has good footing, the permanent stalls, and the hospitality. I think Tryon does such an amazing job. I love the RV lots, too. I really appreciate the horse friendliness of the facility; you don't find that at a lot of shows." She concluded, "I love this facility, and I absolutely love my horse. I am having so much fun!"
Martien van der Hoeven and Morris Horta Make Magic in $15,000 Horseware Ireland Welcome Stake
Martien van der Hoeven (Pinehurst, TX) and Morris Horta topped the competition in the $15,000 Horseware Ireland Welcome Stake at TIEC with a time of 36.901 seconds to open Tryon Fall 2 competition. Just one second behind and receiving the red ribbon was Willie Tynan (Lexington, KY) aboard Fenise, the 2010 Dutch Warmblood gelding (Campbell VDL x Ahorn) owned by MDM Equestrian Group LLC., with a time of 37.22 seconds. Jacqueline Ruyle (Houston, TX) finished in third with her own Cyramo Z, the 2011 Zangershide mare (Clarimo x Vigo De Arsouilles STX) with a time of 39.044 seconds.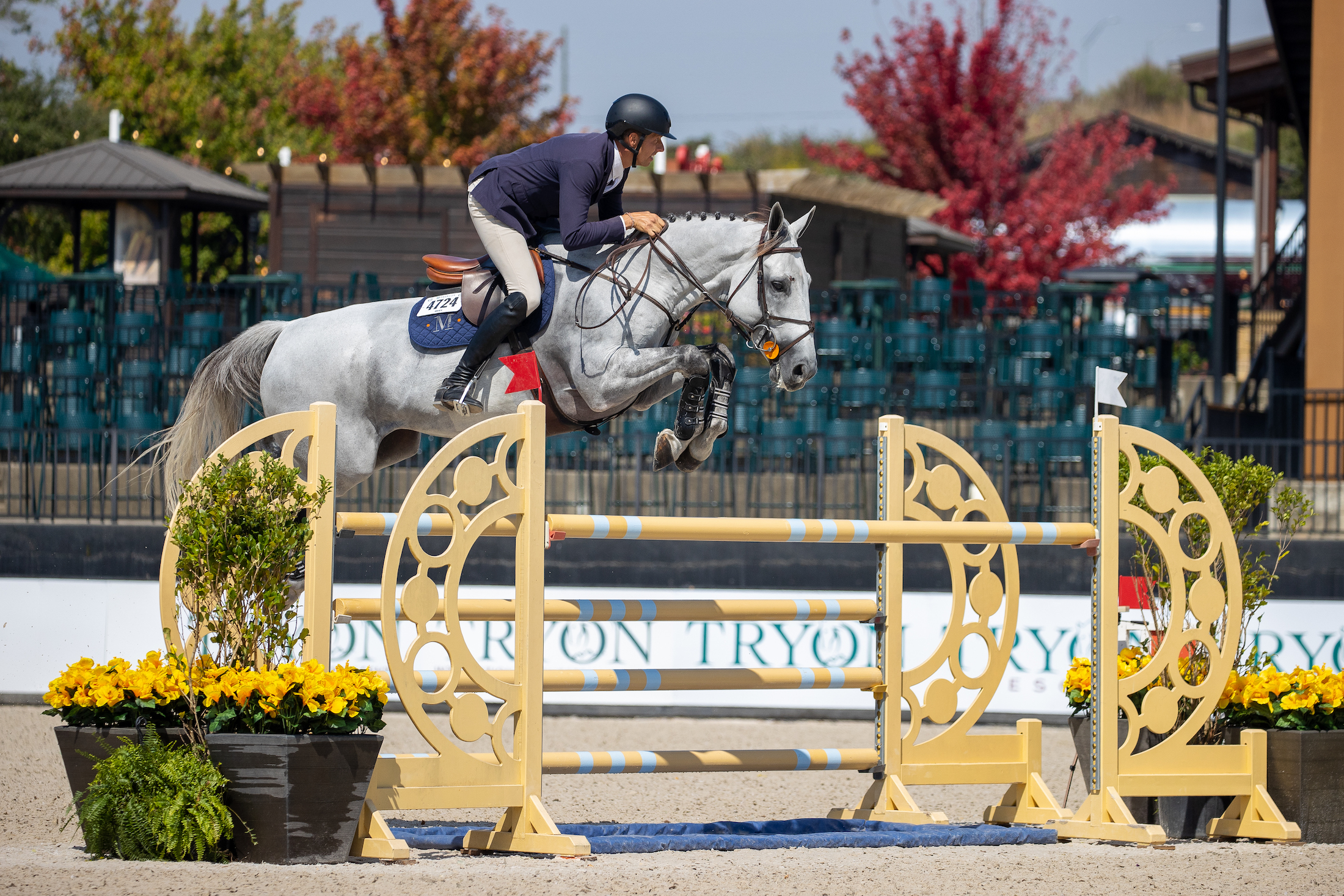 Van der Hoeven and Morris Horta, the 2012 Belgian Warmblood stallion (Eldorado VD Zeshoek x Vigo De Arsouilles STX) owned by Lucirelli International LLC, conquered the Peter Grant (Calgary, Alberta) designed course after enjoying a six-week break from competition. "We got him around this time last year. We've been developing him. He's turned into quite a reliable horse. We had about five or six weeks off. For me, I wanted to feel like we were knocking the rust off."
The Grant course design accomplished exactly what he hoped it would for his first competition back, Van der Hoeven detailed. "I thought Peter Grant did a wonderful job. It was flowing, it had the right number clean, with the right questions."