Jump Media Press Release
After being partnered for nearly six years, Laura Sexton and Set To Music are no strangers to the winners circle, but when they emerged the Grand Champions of the Amateur-Owner Hunters 3'6" 2021 Washington International Horse Show, presented by MARS Equestrian™, it was a little extra special. In April, Set To Music—known as Calvin in the barn—was found cast in his stall. Thankfully, he made a full recovery at an equine clinic, but it also kept him out of the show ring for six months. "We weren't sure if he would need to retire or not, so the fact that he's here and is still loving his job makes the win even more special," shared Sexton.
Sexton and Set To Music won the division championship in the Amateur-Owner Hunters 3'6" Over 35, with the reserve championship going to At Last and Alisa Berry. In the Amateur-Owner Hunter 3'6" 18-35 division, Julia Weiss and Catena 5 won the champion ribbon while Kaitlin Porath and Breaux were reserve champion.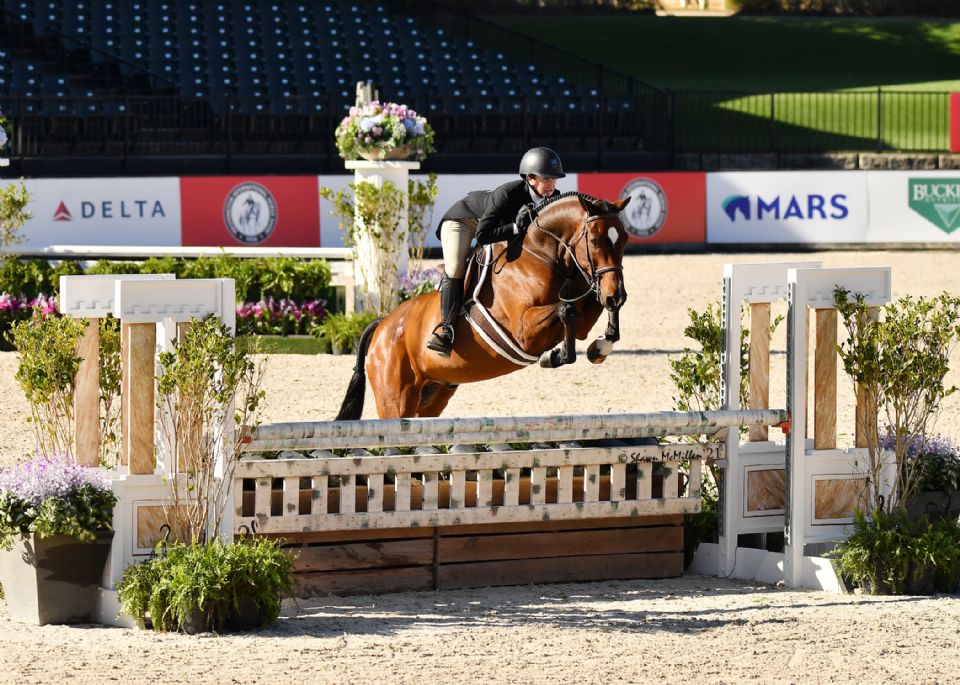 Once Calvin recuperated and it was clear he wanted to be in the ring, Sexton still made it a point to take it slow with him. "All summer I focused on getting him in shape and fit enough to be able to jump," continued Sexton. "We took our time and then went to two little local shows at home before coming to WIHS. His successful recovery has made the win mean a lot more. I know this is WIHS and it's a big deal, but today has extra meaning. It's very nice and special."
The pair don't often compete at WIHS, and this was Sexton's first trip to Tryon, so she has enjoyed the opportunity to show in this championship and in Tryon Stadium. "It is definitely a beautiful venue and a lovely experience," she said. "Anytime you have big open lines like you do [in Tryon Stadium] it tends to suit him very well because he can just walk down them. The spookier the better; he fires up over anything that's a little impressive. He loved this ring today."
As Sexton talks about what's ahead for her and Calvin, she said it will be up to him. "When he wants to show, he shows," she concluded about the 15-year-old Warmblood gelding. "He calls the shots at this point, anything to keep him happy." For their grand championship, Sexton took home The Frank Counselman Memorial Perpetual Trophy donated by Friends of Frank Counselman.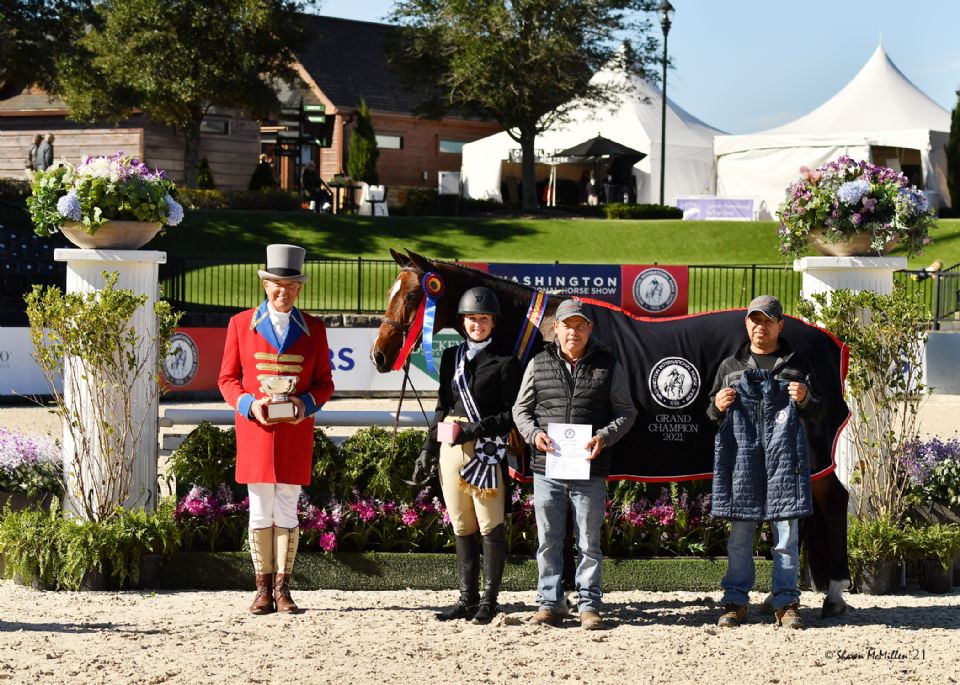 Nearly three years to the date that Stephanie Zimmerman of Cincinnati, Ohio, purchased Lights Out, the pair was named Grand Champion in the Amateur-Owner Hunters 3'3" and was the recipient of The Bucky Reynolds Memorial Award sponsored by Mr. & Mrs. Ernest M. Oare at this year's WIHS. They won the division championship in the Amateur-Owner Hunters 3'3" Over 35. Kelly Sims and Private I won the reserve championship. The champion in the Amateur-Owner Hunter 3'3" 18-35 division was Jennifer Morris riding Staros. The reserve championship went to Christina Fisher on Everything Is Gucci.
Zimmerman, who rides with Hunt Tosh, became acquainted with Lights Out while he was being campaigned by Tosh in the green conformation hunters for the Wheeler family. "I bought him during [The Pennsylvania National Horse Show]," said Zimmerman of the 10-year-old gelding by Lights On. "He came home from Harrisburg, I tried him, and he didn't get on the trailer to go to WIHS because I bought him! I was very, very fortunate."
The fact that Lights Out had an impressive career with Tosh created a bit of added pressure for Zimmerman initially. "I was a little nervous because Hunt was the only one that had ever shown him, and I was like, 'Oh my gosh, is he going to be able to do this with me?'" she admitted. "But he's been great ever since and he's settled into the role as an amateur-owner hunter really well."
Zimmerman thinks the gelding's experience with Tosh helped prepare him for tackling the big track set in Tryon Stadium. "It was a little nerve-wracking at first," she shared of showing in the large arena. "I wasn't sure how it was going to go. I think because [Lights Out] had done a lot of the bigger stuff with Hunt, he sort of came in and was like, 'Game on, this is the big time.' He really stepped up to the plate, he jumped amazing, and did everything I told him to do—which luckily was correct!"
Though the pair have a strong partnership, Zimmerman notes that the team around her has greatly contributed to their success including Tosh; Aubrey Sears, Zimmerman's trainer near her hometown of Cincinnati; and Tosh's team member, KJ Pearson. "I'm very fortunate that KJ, who works for Hunt, loves him and prepares him perfectly for me," she said. "She and [Lights Out] have a very amazing relationship."