Edited Press Release
More than 50 stunning hunters lined up for World Equestrian Center's Derby Friday during the second leg of the Midwest Indoors circuit. Course designer Joe Carnincom created a beautifully decorated and complex course that tested the horse's maneuverability and brilliance.  Each class saw fierce competition with scores peaking into the 90s. Didgereedoo VDL (Zavall VDL x Pheminka) and Kelsey Epperson earned top honors in the $5,000 WEC Hunter Derby 3′ – Open, while Luke Rhinehart and Chablis 162 rode to victory in the $5,000 WEC Hunter Derby 3′ – Non-Pro division.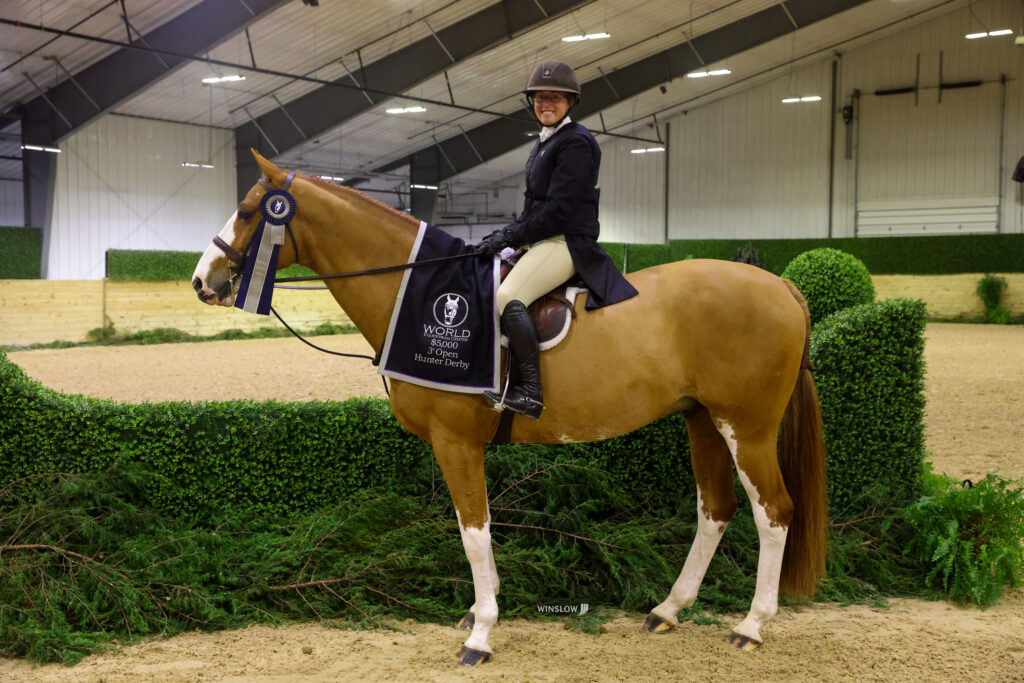 The Open Derby saw a field of 22 horse-and-rider combinations but none could best Kelsey Epperson and Tammy Nimbach's Didgereedoo VDL. Epperson and the 13-year-old Dutch Warmblood gelding performed a lovely first round to earn a score of 92.
"I thought that today's course was hard, and when I saw it on the course sheet I got pretty nervous," Epperson said. "I trust this horse, and he is always there for me to count on. Once we jumped the first two jumps, then I knew we were okay. He did them both perfectly and was so smooth around everything!"
The duo was welcomed back to the ring for the second round, where their handy course earned a score of 89, totaling 181 for the win.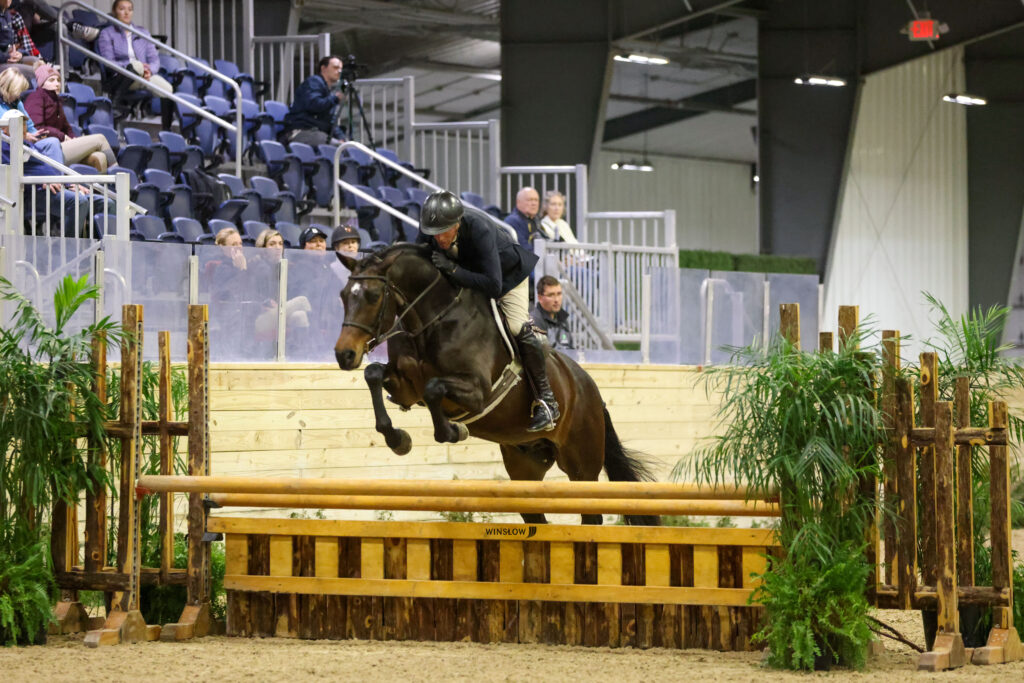 David Beisel claimed the next two spots aboard Lori Taylor's fabulous horses. Beisel rode to second place exhibiting MTM Bentley (Bonaparte Z x Hot Cherie P). The duo showcased their beautiful efforts in the first round to earn a score of 89 and a spot in the top 12 for the handy round. The pair continued to impress in the final round for a score of 91 to finish with a 180 total.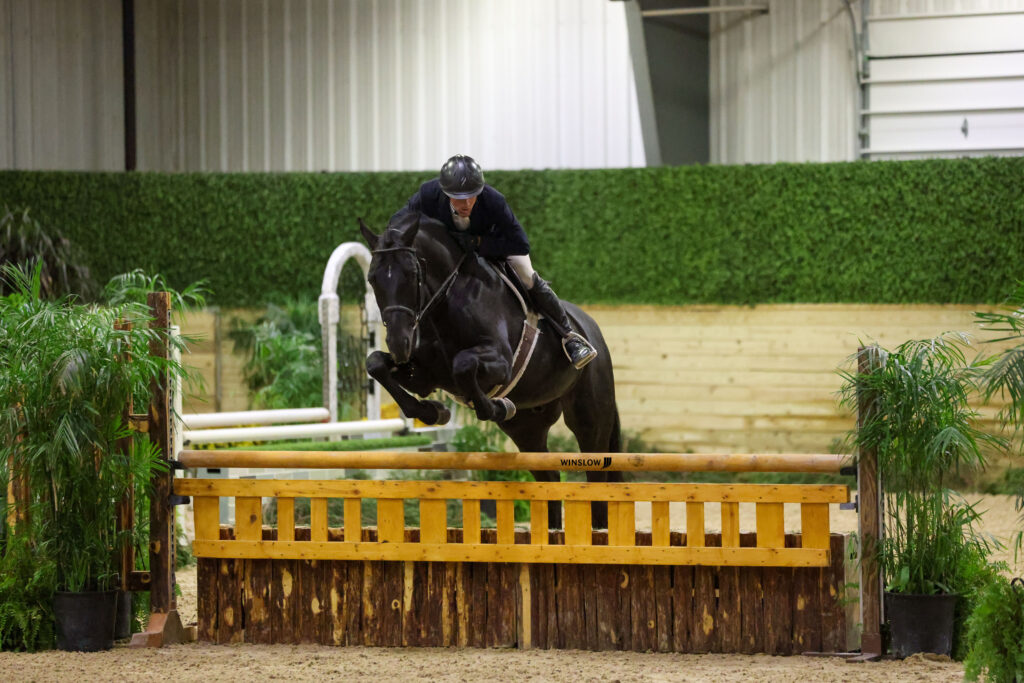 Rounding out the top three was Beisel aboard Steller. The duo finished with a 79 in round 1 and returned with the top 12 to deliver a stylish handy round. Their second attempt landed them a near-flawless 94, which was the highest score of the class and totaled 173 points for third place.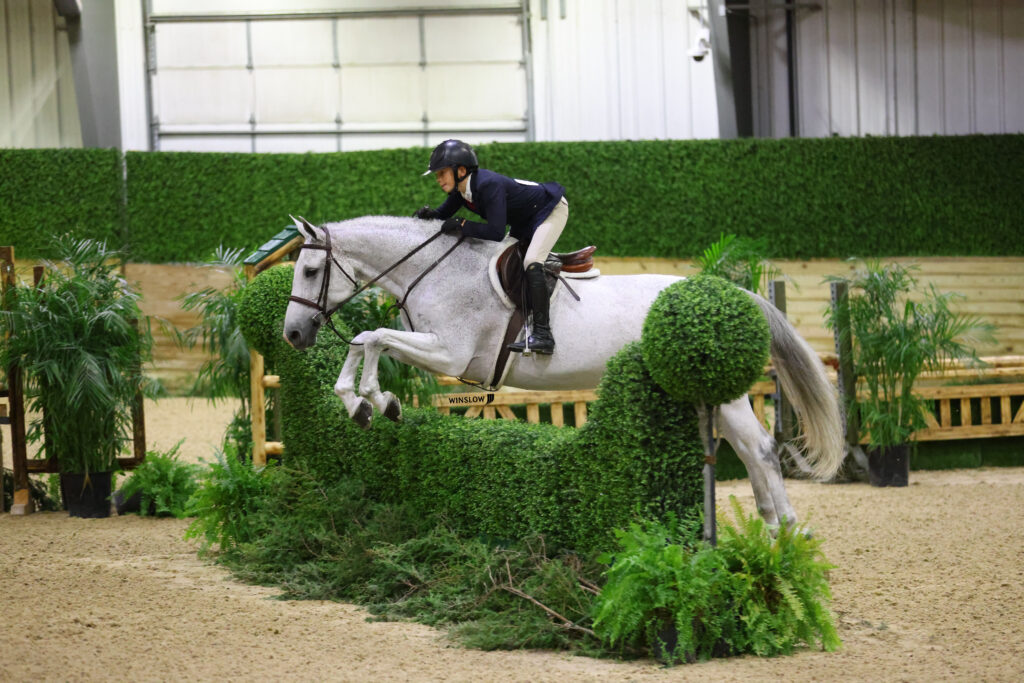 Luke Rhinhart and his own Chablis 162 (Cancara Z x Untreue),  an 11-year-old Holsteiner mare, dazzled judges in the $5,000 WEC Hunter Derby 3′ – Non-Pro and shot to the top of the leaderboard with their scores of 85 and 90, totaling an unbeatable score of 175 at the conclusion of the class. This is the newly-paired  duo's second WEC derby win.
"My horse felt great today and was a tad more quiet than usual," Rhinhart I was a little nervous going to the last jump and she helped me out. My approach wasn't too different today, I just wanted to ensure that I had two solid rounds."
Last week's Non-pro derby winner, Nicole C. Lyvere, rode to second place atop her own My Everything (Valentino x Phyllis Brown). Lyvere and the 11-year-old Hanoverian stallion received scores of 77 and 87 from the judges, totaling in 164 for the second place honors.
Madelyn Kuhn and her own No Salt All Sugar (Numero Uno x Belladonna Di Mellograno), an 8-year-old Selle Francais gelding, showcased style and correct technique over each fence to receive  impressive scores of  80.5 and 83 to total 163.5 for a third place finish.  
$5,000 WEC Hunter Derby 3' Open Results
Didgereedoo Vdl, Kelsey Epperson – 92 | 89 | 181
MTM Bentley, David Beisel – 89 | 91 | 180
Steller, David Beisel – 79 | 94 | 173
Calisandro, Michaella T. Gerlacher – 84.5 | 88 | 172.5
Dalliance, Michaella T. Gerlacher – 85 | 86 | 171
Udefix, Colleen Holton – 81 | 85 | 166
Majesty, Dana Wille – 80 | 81 | 161
Olympus, Dana Wille – 77 | 79 | 156
Jefferson Quote, Colleen Holton – 80.5 | 75 | 155.5
Fineas, Jessica A. Jurkowitz – 83 | 70 | 153
$5,000 WEC Hunter Derby 3' Non-Pro Results:
Chablis 162, Luke Rhinhart  – 85 | 90 | 175
My Everything, Nicole C. Lyvere – 77 | 87 | 164
No Salt All Sugar, Madelyn Kuhn – 80.5 | 83 | 163.5
Westeros, Owen Gajoch – 73.5 | 81 | 154.5
Barenstark, Lindsay Arbino – 76 | 77 | 153
Hennessy, Emma Lena M. Green – 72 | 80 | 152
Lavana, Elizabeth Rinehart – 81 | 70 | 151
Ethereal, Sophia Keoleian – 81.5 | 69 | 150.5
The Boy Friend, Paige J. Beisel – 71.5 | 77 | 148.5
Hyperion Du Stiquot, Jennifer Kemp – 72.5 | 74 | 146.5