Edited Press Release
Wellington, FL – November 28, 2021 – Hunters were the stars in Friday's $10,000 USHJA National Hunter Derby, sponsored by Meadowview, Inc., during the 2021 71st Annual SFHJA Charity Horse Show. The class saw 36 pairs contest the classic round of competition over a course designed by Danny Moore, with the top 12 returning for the handy phase of competition. Edging ahead of their competitors by three points, Jimmy Torano and Andee Holland's Lochridge Prince were crowned the victors thanks to two high-scoring rounds.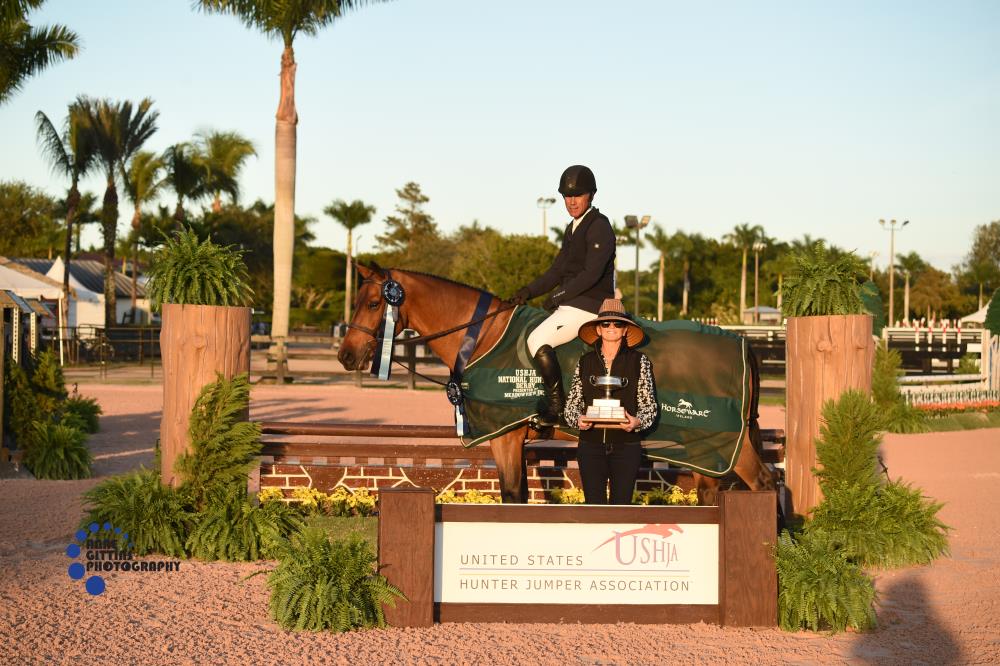 "This is a horse that we've had for about six months. I bought him for my customer, Andee Holland, to be her Adult Hunter and I show him some in the Performance Hunters. I think he's been champion every time I've shown him. He was champion here in Wellington, was champion at Upperville; the horse just goes out every time, and he tries to win," Torano of Wellington, FL, shared.
The top twelve pairs were invited back to contest a handy round following a classic-round cut-off score of 84.25, which made for a very competitive finish. Just a single point separated the top three headed into the handy round, with Havens Schatt and Havana leading the pack after receiving a first-round base score of 90, plus four additional points for the high options for a high score of 94. Torano and Lochridge Prince sat in second place with a classic-round base score of 89, plus four additional points for a total of 93. Torano also held the third position with one of his two other mounts, Laskano.
"I thought the courses were really good, especially the handy because it gave you a lot of options and sort of forced you into those options if you wanted to win," Torano commented. "Penny [Lombardo] right off the bat did an inside turn that a lot of people were questioning, but once Penny did it she forced us all into it. I think the course designer did a great job with the course – where he placed the high options was good, and the inside turns were tough, but at this level, with this many good horses and so many riders, he has to challenge us a bit."
Torano and Lochridge Prince returned second-to-last to go and improved to a score of 96, earning them a grand total of 189 points, which put the pair at the top of the leaderboard. Initial leaders, Schatt of Georgetown, KY, and Havana, owned by Caroline Moran, finished in third after receiving a handy score of 86.4 for a combined score of 180.5. Torano and Isalou, Inc.'s Laskano finished in second place with a handy-round score of 94, combined with their first-round score of 92 for a total of 186 points. Torano also finished in fourth with Moonlight, owned by Isalou, Inc., with a total score of 180. 
"Going into this season I've got a lot of new horses and new clients. I also have a new Grand Prix horse that I'm excited about named Chewbacca. He's going to jump tomorrow night in the Grand Prix here, and my son has a few new ponies, and he's been doing really well. We have a lot on our plate and a little bit of everything, so there's a lot to get done this winter, but we're looking forward to it," Torano concluded.
For the full results of the $10,000 USHJA National Hunter Derby, sponsored by Meadowview Inc, please click HERE.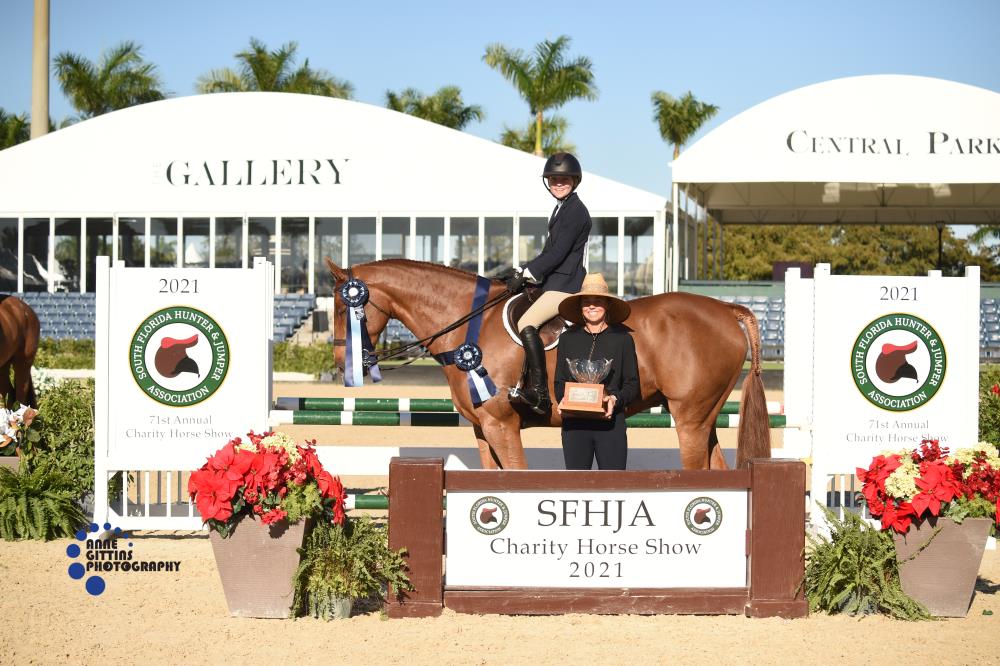 A large field of 21 duos entered the ring on Saturday in the SFHJA Junior Hunter Seat Medal Final, presented by Ashland Farms. Riding to the top of the competitive leaderboard, Olivia Sweetnam of Wellington, FL, and Sweet Oak Farm's Coppertone were awarded top honors thanks to a superb performance. Cecilia Perry of Boynton Beach, FL, and her own Icadello nabbed the runner-up spot, trailed by Isabel Beltran of Jupiter, FL, riding Gillian Galvin's Easy B.
On Saturday in the SFHJA Adult Amateur Hunter Seat Medal Final, presented by Spectrum Show Stables, 11 pairs put forth their best efforts in an attempt to capture the blue ribbon. In the end, victory went to Anna Koenig of Southwest Ranches, FL, and Ashland Farm's Lolita. Noa Diener of Indian Creek Village, FL, and Diener Farms LLC's Heartbreaker earned second place, followed by  Angela Calicchio of Jupiter, FL, aboard Barn Rat LLC's Nobel Laureate to round out the podium.