Edited Press Release
Thirty-two elegant hunters took to the World Equestrian Center R+L arena Friday to contest the $5,000 WEC Hunter Derby 3′ – Open and $5,000 WEC Hunter Derby 3′ – Non Pro. The courses for the classes were transformed into a winter wonderland. Snow covered trees, oversized gifts and beautiful greenery covered the arena. 
The $5,000 WEC Hunter Derby 3′ – Open was a field of 16 exhibitors and their mounts took on the winding track. Many riders had wonderful first rounds with several scores peaking into the high 80s and low 90s.  The top 12 high scorers were welcomed back to the second round, which gave riders plenty of opportunity to show off their horse's handiness.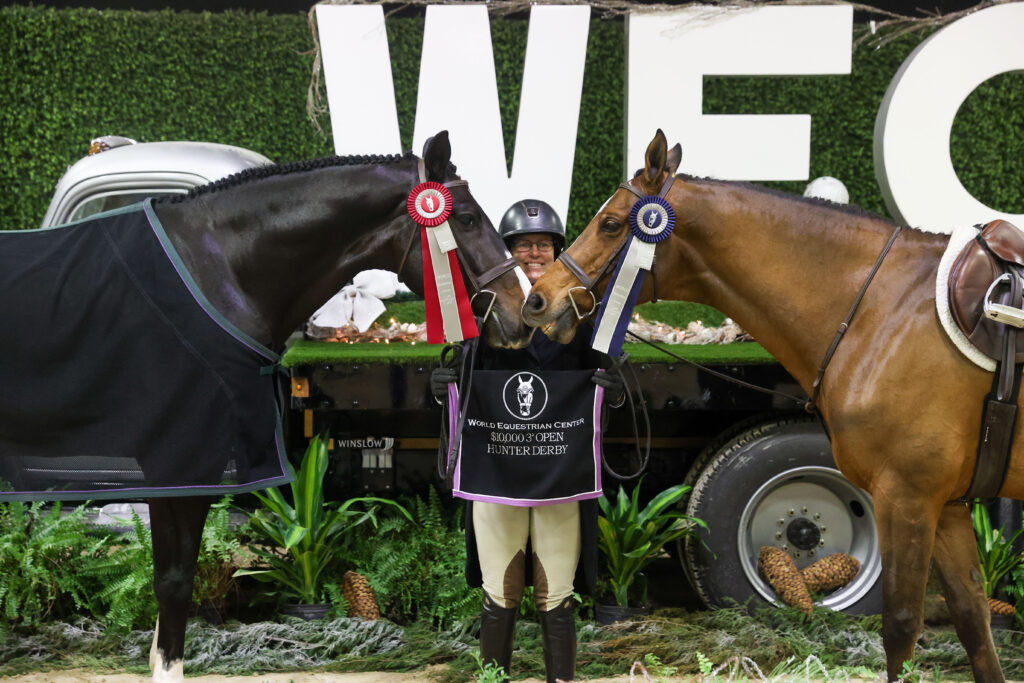 Tammy Provost of Meadow View Farm in Indianapolis, Indiana, and All In delivered two incredible rounds to win first place honors in the $5,000 WEC Hunter Derby 3′ – Open. Their first score was judged to score an impressive 91, followed by a 92 in the handy round, totalling 183 to ultimately secure the win. Just last week, the 13-year-old Dutch Warmblood and his owner, Jacquelynn Christenson, rode to win the WEC Non-Pro Derby. 
"All In is such a great Derby horse. He is so seasoned and just a good boy," Provost said. "I thought today's course was just perfect and he gave it his all as always! Usually if this horse does something incorrectly, the rider is to blame […] He is so honest."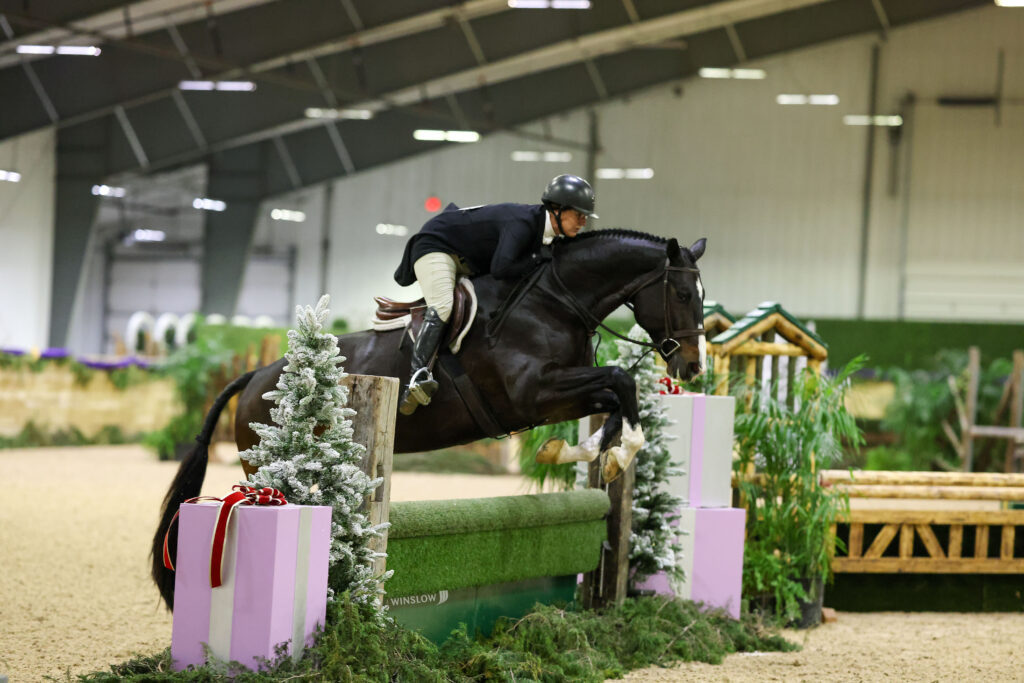 Provost was also awarded with a second place finish, this time aboard Jill Donaldson's Persuasive. Provost and the 8-year-old bay Dutch Warmblood managed a 88 score in round one and then the pair returned for the handy round, where they beautifully negotiated the course which featured bending lines and inside turns for a score of 86, giving them a combined total of 174 for second place honors.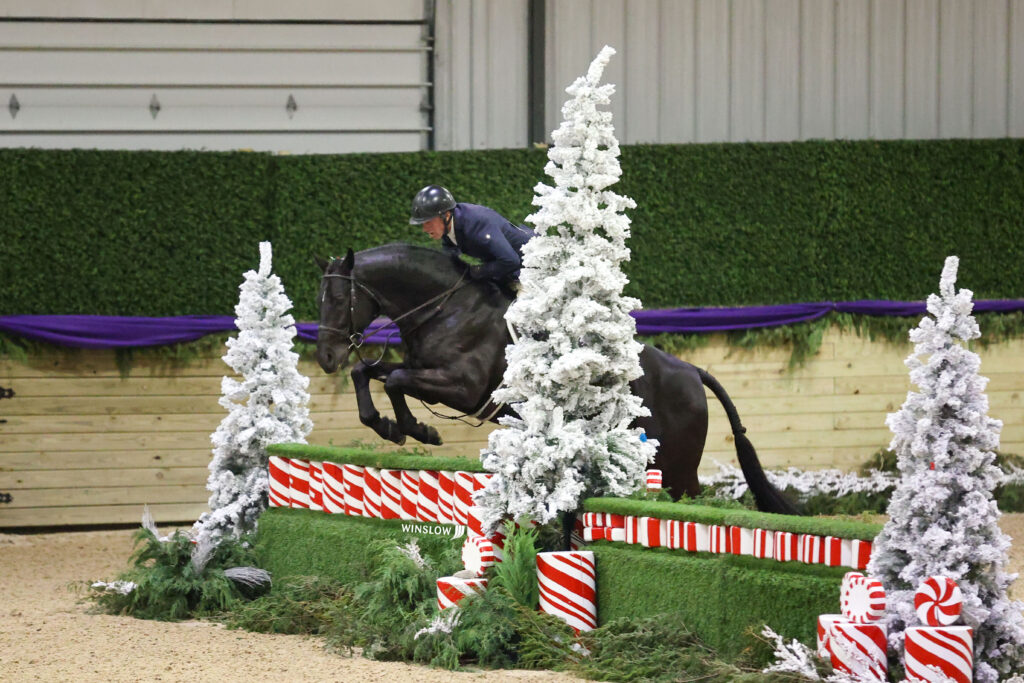 David Beisel of David Beisel Stables in Goshen, Ohio and Lori Taylor's beautiful Steller landed in the third place position. Beisel piloted Steller to a first round score of 86, followed by an eye-catching second round with a handy score of 81. The pair rounded out third place with a final score of 167.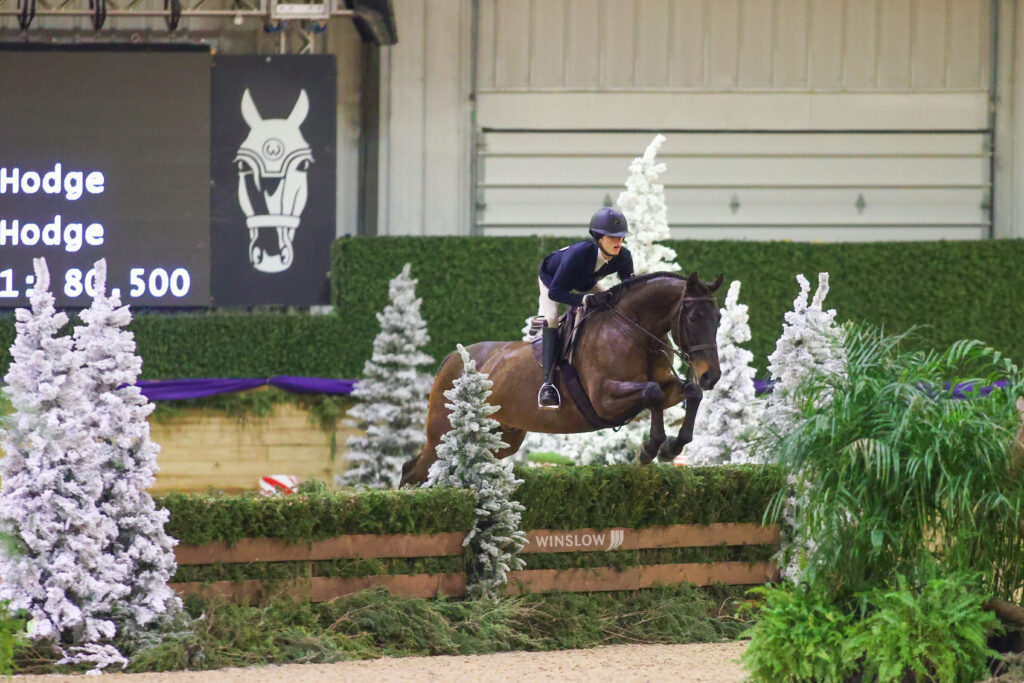 Another class of sixteen competitors took to the R+L arena for the $5,000 WEC Hunter Derby 3′ – Non-Pro, but it was Elliot Hodge and her own Apparently who claimed the top spot. Hodge and her 12-year-old gelding wowed the audience and judge as they gracefully framed the course and edged out the competition. This team earned an 80.5 in round one, followed by an impressive 86 in the handy, totalling 166.5 to take the win. 
"I've had this horse for six years now and we recently started riding with Tammy Provost about a year ago. She has really helped us come along," Hodge said. "My only real strategy for the course was to stay consistent and ride it correctly."
Second place in the Non-Pro division went to Ella Ballard and Sarah Livingston's Ne-Yo (Quite Easy X Mysterie Girl Van De Heffinck). On great form, the pair jumped to a first round score of 82, which was high enough to invite them back into the arena for the handy round where they scored a 84. This totalled 164 and put them in second place.  
Rounding out the top three was Elizabeth Rinehart aboard Taylor Johnson's Cavalli. Rinehart and the 16-year-old Hanoverian gelding navigated through two near perfect rounds, which were awarded with scores of 78 and 85, respectively, to total 163 for third place. 
$5,000 WEC Hunter Derby 3' Results:
All In, Tammy Provost – 91 | 92 | 183
Persuasive, Tammy Provost – 88 | 86 | 174
Steller, David Beisel – 86 | 81 | 167
Suede, Hillary Johnson – 78 | 88 | 166
Dianthos XO, Mandy Vergerio – 77 | 82.5 | 159.5
Catch Ur Way, Greg Crolick – 75 | 84 | 159
Udefix, Colleen Holton – 80 | 78.5 | 158.5
Corlando 49, Melissa P. Donnelly – 76 | 82 | 158
Davidson, David Beisel – 82 | 75.5| 157.5
Steel Me Away, Megan Bash – 73.5 | 78 | 151.5
$5,000 WEC Derby 3′ Non Pro Results:
Apparently, Elliot Hodge – 80.5 | 86 | 166.5
Ne-Yo, Ella Ballard – 82 | 84 | 164
Cavalli, Elizabeth Rinehart – 78 | 85 | 163
 Stardust, Christine A. Ruh  – 79 | 79 | 158
Cinda, Elizabeth Becker – 72 | 85 | 157
Dillinger P, Katelyn Hicks – 76.5 | 85 | 156
Royal Crown, Taylor Horace – 74 | 80 | 154
Cotentin Des Roques, Autumn Bradbury – 77 | 76 | 153
Fernhill Corbeaugh Delux, Macy Williams  – 73 | 77 | 150
Lavana, Elizabeth Rinehart – 76 | 71 | 147
Photos Courtesy Winslow Photography