By Summer Grace and Amanda Picciotto Feitosa for Jennifer Wood Media, Inc.
Friday's equitation competition at the Winter Equestrian Festival was highlighted by the WIHS Equitation Jumper Phase which took place in the Equine Tack and Nutritionals Ring 6. With 62 entries in the class, a California split was done, resulting in two first-place winners. Alexander Alston, from Gahanna, OH, topped the A section with a score of 92 aboard Campreoll. Tessa Downey of Houston, TX, won the B section scoring a 91 with Quite Cassini, owned by Ashland Farms.
The Washington International Horse Show Equitation hosts classes nationwide throughout the year for riders to qualify for the WIHS Equitation Final in October. In the Hunter Phase of the competition, riders tackle a track focused on consistency and rhythm traditional of the hunter ring. The Jumper Phase is meant to challenge riders to guide their mounts over a track with efficiency and accuracy, more akin to a jumper class.
Veteran talent won the day today with both seasoned riders in Alston and Downey riding equally experienced mounts. Both riders were in the top 10 in the 2021 WIHS Equitation Finals.
Alston's mount Campreoll, a 16-year-old Swedish Warmblood gelding by Camarao M, is owned by Missy Clark, with whom Alston trains at North Run. "Brian," as Campreoll is known around the barn, has had a long winning career, which has only continued with Alston in the irons. Together they had top results in all of the 2021 equitation finals.
"Brian has had a break since the National Horse Show, so I'm kind of just getting back in the groove with him," said Alston. "He's got an awesome presence in the ring and a really big gallop. He's got all the parts; it's just I have to stick with him."
Both leading riders thought the course was good and challenging. Alston felt like the changes of direction especially suited Brian.
Alston explained, "Brian was very good. He's very even leaded, and there was a lot of different right lead, left lead questions."
Downey felt positively about her first jump and needed to focus more on some of the tighter turns.
"A single oxer off the right, which was the first jump, was definitely better for me on him. I prefer his right lead," Downey noted. "I'd say the harder part was getting him to take that inside turn to a tight eight [stride line], because he's a very big horse."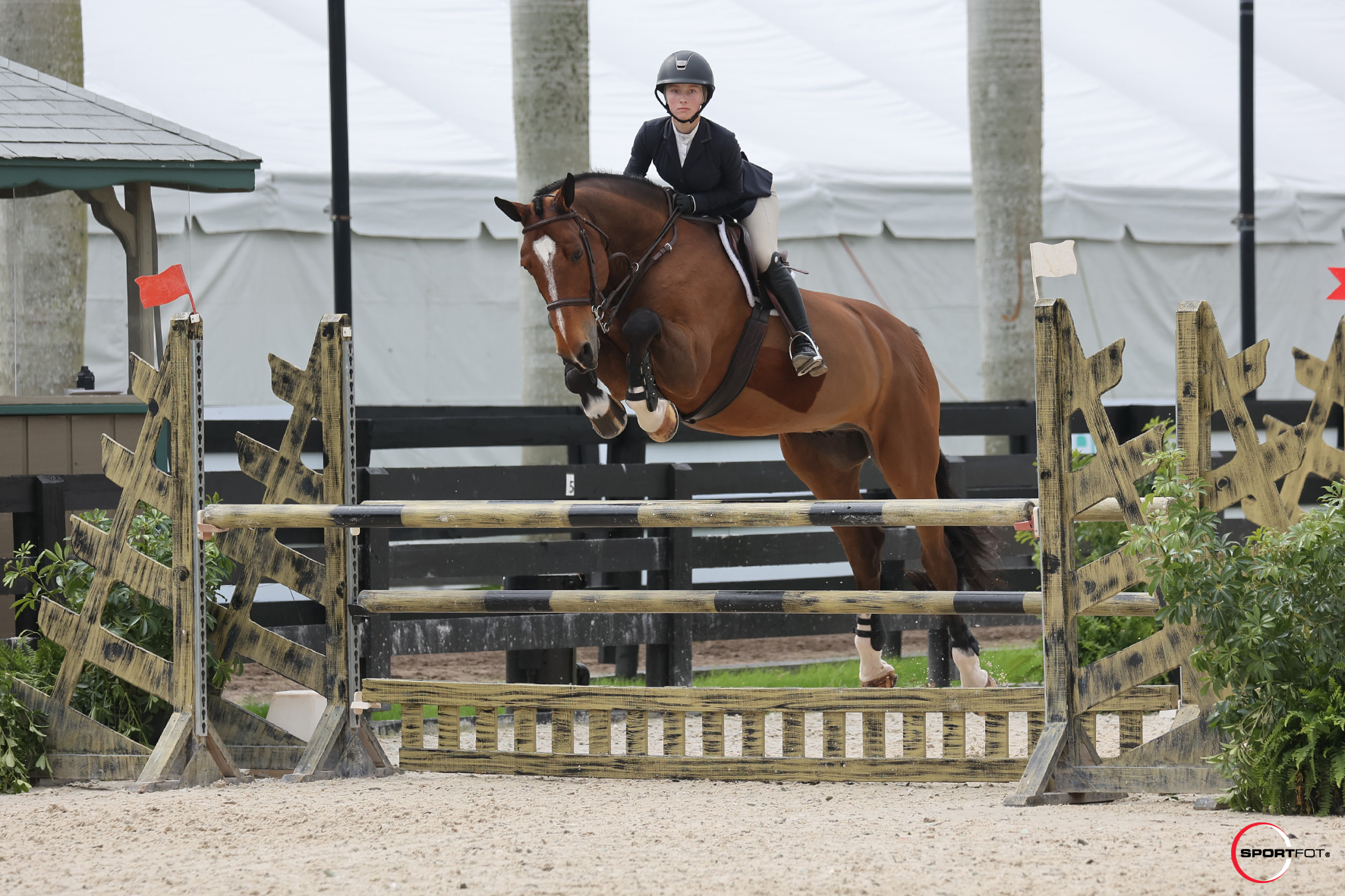 Downey has been paired with Quite Cassini, an 18-year-old Holsteiner gelding by San Patrignano Cassini x Quidam de Revel, since the end of last WEF. Like Campreoll, Cassini has already had a long and illustrious career, which started in the jumper ring. Cassini boasts five-star grands prix, Nations Cups, and the World Equestrian Games on his résumé.
"Scope has never been a question, which makes me feel a little safer when I go in the ring. He likes taking care of people, but he's really good at letting you tell him what to do without taking over," said Downey. "He likes winning, so he really tries to go for it."
Downey and Alston both had busy days competing in hunter, jumper, and equitation rings, but Downey feels like bouncing around from each discipline and each horse is actually an advantage for her.
"I don't think of it as me really having to focus on one or the other; it's more they all help each other," she reflected.
Alston has some trickier mounts to ride this circuit, but with the veteran Campreoll, it's a bit easier.
"I wouldn't say there's much to focus on with him. He's really a 'Steady Eddie,'" he said.
Junior equitation riders will be earning points in the 3'6" equitation classes throughout the circuit culminating in the 15th Annual WEF Equitation Championship held during WEF 12.