By Sabrina Schmidt and Summer Grace for Jennifer Wood Media, Inc.
A large field of 73 combinations took to the turf early Friday for the $37,000 Helgstrand Jewellery 1.45m CSI2* Qualifier at WEF 4. Over a dozen nations were represented over the first phase and a total of 12 competitors were set to return for the jump-off by the halfway drag. Time played a role in narrowing down the field as seven entries were kept out by a single time fault. Despite thorough efforts by 15 across the short track, none could best Cathleen Driscoll (USA).
Eight of the 15 to come back were able to achieve a double-clear finish but Driscoll was once again destined for the qualifying victory, this time with the Plain Bay Farm's 12-year-old Selle Francais gelding Arome (Norway de la Lande x Attila III) in 39.26 seconds.
"This is a newer horse to my string as we only got him in October of last year," explained Driscoll. "As I get to know him more, I am starting to realize he will probably be quite fast in the jump-offs. He finished clear but with one time fault in the $140,000 Hygain Feeds Grand Prix CSI3* during WEF 2 so this was a fantastic class to put him in to begin to teach him how to go fast. He is already very scopey and athletic, so I am now learning how to ask him for the next gear, and he is getting better at following me."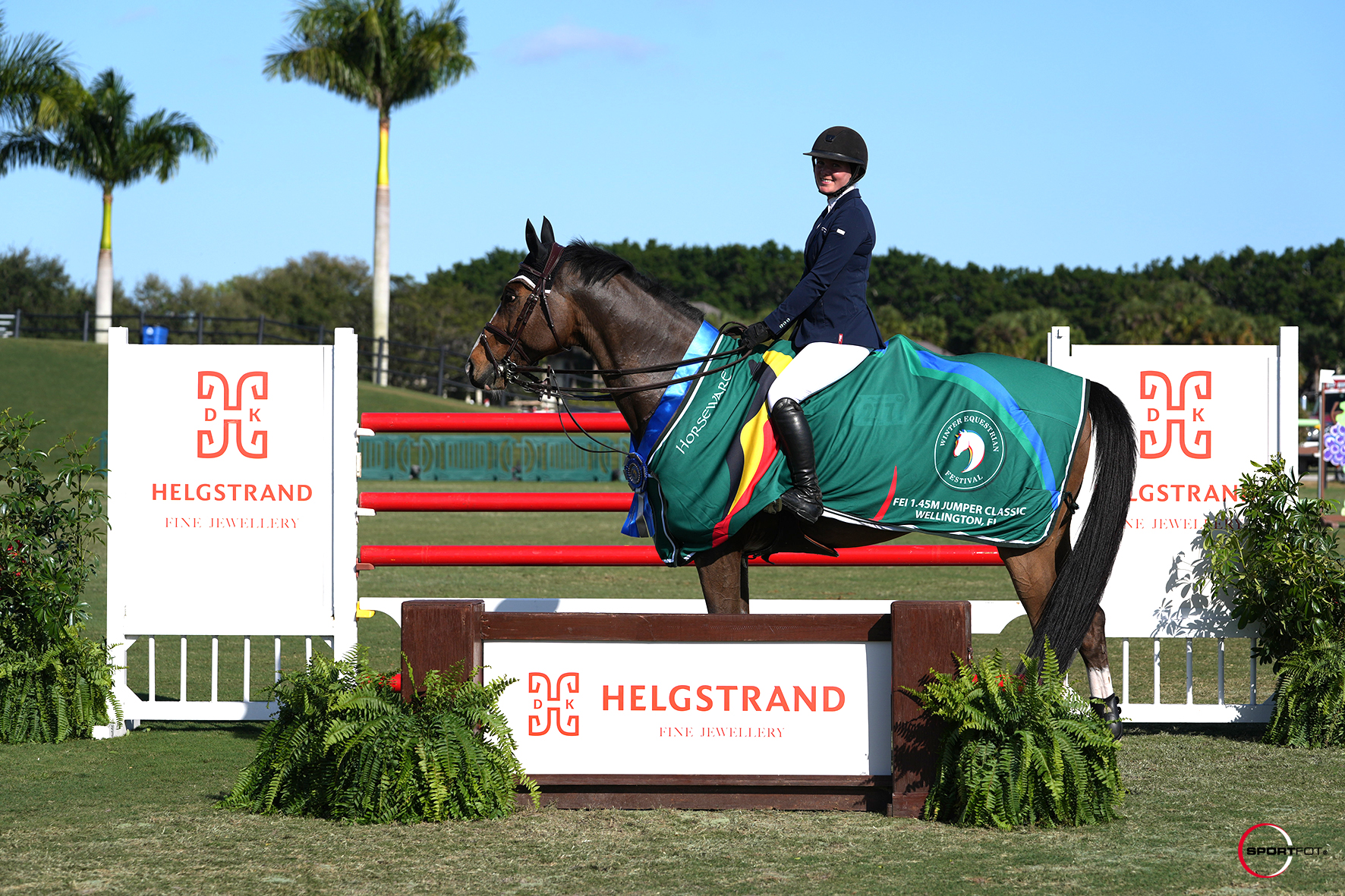 She was the previous winner of the two-star grand prix qualifiers during WEF 2 and 3 with her other mount, Flotylla. Driscoll, who is under the tutelage of the Prudents at Plain Bay Farm, only competed in her first grand prix nine months ago and is in her first season of FEI competition.
"I'm just having a truly unbelievable year," admitted Driscoll. "This year alone I jumped my first night class, first classes on the field, and had my first FEI win so I am just on cloud nine. I came to Plain Bay Farm almost four years ago as a working student and groom, and they have been incredibly crucial to my development. It has been so fun to come up the levels with them."
Young Irishman Tom Wachman finished in a close second behind Driscoll by clearing the timers in 40.33 seconds with Coolmore Show Jumping's 13-year-old Italian Sport Horse gelding Lazzaro Delle Schiave (Acodetto 2 x Gluecksgriff). The top three was rounded out by David Oberkircher (USA) with his successful round ending in 40.42 seconds with the Southfields Farm LLC's 14-year-old Selle Francais gelding Upper (Diamant de Semilly x Nadir di San Patrigano).
Final Results: $37,000 Helgstrand Jewellery 1.45m CSI2* Qualifier
1. AROME: 2010 Selle Français gelding by Norway de la Lande x Attila III
CATHLEEN DRISCOLL (USA), Plain Bay Farm: 0/0/39.26
2. LAZZARO DELLE SCHIAVE: 2009 Italian Sport Horse gelding by Acodetto 2 x Gluecksgriff
TOM WACHMAN (IRL), Coolmore Show Jumping: 0/0/40.33
3. UPPER: 2008 Selle Français gelding by Diamant de Semilly x Nadir di San Patrignano
DAVID OBERKIRCHER (USA), Southfields Farm LLC: 0/0/40.42
4. DELEYN: 2011 Holsteiner mare by Larimar 7 x Dobel's Cento
KEVIN MEALIFF (IRL), Sofia Cady: 0/0/40.56
5. SUPER CHILLED: 2008 Irish Sport Horse gelding by Gelvin Clover
JONATHAN CORRIGAN (IRL), Debra Wycoff: 0/0/40.97
6. NINJA JW VAN DE MOERHOEVE: 2013 Belgian Warmblood mare by Elvis ter Putte x Kashmir van Schuttershof
SLOANE COLES (USA), The Ninja Group: 0/0/41.49
7. EGALINI: 2009 Anglo European gelding by Cheers Cassini x Jalisco B
EVAN COLUCCIO (USA), Hampton Green Farms LLC: 0/0/41.67
8. CHARLIE: 2008 Oldenburg gelding by Chacco-Blue x Charlie Z
CALLIE SCHOTT (USA), Southern Arches LLC: 0/0/44.11
9. ENANDA: 2009 KWPN mare by Nabab de Reve x Holland
LUCY DESLAURIERS (USA), Luja LLC: 0/4/39.52
10. MONBEG THUNDERBALL B: 2012 Irish Sport Horse gelding by O-Piloth
VERONICA TRACY (USA), Coleridge Equestrian BV: 0/4/40.85
11. CLASSIC PENNY: 2012 Norwegian Warmblood mare
SYDNEY SHULMAN-DESIDERIO (ISR), Ilan Ferder: 0/4/41.59
12. SANTA ROSA YALTA: 2012 Mexican Sport Horse mare
DANIEL PEDRAZA LITTLEWOOD (MEX), Daniel Pedraza Littlewood: 0/4/43.21