By Summer Grace and Sabrina Schmidt for Jennifer Wood Media, Inc.
Wellington, FL – February 10, 2022 – International show jumping returned to the International Arena at the Winter Equestrian Festival (WEF) on Thursday, February 10, 2022 during WEF 5, presented by Fidelity Investments®. All eyes were on the $75,000 Adequan® WEF Challenge Cup Round V CSI5* as 2018 FEI World Equestrian Games Tryon team gold medalist Adrienne Sternlicht (USA) and Benny's Legacy emerged as the class winners. The 2022 WEF continues through April 3 with top jumper, hunter, and equitation competition.
Fifty-six of the world's best combinations seized the opportunity to challenge Kelvin Bywater's (GBR) technical track in order to qualify for the grand prix on Saturday night. An even dozen entries representing eight different nations qualified to return for the jump-off. 2020 Olympic gold medalist Ben Maher (GBR) put forth a performance that said 'come and get me' from the start as he and Faltic HB were the first to return for the short track with a double-clean effort and tight time of 39.92 seconds. Maher held on to that lead until young professional Adrienne Sternlicht and Starlight Farms 1 LLC's 14-year-old Oldenburg gelding Benny's Legacy (Lupicor x Voltaire) found the fastest route in 38.60 seconds.
"The caliber of horses and competition that we have here this year is unparalleled," said Sternlicht. "I saw McLain [Ward] as I was getting ready to head in for the walk, and he told me the track was challenging, so I had it in my mind I needed to be on my 'A' game even before I walked the course. I felt like I let my horse down a bit in the last class we jumped as well, so I was incredibly determined today to be on it and give him the best ride possible."
The 2022 season is the first that Sternlicht has encountered as a professional on her own, and she is taking each day as an opportunity for learning and development. She has also had to make changes to her program to include the gelding as her top grand prix mount.
"Each week is an exercise in trusting my instincts more and going with my gut," added Sternlicht. "I am using this winter as an opportunity to build myself as a professional and establish confidence in myself knowing that the experience I've had under some of the most incredible horsemen in the world can be put to good use."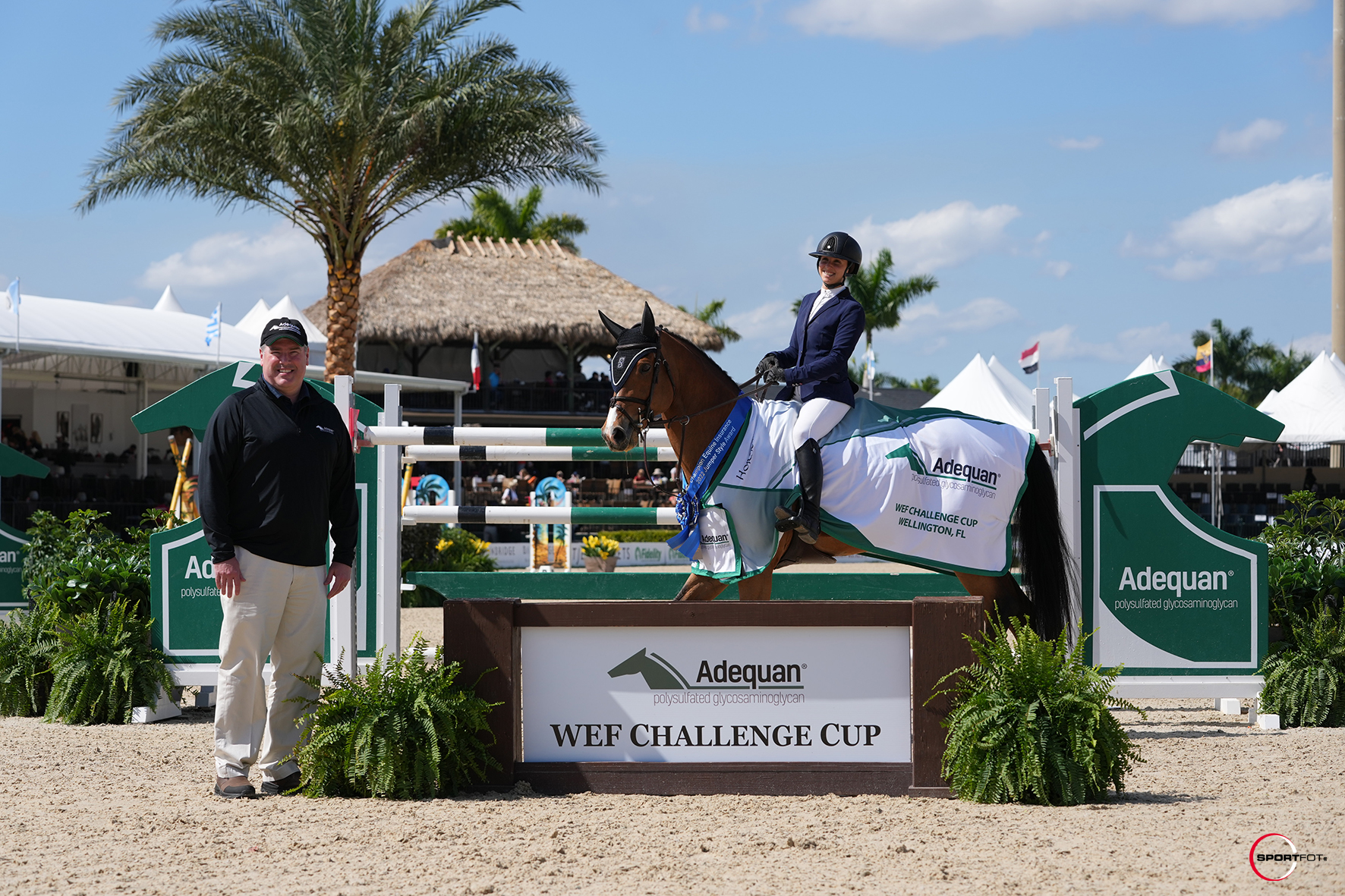 The day's win is Sternlicht's first five-star victory with this mount, and she credits their success to his mentality and development.
"He has stepped up unbelievably as my number one horse, and I am so grateful for him," she finished. "He has a heart of gold, and it is easy to underestimate how big his stride can get in the jump-off because he covers an incredible amount of ground."
Lorenzo De Luca (ITA) put forth two solid performances to edge Maher out of the second-place honors aboard Poden Farms's 12-year-old KWPN gelding F One USA (Toulon x Tangelo Van De Zuuthoeve) by clearing the timers in 39.69 seconds. Rounding out the victory gallop was Maher and Oakingham Stud's 12-year-old KWPN stallion (Baltic VDL x Concorde) just three-tenths of a second behind.
Final Results: $75,000 Adequan WEF Challenge Cup Round V CSI5*
1. BENNY'S LEGACY: 2008 Oldenburg gelding by Lupicor x Voltaire
ADRIENNE STERNLICHT (USA), Starlight Farms 1 LLC: 0/0/38.60
2. F ONE USA: 2010 KWPN gelding by Toulon x Tangelo Van De Zuuthoeve
LORENZO DE LUCA (ITA), Poden Farms: 0/0/39.69
3. FALTIC HB: 2010 KWPN stallion by Baltic VDL x Concorde
BEN MAHER (GBR), Oakingham Stud: 0/0/39.92
4. CERRUTI VAN TER HULST Z: 2010 Zangersheide mare by San Patrignano Cassini x Corrado
CIAN O'CONNOR (IRL), Ronnoco Jump Ltd.: 0/0/40.81
5. CASTRES VAN DE BEGIJNAKKER Z: 2011 Zangersheide gelding by Coriano x Palestro vd Begijnakker
PETRONELLA ANDERSSON (SWE), Stephex Stables: 0/0/41.19
6. JASCO VD BISSCHOP: 2009 BWP gelding by Dulf Van Den Bisschop x Krunch De Breve
MARK MCAULEY (IRL), SNC McAuley Equestrian: 0/4/37.55
7. MALIBU DE MUZE: 2012 BWP gelding by Nabab De Reve x Tornedo FCS
SERGIO ALVAREZ MOYA (ESP), Sergio Alvarez Moya: 0/4/38.82
8. FIGOR: 2010 KWPN gelding by VDL Groep Zagreb x Indoctro
TIFFANY FOSTER (CAN), Artisan Farms, LLC: 0/4/40.56
9. ORAFINA: 2012 KWPN mare by For Fashion x Canturo
KENT FARRINGTON (USA), Kent Farrington LLC: 0/4/40.80
10. CHANCE STE HERMELLE: 2008 SBS mare by Calvaro F.C. x Hemmingway
NATALIE DEAN (USA), Marigold Sporthorses, LLC: 0/4/40.80
11. H5 CHAGANUS: 2008 OS gelding by Chacco Blue x Carthago
EDUARDO PEREIRA DE MENEZES (BRA), H5 Sport Horses LLC:0/4/41.49
12. ARGAN DE BELIARD: 2010 Selle Francais Mylord Carthago*hn x Ahorn
LILLIE KEENAN (USA), Equivarandas, LDA: 0/4/42.28