By Summer Grace  for Jennifer Wood Media, Inc.
Wellington, FL – February 9, 2022 – The 2022 Winter Equestrian Festival (WEF) launched into an exciting week of international and national jumping action on Wednesday, February 9, 2022. Week 5, sponsored by Fidelity Investments®, is the biggest yet of the circuit as it boasts a full schedule of five-star and two-star level international events alongside national hunter, jumper, and equitation classes. The highlight of the day was the $37,000 Douglas Elliman Real Estate 1.45m CSI5* with speed queens Sydney Shulman-Desiderio (ISR) and Villamoura, owned by Jill Shulman, emerging victorious.
Kelvin Bywater's (IRL) two-phase course faced 59 entries from 11 different nations against each other as some of the world's best athletes geared up for the week ahead. Nineteen members of the starting field were able to produce a fault-free effort, two competitors finished up with only several time penalties, and an additional 13 combinations landed only with an unlucky rail.
Shulman-Desiderio and her long-time partner Villamoura proved that they are still at the top of their game as the duo laid down a flawless performance and an unbeatable time of 29.89 seconds.
"She just loves these kinds of classes, and I honestly don't know which one of us has more fun," said Shulman-Desiderio of the 13-year-old Selle Francais mare by Diamant De Semilly. "At the age she is now, the less we do at home the happier she is, and I use the shock factor a bit to my advantage and just put her right in the ring after several weeks of not jumping."
The pair has been dominating speed classes of various levels since the inception of their partnership more than six years ago, but with the mare being Shulman-Desiderio's current lead FEI mount they have shifted their focus a bit.
"I have been competing with her in the grands prix more than the speed classes at the moment, and she has been jumping unbelievable rounds," explained Shulman-Desiderio. "We are going to compete for Israel during the upcoming Nations Cup, so this week I just wanted her to have fun and to make it an easy week for her.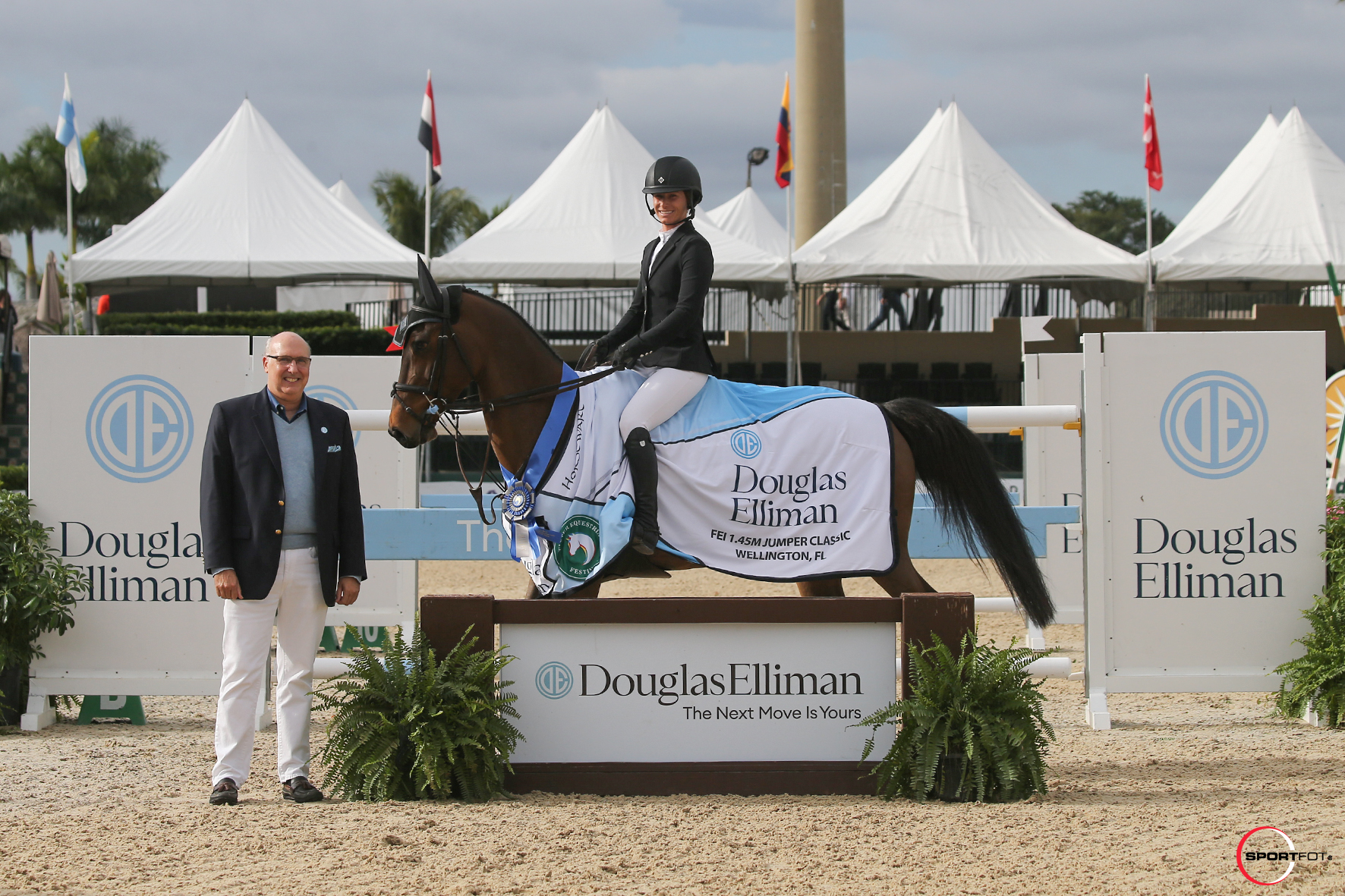 "I know right off the bat after the first few jumps in the warm up ring if she is going to be into a class or not," she continued. "After three jumps today I knew I had the horse I wanted. I think where we made the difference was she somehow managed to do eight strides at the beginning of the speed portion, and I had only seen others do nine strides. I knew the distance was there, and she just turned so fast and made it happen; she can do magic things like that at this height, and we know each other very well so we have that trust in one another."
Olympian McLain Ward (USA) dashed over the track with an efficient time of 30.62 seconds on Marilla Van Beuren, Bob Russell, and McLain Ward's 13-year-old Westphalian gelding Catoki (Catoki x Caretello B) which secured the second-place position. Third went to Ireland's Jordan Coyle aboard the Elan Farm's 14-year-old Hanoverian gelding Boston Ask (Berlin x Quidam De Revel) after producing a double-clear effort with a time of 31.88 seconds.
Prior to the day's featured class, events in the International Arena kicked off with two top-tier 1.40m level classes. The morning began with the $6,000 Griffis Residential 1.40m CSI2* which saw the USA's Rebecca Conway best the 70-horse field with Hilington Farm's Jersey Girl. Immediately following, the first five-star exhibitors tested out the track in the $1,000 Bainbridge Companies 1.40m CSI5* in which Jessica Mendoza (GBR) and Caroline Mawhinney's Lamborghini 98 sped to the top of the leaderboard.
Final Results: $37,000 Douglas Elliman Real Estate 1.45m CSI5*
1. VILLAMOURA: 2009 Selle Francais mare by Diamant De Semilly
SYDNEY SHULMAN-DESIDERIO (ISR), Jill Shulman: 0/0/29.89
2. CATOKI: 2009 Westphalian gelding by Catoki x Caretello B
MCLAIN WARD (USA), Marilla Van Beuren, Bob Russell & McLain Ward: 0/0/30.62
3. BOSTON ASK: 2008 Hannoverian gelding by Berlin x Quidam De Revel
JORDAN COYLE (IRL), Elan Farm: 0/0/31.88
4. LAFAYETTE VAN OVERIS: 2011 BWP gelding by Kashmir Van Schuttershof x Tauber an het Kapelhof
ADRIENNE STERNLICHT (USA), Starlight Farms 1 LLC: 0/0/32.13
5. BERDIEN: 2011 Zangersheide mare by Bustique x Querlybet Hero
MOLLY ASHE CAWLEY (USA), Louisburg Farm: 0/0/32.94
6. DARQUITO: 2011 Hannoverian gelding by D'Inzeo 6 x Contefino 2
ANDREW BOURNS (IRL), Andrew Bourns Sport Horses Inc: 0/0/34
7. MAESTRO VICA V/D ARK: 2012 BWP stallion by Lordanos x Heartbreaker
NATALIE DEAN (USA), Marigold Sporthorses LLC: 0/0/34.03
8. CASSINA Z: 2010 Zangersheide mare by Casado v't Gelutt Z x Lux
PETRONELLA ANDERSSON (SWE), Stephex Stables: 0/0/34.07
9. BACARA D'ARCHONFOSSE: 2007 SBS mare by Asca Z x Kannan
EMILY MOFFIT (GBR), Poden Farms: 0/0/34.51
10. MONTY PYTHON DE L'AMITIE: 2012 BWP gelding by Emerald x Mr. Blue
ERYNN BALLARD (CAN), Ilan Ferder and Esperanza Imports, LLC: 0/0/34.56
11. AGANA VAN HET GERENDAL Z: 2011 Zangersheide stallion by Aganix Du Seigneur x Topas
LILLIE KEENAN (USA), Chansonette Farm LLC: 0/0/34.85
12. VDL NIKITA VAN DE LEEUWERK: 2013 BWP mare by Zavall VDL x Danora Van De Leeuwerk
ALEX MATZ (USA), Horseshoe Trail Farm, LLC: 0/0/35.34