By Summer Grace for Jennifer Wood Media, Inc.
The weekend of WEF 5 concluded with the $50,000 Griffis Residential Grand Prix CSI2* wrapping up competition in the International Arena. The course proved too challenging for almost all of the 43 entries as only Chloe Reid (USA) and Team Reid LLC's Crossover 4 found the path to a clear first round. 
The final jump on course was the downfall for a large group of the contenders and groans could be heard in the crowd each time it fell and dashed the hopes of a jump-off. Sophie Maher (USA) and Quentin Judge (USA) came the closest to producing a jump-off but suffered at the hands of a single time fault added to their score. As the last combination took down a rail, it was evident Reid's single faultless round in 64.54 seconds would be the winner.
"I think I was fortunate I went early because it definitely would've rattled my nerves if I had seen everyone having faults," said Reid. "I walked the course and made my plan, and I stuck to it. I have had him since he was six years old and know he's a fast horse so I wasn't too worried. I knew if I could be efficient in a few places I could make it happen."
Reid has been partnered with the nine-year-old Hanoverian stallion for the past three years. The pair has notched top placings in multiple FEI classes elsewhere, but this was their FEI week and first FEI win at WEF.
"This was our FEI debut here at WEF so I could not be happier about the outcome," affirmed Reid. "It has been nice to have several years to grow our partnership; he is so competitive, and he was right on it today. I have never had that kind of thing happen in a grand prix before, and I think it was more nerve-wracking than to have had a jump-off!"
With her single time fault, Maher took the red-ribbon honors aboard her own 13-year-old SLS gelding Sentimiento LS La Silla (Casall x Santo Domingo) finishing just .17 seconds over the time allotted in 68.17 seconds. Judge rounded out the all-American podium with his time of 68.25 seconds on the Double H Farm's nine-year-old Zangersheide gelding HH Zorro Z (VDL Zirocco Blue x Escudo I).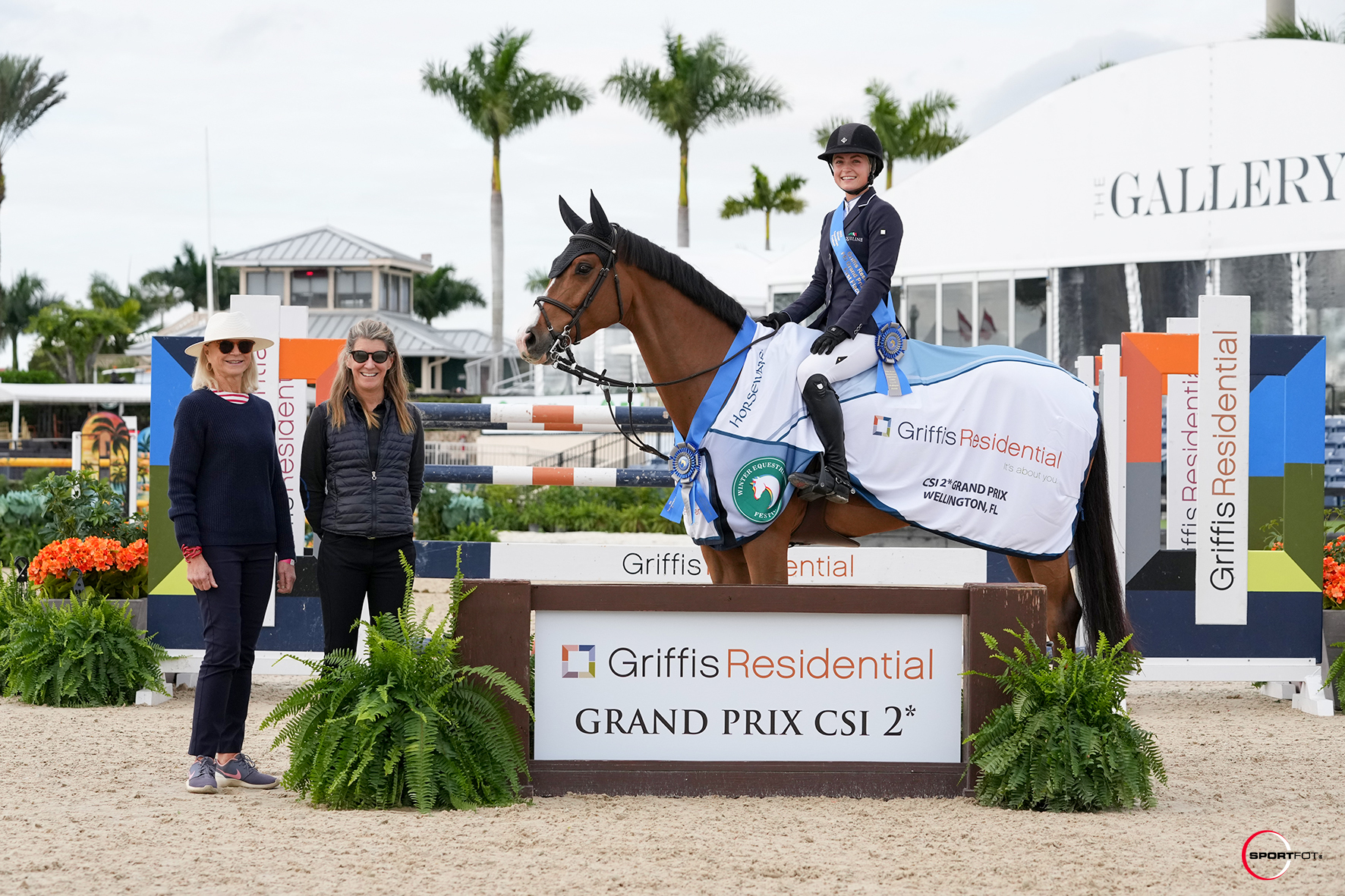 Final Results: $50,000 Griffis Residential Grand Prix CSI2*
1.CROSSOVER 4: 2013 Hannoverian stallion by Cascadello x Chacco Blue
CHLOE REID (USA), Team Reid LLC: 0/64.54
2.SENTIMIENTO LS LA SILLA: 2009 SLS gelding by Casall x Santo Domingo
SOPHIE MAHER (USA), Sophie Maher: 1/68.17
3.HH ZORRO Z: 2013 Zangersheide gelding by VDL Zirocco Blue x Escudo I
QUENTIN JUDGE (USA), Double H Farm: 1/68.25
4.ILEX: 2013 KWPN gelding by Baltic VDL x Chin Chin
FABIO LEIVAS DA COSTA (BRA), Bonne Chance Farm LLC: 3/70.08
5.FLOTYLLA: 2011 PZHK mare by Alvaro 121 x Bajou Du Rouet
CATHLEEN DRISCOLL (USA), Donald Stewart: 4/64.02
6.FLEUR-DES-LIS' CHERIE: 2012 NRPS mare by Clarimo x Lancer II
JAD DANA (LBN), The Cherie Group: 4/66.33
7.TEDDY Z: 2011 Zangersheide gelding by Candillo 3 x Limbus
CALLIE SCHOTT (USA), Southern Arches, LLC: 4/67.06
8.COCO BEACH: 2012 Holsteiner mare by Casall x San Patrignano Corrado
RICHIE MOLONEY (IRL), Equinimity LLC: 4/67.44
9.SCARLETT DU SART Z: 2010 Zangersheide mare by Stakkato x First Bridge
FRANCIS DERWIN (IRL), Vlock Show Stables LLC: 4/67.54
10.CERES VAN HET MOESHOF: 2012 Selle Francais mare by Ogano Sitte x Mozart Des Fayettes
ASHLEY VOGEL (USA), Ashley Vogel: 4/67.61
11.CHRISTY JNR: 2009 BWP gelding by Indoctro x Clinton I
CHANDLER MEADOWS (USA), Chandler Meadows: 4/67.63
12.LA UNA: 2011 OS mare by Chacco Blue x For Pleasure
ZOE CONTER (BEL), Stephex Stables: 4/67.88